Parking at Düsseldorf Airport
Are you flying from Düsseldorf International Airport (Flughafen Düsseldorf)? If so, you're probably looking for an affordable and secure parking space for your car. Taking public transportation to the Düsseldorf airport can be quite an undertaking, given that it's the fourth-largest airport in Germany, serving more than 24 million passengers annually. Other major airports in the vicinity include Dortmund Airport and Weeze Airport. Due to the high demand for parking, official airport parking spaces that are located directly at the airport can be very expensive and you may not be able to book a parking space at short notice. We can help you to save money by looking for parking spaces close to the terminal.
Compare the best parking spaces at Düsseldorf Airport
Alternative parking spaces are often located farther from the airport departure terminal, outside its immediate vicinity. These off-airport providers benefit from more affordable rental rates for their locations, allowing them to offer parking spaces at the lowest prices. Parking providers such as Airport Parkservice and Relaxpark are conveniently located near Düsseldorf Airport. Compare your options through Parkos for a comprehensive overview of parking spaces around Dusseldorf Airport. With our partners, you can reserve a covered parking space or a spot in a parking garage right at the airport. All of the providers that you can book through Parkos have been personally inspected. That means of course, that you can book a parking space online, simply park your car and leave your vehicle with peace of mind.
Cheap parking space at Düsseldorf Airport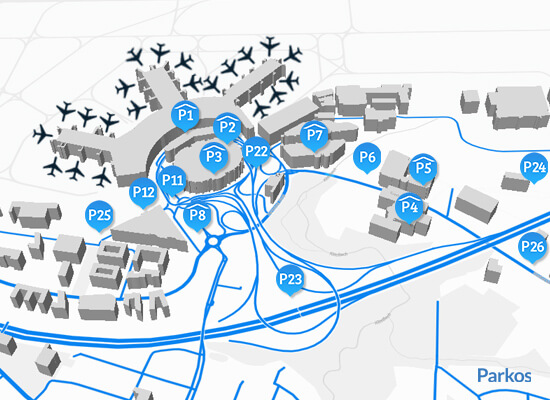 When you park through Parkos, you can easily find a suitable parking space near Düsseldorf Airport for your upcoming flight. The costs at the alternative parking providers that Parkos collaborates with near Düsseldorf Airport are lower than at a car park directly at the airport terminals. On our website, you'll find all the available parking spaces. By online booking through Parkos in advance, you not only get a great price near Düsseldorf Airport but also excellent service. The price for a spot near the terminal is always more budget-friendly than parking at the official parking spaces at Düsseldorf Airport itself.
For parking at Düsseldorf Airport, head to the northern part of Düsseldorf International Airport. The chosen provider is always located within a short distance. The exact distance from the parking provider to the terminal of Düsseldorf Airport is specified in the provider's description. You can select from providers offering business parking or holiday parking, and there's also the option for Park Sleep Fly, which includes an overnight stay in a hotel as part of a fly arrangement. The ideal parking choice is entirely up to you. You can park cheaply near Düsseldorf Airport at various parking lots. Parking at Terminal C is considerably more expensive. With Parkos, you save money and secure a good parking spot at Düsseldorf Airport.
Düsseldorf offers budget-friendly parking providers that deliver excellent service. Quality is a top priority when searching for a parking spot at Düsseldorf Airport. To ensure our customers' satisfaction and ongoing contentment with our partners at Düsseldorf Airport, Parkos conducts rigorous inspections. You can expect reliable parking areas without unnecessary extravagance but equipped with all essential safety measures. This keeps the prices for parking at Düsseldorf Airport affordable. Additionally, you can choose from extra options like Auto-Aufsicht, where your car can be washed during your absence, or explore covered parking garages with electric charging points. Staff is present around the clock, and the parking areas are secure. So, even with low parking costs near the terminal via Parkos, you still enjoy excellent service.
Our customers are extremely pleased with their parking experience at Düsseldorf Airport. When you reserve a parking spot near the terminal at Düsseldorf Airport through us, you can share your reviews and feedback on our website. Previous customers have given our parking partners an impressive average rating of 9.1.
Dusseldorf Airport parking rates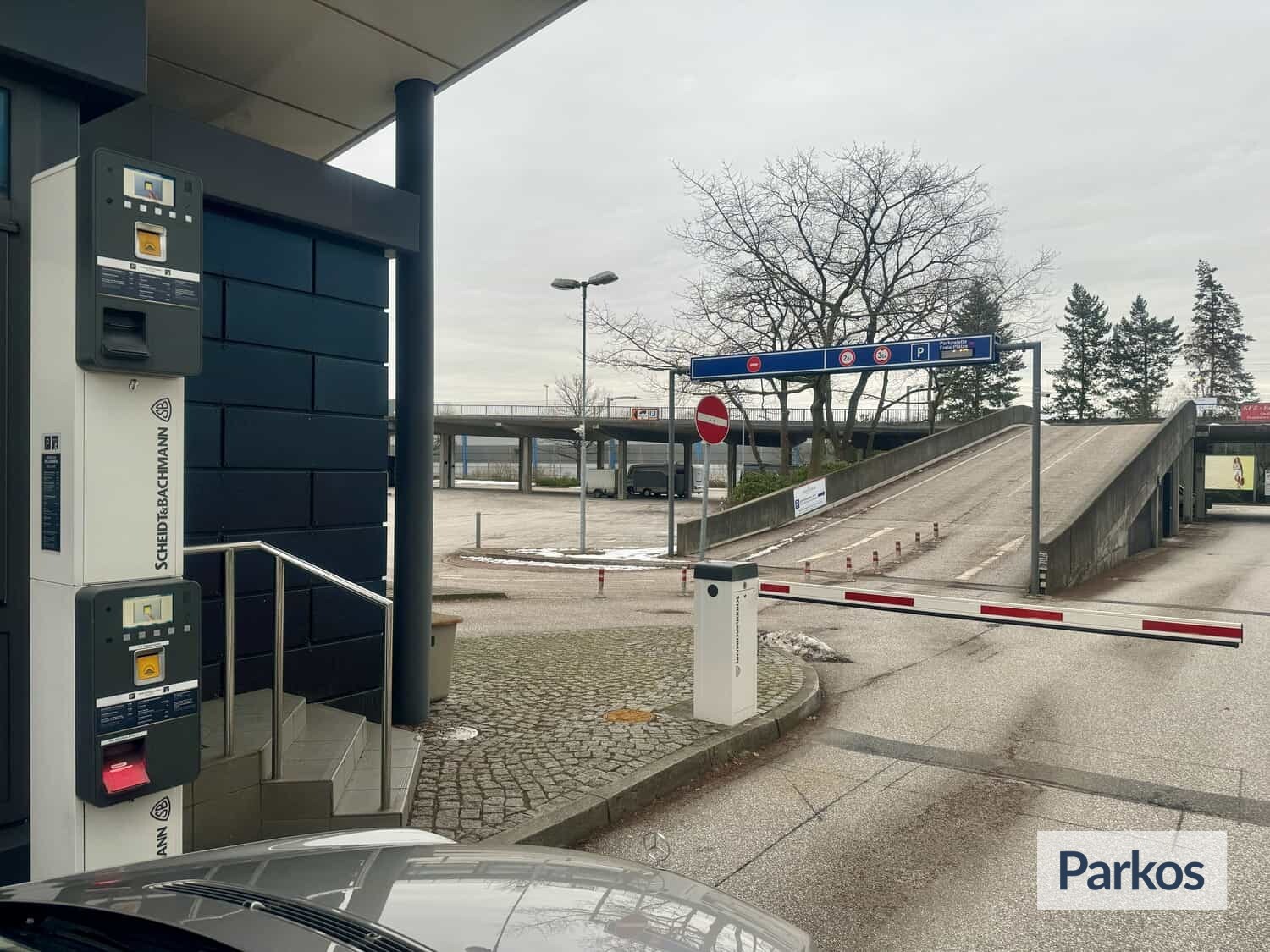 *At Düsseldorf airport, parking rates may vary depending on the desired reservation period.
Shuttle and valet parking
Following your reservation, you can choose between different parking options. This decision centers around whether you'd like to handle your own parking or entrust it to a professional driver. The options are Shuttle Parking and Valet Service. Here's a brief description of each parking option.
Shuttle parking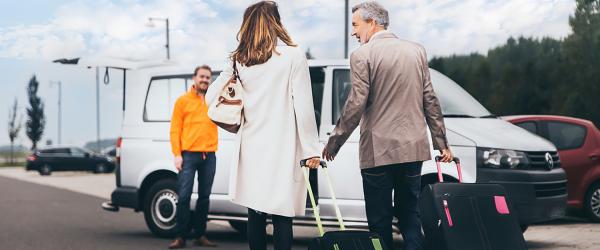 Parking at Dusseldorf Airport is effortless with shuttle parking. You drive to the parking provider's location, where a shuttle bus transports you to the airport for free. The helpful staff assists with your luggage. You won't need to walk from the parking lot to the airport or rely on public transportation at Dusseldorf Airport. Specify your expected arrival time when booking on our site, check the availability and the shuttle bus will be ready to take you to the airport. Upon your return, a driver from the parking lot arranges your pick up at Dusseldorf Airport, and you ride back to your car in the complimentary shuttle bus. From there, you can go home. When booking your parking space online, you can choose whether your car is covered or uncovered at Dusseldorf Airport, both parking options highly recommended by our customers. Make sure to arrive on time in advance, to take the shuttle bus to the airport terminals. If you have any questions about parking with shuttle service, take a look at our frequently asked questions.
Valet parking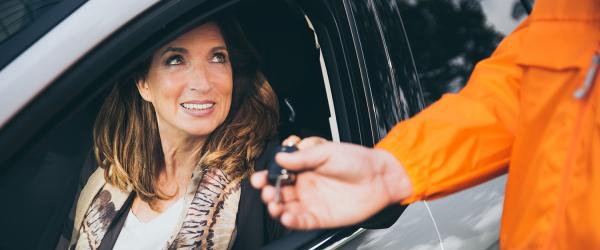 For valet parking at Dusseldorf Airport, you drive directly to the airport. You provide the parking provider with your arrival times for both departure and return. On your way to the terminal, an attendant meets you at the specified time, takes your car, and parks it. On your return, you notify them of your expected arrival time as outlined in the confirmation email. You don't need to visit the parking provider on either leg of your journey; you head straight to Dusseldorf Airport in your own car. This method saves you time and is a quick, convenient and easy way to park your vehicle at the airport. You can opt for both short-term and long-term parking at Dusseldorf Airport. For any questions regarding valet parking, please refer to our frequently asked questions or contact our customer service.
Long term parking Dusseldorf airport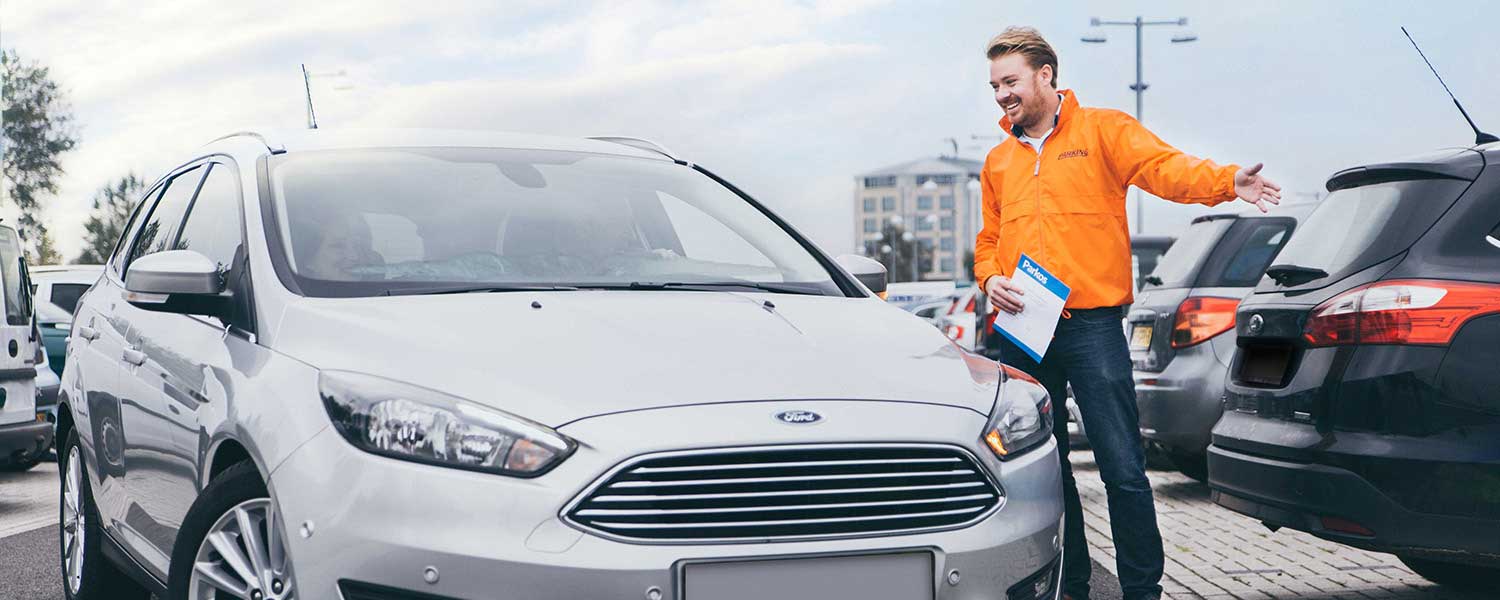 Long-term parking at Dusseldorf is also offered through Parkos. Compare parking providers on our website for an easy choice. Parkos conducts thorough inspections of each parking facility; safety and reliability guaranteed. Here are some additional tips for parking at Dusseldorf Airport.
Compare the various providers: Compare parking at Dusseldorf Airport. Discover the options at a guaranteed low price. Parking directly at Dusseldorf Airport is consistently more expensive than parking with an alternative parking provider.
Choose your parking method at Dusseldorf Airport: You have the option to drive your car to the departure hall or hand your car over to a staff member. Regardless of your choice, consider the difference between shuttle parking and valet parking.
With shuttle parking, you first drive to the parking lot. From there, you take a shuttle bus to Dusseldorf Airport. On your return, the shuttle bus is there to pick up you and your car. You can select whether you want your car to be covered or uncovered. Shuttle parking is the more economical choice for airport parking.
If you prefer to drive to the airport yourself, valet parking is your best option. The valet service attendant will be ready to take your car and park it. Upon your return, the valet will hand your car back to you. This method allows for quick parking: no waiting for the taxi or the shuttle service transfer back to the airport. Parkos provides a clear comparison to help you decide between shuttle and valet parking for long-term airport parking.
For early flights, consider the Park Sleep Fly arrangement. It includes parking, transportation, and a hotel stay near Airport Frankfurt. Your car can stay safely parked at the hotel's parking lot during your trip with the park sleep fly option.
Security: At Dusseldorf Airport, Parkos verifies the safety features of all parking providers, including the presence of cameras and fencing. The parking lots are monitored 24/7.
Plan Your Trip: When parking at Dusseldorf International Airport, it's important to plan your route to the parking provider or the airport in advance. You can easily map out your route using the Parkos route planner.
Are you looking for more information about parking at Düsseldorf Airport? Take a look at the following pages:
Parked from 10/17/23 til 10/19/23
I arrived back to Dusseldorf late at night. The shuttle car was luckily already standing outside by the meeting point. I spoke to the driver through the passenger window, he did not want to let me in but drove away even though only 2 more people was sitting in the van. I called the contact number after and the next shuttle should not arrive until 15-20 minutes later. That is not the experience you want when you just want to make your way home as soon as possible. Big minus that no one cares about speaking English!
...Read more
Parked from 10/6/23 til 10/10/23
When we reached back at the parking from Airport my son did toilet and I had to change the diaper. I asked the staff politely if I can use the toilet ,they replied rudely and didn't allow me to use it. I had to carry my son in that state for 500 meters. Very inhuman behavior ,they are concerned only about money, would never go to them again. Doesn't even deserve 1 start.
...Read more
Parking providers at Düsseldorf Airport
Our benefits
All parking lots are carefully inspected
The best deals on airport parking
Free cancellation up until 24 hours
Over 4 million customers globally