View the car parks on the map
Parking near Brussels airport Zaventem
Parking at Brussels Airport Zaventem is easier than you think. Brussels Zaventem is more than twice as big as Charleroi Airport. Parking at Brussels Airport can be a chaotic experience. Full garages and poor signage can cause a stressful situation. Booking at Parkos, you can compare different providers and find the most suitable options for you. So choose an option, long term or short term parking, and book your parking spaces via Parkos. You can also choose between shuttle or valet service. With us you can easily compare low cost prices. Avoid unnecessary costs and difficulties when searching for a spot at P1, P2 or P4 long term airport Zaventem. Make sure you get to your destination with a relaxed feeling. Cheap parking at Brussels Airport Zaventem is a piece of cake!
Brussels Zaventem (BRU) is the largest airport in Belgium. It is located in Flemish Brabant in the municipality of Zaventem and is for this reason also called airport Zaventem. The capital of the country, Brussels, is just twelve kilometres away. It transports some 22,000,000 (22 million passengers) annually and is still growing every year. In 2015, a record of 23,460,018 passengers flew from the airport. It has been transporting more than 10,000,000 (10 million passengers) for more than 25 years. Such large numbers of passengers go hand in hand with a high demand for parking spots for cars. You can book one of the 10,000 spots, but you can also choose to book via Parkos. For a lower price, while getting more service.
At Parkos you can choose between shuttle or valet service. This ensures that you don't have to walk from your car to the terminal. In both cases you only have to walk with your suitcases to the check-in desk. When you use valet parking, you drop your car off at the arrivals departures hall and have it parked by the parking employee. In case of shuttle parking, employees will pick up you and your luggage, after you have parked your car in the parking lot. Flights are expensive enough so why pay more than necessary to park your car? So you can choose to use valet or shuttle parking. In case you don't know the difference yet, this is explained below or you can look at our frequently asked questions.
Cheap parking at Brussels Airport
Flying becomes cheaper and cheaper over the years. For this reason parking is also getting cheaper, at Parkos you can see at a glance what the cheapest option is. With us you are guaranteed the lowest price and you can safely park your car. The parking lots are located near the airport and not at the airport itself. This is the reason why you can book parking options at Parkos very cheaply. All providers have been personally inspected by our staff on the quality and cleanliness of the terrain. All our providers have someone present 24 hours a day, 7 days a week to guard the car park. We also make use of camera surveillance. At Brussels Airport it is possible to park at five different parking providers offering a shuttle. You do not need to use public transport to get from the terminal to your destinations. The differences between these car parks are between indoor and outdoor shuttle parkings. Via Parkos it is possible to make a reservation with one of our two providers that offer indoor parking at Brussels Airport.

Brussels Airport can be reached quickly and easily by reserving parking places via Parkos. Never pay too much, at Parkos you are assured of the lowest price. The car parks are located around the airport. This is the reason why the providers you can choose from at Parkos can offer you their parking spaces so cheaply. At BRU airport you can choose from five different providers for the shuttle parking service. There is only one provider that you can book through Parkos that also offers valet services. When you use shuttle services, a shuttle bus will take you to the terminal from the car park. This free parking shuttle operates 24 hours a day, 7 days a week. The shuttle is not public transport but drives you to and from the terminal in person. When you make a reservation the time of arrival will be taken into account and this will be scheduled within the flexible driving schedule of these busses.

If you use valet, you are not dependent on a shuttle bus but drive your vehicle to the front of the departure hall where you will be met by an employee who will drive your car to the car park. With the shuttle that is also offered it is possible to take your keys with you on your trip. There is also someone present on the premises of this provider 24 hours a day.

Through Parkos you are assured of the best parking options and you can easily compare prices from different providers. So be on time and book immediately. In addition, you can also see at a glance what the providers have to offer in terms of extra services. For example, it is possible to have your car washed at some providers during your stay. When you come back to the airport, you can continue your journey home in a clean vehicle. For this extra service they do charge some extra costs. When you make a reservation via Parkos, we can assure you that the price you pay at Parkos is lower than at one of the other parking providers. These providers of flying and parkings are more expensive because they have a car park at the airport. The rent for a car park at the airport is much higher than a car park somewhere around the airport. Take a look at the reviews of our customers to compare the different providers.
Shuttle and valet parking
There are some terms that you will often see on our website; Valet and shuttle parking. We give you some more information about this.
Shuttle parking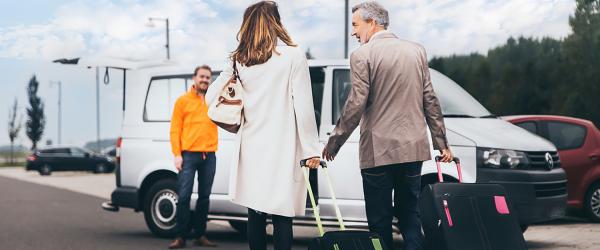 With the shuttle service, you drive your car to the parking provider's car parks. Then there will be a shuttle bus waiting for you which will take you to the terminal. When you want to use shuttle parking your choice is more difficult than when you want to use valet services: there are several providers that offer a shuttle. When you want to use a shuttle there is an extra choice: indoor or outdoor. You will have to pay more to park your car inside. The shuttle bus will always be included in the price you pay. This shuttle drives from the parking lot to the terminals about every 10 minutes on average.
Valet parking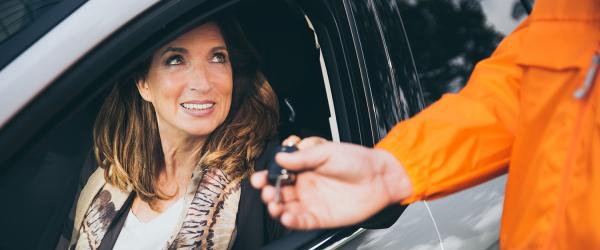 If you choose for the valet service, you drive your car to the front of the terminal and here an employee will be waiting for you to take over your car and park it for you. You continue your journey and walk into the departure hall. When you are comparing the providers you will see that only Sky Parking Zaventem offers this service. This makes it the most expensive provider.
Long term parking at Brussels Airport Zaventem

When you have finally been able to make a choice, you want to have a guarantee that the parkings are safe. That is why Parkos has inspected all the sites, products and amenities of the providers for you. This to avoid any misunderstandings and to make sure that you can go on vacation with peace of mind and don't have to worry about your parked car anymore.

Choose your way of parking: We offer travelers two different ways of parking at Brussels Airport. Would you like to have that drivers pick up your car? Or do you prefer to be driven to the terminal in a shuttle bus? Make sure you know the difference between valet and shuttle parking. If you have made the wrong choice afterwards, you can cancel the reservation free of charge up to 24 hours before departure.
If you choose for the shuttle, you drive yourself to the parking lot and then you will be driven to the airport by a free shuttle bus. The shuttle bus will drop you off close and walking distance to the departure hall, which is less than a minute's walk away. When you return to the terminal, the shuttle bus will be waiting for you again. It will drive you back to the right parking lot. A shuttle service is a cheap option for airport parking. Cheap vehicles parking has never been easier. The providers at Parkos are always cheaper than the parking spaces offered by the airport itself. So book a parking space online via Parkos now.
If you choose valet, you can drive your car yourself. When you arrive, a driver will be waiting for you to bring your car to an external parking lot. You get off at the departure hall and are within a minute walk at the check-in desk. On your return, your car will be waiting for you in front of the terminal and you can continue your journey home immediately. When you have made the choice between valet and shuttle parking you can also choose between indoor or outdoor.

Safety: Have you compared the different parking providers? Then of course you also want your car to be parked safely. Parkos therefore personally inspects all locations. Attention is paid to the safety of the parking lot and the facilities it has to offer. That's why you should take a look at the various safety measures taken by the provider, so you can see for yourself that your car is parked safely and reliably and you can travel with peace of mind. All providers offered by Parkos have a secure parking lot, 7 days a week, 24 hours a day.

Plan your trip: Before traveling and parking at Brussels Zaventem Airport, we advise you to plan everything well in advance. Make sure you are on time at the airport. Always check the airport information before departure or if there are any particularities you should take into account. Think for example of road works or detours. Always keep a close eye on the traffic information or check your route planner. When you download the Brussels Airport app, you can keep track of all information regarding your flights. This can come in handy when you are going to park for a long time and suffer from delays, so you have more time and don't have to rush.
View the car parks on the map
Parked from 2/18/23 til 2/26/23
really good and easy. Only 10 minutes from the airport. Shuttle service brings you directly to the entrance of the airport 50 meter.
...Read more
Parked from 4/5/23 til 4/17/23
Very efficient. Driver is punctual and efficient. When van is complete driving starts.
...Read more
Parking providers at Brussels Airport (Zaventem)
Our benefits
All parking lots are carefully inspected
The best deals on airport parking
Free cancellation up until 24 hours
Over 3 million customers globally