View the car parks on the map
Parking at Toulouse-Blagnac airport
If like many passengers, you prefer to go to Toulouse airport by car to save time, compare and book a parking space at Parkos! You will then be able to start planning your trip without having to depend on public transportation. Our site allows you to compare parking providers near the airport and find the parking space that suits you. We always offer you the best prices for parking lots at Toulouse airport. You will also save money compared to the official parking lot (which includes EcoPark Toulouse, but also P5, P6, etc.).
Table of Content:
The Toulouse-Blagnac airport is located 7 km northwest of the city center of Toulouse, the "Pink City". Known as the "city of space", but also for its cassoulet and its magnificent Japanese garden, Toulouse is a city without equal. It is also known for its fine arts museum, the famous Musée des Augustins as well as its imposing Saint-Sernin Basilica. In front of the airport, you will also find the Hampton by Hilton hotel, located rue de Bordebasse and well known by tourists and passengers. Also worth mentioning is the Radisson Blu hotel on rue Dieudonné costes. These establishments are very popular with our travelers.
Toulouse-Blagnac is one of the most important airports in France with no less than 8 million passengers per year, behind Paris Charles de Gaulle. From Toulouse-Blagnac airport, you will have access to 77 destinations on all continents, from Marseille Provence to Montreal thanks to numerous airlines, including Air France. This French airport is therefore booming, in addition to having always enjoyed direct access from various roads, including the A621 freeway and the D902. In addition, the Toulouse airport is about 10 kilometers from the bus station (Toulouse Matabiau). In only two hours of flight, you will be on the Mediterranean coast or in the Pyrenees.
Whether you are looking for short or long term parking, Parkos will help you find the secure parking space you need. Our providers are located near Toulouse-Blagnac airport. They are all carefully selected to ensure customer satisfaction. The staff are always professional and available. Quality and customer service are key words at Parkos, and all at the best price! The official parking lot in Toulouse-Blagnac is often expensive, so we help you find a good place to park your car!
Parking at the Toulouse terminals
Parkos helps you compare and book the best parking spaces at Toulouse Blagnac airport. We provide a service of incomparable quality and efficiency. Save your time and save your money by using our site.
Toulouse-Blagnac airport is divided into 4 halls, Hall A, Hall B, Hall C, and Hall D. The P5 and P5 parkings are the farthest from the halls and are around 10 minutes away by free shuttle. For a closer parking we recommend parkings P1, P2 and P3. P1 is a covered parking 2 minutes walk from the halls. Likewise the P2 is covered and 3 minutes away on foot. Parking P3 is open air and about a 6 minutes walk from the halls. Lastly, the P0 Express parking is a short-term parking just 2 minutes from the halls.
If necessary, we also propose a premium valet service. The valet will take your car the drop off point of your choice in the Toulouse airport. After a thorough check, we will take care of parking your car in secure parking. Upon your return, the day before or morning of, you will receive an SMS with the contact of your Premium valet.
We also propose the shuttle service which will take you directly to your desired terminal. Indeed, some parkings are further away and more difficult to access on foot. For example, we serve parking P5 quickly and easily with the help of a shuttle. It is a free shuttle service that comes every 15 minutes and is available 24/7. Of course, upon your arrival, the shuttle will take you back to your parking from your terminal of arrival.
Take advantage of the best prices at Toulouse airport
Any good plan requires advance planning. This is the only way to guarantee you the best prices. Once you have made a reservation via Parkos, the price will not change! Prices go up quickly if you book at the last minute. So don't waste time and book a parking space at the same time as your plane tickets! For those looking for a hotel with parking, this kind of service is also coming to Parkos!

All our partners have a parking lot near Toulouse-Blagnac airport. This way, you don't waste time even when you choose to take a free shuttle. We strive to offer you the best prices throughout the year.

At Parkos, low cost is by no means synonymous with low quality. We only offer you the best, both in terms of quality and price. The parking lots we reference are secure and their staff is available and professional. Book your parking on Toulouse-Blagnac now and benefit from free cancellation up to 24 hours before your arrival. If you have any questions, you can consult our frequently asked questions, our general terms and conditions and our legal notices. Our customer service is also always ready to answer and help you!

If you hesitate about which parking lot to choose, you can also consult the opinionsof our customers. This will give you a clear and impartial view of our various collaborators. Thanks to this and to the filters at your disposal, you will inevitably find the parking space you are looking for at Toulouse airport. Customer reviews are particularly important to us because they allow us to improve our services.
The best offers around Toulouse-Blagnac airport
What are the options near Toulouse-Blagnac airport?
To park your car near the Toulouse-Blagnac airport, two options are available: free shuttle service or valet parking. It's up to you to determine what best suits your needs and budget. Many filters are available to choose the type of parking you are looking for, for example, indoor or outdoor parking (it will never be a public parking lot, however). The airport drop-offs are accessible via Jean Dabry street. Here is more information on both services:
Valet parking (Meet & Greet)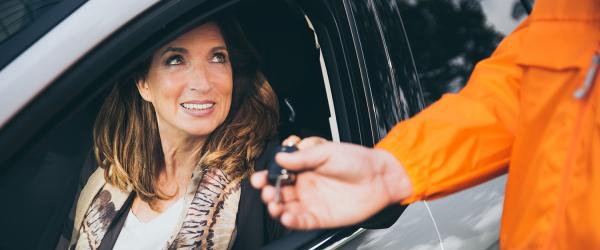 This is undoubtedly the most comfortable option, but also the most expensive. The valet service (valet) allows you to go directly to Toulouse-Blagnac airport without going through the parking lot. A valet will be waiting for you and will pick up your vehicle at the meeting point agreed upon before your departure. Upon your return, the valet will bring your vehicle back to your terminal and you can easily get back on the road. Probably the best known suppliers are Blue Valet and Ector.
Shuttle parking (Park & Drive)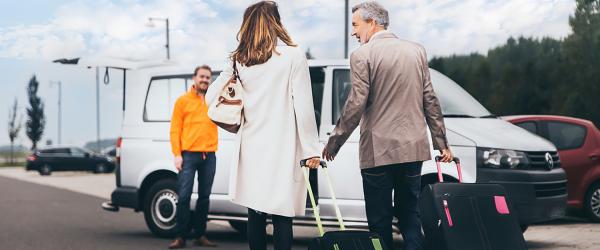 The shuttle service is a free option. Indeed, it is included in the price of the parking lot. However, the free shuttle is an efficient service. You will need to allow a little more time than with a valet, but the journey between the parking lot and the airport takes no more than 10 minutes. You drive your car directly to the provider's parking lot and the shuttle takes you to Toulouse airport. When you return, the shuttle will take you back to the parking lot and you can get back on the road. In most cases, the staff does not pick up your vehicle. Examples of parking lots with free shuttle: Park & Trip Toulouse, IPY Parking Toulouse, etc.
Long-term parking at Toulouse-Blagnac
Depending on the duration of your parking, we offer long or short term parking to meet your needs. The parking lots that we offer always have weekly or 24h parking rates in order to adapt to the market demand. Your car will always be in good hands and you will be able to leave on a serene journey.
Here are a few tips to make the most of your stay abroad:

Compare the different parking options available: Use the different filters at your disposal to compare the different services and prices at Toulouse airport. By comparing the different providers, you will find the offer that suits you best.

Choose the type of parking that suits you: Depending on your needs, you can choose between a free shuttle service to Toulouse airport or a valet service.
The valet service includes picking up and parking your vehicle. It is very practical and also very popular with people with reduced mobility because you go directly to the Toulouse-Blagnac airport. Thanks to this service, you can save up to an hour of time!
The shuttle service is included in the price of your reservation. This low-cost service is still very efficient, but you will have to arrive 1 hour earlier than the valet service. This time is necessary in order to park your vehicle, check in at the reception and take the shuttle. The shuttle runs at intervals of approximately 20 minutes and picks you up at your arrival terminal on the day of your return. Why take public transportation when a shuttle is more efficient?

Safety : Just like for you, the safety of your car is our priority. For this reason, Parkos carries out inspections of all its employees, whether at Toulouse airport or elsewhere. We make sure that the security of your vehicle is maximum and therefore do not work with unattended parking lots or public parking lots.

Travel directions: Don't forget to organize your trip before leaving for Toulouse airport. Make sure to be on time at Toulouse-Blagnac airport. Listen to the traffic news regularly and plan an alternative route to avoid delays. At Parkos, we help you plan your trip, just calculate your travel directions online.
View the car parks on the map
Customers rate our parking providers with an average of 9.9
Parked from 1/2/23 til 1/18/23
Parked from 12/29/22 til 1/1/23
Parking providers at Toulouse Airport
The benefits of Parkos
All parking lots are carefully inspected
The best deals on airport parking
Free cancellation up until 24 hours
Over 2 million customers globally