Gran Canaria Airport Parking
Gran Canaria Airport, officially known as Las Palmas Airport, offers both passenger and freight services on the island of Gran Canaria. It's a very important airport in Spain's transport network. It's sixth when it comes to the number of passengers that go through its terminals. Nearby Tenerife Sur Airport was seventh, although Tenerife North Airport did not make the top ten. With so many travellers, there is high demand for airport parking at the airport.
Table of content:
When you head out on holiday, being able to leave your car at the airport is often very important. This is because it makes it easy to get to the terminal from an airport parking spot. At Parkos, you can compare all the different car parks at Gran Canaria airport to find the one that's closest to the terminal or offers the cheapest Gran Canaria airport parking. We compare both the short and long stay car park options. And, we work with different providers for airport car parks at the Gran Canaria airport. There are many different car parks at Gran Canaria airport so read on to find out what parking spots are on offer.
With this in mind, it's important to be able to find cheap parking at the airport before you travel. Parking is getting cheaper, but there's still the need to book in advance. And, while Gran Canaria airport does offer parking of its own, there are also a number of providers that have great long-stay car park services outside the airport too. Choose from a range of inexpensive providers for the best parking spot at Gran Canaria airport.
Cheap parking at Gran Canaria Airport

It's important that you have somewhere safe for your car at the airport when you go travelling. Here at Parkos, we compare a range of different car parks for you. We don't just include parking at Gran Canaria airport itself, but also look at options from external providers. All the car parks we list here are safe and reliable and cost less than the standard airport parking.

To further facilitate your trip, we do look at the official Gran Canaria airport parking. You can opt for the long stay car park at car park P1, which is best booked in advance. It's found four minutes from the terminal and has pedestrian access. Entry to the car park spaces is through car park barriers. It's got automated payment machines and a payment desk and is an easy walk from the terminal, making it a popular option for many passengers. There is a height restriction in place. If you are just dropping off, you can avoid having to pay at an automated machine by going to the drop-off zone.

For other, general parking options, we've got you covered. However, we do recommend that you check out our route planner to make sure you don't lose your way when heading for the parking spaces and that you make enough time to get to the arrivals hall once you book your parking. So far, we've had a positive response to our comparisons and recommendations. You can review us here too.
Shuttle and valet parking at Gran Canaria Airport
Our parking partners offer two main types of parking space. These are shuttle and valet parking. Read on to find out what these options are for Gran Canaria airport parking.
Shuttle parking Gran Canaria Airport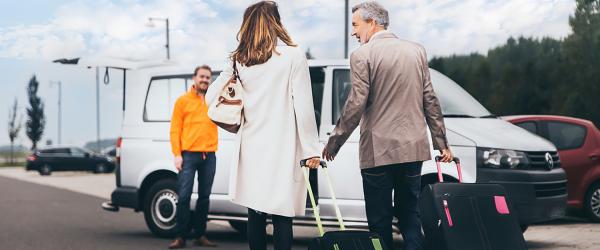 For this option, you simply drive your vehicle to the airport parking spots you have reserved. Once you have found your spaces, you leave the car and then head to the terminal and catch your flight. Typically, you will need a shuttle to the terminal and a return one back to your car. This is generally operated by the car park operators. All you need to do is remember the number of your parking spots.
Valet parking Gran Canaria Airport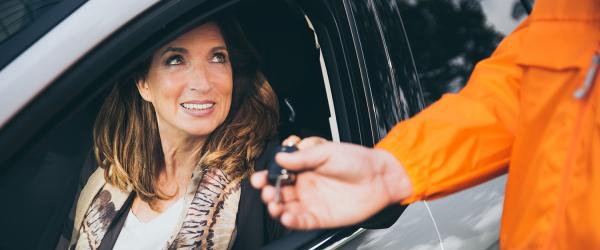 Alternatively, you can opt for an even smoother, easier option with valet parking. Simply go to the terminal and find the agreed upon meeting point. A provider staff member will meet you there, take your keys and drive your car to the parking spot you've reserved. When you return, simply call them in advance and your car will be waiting for you when you land.
Hotel and Parking
If you're making a whole trip of it, then you can even book a hotel as well as Gran Canaria airport parking. It is quite common to find cheaper parking spots in conjunction with a hotel offer.
Long term Gran Canaria Airport parking

Compare the differences between the parkings: At Parkos, we make sure that all the long-term car park options are easy to book and super secure. We also want to make sure there is general pedestrian access to the long-term car parking spaces for the airport. All operators of Gran Canaria parking spaces have been vetted by us too.

Compare the different options: You can compare the differences between an operator car park and the car park P1 at Gran Canaria itself. Each passenger is different, so check whether the features you expect from the car park are all there. For instance, is there a car park control centre, payment machines, a clear number for the car park spots, car park barriers for protection, car rental return options or even availability for disabled badge holders.

Safety: Finally, safety. It is key that the car park space you choose is secure. It's important that it is a car park with protection and surveillance in place while you leave your vehicle there. And, it is important that you can rest easy when away, which is why we only work with top providers.

Plan your trip: All the options can be compared too. There is the option to only go to the drop-off zone, use shuttle or valet parking and even use a car park with fluid dynamics. All car park P1 and other car park bookings can be paid for with debit cards or a credit card.
Our benefits
All parking lots are carefully inspected
The best deals on airport parking
Free cancellation up until 24 hours
Over 4 million customers globally