Information
Parking providers
22
Top rated
Le Voiturier Parisien
Cheapest
Francepark Roissy
Closest to the airport
Le Voiturier Parisien
Table of content:
Park at Roissy Charles de Gaulle airport
If you do not want to depend on public transport to get to Charles de Gaulle airport, do as many travelers do and get there by car! This allows you to enjoy better flexibility and optimal comfort before you go on a trip. At Parkos, you can make a reservation without breaking the bank. Our platform allows you to compare the offers of our suppliers and to reserve the parking spaces available with our various partners near the airport. Once your reservation is made, you will be able to plan your stay without any stress. We find you the best prices in the secure car parks that we have chosen. Do not hesitate any longer and book now!
Parking reservations - The most current information for Roissy - Charles de Gaulle Airport
| | |
| --- | --- |
| 🚙 Parking options: | 22 |
| 🏆 Best rated: | Airport Park CDG |
| 💶 Cheapest: | Francepark Roissy |
| 🛫 Closest to airport: | Le Voiturier Parisien |
Paris-CDG airport, also known as Paris-Charles de Gaulle, Roissy-Charles de Gaulle or simply Roissy, is located 25 kilometers north-east of Paris. It is the largest airport in France. Access by car is easy, but please allow 30-60 minutes to get there depending on traffic. You can also take direct buses, but the journey is longer and sometimes boring. The A1, A3 and A104 motorways provide direct access to Paris Charles de Gaulle airport. Note also that this airport has two stations, including the TGV CDG station. Public transport provides travel between the terminals, stations and car parks on site.
Compare the best parking providers for Charles de Gaulle airport
Roissy CDG airport has three terminals and welcomes around 60 million travelers each year, whether in transit or stopover. Many airlines are available, like Air France, Turkish Airlines, etc. If you wish to park near Paris-Charles De Gaulle Airport, please reserve a parking space several hours before check-in for your flight, as there is heavy traffic there. If you live in France, Paris airports are great places to start your trip.
Find a parking space in Roissy with Parkos and compare the offers of the different suppliers around Paris-CDG airport to make a reservation with the best value for money. We select our partners to guarantee you a secure parking space. Many of the available car parks have a video surveillance system, not to mention an available and professional staff.
Parkings in Roissy at the best prices
If you are looking for a good plan, we advise you to reserve your parking space as early as possible, especially if you are flying from the capital. Thus, you will benefit from the best prices and availability. You will also have the choice between covered and uncovered parking. You can also opt for one of the "hotel parking lots" which is becoming more and more popular.
At Parkos, once you have paid for your reservation, the price will not change. We work with many partners, for long-term or standard parking, and offer attractive prices. Compared to official airport parking, our suppliers allow you to save money. Indeed, the airport parking, although it is covered, is often very expensive. Reserve your parking space today!

All our partners are located near Roissy airport in order to avoid excessively long shuttle trips. Instead, we offer a fast service to reach CDG airport as quickly as possible, aboard a free shuttle or with the help of a valet.

Some people think that low cost car parks offer poor service. However, at Parkos, we offer affordable deals without compromising on quality of service. Our partners are professionals for whom your satisfaction is essential. They therefore ensure the safety of your vehicle as well as excellent customer service. Most of our suppliers are open 24/7. Whether it is for a reservation at Roissy airport or elsewhere, Parkos always tries to provide you with the best possible price.

Customer reviews will undoubtedly help you choose your parking space and the service that suits you. The average rating given to our employees by our customers is 8,3 out of 10. We are constantly working to ensure customer satisfaction.
Parking spaces at the best prices for Roissy airport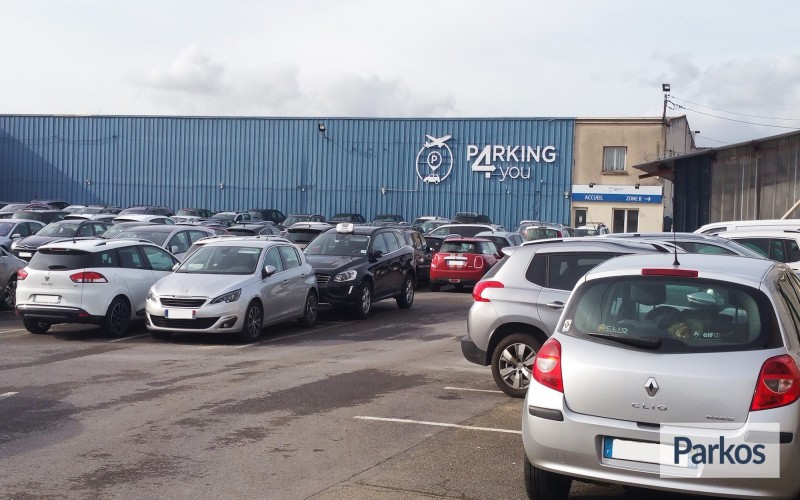 Which service to choose?
To park your car near Paris CDG airport, you have two options: the shuttle or valet service. We help you determine which one is right for you so that you just have to choose the parking lot that fits your budget. Once you have reserved your space near Roissy Charles de Gaulle, you can choose from various services. For example: indoor or outdoor parking. Filter your search according to your needs and book a Blue Valet valet parking or a free shuttle.
Valet parking (Meet & Greet)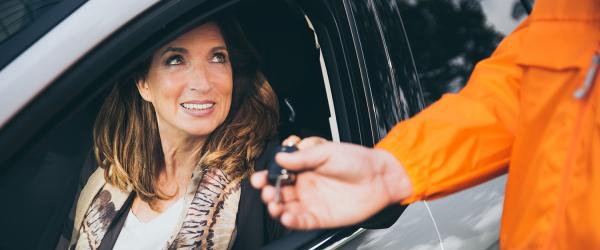 If you don't have a lot of time, choose the most comfortable option: valet parking . Indeed, this service allows you to save time, because you only have to go to the airport without going through the car park. A valet will meet you there at the agreed meeting point (eg Terminal 1). He takes care of parking your car in the car park where you have reserved. As soon as you pick up the vehicle, you are on your way! Upon your return, the valet will meet you with your vehicle at the airport terminal. So you don't have to look for a parking space! Companies like Blue Valet and Ector provide this kind of service.
Shuttle parking (Park & Drive)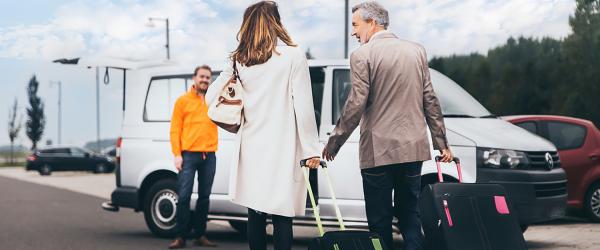 The shuttle service is a free option, included in the price of your reservation. This is the service most chosen by our users. In addition to being less expensive, this option is just as effective as the valet parking service. Once you have dropped off your car at the Roissy car park, the shuttle will take you to the terminal of your choice. She does the same when you return. This option allows you to see the lot on which your car is parked while taking advantage of discount parking.
Long-term parking at Paris-Charles-de-Gaulle
Whether for a short or long term, we always do our best to find the best rates. Most parking lots also offer weekly rates. Some airlines only offer two flights per week, forcing you to extend your stay. Plus, we know how stressful it can be to leave your car with strangers while on vacation. Don't worry, at Parkos we can guarantee that your car is safe and constantly monitored. We do not offer you unverified public parking without any security system. So leave with peace of mind and make the most of your stay.
To help you make the most of your trip, we invite you to follow our advice:

compare the different options available: If you compare the different parking options with our online comparator, use the filters at your disposal to find the option that suits your least needs. All our car parks have direct access to the airport and some are open permanently.

Choose the car park that suits you: In order to determine your needs, ask yourself the right questions. Do you prefer to use a valet? Outdoor or indoor parking? These questions will help you find THE parking space you need at Paris Charles de Gaulle. You obviously have the choice between free shuttles and valet parking. In any case, you will always be in the immediate vicinity of your departure airport. Some of our partners also offer car washing in addition to other services (For example: Parking Roissy Tarif, Parking Central Roissy, etc.).
As mentioned above, valet parking is undoubtedly the most pleasant, as you go straight to the airport and don't go through the parking lot. When you return, the valet will be waiting for you at the drop-off point, so you don't have to wait. You can save up to an hour! Reserve your parking space in advance to take advantage of attractive rates.
The free shuttle service is convenient and less expensive. You park your car yourself on Roissy and take the shuttle to the airport. The trip takes no more than 10 minutes (or even 5 minutes in some cases) and the shuttles run at 20 minute intervals.

Safety : Leaving your car behind is often a source of stress. For this reason, Parkos carefully chooses its partners. These are monitored 24 hours a day. We want your vehicle to be in the best possible condition. We therefore do our utmost to ensure that your car is in good hands and near the CDG airport terminal. You can also compare the security measures of different car parks on our website.

Plan your route: Before your departure, plan your trip to Paris Roissy CDG airport with, if possible, an alternative route. Make sure you arrive on time. Thanks to the traffic information, you will be aware of road works, accidents, traffic jams and others. Also allow a bit more time if you are going during rush hour. With Parkos, you can plan your trip by "calculating your route". If you have any questions please do not hesitate to visit our frequently asked questions or to contact us. A lot of useful information can also be found in our general conditions and legal notices.
Information
Parking providers
22
Top rated
Le Voiturier Parisien
Cheapest
Francepark Roissy
Closest to the airport
Le Voiturier Parisien
Customers rate our parking providers with an average of 8.7
Nice, fast and on time, friendly
Sina Sadeghpour
Shuttle outdoor
September 25, 2022
We arrived a little early on delivery and there was no one there with access to the building easy and car keys on the table everywhere so thought the security was terrible on return we tried the mobile number for collecting impossible to get through for about 45 minutes and nearly caught a taxi as we did not think we were going to get picked up. On the plus side the people were very nice and friendly and the car was undamaged the transfers were good when arrived the price was very good but we would never have found this place without a sat-nav Do not think I would use this parking again but would not put anyone else off it as they may have a much better experience
Anonymous
Shuttle outdoor
September 19, 2022
Parking providers at Charles de Gaulle Airport
The benefits of Parkos
All parking lots are carefully inspected
The best deals on airport parking
Free cancellation up until 24 hours
Over 2 million customers globally