We help you compare parking prices at Paris Beauvais Airport.
What makes Parkos unique?
All parking lots are carefully inspected
Free cancellation up until 24 hours before departure
How can we help you?
Our experts are here to assist you with comparing parking locations and are happy to answer any questions you may have.
Please contact us
Customers rate Parkos with an average of 4.4
Customers who have booked a parking space through us, rate these with an average of 4.4/5 based on 531 reviews.
Jeffrey Sunday 24 October 2021
Were received well and quickly taken to the airport. Nice that the staff parked our car for us.
Anonymous Sunday 24 October 2021
Straightforward website, booking was quick and easy!
Find the best prices near Beauvais airport
For direct access to Beauvais airport, it is preferable to take the car. This way you don't have to depend on public transport. The ideal is therefore to find a secure parking space at an affordable price. At Parkos, the safety of your vehicle is our priority. Parking in the airport car park is a real challenge, especially during the holiday season or when summer is in full swing. For this reason, many private parking providers have sprung up around the airport in order to meet the demand of potential customers. Parkos compares the different offers available so that you can book a parking space online easily. You will therefore not have to tirelessly search for a parking space on the day of your departure.

In order to take advantage of good deals, we always recommend that our customers book in advance. Indeed, prices increase for those who book at the last minute. We recommend that you reserve a parking space as soon as you have your plane tickets. In this way, you will take advantage of the best deals and have a variety of suppliers to choose from. Comparing offers allows you to save money. Note, however, that even though we offer low prices, that doesn't mean we skimp on quality. We only work with reliable partners located around the airport. Each of them has secure parking spaces. After all, a satisfied customer is a returning customer.

Our employees all have effective security systems so you can leave with peace of mind. The car parks are all fenced and some are even guarded day and night by staff. The car parks are generally located a few kilometers from the airport, but the price always includes the shuttle to make transfers between the car park and Beauvais airport. The valet service allows you to go directly to the airport on the day of your departure.

If you hesitate or are simply curious, do not hesitate to read the customer reviews left to our parking partners. Only customers who have booked with them can leave a review, so you can be sure they are verified reviews. Note, however, that the most recent reviews are the most relevant, as our suppliers, like us, are constantly trying to improve their services. Many Parkos customers are satisfied and have evaluated the car parks in Beauvais with an average of 9/10.
What services are available at Beauvais airport?
Since the parking areas are usually located a few kilometers from Beauvais Tillé airport, a transfer between the car park and the airport is necessary. Many of our suppliers provide a free shuttle. This will take you to your departure terminal, whatever the day of your departure. Terminals 1 and 2 are located between car park P1 and car park P3. The P2 and P4 car parks, which are part of the official airport car park, are located near Terminal 2. Suppliers without a shuttle provide a valet parking service. All the necessary information will be found in the confirmation of your reservation. If you would like more information before booking, do not hesitate to consult our frequently asked questions. A lot of useful information can also be found in our general conditions and legal notices. In addition, our customer service is always available to help you.
Valet parking (Meet & Greet)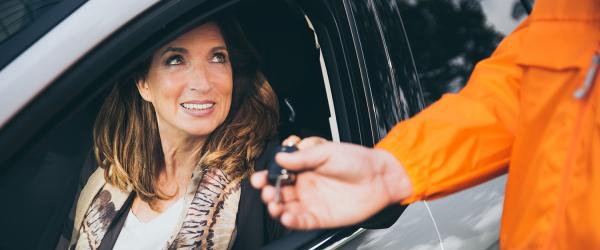 There is no doubt that the most comfortable service is valet parking, sometimes known as valet. The system is simple. You book, and on the day of your arrival, you drive your car directly to Paris Beauvais airport. A valet will be waiting for you there. He will carry out an inventory of the vehicle with you and then take charge of it. You can therefore go and check in quietly at the airport while the valet will park your vehicle in their car park. With this option, you save up to an hour of time compared to the shuttle service, which is highly efficient This service is also very popular for people with reduced mobility who do not want to have to go to the car park.
Shuttle service (Park & Drive)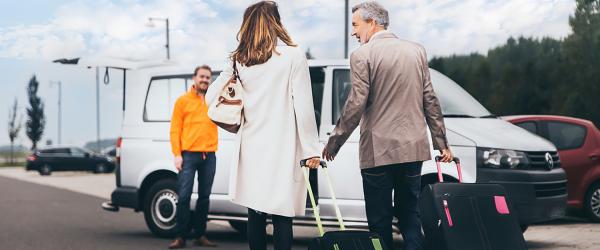 If you want to save money, do like most of our customers and opt for a shuttle service. Nothing's easier. On the day of your departure, go to the car park address indicated on the confirmation of your reservation. At some of our suppliers, you park your vehicle yourself. In others, the staff do it. It's up to you to see what works best for you. You can even opt for additional services like car washing, preparation for technical inspection of your vehicle and others for an additional charge if you wish. All our partners are located near the airport to ensure a quick transfer to Beauvais airport. The free shuttle is not as fast as the valet parking, but this does not mean that the staff are less concerned about your comfort. Most of our suppliers have places reserved for people with reduced mobility so that they do not have to travel for a long time between their car and the shuttle. Examples of car parks offering this service: Air Parking Beauvais, Parking Shuttle Beauvais.
Long-term parking at Paris Beauvais airport
Obviously, Parkos offers its customers the option of reserving long-term parking lots near Beauvais airport. Whether you want to park for a few days or several weeks, we will have an offer that meets your needs. Your vehicle will always be in good hands with our employees. You don't even have to check the availability of parking lots, the offers displayed only include available parking lots. Follow the tips below and book online to find the best prices near Beauvais Airport.

Compare offers: Parkos has plenty of filters at your disposal so you can find the parking lot that best suits your needs while getting a good deal. The most important factors for our customers are: security, distance between the car park and the airport, the service offered (shuttle or valet) and the possibility of keeping your keys. In the case of valet parking, you must give your keys to the staff.

Choose the desired service: We always try to offer our customers the choice between shuttle and valet service at all airports where we have employees. The shuttle takes you to the Beauvais airport terminal while the valet takes care of parking your car in the supplier's car park. This choice depends on both your budget and your needs. Allow a little extra time for the shuttle service, even if the wait is never very long. Thanks to our different offers, you will see that it is easy to find a parking lot near Beauvais airport without having to pay as much as for your plane tickets.

Security: We are always looking for information in order to add new partners to our website. Indeed, the safety of your car is paramount to us. We regularly visit our partners to ensure the quality of their service. We also always try to offer you car parks located near Beauvais airport so that you do not have to travel unnecessary kilometers. By booking, you make sure to park your car in a secure car park so that you can go on your trip with peace of mind.

Plan your route: We strongly recommend that you plan your route in advance. Please also listen to the traffic information in order to be aware of any problems on the road. It's also handy to have an alternate route just in case. Try to avoid the busy roads around Beauvais Airport and make sure you arrive in advance.