Parking at Dortmund Airport
Who doesn't prefer to travel to the airport in comfort in their own car? This way you start your vacation in a relaxed way and avoid annoying delays of your travel planning because of problems with public transport and transfers with heavy luggage. Especially with very early or late flights you are independent of limited transport services and save a lot of time and stress. Use our portal to compare a number of reliable alternative parking providers with regard to their low prices range and the location of the parking spaces and find the offer that suits you best. Searching for and booking a car park space in advance saves you a lot of time and money and guarantees the availability of your selected parking services, so that you can always use short term parking and long term parking options cheaply at the Dortmund airport.
Table of content:
Dortmund Airport is the third largest airport in the area of North Rhine-Westphalia and in 2018 was even among the 10 most punctual airports in the world. In 2019 it served 2,719,563 passengers. Different airlines like EasyJet, Ryanair and Wizz Air offer flights from Dortmund. The Dortmund airport is about 10 kilometers east of the city center. It has two terminals, a regular passenger flight terminal (Terminal 1) and a terminal for private machines (Terminal GAT). This has the advantage that the arrival and departure halls can be reached quickly and easily from all airport parking facilities.
Dortmund DTM Airport offers around 5,000 parking spaces in the area, some of which are located directly at the airport. The shuttle service transfer to the terminal takes only a few minutes and takes you from the car park to the airport. Book parking close to the airport and save money on expensive train tickets. You can find all the parking and airport information in the booking confirmation e-mail you receive after you have booked a spot at one of the parkings. The holiday feeling begins before you leave when you use the comparison tools of Parkos for booking a parking at Dortmund Airport.
Parking lots at Dortmund Airport
Dortmund Airport offers a large selection of car parks for every budget, many with a shuttle service. You can book your parking space online in advance with a few clicks and thus avoid higher last-minute prices. Find the parking space that suits you the best- always at the best prices and low price guarantee!

Dortmund Airport offers you several covered and uncovered spaces for both short term and long term parking. You can reach the airport from all car parks in a maximum of 20 minutes. From some car parks you can reach it after a few minutes.

Some parkings offer you a comfortable shuttle transfer, which is free of charge or extra parking fees. You can easily walk to the airport from other car parks. Ensure the safety of your car. Almost all parking spaces at Dortmund Airport are video-monitored. You can always leave your car at the airport parking with a clear conscience.

Your advantages are not neglected at Parkos, because you also have the opportunity to read and compare reviews and experiences of other customers. Customers who have booked parking providers near Dortmund Airport through Parkos have given them an average of 9,4/10. If you have any uncertainties about the services Parkos offers, check out the frequently asked questions or reach out to our customer service on the Parkos website.
Shuttle and Valet services
Dortmund Airport offers you two convenient parking options in the immediate vicinity of the terminal for that certainty and extra convenience. Below we give you all the parking at Dortmund airport information about the valet and shuttle parking options at Dortmund Airport.
Shuttle parking (Park & Drive)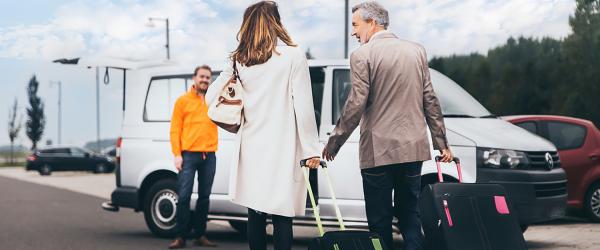 The advantage of the Dortmund airport is that it is not a very large airport and therefore very clear with its 2 terminals, only one of which is used for regular flights and air travel. You can reach your departure hall from any parking area within a few minutes and at most in 20 minutes. However, some parking facilities do not offer you any transport options, which is not ideal when you have children or heavy luggage with you. Fortunately, if you want to park at Dortmund Airport, there are also a number of parking options that include a transfer in a comfortable shuttle bus. This bus will bring you directly to the airport within a few minutes without an extra parking charege. From the Easy Parking car park, for example, the journey to the terminals takes only 7 minutes. Start your well-deserved holiday comfortably and stress-free with Parkos. On our website you can quickly and easily find information, search and compare all options including transfer by shuttle and select the most suitable variant for you in advance. You can either book the tickets for the shuttle bus online from home in advance or buy them on the day of arrival at the parking garage.
Valet service (Meet & Greet)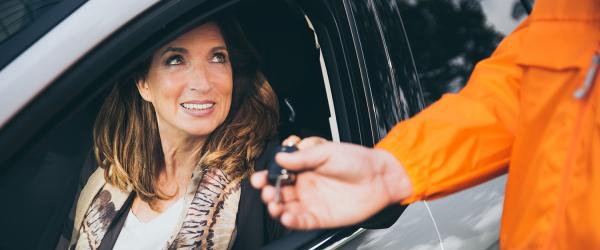 Planning your vacation in itself is often very stressful and you don't want to take this stress with you on the day of departure. Or even after the return journey, if you would like to go home as quickly as possible and end the holiday calmly and relaxed. Treat yourself to that certain extra comfort and avoid long searches for free Dortmund airport parking spots. On the day of departure, a competent German or English employee will be waiting for you at the airport and will take your car to its dedicated parking lot. When you return, your car will be waiting for you at the airport so that you can load your luggage quickly and easily. The employees at of the parkings in Dortmund are competent and reliable. So you can always be sure that your car is in the best of hands.
Short-term or long-term parking at Dortmund Airport
Regardless of whether you are traveling for a week or a month, whether you want comfortable transport from the parking lot to the terminals or you can master the route on foot, whether you prefer a covered parking space or want to use an uncovered car park - we offer all possibilities you can imagine. You have a choice of different options. You can easily compare these in advance and book online the cheapest and best option for you stress-free.

Compare between different providers: With Parkos you can quickly and easily compare the different providers and find the type of parking you want at the lowest price guarantee. Browse through the different options of our alternative parking providers, choose one of them and save unnecessary costs. Parking at the airport itself can be very expensive. A day at those parkings can quickly cost you around 39 euros. Money you'd rather be able to spend on your well-deserved vacation.

Choose your parking method: We offer parking options for different needs and demands. With valet, for example, your vehicle is picked up at the airport and waits for you in front of the terminal when you return home from your flight.
With shuttle parking, a comfortable shuttle bus takes you directly to the terminals for small extra parking charges. This saves time and effort, especially if you have a lot of luggage with you. Alternatively, you can reach the airport from any of the parking spaces offered by a short walk.

Security: Security is our top priority. We check all parking providers personally so that we can ensure that your vehicle is always in the best hands and check the security measures that the individual companies have taken for this. You can also have a look at these on our website, check the frequently asked questions here or if you have any other concerns about it, reach out to our customer service here. Transparency and security are our top priorities.

Plan your trip: planning is everything. Now that you have compared all parking providers and selected the ideal parking space for you, it is time to organize your journey. Find out in advance, for example with the help of our Routeplanner, about the location of your parking space and how you can get there. It is best to always allow a few minutes longer in case you unexpectedly get into a traffic jam or get lost.
Parked from 4/25/23 til 4/27/23
Parking itself is nice, no complains. The man who works there is also very nice. The woman is very slow. She came to the airport to pick me up. She was on the phone for 10-15 minutes with friends before she moved on... She didn't drive me to my car. I was not my first time with her when she is so slow. The man does his job very well and he's very polite. The only inconvenience is nobody speaks english on site.
...Read more
Parked from 2/5/23 til 2/8/23
Everything was great. Unfortunately, there is one problem - no one speaks English, only German. It's hard to communicate and let them know you'll be there in 15 minutes when no one speaks English. The communication with employees was difficult, but in the end everything worked out!
...Read more
Our benefits
All parking lots are carefully inspected
The best deals on airport parking
Free cancellation up until 24 hours
Over 4 million customers globally