View the car parks on the map
Parking at Bremen Airport
The most convenient way to get to Bremen Airport is, of course, with your own car, as public transport is unfortunately not always reliable and it is also easier for you to take your luggage with you when you travel by car. But at the airport it can certainly lead to stress and hectic, because finding parking spaces at the airport is not always easy. But driving without reserving a Bremen airport parking is not a good idea. To save you exactly these hectic and stressful situations, you can book a parking space in the immediate vicinity of Bremen Airport online in advance with Parkos and thus start your journey in a relaxed way. The official parking facilities at Bremen Airport are usually very expensive. For this reason, so-called alternative off-airport parking providers offer you inexpensive parking alternatives that are significantly cheaper, but in no way inferior in quality to the expensive competition. Compare our providers, read the latest customer reviews and opt for the relaxed shuttle parking at a Bremen car park or the even more convenient valet parking.
About Bremen Airport
Bremen Airport, also known as Bremen Airport Hans Koschnick or Bremen BRE Airport since 2017, is the international city airport of the city of Bremen and is one of the most diverse airports in the north of Germany. Airlines in various price categories offer their services there and fly to destinations in Europe and North Africa. The low-cost airline RyanAir even has its own arrivals hall at Bremen Airport. Of course, Bremen Airport also has an airport lounge.
The airport is particularly easy to reach from Groningen, but also from other Dutch cities, and is therefore used by many Dutch people. Due to its smaller size, Bremen Airport is also used as a transit airport, for example to Berlin Schönefeld or Berlin Tegel Airport, Hannover Airport, Munich Airport, Frankfurt Hahn, or France Paris Charles de Gaulle and many more.
Car parking at Bremen Airport
Do you like to travel or fly frequently? Travelling in your own car is of course the most comfortable and easiest way to get to the airport. But travelling with your own car naturally means that you have to park your car at the airport. With Parkos, you can book a parking space in advance and thus take advantage of the relaxed way of parking at Bremen Airport. This saves you the hassle of searching for a suitable parking space, which is sold to you at an overpriced price. In addition, you do not have to check the availability of your desired parking space first, as you will only be shown parking providers that are available for your desired period. With Parkos providers, you can be sure that your car is parked at Bremen Airport in a cordoned-off, secured and monitored area while you are travelling, and at a much lower price than you will find with the official providers at Bremen Airport. Despite the fact that the parking providers are a cheap alternative, you can always expect friendly staff, secure parking, quality and good service.

Are you wondering what these alternative parking providers are exactly and whether it is worth booking a parking space with them? Definitely! A comparison is always worthwhile, no matter how many days of parking you are interested in, because you can quickly save 50% and more compared to the official providers of Bremen Airport, and this despite the proximity to the airport and the excellent service they offer you. Once you have completed your booking, you will receive a very detailed description of the parking process, as well as all the other information that will ensure that you will be able to say afterwards that everything went smoothly.

The term "cheap" is often associated with a lack of quality or service. But this does not apply to the parking providers at Parkos. All parking providers listed on our website are subject to strict quality controls. In addition, the competition among parking providers is very high. For this reason, car park operators cannot afford to offer poor quality and risk losing customers. The standard of all listed parking providers is very high, but they all differ, for example, in the additional services they offer or in the distance they are located from the airport. Since the parking providers are located in the immediate vicinity of City Airport Bremen, but not directly at the terminal, a free transfer to the airport is always included with all parking providers.

All car park providers are personally inspected by us and are subject to strict security checks as well as quality standards. The providers' premises are usually guarded by staff 24/7, and all are cordoned off and secured with cameras. We will be happy to assist you in finding the best parking provider for you, so that you can park your vehicle cheaply but safely at Bremen Airport and enjoy a carefree journey.
Cheap parking spaces at Bremen Airport
Shuttle and valet parking at Bremen airport
The alternative parking providers manage their parking areas very close to City Airport Bremen. So that you can get to the terminal in a relaxed manner, the price at which you book always includes a free transfer to the terminal. This is called shuttle parking. Or you can book the convenient Valet Parking. As these two terms are among our most frequently asked questions, we would like to explain them to you in more detail below.
Shuttle parking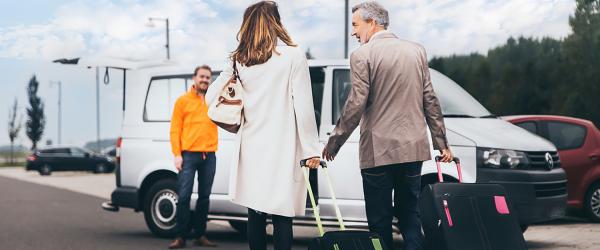 If you park at Bremen Airport with one of our listed parking providers, a free shuttle service is always included in the price, as the parking areas are usually located within a few minutes' drive from Bremen Airport Terminal. But they will make sure you get from the car park to the airport and, of course, back to your car in complete comfort. If you opt for shuttle parking, you will drive directly to the parking area of the provider you have booked on the day of your journey. There, you usually park your car yourself in a parking space, or you will be assigned a parking space. You will then be taken directly to Bremen Airport by individual transfer. Thanks to the individual transfer, you save yourself unnecessary waiting time and parking at Bremen Airport becomes very easy. For the return journey, call your booked provider and the driver will then pick you up again at the airport, at the agreed meeting point directly at the terminal, with the shuttle bus. It may happen that you have to leave your car keys with some providers. This is because the providers want to use their parking area efficiently and occasionally need to re-park a vehicle if a customer returns from their trip earlier or later than planned. If this is the case, you will always see this clearly marked on our website. However, you can be sure that your vehicle will not leave the parking area during your journey. It is also possible to use the shuttle service in Bremen 24/7.
Car valet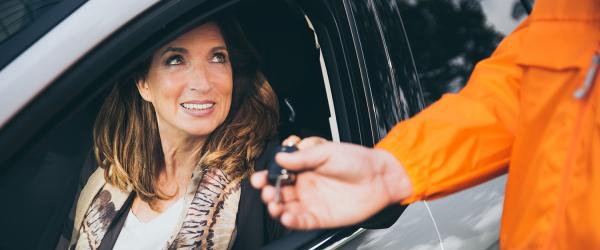 Valet parking is the most convenient of all parking methods. With car valet parking, you don't have to first drive to the parking provider's premises and wait for a shuttle to take you to the airport terminal. Of course, this means you avoid the risk of a longer wait. If you choose the convenient valet service, you will drive directly to the airport terminal on the day of your journey. At the terminal, you will already be met by a certified driver from the car park provider you have booked. Together with him or her, you will carry out a damage check on your vehicle to avoid any misunderstandings later on. You can then proceed directly to the airport terminal check-in, while the driver parks your car in the secure parking area, which is only in the provider's premises, just a few minutes away from the terminal. On your return, you inform the provider of your landing by a short phone call. Your vehicle will then be made available to you again directly at the terminal so that you can quickly continue your journey. Please note that you must always hand over your car key when valet parking.
Long term parking at Bremen Airport
Parkos offers you the opportunity to find cheaper parking at Bremen Airport. It doesn't matter how many days a year you want to park, because the parking providers have cheap and safe parking options available for you at any time of the year. They always charge per day and even if you return later than planned, you will only incur minimal additional costs, which you can pay directly to the parking provider on site. Cheap parking spaces at Bremen Airport are easy to find with Parkos.
We have put together some tips that will make parking near Bremen Airport even easier for you:

Compare: Because the comparison is always worthwhile! The numerous parking providers all have different services and prices. With Parkos, you have a direct comparison between all these providers and can thus find the best parking space for you.

Reviews: The opinion of our customers is very important to us. It also gives you a realistic impression of the parking providers. Only customers who have actually booked through Parkos can leave a review afterwards. Please note, however, that more recent reviews are more meaningful than, for example, negative reviews from 2 years ago. All parking providers are constantly trying to improve their service and your review helps them to do so. You will see that you will also be fully satisfied after using the parking service and that everything worked out perfectly.

Safety: All listed parking providers are personally checked by us before you find them on our website. This does not mean that the parking providers can do whatever they want after this check, because the quality standards at Parkos are high. As soon as we find out that a parking provider no longer meets our quality standards, he or she is removed from our platform. Quality is a high priority for Parkos. After all, we want all our customers to be able to say that everything went well after their parking experience.

Plan your trip: Bremen is a big city with a lot of traffic. To enjoy a relaxed start to your journey, we advise you to plan your route in advance. It is also advisable to allow enough time for the journey to the car park and the drive to the airport, so that you get to the check-in on time. We also advise you to check the current traffic situation in and around Bremen online at the beginning of your arrival day, as this will enable you to avoid road works or traffic jams if necessary. Since the parking providers' sites are often a little out of the way, you can avoid the busy streets of Bremen. You can plan your journey in advance with the help of our route planner. The site also gives you tips on general traffic rules in Germany, as well as the roads around and in Bremen. Parking at Bremen Airport is easy with Parkos.
View the car parks on the map
Other customers rate our parking partners with an average of 9.6
Parked from 12/23/21 til 12/31/21
Very good and safe location close to the airport. The stuff who runs the shuttle bus also was very helpful and flexible and despite the very early time of my flight she was there to take me to the airport.
...Read more
Parked from 9/1/22 til 9/5/22
Excellent service. Parking place itself was not quite as good as I expected, rough tarmac etc, but the staffs friendliness and helpfulness was 100%.would definitely use again +recommend
...Read more
Parking providers at Airport Bremen
Our benefits
All parking lots are carefully inspected
The best deals on airport parking
Free cancellation up until 24 hours
Over 3 million customers globally