View the car parks on the map
Parking at Bremen Airport
When it comes to reaching Bremen Airport conveniently, traveling with your own car is undoubtedly the best option. Public transport may not always be reliable, and carrying your luggage becomes effortless when you have your car. However, we understand that finding parking spaces at the airport can be a stressful and challenging experience. That's why we have a unique solution tailored just for you - introducing Parkos, your go-to Bremen airport parking partner! Traditionally, official parking facilities at airports tend to be quite expensive. But worry not, as Parkos presents you with a brilliant alternative - the off-airport parking providers. These cost-effective alternatives offer parking solutions that are significantly cheaper without compromising on quality. In fact, our carefully selected off-airport parking providers ensure that you receive top-notch service and satisfaction, just like the expensive competition.
Experience the difference with Parkos at Bremen Airport - where convenience, affordability, and quality come together to redefine your parking experience. Make your reservation today and embark on a stress-free journey, knowing that your car is in safe hands while you travel.
About Bremen Airport
Bremen Airport, also known as Bremen Airport Hans Koschnick or Bremen BRE Airport since 2017, is the international city airport of the city of Bremen and is one of the most diverse airports in the north of Germany. Airlines in various price categories offer their services there and fly to destinations in Europe and North Africa. The low-cost airline RyanAir even has its own arrivals hall at Bremen Airport. Of course, Bremen Airport also has an airport lounge.
The airport is particularly easy to reach from Groningen, but also from other Dutch cities, and is therefore used by many Dutch people. Due to its smaller size, Bremen Airport is also used as a transit airport, for example to Berlin Schönefeld or Berlin Tegel Airport, Hannover Airport, Munich Airport, Frankfurt Hahn, or France Paris Charles de Gaulle and many more.
Car parking at Bremen Airport
Do you like to travel or fly frequently? Travelling in your own car is of course the most comfortable and easiest way to get to the airport. But travelling with your own car naturally means that you have to park your car at the airport. With Parkos, you can book a parking space in advance and thus take advantage of the relaxed way of parking at Bremen Airport. This saves you the hassle of searching for a suitable parking space, which is sold to you at an overpriced price. In addition, you do not have to check the availability of your desired parking space first, as you will only be shown parking providers that are available for your desired period. With Parkos providers, you can be sure that your car is parked at Bremen Airport in a cordoned-off, secured and monitored area while you are travelling, and at a much lower price than you will find with the official providers at Bremen Airport. Despite the fact that the parking providers are a cheap alternative, you can always expect friendly staff, secure parking, quality and good service.

Curious about the benefits of booking with these alternative parking providers and whether it's a smart choice for you? Absolutely! A comparison is a must, regardless of the duration of your parking needs. The savings can be impressive - you'll be delighted to find that you can save up to 50% or more compared to Bremen Airport's official providers, all while enjoying their proximity to the airport and excellent service. Rest assured that your experience will be seamless, as the booking process ensures you receive a detailed description of the parking procedure and all essential information to guarantee a smooth journey. After all is said and done, you'll be able to confidently say that everything went without a hitch. Embrace the convenience and cost-effectiveness of these alternative parking options today!

The common association of the term "cheap" with compromised quality or service doesn't hold true for the parking providers at Parkos. Each parking facility listed on our website undergoes stringent quality controls, ensuring a top-notch parking experience for you. The high level of competition among parking providers further reinforces their commitment to delivering excellence, as they cannot afford to risk losing customers by offering subpar options. While all our listed parking providers maintain an exceptional standard, they do differ in various aspects. Some stand out with additional services, while others vary in their distance from the city of Bremen. Despite not being directly at the terminal, you need not fret about airport transfers, as every parking reservation includes a complimentary transfer service. Rest assured, you'll enjoy a seamless journey from the parking area to the airport terminal.

At Bremen Airport, we take your parking experience seriously. Every car park provider listed on our platform undergoes meticulous personal inspections and rigorous security checks to ensure they meet our stringent quality standards. Rest assured that when you park with us, you're in safe hands. Security is our top priority, and our providers' premises are equipped with round-the-clock staff monitoring. The areas are cordoned off and fortified with state-of-the-art cameras, adding an extra layer of protection to your vehicle.
Cheap parking spaces at Bremen Airport
Parking options at Bremen airport
The alternative parking providers operate parking areas in close proximity to City Airport Bremen, ensuring a convenient and stress-free journey to the terminal. When you make a booking, the price always covers a complimentary transfer to the terminal, which is referred to as shuttle parking. Alternatively, you have the option to choose Valet Parking, adding to our list of frequently asked questions, and we'll provide a detailed explanation of both services below.
Shuttle parking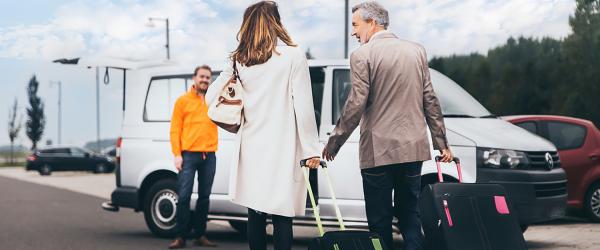 When you choose one of our listed parking providers at Bremen Airport, you can count on a complimentary shuttle service included in the price. Our parking areas are strategically located just a few minutes' drive away from the airport terminal, ensuring a seamless and comfortable transfer. Opting for shuttle parking means driving directly to the designated parking area of your booked provider on the day of your journey. Once there, you'll either park your car yourself in an available space or be assigned a parking spot. The individual transfer service guarantees swift transportation to Bremen Airport, eliminating any unnecessary waiting time and making the parking process incredibly straightforward. When it's time to return, simply give your booked provider a call, and the driver will promptly pick you up at the agreed meeting point directly at the terminal using the shuttle bus. It's important to note that with some providers, you might be required to leave your car keys. This is done to optimize the parking area's efficiency, allowing them to re-park vehicles if customers return earlier or later than expected. Rest assured, any such requirement will be clearly indicated on our website. Your vehicle will always remain within the parking area throughout your journey, giving you peace of mind. The shuttle service in Bremen operates around the clock, 24/7, ensuring you have access to convenient and reliable transportation whenever you need it.
Car valet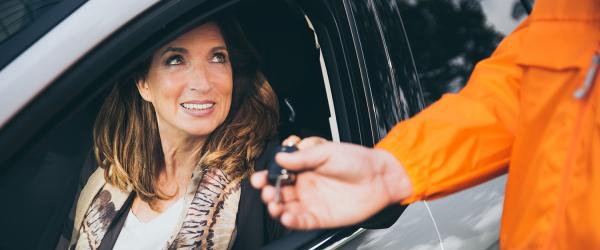 Among all parking methods, valet parking stands out as the most convenient option. With this service, you eliminate the need to drive to the parking provider's location and wait for a shuttle to transport you to the airport terminal. By opting for valet parking, you can avoid the risk of any prolonged waiting periods. Here's how the valet service works: On the day of your journey, you will directly drive to the airport terminal. Upon arrival, a certified driver from the car park provider you've booked will be ready to greet you. Together with the driver, you'll conduct a thorough damage check on your vehicle, ensuring there are no misunderstandings later on. Once this is completed, you can proceed straight to the airport terminal for check-in, while the driver takes care of parking your car in a secure parking area. This dedicated parking area is located just a few minutes away from the terminal within the provider's premises. When you return from your trip, a simple phone call to the provider is all it takes to inform them of your landing. Your vehicle will be promptly brought to you directly at the terminal, allowing you to swiftly continue your journey. It's important to keep in mind that valet parking requires you to hand over your car keys to the provider.
Long term parking at Bremen Airport
Discover affordable parking at Bremen Airport through Parkos. Regardless of the number of days you require parking, our providers offer budget-friendly and secure options year-round. The daily charges ensure convenience, and even if your return is delayed, the extra costs remain minimal and can be settled directly with the parking provider. Parkos makes locating inexpensive parking spaces at Bremen Airport a breeze.
We have put together some tips that will make parking near Bremen Airport even easier for you:

Compare: Make the most of your parking choices with Parkos! Diverse parking providers offer varying services and rates. Our platform enables a direct comparison of all these providers, empowering you to discover your ideal parking space hassle-free.

Reviews: Customer feedback holds immense significance for us. It provides an authentic portrayal of our parking providers. Rest assured, only Parkos customers who have made actual bookings can leave reviews. We advise considering more recent feedback for greater relevance, as service improvements are ongoing. Your review plays a crucial role in aiding providers' efforts to enhance their services. We assure you that after experiencing our parking service, you'll be fully satisfied, finding everything executed seamlessly.

Safety: Each parking provider featured on our website undergoes a thorough personal evaluation prior to listing. Nevertheless, this evaluation does not grant them unrestricted freedom, as Parkos maintains stringent quality standards. Should any provider fail to meet these standards, prompt removal from our platform follows suit. Upholding quality remains paramount to us. Our ultimate aim is for all customers to recount a positive parking experience, showcasing our commitment to excellence.

Plan your trip: In the bustling city of Bremen, a smooth journey begins with some essential preparations. We recommend planning your route ahead of time to ensure a relaxed start. Allocate sufficient travel time to reach the car park and the airport for a punctual check-in. Staying informed about the current traffic situation in and around Bremen is wise, enabling you to avoid roadworks or traffic congestion if necessary. As the parking providers' locations are often slightly away from busy streets, you can bypass the city's hustle and bustle. Our route planner assists you in preplanning your journey and offers insights into general traffic rules in Germany and the surrounding roads. With Parkos, parking at Bremen Airport becomes effortless.
View the car parks on the map
Other customers rate our parking partners with an average of 9.6
Parked from 12/23/21 til 12/31/21
Very good and safe location close to the airport. The stuff who runs the shuttle bus also was very helpful and flexible and despite the very early time of my flight she was there to take me to the airport.
Parked from 9/1/22 til 9/5/22
Excellent service. Parking place itself was not quite as good as I expected, rough tarmac etc, but the staffs friendliness and helpfulness was 100%.would definitely use again +recommend
Parking providers at Airport Bremen
Our benefits
All parking lots are carefully inspected
The best deals on airport parking
Free cancellation up until 24 hours
Over 4 million customers globally