View the car parks on the map
Parking at Berlin Brandenburg Airport
Parking Berlin Brandenburg Airport? The most convenient way to get to the airport for many people is by car. But as soon as you think about parking at the airport, many people lose the desire to travel. Parking at Berlin Airport often means high prices and a stressful search for a parking space. That doesn't have to be the case, however, because you can conveniently book a parking space online in advance and save yourself any stress. On Parkos you can compare numerous reliable parking providers and book cheap parking within a few minutes. We compare various categories such as price, customer reviews, payment methods, location, etc. So secure a cheap parking space near the airport for your next trip now.
Berlin Airport celebrates its reopening. After a long construction project with numerous delays, the time has finally come and Berlin Brandenburg Airport can finally be used. It was the largest airport construction project in Europe and is expected to handle up to 28 million passengers a year in the future. Nine years after the original opening date, the new Willy Brandt Airport will open and will replace the Berlin Schönefeld and Berlin Tegel Airports. This will also open parking at BER Airport.
The prices for flying are getting cheaper, but parking at the airport is usually one of the biggest investments. Understandably, you don't want to spend this on parking the car or take a parking space that lacks quality. Alternative parking spaces are a good solution for these needs. The parking providers are located near the airport and offer you quality and inexpensive parking so that you can start your journey with peace of mind. Not only can you park at Berlinbrandenburg Airport, but you can also park at many other airports such as Frankfurt Airport, Düsseldorf Airport, Hahn Airport, Schönefeld Airport and many others throughout Germany.
Affordable parking at Berlin Brandenburg Airport
Your vacation is coming soon but you don't have a parking space for your car yet? No problem with Parkos, you can travel to the airport by car without having to worry about parking. Parkos makes booking a parking space easy for you. You can easily reserve a cheap parking space online at Berlin Brandenburg Airport with one of our controlled parking providers.

The parking providers that you can find on our website are all located a short distance from the airport. Most of the parking spaces are less than 10 minutes from Berlin Airport, which means that the transfer time to the airport is short and only takes a few minutes if you have chosen shuttle parking. With valet parking, which you can reserve online, there is of course no loss of time due to transfer times. However, you benefit from the location of the parking providers, as they can offer their parking spaces at significantly lower prices due to the short distance to Berlin Airport and at the same time offer high quality.

Although the prices of the parking providers are significantly lower than those of the official airport parking spaces, the parking spaces of the providers are of high quality. We closely monitor all of our parking providers and make sure that the parking providers not only offer cheap parking, but also adhere to our high security standards. As a result, you will find a secure parking area, which is often equipped with cameras, staff and a fence. You will also be greeted by friendly staff who will help you park your car. Even if you have booked the valet service and cannot see the parking area yourself, you can use the information and pictures on our website to make sure that your car is safely stored.

Our customers are also convinced of our work and rate us with a 4.55/5. We attach great importance to the feedback from our customers and regularly implement this in cooperation with our parking providers. To get an idea of our service, you can read our honest customer reviews. We often hear from our customers that everything went really well and the service was very good. The reviews are from customers who have already used our service and share their experience.
Shuttle and valet parking
There are different parking options for parking at Berlin Brandenburg Airport. You can choose between valet parking and shuttle parking. In the following we explain what the difference between these two types of parking is and how the process works:
Shuttle parking (Park & Drive) at Berlin Airport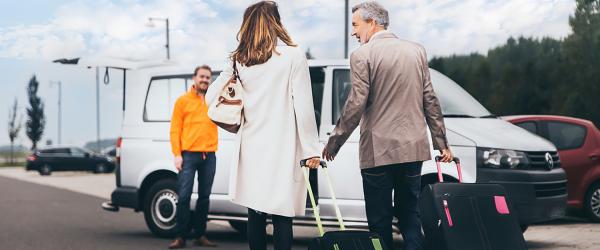 The most inexpensive parking alternative at the airport is shuttle parking. Shuttle parking is characterized by the fact that you drive directly to the booked parking provider and use a transfer from the parking lot to the terminal. This not only avoids looking for a parking space, but also the increased volume of traffic around the airport. With the shuttle service, you should arrive at the parking area where you park your car about 2.5 hours before departure. There you will be met by friendly staff who will check your reservation confirmation and escort you to your airport parking space. Shortly afterwards, a free shuttle will be ready for you, which will take you to the airport in a few minutes. After a short transfer time, you will be ready for your check-in and you can start your journey relaxed. Even after your return, a shuttle will be available for you to take you back to the parking area where you parked your vehicle.
You also have the choice between parking providers, where you can take your keys with you or they can keep your key safely. For the parking lot, there is also the option of booking covered parking or a secure open space.
Valet Parking (Meet & Greet)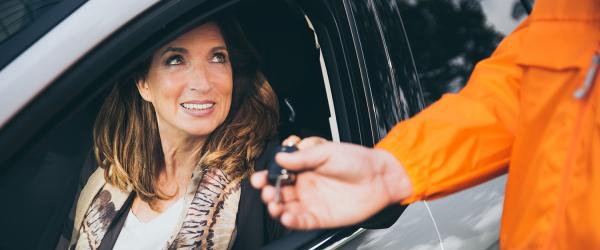 Another option to park your car with our parking providers is valet parking. Valet parking is a particularly convenient and time-saving option and is therefore a bit more expensive compared to shuttle parking. If you book a parking space with valet service, you will receive a very individual service. You can drive your car directly to the terminal at Berlin Airport. When you arrive, an employee of the booked parking provider will be waiting for you and will immediately recognize you by your license plate number, which you specify when booking. As soon as you have shown the reservation confirmation, you will do a vehicle check together. During the vehicle check, you will take a tour of the car together to check for any existing damage. This is carried out preventively so that misunderstandings can be avoided on return. Shortly afterwards you can go to your check-in. Meanwhile, the employee will bring your vehicle to the reserved parking space. After your return, your car will be driven from the parking lot to the terminal at Berlin Brandenburg Airport so that you can start your journey home immediately after another vehicle inspection.
Long-term parking at Berlin Brandenburg Airport
Parking with alternative parking providers is particularly interesting for long-term parkers. You can not only book a parking space with us for a few days, but also for weeks or months. Longer parking in the parking garage at the terminal is almost impossible in terms of price. Other companies have set up shop at the airport, where they can conveniently book so-called alternative parking spaces online. They specialize in long-term parking and have adjusted their prices accordingly so that you can park for a longer period of time without worries.

Compare: Comparing at Berlin Airport is worthwhile because you can save a lot of money and also compare many other categories with each other. Why expensive parking when you can easily reserve a cheap parking space online in advance and start your vacation stress-free.

Choosing the parking method: After you have selected your airport, you have to decide whether to choose either the shuttle service or the valet service. We have already described the differences above. It is important to explain that the shuttle service includes a transfer to the airport and that you do not have to book it online. With the valet service, there is an individual service in which you can drive directly to the terminal, from there an employee will park your vehicle for you.

Safety: The safety of your car is of course a top priority for us and our parking providers. We control all of our parking providers and ensure that you adhere to the necessary security measures. If you want more detailed information on the security measures of the individual parking providers, you can read them under "More information" from any of our partners. Most of our providers have cameras, a fenced parking area and staff on the premises. In addition, the parking providers for airport parking are well insured.

Plan your route:In order to arrive at the park area in good time, you should plan your trip to Berlin Brandenburg Airport. Often there is an increased volume of traffic around the airport, but you will be spared this traffic if you book a shuttle parking lot, as you first drive to the parking area there. For the shuttle service you should calculate to arrive at the site about 2.5 hours before departure . With the help of our Travel directions, which you can add to your reservation free of charge, you can quickly and easily find the parking area of the booked provider near Berlin Airport.
View the car parks on the map
Parked from 3/14/23 til 3/22/23
I couldn't log into your Android application - I didn't receive a password and the email address was unrecognized by the application. It wasn't a big problem though, because the bus was waiting for us at the terminal square. Best regards and thanks a lot.
...Read more
Parked from 2/5/23 til 2/9/23
Very nice services. Thank you. But it was a little bit surprise for me when did you require the tip in the shuttle bus on the paper. I am used with it in the Far East but in Germany?? :- It is a feedback only....
...Read more
Parking providers at Berlin Brandenburg
Our benefits
All parking lots are carefully inspected
The best deals on airport parking
Free cancellation up until 24 hours
Over 3 million customers globally