Menorca Airport Parking
Menorca Airport, also known as Mahon Airport (MAH), is the only commercial service airport serving the Spanish island of Menorca. Like other Spanish airports nearby such as Palma de Mallorca Airport (PMI) and Barcelona Airport (BCN), Menorca Airport is one of the busiest airports in Spain during the summer season.
Table of content:
As a result, if you want to find a reliable and secure car park at Menorca airport it is often a major challenge. Official parking for passengers is provided by Aena. However, here at Parkos, our parking comparison site lets you compare and book airport parking from both independent parking lots and airport-owned Aena parking spaces. You can choose from the wide variety of car park options we offer. Read on to find out more about Menorca Airport parking and the car park services available.
Cheap parking at Menorca Airport
Visitors arriving at the terminal building at Menorca Airport will find Aena Express Parking within walking distance of the terminal building. In fact, it is located in front of the main building. Express Parking is free for 10 minutes but after that, you have to pay per minute. In short, Aena Express Parking is really only for drop-offs and pick-ups. This means that your vehicle cannot stay there for more than a few minutes, or you will be charged extra per minute of your stay.
If you're looking to stay longer, you can find a number of alternatives for the Menorca Airport parking. The Aena General Car Park and the Aena Long Stay Car Park are both just a short walk from the main building. Additionally, if you are a member of the Aena Customer Club, you can benefit from discounts.
Once you have booked an Aena car park space or one of our trusted partners' car parks, you need to ensure you arrive on time. We recommend using our route planner if you want to arrive punctually. This will help you have a smooth journey.

Whether you need short-term or long-term parking in the summer season, we have got you (and your car) covered. For short-term parking, the Aena General Car Park is located in a modern building near the main terminal. This is a short-stay car park for no more than four days.

You can also customize your experience by choosing from extra services. These include a car wash or car charging services. In short, we offer a convenient way to book your Aena parking space. That way you can focus on enjoying your trip, whatever the season.

We aim to provide efficient parking areas and want you to be satisfied with your parking lot. Therefore, to improve our service, we want to hear your feedback regarding the parking lots, parking rates and services. We look forward to reading your review on our reviews page.
Shuttle and valet parking at Menorca Airport
A major advantage of using our platform is its convenience. With our valet parking service, passengers simply drop off their car at the terminal and a driver will park the car for them. Other providers offer shuttle services. Simply park your car in the designated area and take a free shuttle service to the Menorca Airport terminal.
Shuttle parking Menorca Airport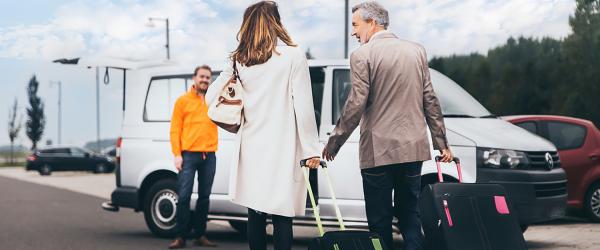 We provide a number of parking options in all seasons. Like the Aena long-stay car park, our partners offer a free shuttle service. This takes passengers to and from the off-site parking solutions and the Menorca Airport terminal. The shuttle service operates frequently, ensuring that passengers arrive at the airport on time. We guarantee the best customer satisfaction by addressing all your needs.
Valet parking Menorca Airport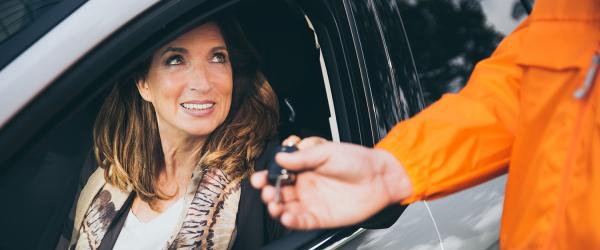 Our providers also offer a convenient valet service that is located near the airport. Just drive up to the terminal, hand over your keys and a driver will park your vehicle for you. You won't need to worry about finding car parks - just ensure your number plate corresponds to the number on your booking form. The valet service at Menorca Airport is both convenient and affordable. From the moment you arrive, the service allows for flexibility. That means you can focus on your travel plans when you arrive at the Menorca Airport terminal building. Prices may vary in high season.
Hotel and Parking
This Menorca Airport option guarantees a cost-efficient experience. If you have an early morning flight, the best solution is to book one of our hotel partners that offers car park facilities. Be sure to book in advance, especially if you plan to stay in the summer season.
Long term Menorca Airport parking

Compare the differences between the parkings: If you need to leave your car at the airport for more than four days, Menorca Airport also offers long stay car park spaces. This is the more affordable option if you are looking to park hassle-free for stays of more than four days.

Compare the different options: Menorca Airport provides a variety of parking options, including shuttle and valet services.
The shuttle parking option offers convenience and cost-effectiveness, with designated parking areas and regular shuttles that transport passengers to and from the terminal. This is a popular choice for those looking for an efficient and hassle-free parking experience.
On the other hand, valet parking offers a more personalized service, allowing passengers to drop off their vehicles directly at the terminal entrance. Professional staff will park the car securely, providing a convenient and time-saving option for travelers. Whether you prefer the convenience of shuttle services or the luxury of valet parking, Menorca Airport offers diverse options to suit your needs.

Safety: Our parking providers also offer secure car parks for long stays. All the car park providers we use have been vetted. This guarantees the car park you choose adheres to safety standards. We are customer-focused, making long-term parking at Menorca more comfortable and pocket-friendly. We guarantee secure car park solutions for all cars, giving you peace of mind throughout your trip. The parking lots offer 24/7 surveillance with CCTV cameras. Additionally, we offer insurance coverage for your car. If you want to park your vehicle through our car park comparison platform, check our prices for high and low season starting from.

Plan your trip: Remember, you have two courtesy hours to leave the Aena General car park at no additional cost. Once this time has passed, the excess time over the booked stay will be charged per minute.
Our benefits
All parking lots are carefully inspected
The best deals on airport parking
Free cancellation up until 24 hours
Over 4 million customers globally