Information
Parking providers
2
Top rated
Last Minute Parking
Cheapest
Last Minute Parking
Closest to the airport
Parkservice am Baden Airpark
Parking at the airport Karlsruhe / Baden Baden
The easiest way to get to the airport is still by car. So you don't have to rely on the train, nor do friends or relatives have to travel for you. You are also much more flexible with your own vehicle. However, the thought of the stressful search for a parking space or the expensive parking ticket already creates wrinkles on the forehead. But now we have the solution! Parkos offers you a selection of different parking spaces for parking at Karlsruhe Airport , so you can save yourself the search for a parking space on the day of travel and even have to pay less money.
The Airport Karlsruhe / BadenBaden FKB is the second largest airport in the state of Baden-Württemberg and is close to the French border. The former Canadian military airfield is now a base for the Irish airline RyanAir.
Since flying is becoming more and more popular and cheaper, it would be a shame to spend the money saved on the overpriced parking ticket after the trip. Better deals for parking are therefore being offered by companies who provide a parking space a little outside of Baden Baden FKB Airport for parking.
Parking space reservation - The latest information for Karlsruhe / Baden Baden Airport
| | |
| --- | --- |
| 🚙 Parking options: | 2 |
| 🏆 Best rated: | Last Minute Parking |
| 💶 Cheapest: | Last Minute Parking |
| 🛫 Closest to airport: | Parkservice am Baden Airpark |
Cheap parking at Karlsruhe Airport
Like the major German airports, such as Düsseldorf Airport or Frankfurt Airport, Karlsruhe Airport also offers its own parking spaces directly in front of the airport building. But these are usually very expensive. Other parking providers have also seen this and are now offering you cheaper alternatives.

Many of these providers are located just outside the airport. But the way from these parking areas to the terminal can usually be compared with the time you would otherwise spend looking for a parking space. The fact that you can then even save money increases the anticipation of the holiday even more.

However, "cheap" does not have to be associated with "poor quality". The parking providers attach great importance to excellent service and the customer is always king. In addition, all parking providers were visited and checked by Parkos themselves. This means that you can use Parkos to find the best parking spaces at Karlsruhe Baden Baden Airport.

Our customers always have the opportunity to report on their experiences at Parkos. So you can read these reviews with us and compare them so that you can find the perfect parking for yourself.
Shuttle and valet parking at Karlsruhe / Baden Baden Airport
As already mentioned, the parking areas of the alternative airport parking providers are usually a bit outside the airport itself. But that is not a problem either, as the owners offer a free airport transfer. You can choose between two different service variants: On the one hand, there is the shuttle service in which you drive to the parking area in your own vehicle and from there are brought to and picked up again by a shuttle bus to Karlsruhe Airport. On the other hand, there is the valet service, where you drive directly to the airport terminal and are met there by an employee of the parking lot provider. They will then park the vehicle safely and bring it back to the airport on the day you return. Since there are frequently asked questions about these transfer methods, these are explained in more detail below.
Shuttle parking (Park & Drive)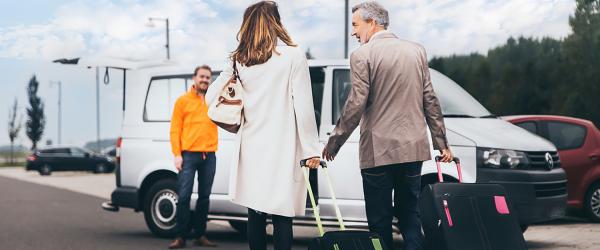 If you opt for the shuttle service at Karlsruhe Airport, you choose the usually somewhat cheaper transfer method. On the day of your trip, you drive directly to the parking lot of the provider you have booked. Once there, all you have to do is check in and park your vehicle. Then the free shuttle bus takes you to the terminal quickly and safely in just a few minutes. This is usually provided individually for you by the parking lot owners so that you don't lose any time. When you come back from your trip, you usually have to give the booked parking provider a quick call so that they know that you have arrived. The shuttle bus will then be ready for you again and drive you back to the park area. Once there, you can get back in your car and continue your journey home.
Valet parking (Meet & Greet)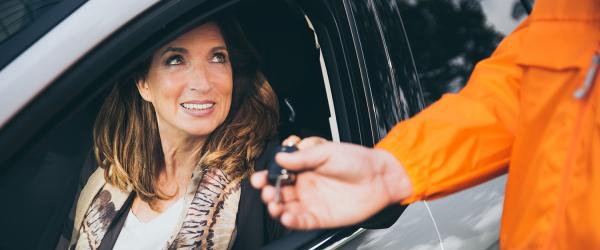 The valet service offers you an even more relaxed way of traveling. On the day of your departure, you drive directly to the airport building at Airport Karlsruhe FKB. Once there, an employee of the parking space reserved by you will be waiting for you and meet you. They will then recognize you by your car model and registration number, which you specified when you made your reservation. After a short check of the reservation confirmation and the vehicle, you can start the check-in straight away. In the meantime, the employee will drive your vehicle safely to the parking area. On the day of your return, he will bring the vehicle back to the airport and you can easily get in and continue your journey home. A shuttle transfer is therefore not necessary with this variant, because the handover takes place directly at the terminal. Parking at a cheap price at Karlsruhe Baden Baden Airport couldn't be easier or more convenient.
Long-term parking at Karlsruhe / Baden Baden Airport
Whether you only want to park for a few days or for several months, with Parkos you will always find the best deal for your parking duration, because we make parking from € 40 near Badenbaden Airport possible. The following applies: It pays to compare. Because, especially in the long term, the price of parking spaces can differ significantly and you want to make sure that you book the cheapest parking space, right? Consider the other information to make your trip as relaxed as possible:

Compare: Since we offer different parking spaces in Karlsruhe on our website, it is worthwhile to compare them with each other. So that you can find the perfect parking space for you, you can read about the security, price, facility or location of each parking space individually on Parkos and then make a decision. Book within 24 hours and you can also cancel free of charge up to 24 hours in advance. When you book online through us, your advantages are in the foreground and you reserve at the best conditions.

Choosing the parking method: You usually have the choice between shuttle or valet parking. This means that inexpensive parking in the immediate vicinity of the Baden Airpark is very easy. The shuttle service takes you to the airport and drops you off at your terminal. If you choose valet parking, you can simply drive straight to the airport and your vehicle will be picked up and parked for you.

Safety: When you park your car at Baden Airpark, safety is often an important issue so that you can sleep peacefully on your trip. You can therefore read up on the security measures for each parking space individually. So you can get detailed information about the security. In addition, all parking spaces are visited and checked by Parkos so that you can park without having to be unsafe.

Planning a route: planning is everything. Above all, this means that you plan enough time for both the journey to Baden Baden FKB airport or the parking area, as well as for the check-in and security control. You can use our route planner to show your route on the map so that you do not lose time for detours. On this page you will also find important information about the current traffic situation in Germany, so that hopefully everything goes well. Parking Karlsruhe Airport is easy with Parkos.
Information
Parking providers
2
Top rated
Last Minute Parking
Cheapest
Last Minute Parking
Closest to the airport
Parkservice am Baden Airpark
Customers rate our parking providers with an average of 10
They took great care of our car and were ready to take the car when we arrived and already had the car ready for us when we arrived - it was awesome!
Elizabeth Kuhl
Valet outdoor
September 20, 2022
Bistrian Radu Razvan
Valet outdoor
May 31, 2022
Parking providers at Baden Baden airport
The benefits of Parkos
All parking lots are carefully inspected
The best deals on airport parking
Free cancellation up until 24 hours
Over 2 million customers globally