We help you compare parking prices at Vienna Airport.
What makes Parkos unique?
All parking lots are carefully inspected
Free cancellation up until 24 hours before departure
How can we help you?
Our experts are here to assist you with comparing parking locations and are happy to answer any questions you may have.
Please contact us
Customers rate Parkos with an average of 8.6
Customers who have booked a parking space through us, rate these with an average of 8.6/10 based on 355 reviews.
Jeffrey Wednesday 28 October 2020
Were received well and quickly taken to the airport. Nice that the staff parked our car for us.
Anonymous Wednesday 28 October 2020
Straightforward website, booking was quick and easy!
Table of contents :
Parking at Vienna Airport
For many people the most pleasant way to get to the airport is to take their car the airport and park there, especially when travelling with your whole family. Travelling by car gives you more space to plan individually and gives you the flexibility for travelling. But once you get to the airport, you are quickly faced with high prices and a stressful search for a parking space. However, it doesn't have to be that way, there are many safe parking alternatives from private parking providers just a few minutes from the airport. There you have the option of using the shuttle service, park your car on the parking lot of the parking provider and getting a transfer right to your terminal. Another option is the valet parking, here you drive straight to the terminal, where an employee will then take your vehicle and parks it for you. The parking providers' parking spaces are located close to the airport, which means that the airport shuttle service has a short transfer time. With Parkos you can easily book your parking space and park for several days.
Parking spot reservation - The latest information for Vienna airport
| | |
| --- | --- |
| Number of parking lots: | 5 Parking lots |
| Best rated: | Vienna airport parking |
| Cheapest: | Vienna airport parking |
| Closest to the airport: | Vienna airport parking |
Vienna Schwechat Airport, located in the Southeast of Vienna, is the largest international airport in Austria and therefore an important arrival and departure location for many tourist. The location of the airport is approximately 16 kilometres from the city centre of Vienna in the city of Schwechat. Vienna Airport is the home airport of many international airlines and flies to different destinations in 65 countries worldwide. Around 30 million passengers fly from three terminals every year. Due to the size of the airport, many private parking providers have settled around this airport, which offer you the opportunity for low-price parking even during the holiday season. The airport also has easy access to the motorway and is therefore easy to reach by car.
The first thought when parking at an Airport is directed towards the prices for a parking lot. Many airports offer different parking methods. Vienna Schwechat Airport also offers different options for parking at the airport. You can either park in the parking garage or on an open space, from which you have to drag your luggage to the terminal yourself without a transfer from the parking lot.
The airport asks for high parking lot prices for a very limited service. Especially, if you then travel in a high season, the parking ticket close to the airport often costs more than the plane ticket. We at Parkos want to avoid this and develop therefore a comparing website for you to find the cheapest and best fitting parking spot at Vienna Airport for you. The private car parks offer a high quality service and are in no way inferior to the terminal park. Many parking providers offer valet parking and / or shuttle service. In both options you will start your journey right from the terminal without having to drag your luggage very far. All parking spaces are well secured with personal security as well as cameras, so that you can travel with a relaxed feeling. You can compare parking spaces all around the year and easily book your parking online.
Cheap parking Vienna airport
You think travelling by car to the airport and at the same time park at an affordable price is not possible? Our goal at Parkos is that you can park at the airport without any stress and at incredibly low prices. We have therefore developed a comparison website on which you can quickly and easily book a parking space that meets your requirements. Our parking providers do not have their parking spots directly at the airport, but just a few minutes away, so that the parking spaces can be offered at a significantly cheaper price. The friendly and helpful staff from your reserved parking also ensure that you arrive quickly and comfortably at your terminal at Vienna Airport. Here you have the choice between the shuttle service that takes you from the parking area to the terminal via shuttle bus and the valet parking. With valet parking, you drive your car to the terminal and there you will meet an employee of the parking provider who will park your car for you in the parking lot at the reserved parking.

Parking at private parking providers at Vienna Schwechat Airport is an excellent alternative to airport parking. You get the same performance and excellent service with affordable prices. If you are wondering how this is possible, there is a very simple answer, because the parking providers do not have high extra costs like expensive management systems, so you do not have to pay for them. Nevertheless, the parking providers are not lacking in quality or performance, because they work to ensure that you have a pleasant start to your journey. Providers will offer you a secure parking spot with a transfer from the parking lot to the airport if you book an airport shuttle service online.

The parking spaces of the car parks are all well secured, in order to guarantee the quality, we personally control all of our listed parking providers and check the offer for you. Cheap parking has its quality at Parkos, because our parking providers have mainly specialized in the parking industry at Vienna Airport and designed their business to your advantage. In addition to the valet service, many providers also offer some additional services such as a tank service or an interior and exterior cleaning of your vehicle. With these, you can particularly look forward to returning to your car after you return from your trip. On our website you can not only compare the price, but also check the quality based on customer reviews or descriptions.

To ensure that all of our customers are happy with the service, we regularly check the satisfaction of our customers. These help us to improve our service, but also to give feedback to our parking providers at Vienna Airport. Our customer reviews are very important to us, and we work every day to improve our service and cooperation with our parking providers. To give you a realistic and honest idea of our service, we publish reviews of customers who have already booked with Parkos and have tested our service.
Shuttle- and valet-parking
Deciding on the right service is not always easy, so we will give you a more detailed explanation of the shuttle service and valet parking. We are going to explain the exact differences so that you can decide which of the services suits you and your journey to Vienna Airport best. We help you to get an overview of the various parking spaces at the airport. Because it is important that you choose the most relaxed option for yourself so that you will have a pleasant start to your trip.
Shuttle parking at Vienna Airport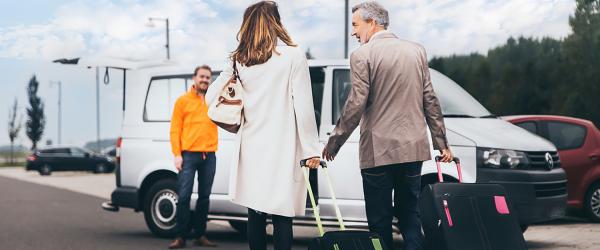 When parking at Vienna Airport you will have the option to choose the shuttle parking. But how exactly does the shuttle parking work and what do you have to consider when booking? We will answer these questions in the following text. The process for airport shuttle parking at Vienna Airport is very straightforward. You only drive to the parking area of the parking provider at Vienna Airport. Some parking providers want you to call them about half an hour before your arrival at the parking area, so the free shuttle service is ready to pick you up and to avoid waiting times. As soon as you arrive at the parking, you can park your car and the staff will instruct you. You will then unload your luggage and a shuttle bus will take you to Vienna Airport. The transfer times from the parking lot with the shuttle bus are different for each parking and depends on the distance to the airport. You can compare the times directly on our website and see which parking spaces are close to the airport. The shuttle bus takes you directly from the parking to your terminal at Vienna Airport, so all you have to do is take your luggage and you can start your check-in at the airport.
If you have chosen the shuttle service, you will see that there are several options for your parking space. Not only the car parks differ, but also the type of parking. The cheapest car park does not necessarily suit your needs for parking at Vienna Airport. There are two options here: You can park your car in a covered parking space or an uncovered parking space. Parking spots with a roof can either be in a parking garage or a parking garage, where your car is protected from the weather. All forms of parking at Vienna Airport are well protected and secured. With the shuttle parking there is also the choice of taking your key with you on the trip or handing it in. The parking providers, where you have to hand in your key, keep your key in a safe. The reason for keeping your keys are that the parking provider may have to change the parking space on the car park if you or other customers have a delayed or changed their arrival time, so that you always have a guaranteed parking space. In general, shuttle parking is usually cheaper compared to valet parking.
Valet parking at Vienna airport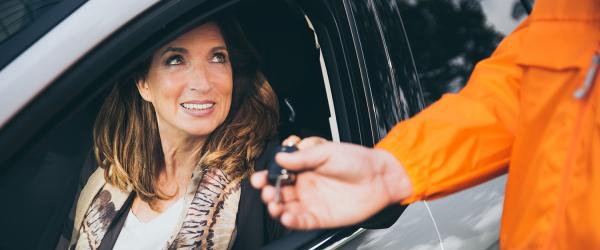 Valet parking is characterized by its time-saving advantage. With this type of parking, you don't waste time and you can start your journey without stress. The valet service has a very simple process. You can drive your car directly in front of the terminal. Once you arrived, an employee will recognize you directly by your licence plate and your car brand, which you specify when making the reservation. You can locate the driver by his uniform or other identification accessories. You will carry out a short vehicle check at the terminal at Vienna Airport. During this process you will fill out a checklist and note any damages so that there are no misunderstandings when you return. After the car has been fully assessed, you can immediately go to your check-in at the airport. With this type of parking you must of course hand in your key so that the parking provider can drive your car to the booked parking area. The employee will then park your vehicle for you and keep your keys in a safe. When you return, your car will be waiting for you at the airport. To do this, you must contact the parking provider as soon as you are at the baggage claim, so you do not have to wait long for your car and can start your journey home immediately. After the keys have been handed over, a vehicle check is carried out again and you can make your way home shortly afterwards.
During your absence, your car will be parked in the parking spot you have booked. You can also choose between a covered parking space and a parking space without a roof. The Valet Parking is a simple and relaxed form of parking to start the journey without any stress.
Long-term parking at Vienna Airport
With Parkos you can quickly and easily compare parking spaces not only at Vienna Airport, but also at many other airports such as Amsterdam Schiphol Airport, Berlin Tegel Airport, Düsseldorf Airport and many other airports throughout Germany and various other countries. You can park your vehicle for just a few days or for several weeks so that it fits your needs. Most of our parking providers are in proximity to the airport and all parkings are personally checked by us. Long-term parking allows you to park your vehicle in a secure parking lot for whatever time at low costs, so you don't have to worry about the safety of your vehicle.
Below we have put together a few advantages and tips on how you can effectively use Parkos to find the perfect and affordable parking space at Vienna Airport:

Compare: So that you can find the best parking space! Why should you pay high prices when you can get the same service at a much cheaper price. That is why we compare airport parkings for you in different categories. You can not only compare prices, but also the quality, transfer times, reviews of customers who have already used the parking lot and many other aspects. With the help of filters, you can easily list your requirements and find the perfect parking space.

Choose your way of parking: Our parking providers do not only offer shuttle parking, but also valet parking. This gives you the opportunity to choose the parking option that suits you best. Shuttle parking is usually cheaper than valet parking as the transfer incurs fewer personnel costs. Nevertheless, valet parking offers you the highest level of comfort and you have no waiting times at the parking area. In addition, you are not losing time through the transfer.

Safety: The safety of the car is a top priority for us too, which is why we personally check all our parking providers and make sure that your vehicle is in good hands. The parking areas are mostly fenced and monitored by cameras and staff. In addition, we are in regular contact with the providers and constantly collect feedback from our customers. As soon as we see any signs of dissatisfaction, we immediately contact the parking providers and improve our services together.

Plan your trip: Enclosed to your reservation confirmation you will receive a free route planner from us. This helps you find your way to the parking provider. You simply have to enter your starting point and you will be shown the way to the parking. We want to avoid that you waste time searching for the parking area.