View the car parks on the map
Parking at Nice airport at the best parking rates
Making a reservation for a parking is like booking your vacation, you don't do it at the last minute. When you book at Parkos, you are guaranteed a secure parking spot. Rates vary according to dates and availability, so it's important to book in advance. As soon as you know your departure and arrival dates, compare the offers on Parkos and choose one of our suppliers and book at the best fees!
Table of content:
Parking at Nice Côte d'Azur airport
More and more flight are being taken from Nice Côte d'Azur airport (NCE). More people want to reach the terminal by their own car. Nowadays, many people don't want to be late because of public transportation (think of the endless bus strikes!). Therefore, the question arises. How to park one's car at a good parking fee at a Nice airport parking? At Parkos, we have the answer! We compare the different offers of parking lots located nearby so that you can find the ideal Nice airport parking options for you. We offer you the best parkings without ever compromising on the quality of service or the safety of your vehicle.
The Nice Côte d' Azur airport (NCE) is located 6 kilometers southwest from the city of Nice, in the famous Alpes-Maritimes. It is the third busiest one in France, after Paris Charles de Gaulle and Orly with more than 14 million passengers in 2019. It has two terminals: Terminal 1 and Terminal 2. There is also a Business Aviation Terminal. Many airlines offer European and intercontinental flights from Nice. From the A8 freeway, you have direct access to Nice airport. The latter is only 15 minutes from the main train station, the port of Nice, the old town, but also from the city center. Similarly, only 20 minutes separate Nice from Cannes Mandelieu airport. For those who love tourism, the Gulf of Saint-Tropez is only 90 minutes away by car. You can also get to Italy in less than an hour via the freeway if you feel like a change of scenery.
In the 18th century, it was the most popular destination of the English aristocratic families, which earned the place its name "Promenade des Anglais". Some people go to Nice to enjoy the sun, but the city has much more to offer, especially in terms of culture and tourism. Mentioning, in particular, the Baie des Anges, the Marc Chagall Museum, but also the Castle Hill. Nice is a perfect destination to enjoy an outstanding tourist experience.
We always advise our clients to reserve a parking spot as soon as they have booked their plane tickets for Nice Côte d' Azur. The Parkos website allows you to compare the spaces of our different car park operators. We are always looking for the most reliable partners around Nice Côte d'Azur so that you can enjoy a secure parking spot. They are permanently and personally monitored and the staff is always very professional. Our website aims to find the right match for you. You will also find a lot of useful airport information in our frequently asked questions, our general terms and conditions and our legal notices.

All the parking lots we offer are close to the airport. We carefully select each of our partners and only list those nearby, so that you don't have to make a long transfer. In short, if you're looking for a good map, you've come to the right place!

Low cost doesn't necessarily rhyme with poor quality. At Parkos, we offer competitive parking rates without skimping on the quality of the services offered. If you want a good alternative to the official airport parkings, then Parkos is for you. Our employees are competent and just as concerned as we are about your satisfaction. Although we offer low cost parking lots, the staff is there to take care of you so that you can leave with peace of mind. Most of our suppliers are open 7 days a week, 24 hours a day.

Don't forget to consult the reviews left by our customers who have reserved a parking space in Nice Côte d'Azur and left reviews via Parkos. Compare the offers with us and book your parking space according to your needs.
The best offers at Nice airport
How does parking at Nice airport work?
We offer you different options and products to park at Nice Côte d'Azur airport. In order to make your choice, we offer you an objective view of our various collaborators. Compare prices and use the filters to find the parking you need. Some of our employees allow you the choice between an indoor or outdoor parking space, valet parking or free shuttle service. Do you want both covered and secure parking? No problem! Here is some parking at the airport information to help you:
Valet parking (Meet & Greet)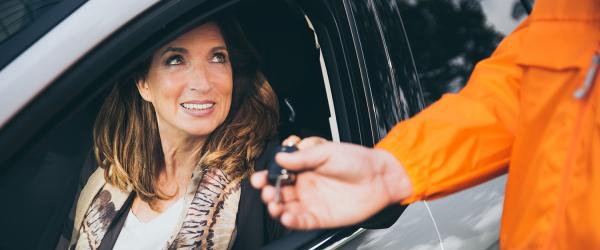 The valet service allows you to save up to one hour of time. This simple and pleasant option is also very practical for people with reduced mobility who want easy access to the terminals. On the day of departure, the valet will meet you at the drop-off point at your departure terminal. He will take care of your car. After a quick inventory, he will park it in the parking lot. On return, you will only have to contact the valet once you have collected your luggage and he will come and bring your vehicle back to you at the terminals. Car parks such as Blue Valet and Ector are well known for this service.
Shuttle parking (Park & Drive)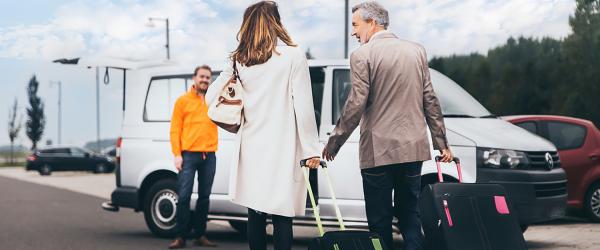 The free shuttles give you direct access to the terminal. This option is very popular for traveling to Nice Côte d'Azur airport, as it is included in the price of parking. With our partners, shuttles are available 7 days a week. Transfers rarely take more than 10 minutes and make round trips to the car parks and from the airports.
Long term car parks in Nice
Most travelers want to park their car for more than two days, regardless of their type of trip. If you want to park for a week or more, we offer long term parking spaces as well as short term parking so you are spoiled for choice. Our employees are all verified, so you can leave with peace of mind and leave your car in good hands.
Follow our advice to make your reservation:

Compare:
We offer several parking options depending on your needs, for parking at. Take the time to choose the car park that best meets your expectations thanks to our online comparator!

Choose the right type of parking:
As mentioned above, you will need to make several choices. Do you prefer covered parking? Indoor parking? Or, a valet parking service? It is important that you ask yourself these questions in order to find the offer that is right for you. If you want to park your car yourself, opt for parking lots with free shuttles. If you want an employee to take care of the pick-up and parking of your vehicle, opt for valet parking.

Security:
No matter which parking lot you choose, we can guarantee that your car will be safe. Indeed, the car parks are under constant surveillance. We will never take the risk of working with unattended parking lots, because we want you to go on vacation with peace of mind.

Calculate your route:
Our final tip would be to plan your trip before you leave. Arrive in advance at the location. Listen to the traffic information for possible accidents and road works that would concern you. Plan extra time and an emergency trip in case of unforeseen circumstances. To help you plan your route to Nice Côte d'Azur, click on "Travel directions".
View the car parks on the map
Parked from 10/10/22 til 10/23/22
Wonderful experience and they were very quick at the drop off and pick up point. We were nervous as we were leaving luggage in the trunk for the time we left, but all was still there when we returned, including our laptops etc. :
...Read more
Parked from 4/21/22 til 5/5/22
We left the car for 2 weeks in nice airport. The people from enjoy parking are very friendly and politie, the service is highly professional and accurate, I would recommend this when parking at nice airport!
...Read more
Parking providers at Nice Airport
Our benefits
All parking lots are carefully inspected
The best deals on airport parking
Free cancellation up until 24 hours
Over 3 million customers globally