Parking at Frankfurt Hahn Airport (HHN)
After a vacation we like to hear that everything went smoothly and that the vacation worked out great. But often the problems already start when parking at Hahn Airport. A vacation should of course start without worries and stress, therefore it is also necessary to inform in advance about the parking spaces at Hahn Airport, which are located near the airport. Many people prefer to drive with their own car to the airport to park at Frankfurt Hahn Airport, so that one is independent from public transport. Also any distance to the airport can be mastered faster by car. In order to avoid the stress of looking for a parking space and to find a cheap one, it is good to get information about alternative parking providers around parking at the airport in advance.
Frankfurt-Hahn Airport is not, as you might think, in Frankfurt, but near Kirchberg (Hunsrück). The airport used to be a military airfield and has been used as a civil airport since 1993. Especially Ryanair serves the airport with many cheap flights. Because of its past as a military airfield, it has no connection to public transport. Therefore it is important to inform yourself in advance about parking spaces at Hahn Airport.
In order to make airport parking as pleasant as possible for you, we have thought about an affordable alternative. For cheap parking at Hahn Airport you should use our website next time to compare numerous parking spaces and find the best parking spaces at the airport. Within seconds, we will list various options for valet parking and shuttle parking at a reasonable price. Parking at Frankfurthahn Airport has never been so easy. With Parkos you can also compare parking spaces at many other airports like Munich Airport, Vienna Airport, Zurich Airport, Amsterdam Schiphol Airport, Charleroi Airport and many more in Germany and abroad.
Convenient parking at Frankfurt Hahn Airport
If you are looking for a parking space at Frankfurt-Hahn Airport, you can choose a favorable alternative from our selected parking providers. If you reserve a parking space, they are usually cheaper than the parking facilities offered directly at the airport. So when parking at Frankfurt-Hahn Airport you can save a lot of money if you compare in advance and reserve a parking space with one of the parking providers. And this is where Parkos comes into play. We offer you an overview that will guide you to your inexpensive parking space with high security standards, so that you can start your vacation from Frankfurt Hahn Airport in a relaxed manner. On our website you have the possibility to compare different categories. Think about price, security, location, rating etc. Most of the parking areas are only a short distance away from the airport, some can be reached quickly with a transfer and some are only a few minutes walk from the terminal. So you can park for many days and enjoy cheap parking at the same time.

You may think that cheap alternative parking providers will certainly provide a worse service. Here we can reassure you. All parking providers that are on our portal have been personally checked by us and follow a high security standard, so you can be sure that your car is safe during your trip with these parking providers. There is a great competition between these parking providers. This means that each of these providers is forced to offer an excellent service, otherwise customers will overflow to the competitor.

Customers who have booked through Parkos with our parking providers confirm the good service. We ask every customer to give a rating after parking with one of these parking providers. These reviews are independent and only customers who have already used Frankfurt Hahn Airport parking can write reviews. This allows us to give you a realistic picture of each parking provider in our portal.

To ensure that all of our customers are happy, we regularly check the satisfaction of our customers. These help us to improve our business, but also to give feedback to our providers. Our customer reviews are very important to us, and we work every day to improve our services and cooperation with our providers. To give you a realistic and honest idea of our service, we publish reviews of customers who have already booked with Parkos.
Shuttle and valet parking
For long-term parking at the airport there are two different parking options: Shuttle Parking and Valet Parking Frankfurt Hahn. We explain the difference between these two parking methods.
Shuttle parking Frankfurt-Hahn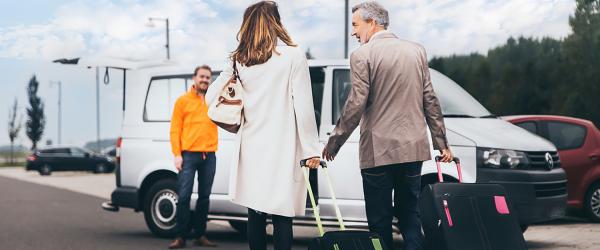 If you decide to use the shuttle parking, first drive to the parking area of the parking provider you booked near Frankfurt Hahn Airport. Since you are driving to the parking lot first, you can get an immediate impression of the parking lot Frankfurt Hahn and start your journey with a calm feeling, because you know exactly where your car is parked during your absence. You usually have two possibilities of accommodation: Covered parking or parking without a roof. You can be sure that the area is well supervised and that the high safety standards are followed. If you have parked your car or it has been parked by an Airport Park Service Hahn employee, a shuttle bus will take you from the parking lot to the airport. This shuttle bus usually runs individually for each customer and is free of charge. This means that you only pay the price you see on our website and not a cent more for your reservation. After your return journey you will of course be picked up again by the shuttle bus at Frankfurt Hahn Airport and brought back to your car. How exactly the process works will be explained in your reservation confirmation.
Valet parking Frankfurt-Hahn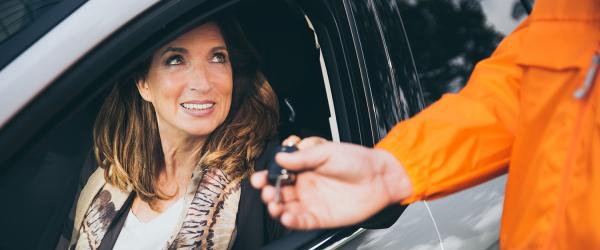 A more comfortable parking method is valet parking. Here you do not have to drive to the parking provider's premises, but your car will be picked up by an employee of the provider you booked directly at the airport. Based on the data you provide when making your reservation, the employee will recognize you directly. Together with you, the employee will check your reservation confirmation and your car for any existing damage to avoid possible misunderstandings on your return journey. While your car is parked safely on a covered or open area, you can already check in for your flight. So valet parking at the airport is fast, time-saving and you are never far from the airport. Furthermore, you are independent of any shuttle bus schedules. After booking, you will receive in your confirmation e-mail a detailed parking instruction with the phone number of the driver who will take your car. Now nothing can go wrong and you can start your journey relaxed and carefree. On your return journey you will contact the driver again by telephone after landing. As soon as you leave the departure hall, your car will be ready for you and you can continue your journey directly.
Long term parking at Hahn Airport (HHN)
If you want to park your car near Hahn Airport for a long time, Parkos is the right address for you. Here you can compare the different parking providers and find the most suitable parking space for you. All parking providers on our platform are personally controlled by us. So you can assume that your car is secured. In contrast to the parking spaces directly at the airport, the prices of our alternative parking providers are lower. This does not mean, however, that you have to make concessions on your requirements. Every parking provider offers an excellent service to satisfy you as a customer, so that you will park there again next time you come Frankfurt Hahn

Compare: For parking directly at Hahn Airport you have to calculate between €24 and €99 for one week. With our alternative providers, you can park for one week for as little as €35. So it is definitely worth comparing. Find the most suitable parking provider for you by also comparing the security measures on the premises and accessibility. Every parking provider is different. So there is something for everyone.

Choose your parking method: With most parking providers you can choose between valet parking and shuttle parking. Some providers at Hahn Airport are even within walking distance of the terminal. The two parking methods differ mainly in price, with shuttle parking usually being the cheaper option. A shuttle bus will take you from the parking area to the airport. With the valet service, your car will be picked up directly at the airport and parked for you. Comfort is also an important factor in your decision between these two parking options.
If you decide to use the shuttle service, you can drive yourself directly to the parking area. A shuttle bus will then take you from the parking lot to the airport free of charge. When you return, the shuttle bus will be waiting for you at the airport to take you back to your car in the parking area outside the airport.
Choose the Valet Parking, then drive yourself directly to the airport. There a driver will be waiting for you and park your car for you. This way you do not lose any time and you can check in directly for your flight. When you return, your car will be waiting for you at the airport. From there you can directly continue your journey.

Safety: A car is a valuable possession and then you want it to be safe during the trip. If you book through Parkos, you can assume that this is the case. All parking providers on our platform are personally controlled by us. You can easily check which security measures the individual parking providers have in place by visiting their websites. We have put together a checklist with all the important measures so that you can compare them more easily.

Plan your trip: Since Frankfurt Hahn Airport has no connection to public transport, it is important to plan your trip well in advance, as the roads can be very busy. Our route planner will help you to create a route to the park area. You will also find on this page all important information regarding traffic and congestion and what to look out for in road traffic in Germany. We wish you a good trip! Click on Parken Frankfurt Hahn to reserve a parking space.
Parked from 11/20/22 til 11/26/22
Our flight was delayed and we arrived at the airport at 12:30 pm, just 30 minutes before the parking service office closed. I called the office while we were still on the plane to let them know we had landed but were not off the plane yet..I knew they closed at 1 am so I wanted to make sure they knew we were there and that we could get a ride to our car. When we called again it was after 1 am and no one was answering the phone. Thank goodness we were traveling with friends because it would have been a 52 minute walk in the cold, dark at 1:00 in the morning if they hadn't been there to give my husband a ride to our vehicle. I'm sad that they just closed their office without even calling to check with us, especially after I had called them before closing to let them know we were coming as fast as we could. I definitely will not recommend them to anyone.
...Read more
Parked from 3/25/23 til 4/1/23
24 hours made for a wonderful and easy return flight. We were delayed due to weather and just wanted to get home. The friendly attendant had us out of there in 3 minutes!
Parking providers at Frankfurt Hahn Airport
Our benefits
All parking lots are carefully inspected
The best deals on airport parking
Free cancellation up until 24 hours
Over 4 million customers globally