We help you compare parking prices at Zurich Airport.
What makes Parkos unique?
All parking lots are carefully inspected
Free cancellation up until 24 hours before departure
How can we help you?
Our experts are here to assist you with comparing parking locations and are happy to answer any questions you may have.
Please contact us
Customers rate Parkos with an average of 4.4
Customers who have booked a parking space through us, rate these with an average of 4.4/5 based on 531 reviews.
Jeffrey Sunday 24 October 2021
Were received well and quickly taken to the airport. Nice that the staff parked our car for us.
Anonymous Sunday 24 October 2021
Straightforward website, booking was quick and easy!
Parken at the Schweitzer Airport
Are you wondering who exactly these alternative parking space providers are and whether it is worth booking a parking space in Zurich with them? The answer is simple: definitely! A comparison is always worthwhile, no matter how long the parking time, because you can quickly save 50% and more compared to the official parking providers at Zurich Airport, despite the proximity of the airport and the excellent service they offer you. At the end of your booking you will receive a detailed description of the parking process, as well as any other information that will enable you to say that everything went well.

The term "cheap" is often associated with a lack of quality. However, this is by no means the case with the parking space operators on Parkos. All parking space operators listed on our website are subject to strict quality controls. In addition, there is strong competition between parking lot owners. Because of this, they cannot afford to offer poor quality and run the risk of losing customers. The level of all listed parking space operators is very high, but they differ, for example in the additional services or the distance to the airport. Since the parking area is in the immediate vicinity of Zurich Airport, but not directly at the terminal, a free transfer to the airport is always included with all providers.

All parking providers are personally checked by us and are subject to strict security and quality controls. The parking spaces are usually guarded by employees 24 hours a day, but are locked and secured with cameras. We would be happy to help you find the best parking space owner for you, so that you can park your vehicle safely and cheaply at Zurich Airport and then go on a carefree journey. But you can also use our secure service at other international airports, such as Stuttgart Airport, Munich Airport, Vienna Airport, Hamburg Airport or Berlin Airport.

If you would like to consult the opinions of other travelers who have used our online booking in the past, you can see the reviews of our customers on each page of the parking providers we work with. When you have made a reservation we would like to ask you to leave your experience so we can hear your opinion. In this way we can constantly improve ourselves and the parking providers.
Shuttle and valet parking at the airport
Alternative parking providers manage their parking lots in the immediate vicinity of Zurich Airport. So that you arrive at the terminal completely relaxed, the price always includes a free transfer to the terminal. This is known as a shuttle parking lot. Or you can book convenient valet parking. Since these two terms are among our most frequently asked questions, we would like to explain them in more detail below.
Shuttle parking (Park & Drive)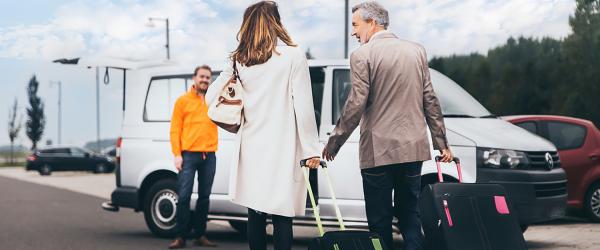 If you park at one of the parking service providers listed by us at Zurich Airport, a free shuttle service is always included in the price, as the parking spaces are usually distributed around Zurich Airport and not far from the airport. If you choose the Airport Shuttle Parking, you will drive directly to the parking lot of the operator you have booked on the day of your trip, where you will be greeted by friendly staff. Here you usually park your car yourself in a free parking lot or get a parking space. You will then be brought directly to Zurich Airport with an individual transfer, which will drive you around the clock. Thanks to the transfer, you save unnecessary waiting times and parking at Zurich Airport becomes child's play. For the return journey, call the parking provider and the driver will pick you up at the airport, at the agreed meeting point directly at the terminal, with the shuttle bus. It can happen that you have to leave your car keys with some Zurich Shuttle Parking Lot owners, because the operators want to use their parking lot efficiently and sometimes have to park a vehicle if a customer returns earlier or later than expected. In this case you will always see it clearly on our website. However, you can be sure that your vehicle will not leave the parking lot while it's being moved. It is also possible to use their parking facilities in Zurich without having to hand over the keys.
Valet parking (Meet & Greet)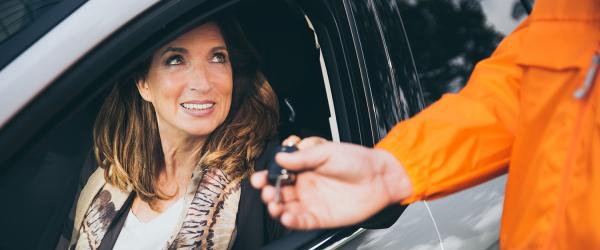 Valet parking at Zurich Airport is the most convenient of all parking modes. Valet parking doesn't require you to drive to the parking lot and wait for a shuttle bus to take you to the airport terminal. This of course means that you avoid the risk of a long wait. If you choose the valet service, you can drive directly to the terminal on the day of your trip. At the terminal you will be greeted by a certified driver from the service provider you have booked. In cooperation with the driver, check your vehicle for any damage that may already exist in order to avoid misunderstandings later. You can then go straight to check-in while the driver parks your car in the parking lot, which is just a few minutes away from the terminal. With the Airport parking Valet Service you inform the service provider about your landing with a short phone call after your return. Your vehicle will then be made available to you directly at the terminal so that you can quickly continue your journey. Please note that you must always hand in your car key when parking with valet service.
Long-term parking at Zurich Airport
Parkos offers you the opportunity to find cheaper parking spaces at Zurich Airport. Regardless of whether you want to park for several days or not, because parking space operators have safe and inexpensive parking options for you in every season. These are always billed per day and even if you come back later than expected you have minimal additional costs that you can pay directly to the local parking lot owner. With Parkos you can easily find inexpensive parking spaces at Zurich Airport.
We have put together a few tips to make parking at Zurich Airport easier:

Compare: Because the comparison is always worthwhile! The many parking lot owners all have different services and prices. With Parkos you have a direct comparison between all these providers and can find the best parking space for you. As soon as you have compared the Airport Zurich parking lots, you can easily book online.

Customer ratings: The opinion of our customers about Zurich airport parking is very important to us. You also get a realistic impression of the parking lots. Only customers who have actually booked through Parkos can then leave a review. Please note, however, that the new reviews are more significant than, for example, the two-year negative ones. All parking operators are constantly striving to improve their service and your rating will help them. You will see that after using the valet or shuttle service you are completely satisfied and that everything went well.

Security: We personally check all listed parking providers before you find them on our website. This does not mean that parking operators can do what they want after this inspection, because the quality standards at Parkos are high. As soon as we discover that an owner no longer meets our quality requirements, they will be removed from our platform. Quality is very important to Parkos, because we want all of our customers to be able to tell us after their parking experience that everything went great and worked great. Online booking on our website is also very secure.

Plan tour route: Zurich is a big city with a lot of traffic. To enjoy a relaxed start to your trip, we recommend that you plan your itinerary around the airport in advance. In addition, it is advisable to allow enough time to travel to the car park and to the airport so that you can check-in on time. We also recommend that you check the current traffic situation in and around Zurich online at the beginning of your day of arrival, as this will help you avoid roadworks or traffic jams. As the parking providers at Zurich Airport are often a bit out of the way, avoid the busy streets of Zurich. With the help of our travel directions, you can plan your trip in advance and parking at Zurich Airport will be very relaxed and easy.