Olbia Airport Parking
When traveling through Olbia Airport, finding suitable parking for your vehicle is essential. Olbia Airport offers various parking options to accommodate the needs of travelers. Whether you're going on a short trip or planning a longer stay, the airport provides convenient parking facilities to ensure a smooth start to your journey.
Table of content:
Olbia Airport, located in Sardinia, Italy, serves as a major gateway for travelers visiting the beautiful region. The airport features a single terminal building that handles both domestic and international flights. Equipped with modern amenities and efficient services, Olbia Airport strives to provide a comfortable and convenient experience for passengers. The airport's terminal facilities offer a range of dining options, duty-free shopping, and essential services to meet travelers' needs.
Cheap parking at Olbia Airport
When you're on holiday abroad, finding a secure and cost-effective parking spot for your vehicle is crucial. Parkos can assist you by showcasing various parking options and comparing their rates. The parking locations recommended by Parkos are highly reliable and offer competitive prices compared to parking directly at the airport. With Parkos, you can enjoy peace of mind knowing that your vehicle is parked safely while benefiting from lower parking rates.

To reach Olbia Airport, there are multiple transportation options available. You can choose to drive your own vehicle or take advantage of public transportation such as buses or taxis. Additionally, private transfer services can provide convenient and reliable transportation to the airport, ensuring you arrive in a timely manner.

Olbia Airport provides a range of parking options to suit different preferences and requirements. These options may include long-term parking, short-term parking, covered parking, and open-air parking. Whether you're traveling for a few days or an extended period, you can find a parking solution that suits your needs at Olbia Airport.

At Parkos, the reviews and ratings of car parks at Olbia Airport are based on real customer experiences. Our valued customers are encouraged to provide feedback and rate the parking providers based on their personal experiences. This ensures that the reviews reflect the quality and reliability of the parking facilities, helping other travelers make informed decisions.
Shuttle and valet parking at Olbia Airport
Olbia Airport offers convenient shuttle and valet parking services to enhance the parking experience for travelers. These services provide added convenience and ease, ensuring that parking your vehicle at the airport is a hassle-free process.
Shuttle parking Olbia Airport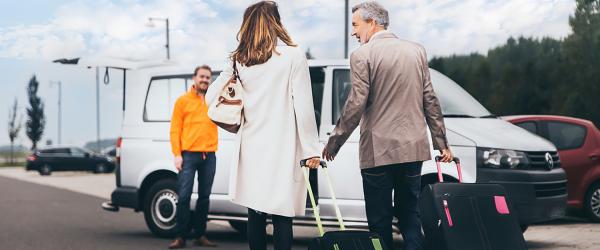 Shuttle parking at Olbia Airport allows you to park your vehicle at a designated parking facility near the airport. From there, a complimentary shuttle service transports you and your luggage directly to the airport terminal. Upon your return, the shuttle will pick you up and bring you back to your parked vehicle. This convenient service eliminates the need for navigating through the airport's parking areas, saving you time and effort.
Valet parking Olbia Airport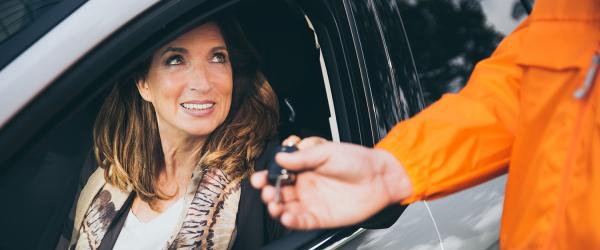 Valet parking at Olbia Airport provides the ultimate convenience for travelers. With valet parking, you can simply drive your vehicle to the designated drop-off point at the airport terminal. A professional valet attendant will then park your vehicle in a secure parking facility. When you return, your car will be brought back to the terminal, allowing you to quickly and effortlessly continue your journey.
Hotel and Parking
Hotels near Olbia Airport offer parking options for travelers, either on the hotel premises or in nearby underground parking facilities. This combined hotel and parking option is particularly suitable for long-haul travelers who prioritize convenient and secure parking. It provides the convenience of staying close to the airport while ensuring your vehicle is parked safely during your trip.
Long term Olbia airport parking
At Parkos, you can find the best long-term parking offers from providers at Olbia Airport. All the operators listed on our platform have been personally inspected by our colleagues, ensuring the highest standards of service and security.

Compare the differences between the parkings: Comparing the differences between parking options allows you to make an informed choice based on your needs and preferences. Factors such as pricing, proximity to the airport, and additional services provided can greatly influence your parking experience.

Compare the different options: When choosing long-term parking at Olbia Airport, you can compare the benefits of shuttle parking and valet parking. Shuttle parking offers the convenience of parking your vehicle in a secure lot and using a complimentary shuttle service to reach the airport terminal. Valet parking, on the other hand, provides the luxury of dropping off your vehicle directly at the terminal and having it parked for you.

Safety: Safety is a top priority at private parking providers affiliated with Parkos. These facilities implement robust security measures to ensure the protection of your vehicle during your absence. Features may include surveillance cameras, well-lit parking areas, and secure fencing to give you peace of mind.

Plan your trip: When planning your trip to Olbia Airport, it's essential to consider factors such as traffic conditions, check-in times, and potential delays. Leave ample time for transportation and parking, allowing for a stress-free start to your journey. Researching and booking your parking in advance through Parkos can help streamline your trip and ensure a smooth parking experience.
Parking providers at Olbia Airport
Our benefits
All parking lots are carefully inspected
The best deals on airport parking
Free cancellation up until 24 hours
Over 4 million customers globally