We help you compare parking prices at Barcelona Airport.
What makes Parkos unique?
All parking lots are carefully inspected
Free cancellation up until 24 hours before departure
How can we help you?
Our experts are here to assist you with comparing parking locations and are happy to answer any questions you may have.
Please contact us
Customers rate our car parking providers with an average of 4.4
Customers who have booked a parking space through us, rate these with an average of 4.4/5 based on 531 reviews.
Jeffrey Sunday 24 October 2021
Were received well and quickly taken to the airport. Nice that the staff parked our car for us.
Anonymous Sunday 24 October 2021
Straightforward website, booking was quick and easy!
Parking at Barcelona Airport
With Parkos, the online booking platform for airport parking, you'll be able to find, compare and book a parking spot close to at Josep Tarradellas Barcelona–El Prat Airport (BCN airport) at an incredible price. By booking in advance you'll assure yourself of the perfect car park space and you will save more time and money, because you don't have to pay the parking tariffs of the official car park. At Parkos, you can find a comparison tool for parkings near Barcelona airport. From now on, you will only have to worry about making the most of your trip!
Important information about parking at Barcelona Airport
| | |
| --- | --- |
| Number of car parks: | 9 parkings |
| Best rated: | Travel Parking BCN |
| Cheapest: | Parking Blanco Barcelona |
| Closest to the airport: | Travel Parking BCN |
The Barcelona airport is known as the Josep Tarradellas Barcelona-El Prat Airport, or shortly El Prat Airport. It is an international airport near the city centre of Barcelona in Catalonia, Spain. It is the second largest and busiest airport in the country. More than 52 million passengers took a flight from the BCN airport in 2019. Different airlines fly from the airport, such as EasyJet, Ryanair and Vueling. It has two terminals: Terminal 1 and Terminal 2 (T1 T2). Both Terminal 1 and Terminal 2 have car park T1 and car park T2 spaces. Those parking lots at both T1 and T2 are directly at the airport and are therefore more expensive than the alternative parking providers offered by Parkos.
At Parkos, we only partner with the best and most reliable Barcelona Airport long stay car park providers or short stay parking providers. This way we can offer you the best quality at the lowest price. Book your parking areas for Barcelona Airport stay parking on our website. You can cancel your reservation up until 24 hours.
Most of our partner parking areas offer a free transfer service, which includes direct access to a free shuttle bus from the parking spaces to the airport. But are you looking for an even more comfortable parking option? Choose one parking that offers the Valet pickup service at Terminal 1 or Terminal 2.
Low cost parking at Barcelona Airport
Low cost parking in Barcelona is within hands reach thanks to Parkos! Have a look at the trusted and reliable providers we offer, and see the benefits for yourself. Our providers offer free shuttle bus and valet services at Terminal 1 and Terminal 2.
All parkings are located within a few minutes from the T1 and T2 at Barcelona Airport. No need to waste time on long transfers, picking up additional passengers and making unnecessary miles. We value your comfort, your time and your money, and we work so that you can benefit from the best parking spaces without having to give up anything.
A lot of people associate cheap or low cost with poor quality, but in the case of long term parking at Barcelona airport, experience confirms that this is not always the case. How is this possible? Unlike other types of businesses, an airport car park does not have large management teams, expensive offices or unnecessary luxuries, and it is not usual for them to have the help of a large business matrix. Long stay car park providers know that if customers are not satisfied, they will not come back. Therefore, in addition to low prices, excellent 24-hour customer service is absolutely essential. Reach out to us if you have any questions, or check in the menu FAQ, for the frequently asked questions.
Read about the experiences and opinions of other customers that used our services on our feedback page. We hope this will make it easier for you to find the car park that best suits your needs. Of course, we will be more than happy to hear your opinion after you have parked your vehicle. All feedback helps us improve the parking experience every day, so your opinion matters! On average our partner car parks are rated with an 8.4 out of 10.
Shuttle and Valet Parking
Upon making your reservation you will get the chance to choose the parking option of your preference. The main difference is whether you want to park yourself and then be taken to the airport with a free shuttle bus transfer, or whether you want to go to the airport directly and have a driver pick up your car and park it for you in a parking space. These services are called shuttle parking and the other is called valet parking. Below you will find a short explanation of each stay parking option:
Compare the best car parks
Shuttle Parking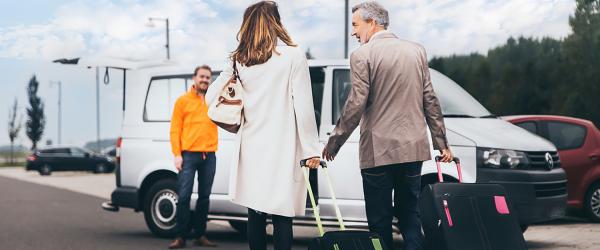 The shuttle parking option is the perfect choice when your priority is to save money. When you choose this option, you will have to go to the car park yourself and leave your car there. From there, you will be transferred to the airport with one of their shuttle vehicles. This means that you will spend a bit more time to park your car. Hence the price difference with the Valet parking option. But don't worry: most of the time the shuttle vehicles leave upon your arrival and the trip to the airport usually does not take longer than 10 minutes. We recommend that you check the specific details of the car park (such as meeting points or extra services) where you want to park and experience it for yourself. Trust us, you won't regret it.
Valet Parking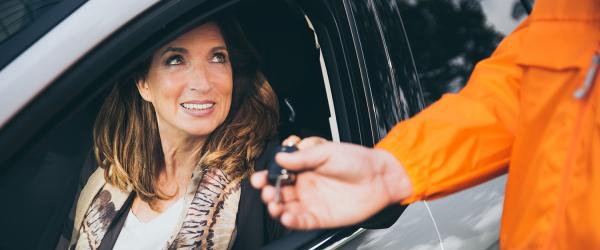 Valet parking is the option for those who value comfort over price. In other words, it is a full option VIP Parking service with car pickup and delivery at the terminal of Barcelona airport. It is also a good option if you travel with people in wheelchairs or reduced mobility and is also available 24 hour a day. With the valet option, you will have to go directly to the departure area of the airport terminals, and there an employee from the car park will meet you and park your vehicle at the parking area. You can go directly to the check-in desks and to the boarding gate without passing through the car park. On the way back you will return the car in the same place so that you do not lose time with transfers to the car park. All the necessary information, such as the car park telephone number, will be sent to you in the confirmation e-mail you will receive once your booking has been completed. With the valet option you will have a VIP service, and although it is not as cheap as the shuttle bus transfer option, we are sure you will be surprised when you see that it can still be better value than a taxi or booking a parking space at the T1 general car park, for example. Check it out for yourself, make your reservation and enjoy the trip like never before.
Long stay parking at Barcelona airport
If you are travelling and need to park your vehicle for 2 or more days in a long stay car park, we have the perfect solution for long stay parking. We offer the most competitive airport parking prices at Barcelona-El Prat. We have personally inspected all the car parks to offer you only quality car parks.
To help you make the most out of your stay, we invite you to follow our advice:

Compare the different parking options: research has shown that people who compare are able to save money more easily on the parking prices. For this reason we have designed our platform in such a way so that you can compare all parkings quickly and easily. You will most likely be pleasantly surprised when you see the price of the car park of your choice. Simply choose Barcelona airport parking from the list of airports and find the best short stay parking or long stay car park.

Choose the type of car park you want: You will be able to choose between indoor or open air car park spaces. Whether you want to be taken to the airport by a shuttle bus or whether you want to have your vehicle collected at Terminal T1 or Terminal T2. Both the VIP valet and the shuttle services have direct access at Airport BCN - El Prat Airport.
The valet option is most comfortable since it allows you to leave your car directly at Terminal T1 or Terminal T2 without wasting time. This is the reason why valet parking is also called VIP parking. Upon arrival a driver will wait for you at the meeting point to pick up your car and park it for you. This way you can proceed to the check in immediately. On your return the same drive will be waiting for you at the agreed point.
The shuttle bus is usually the low-cost option. You will need to drive to the parking lot to leave your car. Thereafter, you will be transferred by shuttle bus to the airport departure terminal. Obviously, this transfer is free of charge. On the day of your return the same shuttle bus will transfer you to the parking lot so that you can pick up your vehicle very easily.

Security: With our online booking platform you will always be able to compare the security measures of each car park. 24-hour surveillance, security cameras and closed areas are just some of these measures that you can check on our website when you make your reservation. We also carry out inspections at all our partner car parks to provide you with the best services. Not only does parking matter, the peace of mind of doing it in a safe place can make the difference.

Plan your trip: before leaving to a parking, it is important to plan your trip. As something unexpected can always happen: bad weather, an accident that blocks the road or a breakdown. At Parkos we help you plan your trip, simply go to our link "plan your trip".
Parking providers at Barcelona Airport