Parking at Poznań-Ławica Airport
Poznań-Ławica Airport, located 7 km west of the city of Poznań, is a small airport, but one with a very long tradition in passenger transport. It is worth coming here in your own car and choosing a car park - Poznań-Ławica Airport is serviced by professional parking providers. Choosing a car park - Poznan airport is within the reach of every traveller who cares about comfort and low transport costs.
Poznań Airport is the seventh largest airport in Poland, serving connections to both European and non-European countries. Well-known low-cost airlines such as Wizz Air and Ryanair also operate here. Interest in flights from Poznań-Ławica grows especially during the holiday season, so it is advisable to book your car park in advance.
Cheap parking at Poznań airport
Finding cheap parking at or near the airport is essential for a successful holiday. After all, we don't want to spend hours looking for the cheapest flight connections, only to end up overpaying for leaving our car near the airport. When choosing Poznań and airport parking, it is best to book in advance, because then there is a good chance of finding a very favourable offer.

There are a number of different ways to leave your car at the airport. Among them is the option to park in an area owned by the airport. The airport has two terminals - T2 for departures and T3 for arrivals. There are four short-term car parks - T1, T2, T3 and T4 - and two long-term car parks - T5 and T6 - available to passengers. As far as parking is concerned, Poznań Airport has a separate price list for each of them.

Regardless of the choice of a parking space, one principle is always the same. The longer a customer wants to use a car park near the airport, the cheaper the unit price per day. This is worth bearing in mind for short trips, e.g. city breaks, as in the Parkos price comparison service shorter trips will always be slightly more expensive. Of course, when choosing Poznan airport parking, you can often count on interesting promotions.

Long-term parking will always save a little money. There are two such car parks right next to Poznań-Ławica Airport - P5 and P6. You just have to bear in mind that when choosing a Poznan airport car park that P5 is a car park open all year round, while car park P6 is open seasonally. Outside of busy tourist periods, there may therefore be fewer spaces for long-term parking and you will then need to ensure that you book in advance.
Shuttle and valet parking at Poznań airport
You can choose the Poznań-Ławica airport car park or one of the other attractive parking options. An interesting option is a private car park with the option of a shuttle transfer to the airport. Another option is to drive to the terminal itself and hand over the keys to an employee of the reserved car park, who will drive the car to the spot (valet parking). Still another scenario is to choose a car park belonging to a hotel with a possible shuttle service to the airport.
Poznan airport shuttle service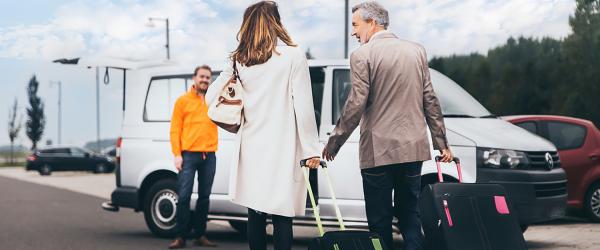 Parking with shuttle service is often the option chosen by travellers. This option allows you to park your car in the parking location of your choice and then proceed to the departure hall in peace. The solution involving parking at Poznań Ławica Airport with a transfer option to the terminal is very affordable and extremely convenient. On your return, all you have to do is call the car park operator to arrange your return transfer to the Poznan airport car park.
Valet parking Poznań airport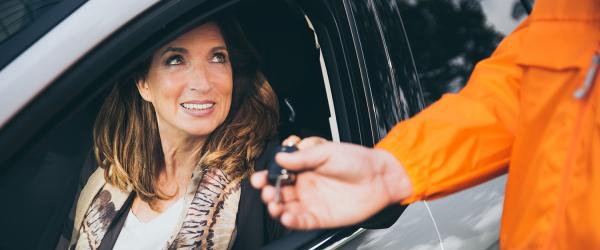 The option valet parking is an extremely convenient option recommended especially for those on the go. It allows you to arrive at the Poznań airport terminal building yourself, and then hand over the car in the safe hands of a professional driver who will drive it to a dedicated car park. Every Poznan airport car park reviews can be found on the Parkos website.
Hotel and Parking
Hotel parking is a good choice for those who still want to relax in the hotel's facilities before their flight. But the parking space offered by the hotel can also be used without booking a room. The parking option at the hotel is usually more expensive than the others, but just as secure and convenient. The price difference is easy to compare on the Parkos website.
Long-term parking at Poznań-Ławica Airport
You can leave your car at any airport for more than a few days. This 'stay' of the car in the car park is called Poznan airport long-term parking. This is an excellent option for people who are going on a 2-week holiday by plane, for example. And for those who want to take equipment - such as windsurfing equipment - on board that is difficult to transport by public transport.

Contrary to what logic would suggest, long-term parking is relatively cheap. The unit price for a day's parking, when renting a long-term parking space, is considerably cheaper than the same price for short-term parking. And this makes arriving at the airport by your own means of transport even more cost-effective. It is therefore worth remembering that the longer you park at the airport, the cheaper it is.

And what are the prices of long-term parking at Poznań Airport? This of course depends on each individual operator or the airport itself. However, the standard is that you will not pay more than EUR 25-30 for a long-term parking, for example for 10 days. Not much less will be paid for five days, which only confirms the rule stated above.

Of course, long-term parking does not mean that you can leave your car at the airport for ages. It is an option for people going on holiday, which more people would like to use. Long-term parking therefore covers a period of 10 to 15 days. In any other situation, leaving your car in a car park has to be negotiated. And, of course, some operators can go along with travellers in this respect.

Parking providers at Poznań Airport do their best to keep their customers happy. The car parks are secure and monitored 24 hours a day. Getting to the car park by your own means of transport is an invaluable convenience, which you can experience both before your flight and on your return. It is worth taking advantage of such an option, and the best prices can always be found in the Parkos comparison engine.
Our benefits
All parking lots are carefully inspected
The best deals on airport parking
Free cancellation up until 24 hours
Over 4 million customers globally