We help you compare parking prices at Orly Airport.
What makes Parkos unique?
All parking lots are carefully inspected
Free cancellation up until 24 hours before departure
How can we help you?
Our experts are here to assist you with comparing parking locations and are happy to answer any questions you may have.
Please contact us
Customers rate Parkos with an average of 8.6
Customers who have booked a parking space through us, rate these with an average of 8.6/10 based on 355 reviews.
Jeffrey Monday 16 November 2020
Were received well and quickly taken to the airport. Nice that the staff parked our car for us.
Anonymous Monday 16 November 2020
Straightforward website, booking was quick and easy!
Sommaire :
Parking at Paris Orly airport
Getting to Orly airport with your own car is pleasant. Although there is a direct bus to the airport, you save yourself the stress of public transport on the day you leave. Your stay will therefore start off on the right foot. Thanks to the car park comparator in Orly , you can compare our suppliers around the airport and book your car park at the best price. We find the best deals so that you can save as much as possible and find the right deal you are looking for! Make an online reservation at Parkos and enjoy the best rates.
The most recent information on car parks near Orly airport
| | |
| --- | --- |
| Parkings: | 3 parkings |
| Best rated: | Ector Orly |
| Cheapest: | Parkev |
| Closest: | Ector Orly |
The price displayed includes the free shuttle between the car park and the airport. You can also opt for valet parking. We compare prices on Orly and we offer free cancellation up to 24 hours before your scheduled arrival time. For more information, see our frequently asked questions or contact our customer service. You can also consult our legal notices and general conditions for more information. Reserve a parking space at Orly Sud et Ouest.
Compare the best parkings
Find your parking space in Orly with Parkos! Our website allows you to compare the offers of different car parks in Orly Sud or Orly Ouest in a few clicks. We carefully select our suppliers so that you benefit from a quality parking space.
Paris-Orly airport is located 14 kilometers south of the French capital, straddling the town of Orly and the departments of Essonne and Val-de-Marne. The A106 (A6), A89 and national 7 motorways offer you quick access to the airport by car. From Porte d'Italie, you can be at the airport in about 15 minutes, depending on traffic.
Second French airport in terms of number of passengers next to Roissy Charles de Gaulle (Roissy CDG), Orly has always been a French airport of choice. Inaugurated in 1909, Orly reached its peak in the 1960s and 1970s, not only for the airport itself, but also for all the ancillary activities offered there. The "Dimanche à Orly" which inspired the song of the same name, was the first tourist attraction in France, in front of the Eiffel Tower, with no less than four million visitors per year. Paris airports are very busy, so you will find many offers to book parking nearby.
Parkings in Orly at the best prices
If you want a good deal, nothing better than booking in advance. No matter how long you want to park your car for, once the reservation is made, the price will not change. So there will be no unexpected additional costs. We work with serious car parks located near Orly airport.
We only work with car parks near Paris-Orly airport. So you won't have to travel a lot of kilometers before taking your flight. In the official airport parking, the prices are expensive, but at Parkos we find the best prices near the airport. Compare our offers now! Adjust the filters and indicate whether you want covered parking, indoor parking or outdoor (open air) parking. Our suppliers offer excellent quality private car parks.
Granted, the deals we offer are more than affordable, but don't go thinking that this equates to poor quality. At Parkos, we do everything we can to ensure that our customers can enjoy great service that is inexpensive. The staff of our collaborators is friendly and each car park has a security system. Our suppliers also do their utmost to ensure customer satisfaction.
Some of our customers have taken the time to give us their feedback, so take a look to determine which parking to choose. If you want to book a secure parking space on Orly, know that our suppliers have an average of 8 out of 10. Your opinion is essential to us in order to offer you the best possible service.
Car parks at the best prices at Orly airport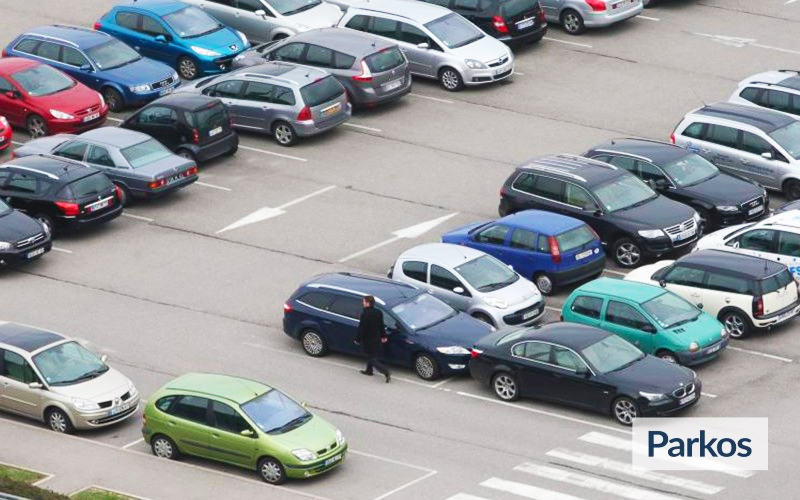 Which service to choose?
In Orly, as elsewhere, two services are available. In short, you have the choice between shuttle or valet parking. Our website allows you to compare a wide range of offers before making a reservation. Filters are also available to make your job easier, as they allow you to display only the offers that suit you. Some car parks also offer additional services, such as car washing. All this is indicated on the page of our partners.
Valet parking (Meet & Greet)
If you want to save time, there is nothing like valet parking . This option is both quick and comfortable, as you go directly to the airport terminal without having to go to the car park. This saves you considerable time. A valet will be waiting for you at the airport on the day of your departure. He is responsible for parking your car in the company's parking lot. You can therefore go to the terminal as soon as you pick up your vehicle. The return process is similar. You call the valet and he will come to bring your vehicle back to the terminal. With valet parking, you don't have to search for a parking spot. Some companies are well known for this type of service, such as Ector and Blue Valet.
Shuttle parking (Park & Drive)
If you want to opt for a cheaper solution, the shuttle service is what you need. This option is free, as the shuttle transfer is included in the price. This service is very popular with our customers because it is efficient. On the day of departure, go to the car park address indicated on the confirmation of your reservation and park your car in the car park. You will then be taken to Paris-Orly airport with the shuttle. It will drop you off at your departure terminal, whether it is at Orly Ouest or Orly Sud. On the day of your return, call the shuttle to pick you up. Determine a meeting point with your interlocutor (for example at parking lot P1 or parking P3) and the shuttle will pick you up there. By choosing the shuttle service, you see the parking lot and the conditions under which your car will be kept. You therefore benefit from discount parking and a secure location! Suppliers such as Parking Soleil, Cool Park and Euro Parking Orly provide this service around the airport.
Long-term parking at Paris-Orly
It is increasingly common to travel for at least a week. It is therefore interesting to compare long-term parking offers to ensure the safety of your car during your absence. Our suppliers have weekly and monthly rates. You can therefore leave for several weeks as you wish!
To make the most of your stay, we invite you to follow our advice:
Define your criteria: our site allows you to filter the offers corresponding to your criteria. In this way, you can easily display the parking types that match your needs. Our partners all have car parks with direct access to the airport, and therefore to the terminal of your choice. In addition, some are open 24 hours a day. All you have to do is compare and reserve a parking space on our site.
Choose the service that's right for you: it's important to ask yourself the question. Which service best suits your needs and the situation? Would you like to book Blue Valet parking or outdoor parking with shuttle? How do you want to reach your terminal? Once you've determined what works best for your budget and plans, you can compare similar offers at Paris Orly. In all cases, our partners are located near the airport.
The valet service allows you to save time. Just drive your vehicle to the airport and a valet will take care of everything. Here, no need to go to the parking lot. Once back at the airport, a valet will return your car to the drop-off point. So you won't have to wait. In total, you can save up to an hour of time.
On the other hand, the shuttle service is cheaper. It does take a little longer, but it is not to say the least effective. However, we recommend that our customers allow one hour between their arrival at the car park and their arrival at the Orly Sud or Orly Ouest airport terminal so that you do not have to rush to get on the plane.
Safety:This is one of the key words at Parkos. Our company carefully chooses its suppliers. We always opt for secure parking so that you don't have to worry about your trip. You can consult the security measures of each of our partners by going to their page. Only car parks located a maximum of 15 minutes from the airport are listed on our site, whether it is outdoor or covered parking. The grounds of our partners are constantly monitored to ensure the safety of your vehicle.
Plan your trip: prepare your route to Orly airport. To arrive on time , you will have to plan ahead for any unforeseen events on the road. The traffic information will provide you with precise information on the state of the roads, which will facilitate your trip. We recommend that you plan an alternative route in case of unforeseen circumstances. You can easily plan your route with our "travel directions".