Bilbao Airport Parking
Bilbao Airport is a small international airport that's 9 km north of Bilbao in the Basque country in northern Spain. It's in the main municipality of Loiu in Biscay. Other airports that are close to Bilbao airport include Vitoria Airport and Santander Airport. It's actually growing in size though with almost half a million passengers passing through Bilbao airport each year.
When you fly from Bilbao, you're going to be looking for the most optimal Bilbao airport parking available. This needs to be convenient and affordable. At Parkos, we compare the different low cost car parks and parking options at Bilbao airport so that you can find and book a parking space with ease.
Table of content:
We search all the best car park options including Express car park and Premium car park services at Bilbao. We can help you with booking both long and short stay parking at the terminal. By booking through us, you can compare the airport car parks, select a space and pay in advance. Don't forget to check out all our booking services and make sure you know where each airport car park is located before you pay for your trip.
If you plan to park at Bilbao airport, both short term and long stay parking can be expensive if you have not made a reservation or booking early enough. There are some car parks that have cheaper services including express car park options for customers, though these are located slightly further from the airport. It's possible to book these car park services and make use of cheaper airport car parking saving yourself time and money. Even though there's a lot of choice, make sure you're organised and book your park before departure on your journey.
Cheap parking at Bilbao Airport

Here at Parkos, we compare all the different Bilbao airport parking options for your car park needs. These include Express car park, Premium car park, short term and long-stay options. We also ensure that all of these car parks are safe and secure.

We can offer you cheap parking deals when you park at the Bilbao airport P1 car park. This car park has five floors. It's the closest car parking to the airport terminal and can help you save time. It has free, direct access for passengers via a ground floor covered walkway to the passenger terminal. It's great for people with reduced mobility or lots of luggage. However, the maximum stay is four days and there's a maximum height limit for vehicles. Or you can also avoid any parking area entirely and use the Express car park entrance to pick-up and drop-off passengers for free. You will have to pay if your vehicle stays for longer than ten minutes though.

We can help you with all your pre booking Bilbao airport parking needs, whether that's by using other car parks, finding the closest parking spaces to rent to avoid the five floors of the multi-storey car park. All the reviews of our car park bookings are from other customers' experiences. As such, we value your feedback and look forward to getting your reviews here.
Shuttle and valet parking at Bilbao Airport
We offer both shuttle and valet parking spaces at Bilbao Airport. Take a look at how these work so that you can pre book a car park space and get the cheapest option when booking.
Shuttle parking Bilbao Airport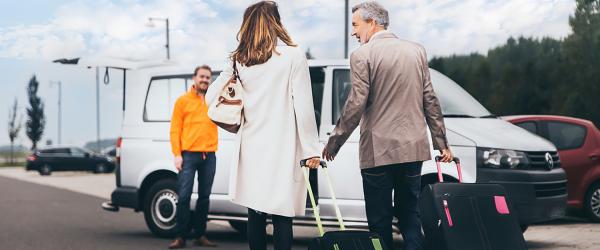 The providers of shuttle parking will look after your car in the parking spaces you have booked. You drive your car directly to the parking space. Then, one of the employees of that car park will provide a free shuttle service so that you can arrive at Bilbao airport in time for your flight. When you return, you'll be picked up by the shuttle and taken from the airport to your car. Make sure you've called ahead from the airports terminal.
Valet parking Bilbao Airport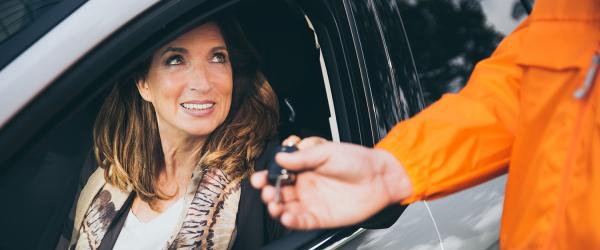 This type of airport parking must be done with a reservation online. When arriving, you simply hand your car over to an employee of the car park at the meeting point for pick-up, all at a competitive price. They will then take your car to the airport parking facilities. When you have landed, they will collect you from the entrance to the airport and take you back to your car. For security reasons, you will need to have an email confirmation and show this on arrival. There are also other services available such as interior washing, special soaps and more for your vehicles. These service options must be booked in advance.
Hotel and Parking
Bilbao airport has many hotels close by. You can pay for a room and also airport parking. It's possible to get cheaper deals for your trip. It's also a great option if you're going to be away for a longer term and want to ensure everything is secure when you park your vehicle at the terminal.
Long term Bilbao Airport parking

Compare the differences between the parkings: If you need long term parking for your vehicles, then this is not a problem. At Parkos, we are ready to help you find the best offers for parking your vehicle, whether that's a free option, the Express car park or the Premium car park. There are also a number of long-stay parking options available with free cancellation.

Compare the different options: While the Bilbao airport P1 car park is popular, the maximum stay is just four days. If you want to stay for a fifth day or longer there are other car parks just like other airports. The Bilbao General Car Park has shuttle services for passengers and automatic payment machines.

Safety: Each of our chosen providers offers secure car park options. Through our parking service, you can also access a parking area with terminal transfers.

Plan your trip: Booking is required but we offer free cancellation before departure. You can also use our route planner to organise your journey and ensure a stress-free trip.
Our benefits
All parking lots are carefully inspected
The best deals on airport parking
Free cancellation up until 24 hours
Over 4 million customers globally