View the car parks on the map
Lanzarote Airport Parking
Officially known as César Manrique-Lanzarote Airport (ACE), you can take domestic and international flights from here. The airport is in San Bartolomé, Las Palmas in the Canary Islands. Other airports in the Canary Islands include Fuerteventura Airport and Gran Canaria Airport.
Table of content:
Lanzarote Airport has two terminals - Terminal 1 (T1) and Terminal 2 (T2). Flights from T1 are both domestic and international flights. The official airport parking area is a 3-minute walk from T1 and a 7-minute walk from T2. Flights to the Islands depart from Terminal 2 and the car park is again just a 3-minute walk from T2 and a 7-minute walk from Terminal 1. These car parks are ideal for passenger pick-ups or drop-offs at either T1 or T2.
However, as the number of passengers and flights increases, finding affordable car parks is not easy. But, here at Parkos, we can help. Simply check out prices, dates, and times for Lanzarote Airport on our parking comparison site.
Cheap parking at Lanzarote Airport

At peak times, finding a car park space at the right price can be overwhelming. However, at Parkos, we offer affordable solutions, allowing you to enjoy your trip. Lanzarote Airport parking prices vary depending on the parking service you need.

We offer cheap and convenient parking spaces for Lanzarote Airport. Search our website for information on the best car park solutions and browse our advantageous rates.

If you're unfamiliar with Lanzarote Airport parking lots, our user-friendly and intuitive route planner will guide you to the best car parks at Lanzarote Airport near either T1 or T2. We will look after your car, while you enjoy your trip.
Shuttle and valet parking at Lanzarote Airport
Whether you're leaving from Terminal 1 (T1) or Terminal 2 (T2), the official car parks at the airport are only a short walk from the terminals. However, here at Parkos, we offer you cost-effective open-air or covered parking areas, but they're a little further away from both Terminal 1 and Terminal 2.
Shuttle parking Lanzarote Airport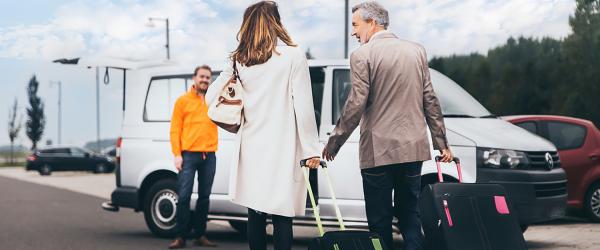 This solution entails parking your car at a location near the airport and boarding a shuttle to your terminal. Our shuttle services pick up and drop off passengers at both Terminal 1 and Terminal 2. This eliminates the need to carry luggage or walk to the terminal. When you return, take the shuttle back to your parking space at Lanzarote Airport parking.
Valet parking Lanzarote Airport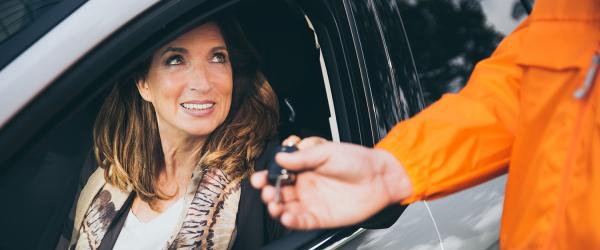 Although valet parking is slightly more expensive, it is perfect for busy travellers who may not have time to walk to the terminals. When you arrive at the airport, one of our trusted drivers will meet you in T1 or T2 departures. Just hand over your car keys and the driver will do the rest. Upon your return, the driver will bring your car back to you at T1 or T2 Arrivals and return your car keys. Valet parking at Lanzarote Airport is ideal if you need to get in and out of the airport areas quickly and don't have time to look for parking spaces. It's a stress-free and hassle-free way to park your vehicle, and you can be sure it is safe while you're away. For more information, consult our site.
Hotel and Parking
Picking a good hotel and parking solution is essential if you have an early flight and want to rest before your trip. Here at Parkos, we offer hotel accommodation, airport parking and shuttle services. Our user-friendly website allows you to search and book hotel and parking options. We also offer the best rates ensuring customers enjoy top-notch service and a stress-free travel experience with our Lanzarote Airport parking services.
Long term Lanzarote airport parking
Here at Parkos, we offer flexible and affordable parking rates for both short and long-stay parking options. Our parking providers offer 24/7 security surveillance ensuring safe and secure parking solutions while you enjoy your trip.

Compare the differences between the parkings: If you are looking for affordable parking close to the airport, look no further. We can help you find safe, secure parking spaces located close to the airport. Compare prices from different providers using our website and select the best car park options for your needs.

Compare the different options: The official Aena airport car park areas are located very close to Terminal 1 (T1) and Terminal 2 (T2) at Lanzarote Airport. Both car parks offer services for people with mobility difficulties. While the Terminal 1 (T1) car park is large, with spaces for 1058 cars, the T2 car park is smaller with just 204 spaces plus 60 spaces for hire cars.
We strive to provide all our customers with excellent service. We value your feedback, which can be left on our Reviews page, allowing other customers to benefit from your experience. Tell us about your experience from the moment you make your booking online (with major credit cards) to when you pick up your car.

Safety: Each car park is vetted to ensure we offer you top-quality car park services. Our safety policy stipulates that all car park providers must adhere to specific safety standards. In fact, we only partner with car parks that have proper lighting, surveillance cameras, secure gates, and fenced areas.

Plan your trip: We also guarantee that all our car park providers have insurance coverage. In case of any damage or theft of a vehicle in the car park areas, you will be adequately compensated. We advise you to browse all our car park solutions for César Manrique-Lanzarote Airport, before booking. Add the dates and times that you need and compare the different prices. All the information regarding parking is updated regularly, so you'll see the most suitable car park for your domestic and international flights.
View the car parks on the map
Our benefits
All parking lots are carefully inspected
The best deals on airport parking
Free cancellation up until 24 hours
Over 3 million customers globally