Parking at Venice-Marco Polo Airport
Venice Marco Polo airport was named after the famous merchant and explorer Marco Polo. It is known as Marco Polo Airport. It is the biggest airport in the region of Veneto, and one of the biggest in Northern Italy. It is only 13 km far from the city center, you can even reach it via taxiboat. The closest train station is Venice Mestre, about 15 minutes away by car. Treviso Airport is only 30 minutes away. The airport is conveniently located and serves many travellers from the area, but also from abroad: you will drive only a couple of hours coming from Austria, Slovenia and Croatia.
In 2019 more than 11 million passengers travelled from Venice Airport (VCE). It was built in 1961 to be the first of the whole area, replacing the previous airport Venice Lido. There are currently more than 50 flying companies who offer flights from and to Venice Airport Marco Polo, among which many low cost companies. There is a variety of offer for travellers who choose to have a flight from and to this city. Many people choose to take their car to reach this airport, both from the surrounding region and from the countries mentioned above. You can also get to the terminal by bus, boat or train or ask a friend or family to bring you but getting to VCE by car is the most comfortable and cheapest option. Booking via Parkos will always ensure you get the cheapest parking rates at Venice Airport.
Compare airport parking at Venice Marco Polo airport
Parkos allows you to compare the best long term and short term parking options located in the vicinity of the airport. Only comparing more options you have the chance to find the best parking location for you and to find the best deal. All the parkings on our website are located about 10 minutes away from Venice airport. There are usually two options in order to reach the terminal from the parking area: shuttle and valet service. The shuttle service is always free of additional cost, it will never happen that they let you pay for the free shuttle bus. Car valet is usually a bit more expensive because it consists of driving to the Venice airport terminal and then there meeting the employee that will take care of parking your car for you at the car park.
Booking a short or long term parking space near Venice Marco Polo Airport has never been so easy and convenient. In three simple steps, you can reserve today a parking spot at Venice Airport via Parkos, leaving all airport parking related stress at home! Parkos guarantees that the car parks you find in our offer are safe. How do we know that? Because we inspect them personally. The quality of the service comes first, so does the satisfaction of customers and passengers.
Thanks to special deals with our parking areas providers, we are able to offer the cheapest price guarantee. Don't hesitate to ask for extra services next to parking your car. You can book for example a car wash in advance in order to find your car cleaned upon return. For further information or special requests about your Venice airport parking space, please contact our customer service.
Safe and convenient Venice airport parking
Do not wait till the last moment to book your parking space at Venice Airport. When you book online in advance, the price for a parking space is cheaper and you will ensure yourself a spot for your travel. Stress-free, without having to look for a Venice airport car park on the day of departure. Choose your favourite payment method: in cash at a desk or with debit/credit card and reserve your car park spot today.
On our website, you can see all real time offers for Venice airport parking spaces so you can find the best deal for you. Parkos makes comparison and reservation easy for the visitors, so you don't have to be looking online for more parking spaces because you will see them already on our website. The prices are always up-to-date, it will never occur that you will be asked to pay more on a parking spot. Also availability is constantly updated per day. If a car park is full or closed it won't be displayed between our offers anymore. You can choose between indoor and outdoor parking spaces, shuttle service or car valet, long term parking or short term parking and among many extra other services, like car wash, keep your keys etc. Do you prefer fly low cost? Then the parking lot options don't have to be expensive. With Parkos you will always find the cheapest prices at Venice Airport.
All our providers are provided with CCTV and are safe. How do we do know it? We inspect the parkings by ourselves. We won't offer car parks we do not trust ourselves to our customers. We value and guarantee safety for your vehicle. Not only at the car park itself, but also online. That's why making a booking on our platform and pay online is always safe. We use protected servers. You will only have to reach the parking lot on the day of departure. If you cannot or don't want to pay online, you can always book parking options with payment with debit/credit card or cash at the parking area. It's even possible to filter the payment on spot option from our comparison page.
We value the quality of our partners. That's why we ask the customers to leave us a review about their experience. Do not forget to leave your own review about your airport parking experience at Venice airport.
Parking rates for Venice airport parking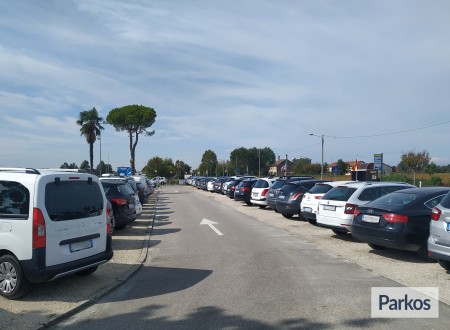 *Parking rates for Venice Airport may vary depending on the time of year. The data above displays the most economical offer for a parking space.
Shuttle service and valet parking
When booking parking at Venice Marco Polo Airport, you're presented with a range of options. This decision hinges on whether you'd like to personally drive to your car park or have it taken care of by a professional driver. The choices include Shuttle Parking and Valet Service. Here's a concise overview of each parking option.
Shuttle parking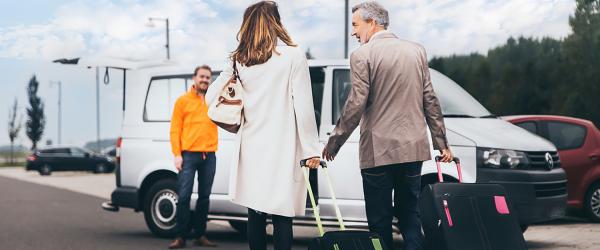 Opting for shuttle parking entails driving directly to the designated parking facility, bypassing the congested roads near the airport. Upon arrival, you have the choice to park your car in an outdoor parking space or a covered garage. A complimentary shuttle bus is then available to transport you seamlessly to the airport terminal. The parking provider is notified of your arrival, ensuring that the shuttle bus is prepared and waiting for your convenience. This smooth process remains consistent for the return journey, with the shuttle bus promptly collecting you from the arrivals hall and transporting you back to your parked car.
Valet parking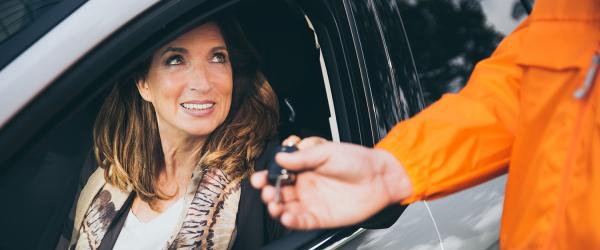 Seeking enhanced comfort? Opt for valet parking. Drive your car directly to the departures hall, where a waiting driver will take charge and transport your car to the designated parking area, whether indoors or outdoors, depending on your choice. All necessary instructions, including the driver's contact number, are outlined in the confirmation email you received at the time of booking. This option saves you time, eliminating the need to find parking and catch a shuttle bus. Upon your return to the airport, your car will be ready and waiting for you at the arrivals hall, streamlining your journey. Valet parking at Venice Marco Polo Airport truly offers the simplest and most convenient parking solution.
Our tips for booking a parking space at Marco Polo Airport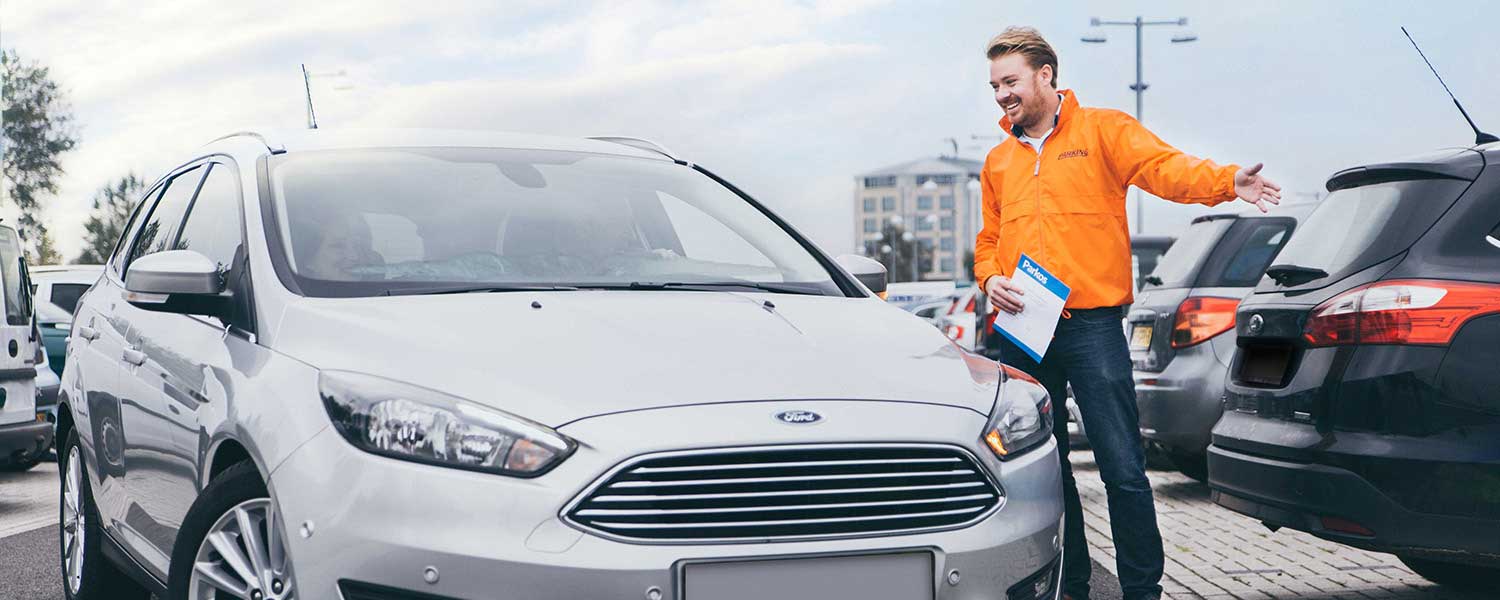 Parkos helps you with finding the best and cheapest parking at Marco Polo airport. To enjoy the car park experience at best, follow our advice:
Compare the many options: start comparing today. All the possible options in one page. Doubts? Read the reviews that other customers have left on the website. Our partners offer high quality services for everyone.
Which parking type do I need? Shuttle parking or valet parking? Indoor parking spot or outdoor one? Long stay or short stay? Everything is possible at Parkos at the best price. When you choose the shuttle parking, you only need to drive directly to the parking areas and from there a free shuttle will bring you to the airport terminal. Upon return, you only need to call the parking provider at the number provided in your confirmation email of the reservation. The free shuttle bus will come to pick you up. Travellers who prefer ease above all, can book the valet service. When you book valet parking, you only have to drive to the airport where you will meet an employee of the car park who will take care of your car for you. This is a convenient service for you and your vehicle.
Safety: we know how important it is to know your car is safe while you at your destinations. That's why we inspect the car parks ourselves and we only offer parking lots which match our standards.
Plan your trip: we provide you with travel instructions on how to reach the parking lots from you home. You will find this and more useful information in the confirmation mail you receive once you have made a reservation.
Parked from 10/20/23 til 10/30/23
Excellent service, I've used it twice and they always impress me! There are never any complications whatsoever which is something one always fears while travelling. Even when our plane landed at midnight, the shuttle bus was there to collect us in five minutes. I will definitely use their services again!
...Read more
Parked from 10/26/23 til 11/4/23
Courtois and friendly staff. Everything was smooth. Only minus is drop off - pick up location at the airport which is some 500m from terminal building and on the sidewalk, open air. In bad weather can be quite a problem. Location at the terminal would be desireable.
...Read more
Parking providers at Venice Airport
Our benefits
All parking lots are carefully inspected
The best deals on airport parking
Free cancellation up until 24 hours
Over 4 million customers globally