| | |
| --- | --- |
| Parking providers | 26 |
| | |
| | |
Parking at Milan Malpensa Airport
Milan-Malpensa Airport (Aeroporto di Milano Malpensa, IATA code MXP) is the largest airport in Northern Italy and the country's second-largest international airport. It leads in cargo traffic among Italian airports and ranks second only to Fiumicino in terms of passengers. Situated near the Ticino River, the city center is 49 km away. Established in 1909, it opened to civilian traffic in the second post-war period, taking the name Aeroporto Città di Busto Arsizio.
In 2016, Malpensa Airport hosted more than 19.4 million travelers. Passengers come from all over Northern Italy and also from the Canton of Ticino. Together with Orio al Serio Airport and Linate Airport, they stand as the "Milan Airport System," offering their service to more than 40 million passengers per year. There are many airlines that operate in Malpensa, among them Alitalia, EasyJet, Meridiana, and Blue Panorama. Malpensa Airport has two terminals, not far from each other: Terminal 1 and Terminal 2.
Compare parking Malpensa Airport options
You are leaving Malpensa Airport, and you are thinking about how best to reach the terminal of Milano Malpensa. Taking public transport is easy, but if they are late or your return flight is late, Also, if you are travelling with a family or group, sharing a car is much cheaper than taking the train. It gives you more convenience: you can plan your trip and travel at your own pace, and upon return, you can drive back home at any time without rushing to catch the train. If you think a the official car parks at the airport is expensive, you haven't yet tried booking a car park via Parkos. We compare for you all the low-cost parking solutions near the terminals of Milano Malpensa, and you can safely book the parking area in advance you prefer the most. Check it yourself. You can book a safe parking space in a few steps for a convenient price and start your journey carefree. You won't have to worry about looking for parking spaces on the day of departure. We provide you with the instructions in order to easily reach the car park. You are sure that a spot has been reserved for you and that the price won't change.
Our parking providers are reliable, and your car will be safe. How do we know it? We visit and inspect the parking lots ourselves in order to make sure they comply with our standards. Our offer includes a variety of options for parking spaces: off-site parking, which are located 10 minutes away from the airport and offer both outdoor and indoor parking spaces, with the free shuttle service included or the car valet. We help everybody find their ideal parking space close to the airport. If you have an EasyJet flight, the best option is to book parking Malpensa near Terminal 2.
Terminal car park at Malpensa terminal 1 and terminal 2
This Milan airport has two terminals, Milan Malpensa Terminal 1 and Milan Malpensa Terminal 2 (Malpensa T1 and T2), which are quite distant from each other. However, this is not a problem because all our parking partners offer a free shuttle stop transfer to and from the airport. This allows you to be transported to either Terminal 1 or Terminal 2, depending on your flight, and upon your return, the shuttle will be at your disposal to take you from the airport back to your car. This service is included in the price you pay and available 24/7 with most of our parking partners at no additional cost. It doesn't get much simpler than that! You can also book the official car Parks (ViaMilano Parking) through Parkos, such as P2 Executive, P3 Express or P4 Holiday. They are directly connected to the airport and offer the quality service at the best price.
Safe and convenient car parks at Malpensa Airport
Finding low-cost parking with direct access to the airport is no longer an issue. Via Parkos, you can safely park your car. We have a solution for all tastes: park inside or outdoor parking, shuttle parking, or valet parking. For more questions, contact us and find the best parking lots.
The airport boasts convenient accessibility via the main highways, ensuring a seamless journey for travelers. Likewise, the parking facilities are strategically positioned, situated just 5 to 10 minutes away from the bustling terminals of Milan Malpensa. This strategic location not only minimizes travel time to and from the airport but also provides a hassle-free experience for individuals seeking secure and reliable parking options. On Parkos, you have the added advantage of effortlessly comparing parking prices, enabling you to make an informed decision and choose the most cost-effective and suitable parking solution for your travel needs.
At Parkos, we are dedicated to delivering top-tier parking solutions to our customers. To ensure the highest quality, we personally inspect each of our partner facilities, providing you with the assurance that your car is in safe hands during your travels. Choose between outdoor and indoor parking options tailored to your preferences. Our partners are reputable companies with extensive experience in airport parking services. Whether you prefer driving to the parking facility and taking a shuttle bus to the terminal or having a driver handle your car upon arrival at the airport, our flexible options prioritize your convenience and peace of mind.
We invite our customers to share their experiences on our website, aiding us and our parking partners in service improvement and helping others make informed decisions. We highly value your feedback, so please take a moment to leave a review after your parking experience with Parkos. Your input is crucial to maintaining our high standards and ensuring each customer enjoys an exceptional parking service.
Milan Malpensa Airport parking rates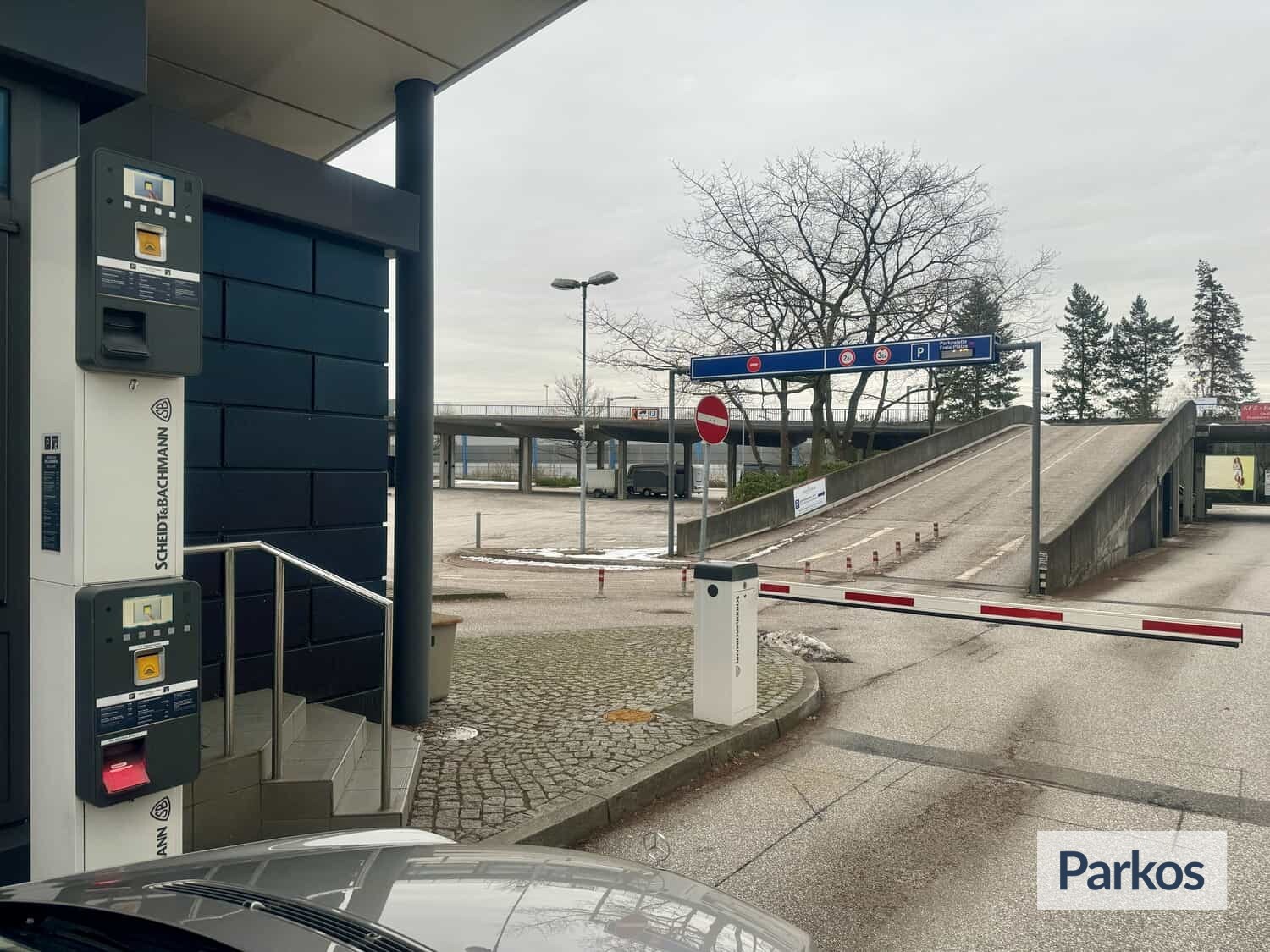 *Parking rates at Milan Malpensa Airport may vary based on reservation periods.
Shuttle and valet parking space Malpensa
Discover hassle-free car park solutions with our Shuttle and Valet services. Whether you prefer the convenience of a shuttle bus or the luxury of valet assistance, our options cater to your needs, ensuring a smooth start to your journey.
Shuttle parking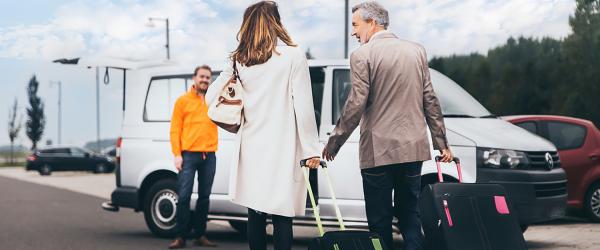 Experience the ease of parking with shuttle bus. Choose this option to park your vehicle in a secure location, typically situated 5 to 10 minutes away from the airport terminals. Our shuttle service ensures a quick and convenient transfer to and from the airport. This cost-effective solution allows you to save both time and money while enjoying the assurance that your car remains in a reliable parking facility. Upon your return, the shuttle will promptly pick you up at the arrivals area, offering a seamless transition back to your vehicle.
Valet parking Malpensa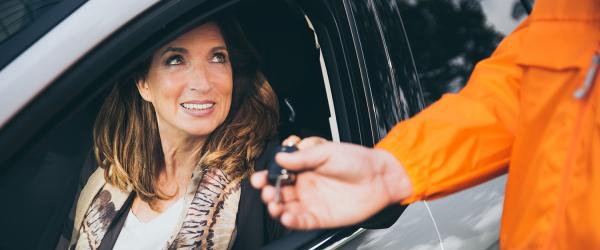 For a more exclusive and time-efficient experience, consider Valet Parking at Malpensa Airport. Simply drive to the departures hall of the airport and notify the parking service when you're nearing the location. A professional driver will meet you at the designated point, take charge of parking your car securely, and ensure it awaits you upon your return. This premium service not only saves you valuable time but also adds a touch of luxury to your travel experience. Choose Valet Parking for a stress-free and expedited process, allowing you to proceed directly to check-in without the hassle of finding a parking space. With this option, you have to hand in your car keys, so that the parking employee can park your car in the parking area.
How to park at Malpensa Airport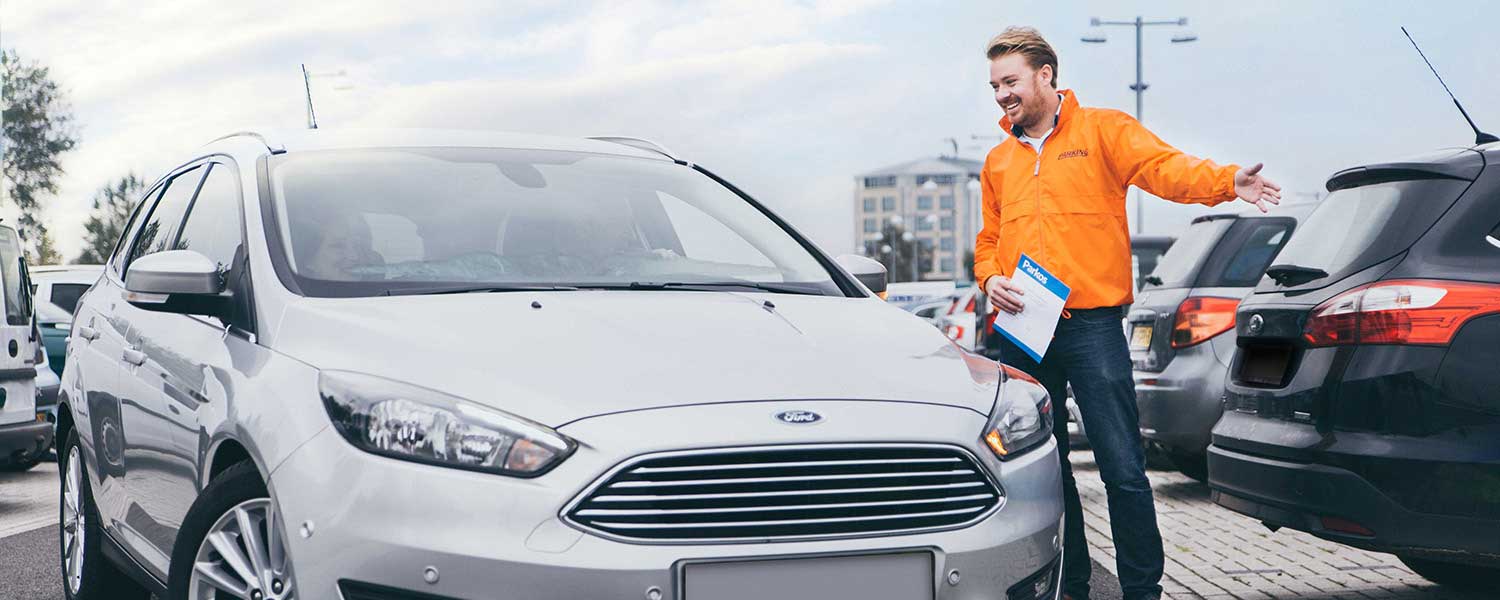 Whether you need a parking space for long term parking or short term parking, we offer you the best solutions to choose from. We can offer the best prices thanks to special deals we have with our parking providers. You can park stress-free knowing the parkings are reliable because a member of the staff has inspected them.
To best enjoy your trip from Malpensa, start with booking a parking spot with us:
Discover the perfect parking solution: Our user-friendly platform facilitates effortless service comparison, ensuring you find an ideal fit. Whether you value affordability or premium features, our array of low-cost services assures quality. Tailor your choice based on location, amenities, and pricing, empowering you to make informed decisions aligned with your preferences. Parkos streamlines the process, providing a comprehensive comparison platform for a stress-free and convenient parking experience.
Make your decision: Which parking option suits you best?
Opting for shuttle parking is ideal for those who want to witness the parking process firsthand. Included in the price, this service offers a complimentary shuttle bus with drop offs, providing both ease of use and significant cost savings. Upon your return, the shuttle conveniently picks you up at the airport arrivals, ensuring a seamless transition back to your vehicle.
For a more exclusive experience, we recommend choosing valet parking. Simply drive to the departures hall of Malpensa Airport, and when you're near, call the parking service. A professional driver will meet you there, take charge of parking your car securely, and save you a substantial amount of time. You can proceed directly to check-in area after handing over your car. Upon your return, the driver will bring your car back to you at the arrivals entrance of Malpensa, providing a hassle-free and time-efficient parking solution.
Safety: Ensuring the safety of your vehicle is paramount to us. Our commitment goes beyond words; we actively inspect the parking facilities ourselves, setting and upholding rigorous standards for the peace of mind of our customers. To keep you well-informed, we furnish the latest details along with visual documentation of the security measures implemented at each parking location. Your confidence in the security of your car is of utmost importance to us, and our meticulous inspection process is a testament to our dedication to providing a secure and reliable parking experience. Most parking locations offer 24 hour security.
Plan your trip: We go the extra mile to assist you in planning your journey. Once you've made a reservation through Parkos, expect to receive a comprehensive confirmation email. This email includes not only vital instructions but also a link to our user-friendly tool designed to help you plan your route to both the parking facility and the airport. Our commitment to your convenience extends beyond the booking process, ensuring that you have all the necessary information and tools for a seamless and stress-free travel experience.
Are you looking for more information about parking at Malpensa? Take a look at the following pages:
Parked from 10/7/23 til 10/21/23
Efficient check-in a smile from receptionist would be nice, immediate and friendly transfer to the airport, similarly on return. WhatsApp number to call on return did NOT work! It would be good if that could be improved. Car was brought out of the garage as we returned.
...Read more
Parked from 5/17/23 til 5/29/23
I made a reservation and prepaid. Unfortunately I arrived late and missed my flight. I bought a new ticket and wanted to take my car to ECO Parking the next day. ECO Parking had canceled my booking and I was asked to pay the full amount again.
Parking providers at Malpensa Airport
Our benefits
All parking lots are carefully inspected
The best deals on airport parking
Free cancellation up until 24 hours
Over 4 million customers globally