We help you compare parking prices at Seville.
What makes Parkos unique?
All parking lots are carefully inspected
Free cancellation up until 24 hours before departure
How can we help you?
Our experts are here to assist you with comparing parking locations and are happy to answer any questions you may have.
Please contact us
Customers rate Parkos with an average of 4.4
Customers who have booked a parking space through us, rate these with an average of 4.4/5 based on 531 reviews.
Jeffrey Tuesday 28 September 2021
Were received well and quickly taken to the airport. Nice that the staff parked our car for us.
Anonymous Tuesday 28 September 2021
Straightforward website, booking was quick and easy!
Parking at Seville San Pablo airport
Looking for parking at the airport? Public transport is not always reliable and at certain times it is impossible to use, besides nothing can compare to the comfort of going to the airport in your own car. However, we understand that you are worried about finding a parking space just a few minutes away from the terminal, and that's why Parkos is here to help you. Parkos allows you to find, compare and reserve parking spaces for your car in parking lots near the airport quickly, at the best price. Choose your airport from our list of airports (Seville Airport, Barcelona Airport or Madrid Barajas Adolfo Suárez Airport among others) and decide if you want a VIP service or a low cost parking. The main advantage you will have when booking with us is the security of having a guaranteed parking space when you arrive at the parking lot. In addition, you will find better prices than those of the official parking lot, so start your trip without worries and enjoy it to the fullest!
Passengers
| Year | Quantity |
| --- | --- |
| 2014 | 3.885.434 |
| 2015 | 4.308.845 |
| 2016 | 4.624.038 |
| 2017 | 5.108.807 |
| 2018 | 6.380.465 |
| 2019 | 7.544.473 |
Seville Airport (sevilla SVQ, IATA code: SVQ), popularly known as Seville-San Pablo Airport, is the only airport in the city of Seville, capital of Andalusia and the fourth largest city in Spain, and is located 10 kilometers northeast of this city, between the city limits of Seville and Rinconada. This airport faced its maximum expansion in 1992 when, on the occasion of the Universal Exhibition, a new terminal building was built, the parking platform was extended and a new access from the N-IV national highway was executed. The airport, with a design that exalts its Sevillian roots, welcomes the passenger with an orange grove followed by a blue room due to the effect of the glass tiles and crowned by an arch supported by vaults.
Thanks to Parkos you can choose the best parking at the best price, we compare for you among the best low cost parking providers or with VIP service so you don't have to worry about anything. All of them are just a few minutes away from the terminal at Seville airport. Are you looking for a medium or long term parking space? Do you want an outdoor space or do you prefer to leave your car under cover? Do you want a VIP parking lot where they park your car for you with a valet parking service or do you prefer to drive yourself to the parking lot and use their shuttle parking service? Your space is your choice! Choose your entry and exit dates and choose from our parking lots. You also have the possibility of hiring extra services such as a car wash or refueling service. You can see all the parking lots and hire all these options and services in "eu.parkos.com".
Parking information at Seville airport.
| | |
| --- | --- |
| Number of parking lots: | 2 parking lots |
| Best rated: | Parking Vuela (Paga online) |
| Cheaper: | Braco Parking |
| Closest to the airport: | Parking Vuela (Paga online) |
Parking at a good price in the Airport of Seville. Seville Airport Parking
Don't wait until the last minute and find the best parking offer to leave your car with Parkos. Book a parking space with us and you will have a confirmed space and you will not risk the price going up as the day of your trip approaches. We work with the best parking providers for short, medium and long stays at a much lower price than you can imagine. Book your parking as soon as possible and don't worry!
Parking providers are always within walking distance of Seville Airport, your comfort and safety are our concern, so no more unnecessary miles. Parking is not free, but with Parkos you will find the best offers for outdoor or indoor parking just a few minutes away from the terminal.
Many people associate cheapness with bad quality, but when you want to leave your car at the airport, experience confirms that this does not have to be the case. These types of long stay parking lots do not have big management teams, expensive offices or unnecessary luxuries, so leaving your car is not an exorbitant expense. Nor are they usually part of large multinationals on which they can rely. Their main competitive advantage lies in offering high quality at a low cost, only then can they attract and keep their customers. Parking providers know that if customers are not satisfied, they will not come back. At Parkos, to make it even easier for you, you can write your own opinion about the parking lots and read the opinions of other customers. This will make you feel more confident when you make your reservation and will help future customers find the best parking offer and improve the service.
Visit our Seville airport parking reviews page to read the experiences of other users who have already parked in their long term parking at Seville airport thanks to Parkos. This way you will have a better idea of the parking lots you are comparing and know exactly what you are booking. Find the option that best suits your needs and reserve your parking lot with the security of choosing the best option. Our parking providers have an average of 8.4 points out of 10. For us, our customers' opinions are of vital importance because they help us to continually improve. We value your experience above all else.
Parkings Shuttle and valet
When you make a reservation with Parkos you will see that there are two concepts that are repeated and that it is easy to understand. The first is valet parking, and the second is shuttle parking. Both refer to the type of service offered by the parking lots, and depending on which one you choose, you will park cheaper, faster or more comfortably. If you don't know what they are, don't worry, we'll explain it to you right now.
Shuttle parking (Park & Drive)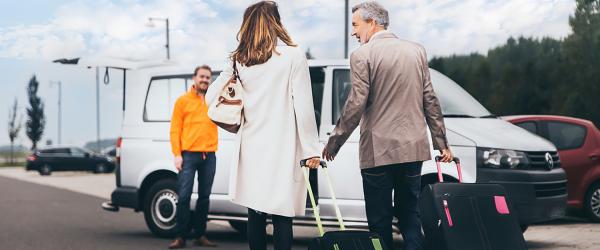 The shuttle parking service is not an option as fast as the parking valet but it is cheaper. It is basically a more traditional method in which you will have to drive to the parking lot and from there one of their employees will take you to the airport with one of their vehicles. Normally you will park yourself, although sometimes one of their employees will park while you check in. They will drop you off at the airport departure terminal, and on the way back they will pick you up at the same place and take you to the parking lot to pick up your car. The most important thing is that you are punctual so that you don't have to wait for the transfer, and that you take into account the time of the transfer when you plan your arrival time at the airport. With this service you will save money, without giving up the quality of the parking lot. Of course, the airport transfers are totally free, and once you book, you will receive all the information you need to park: address of the parking lot, telephone and route to follow. If you want quality at the best price and you don't mind driving to the parking lot, this is your option.
Valet Parking (Meet & Greet)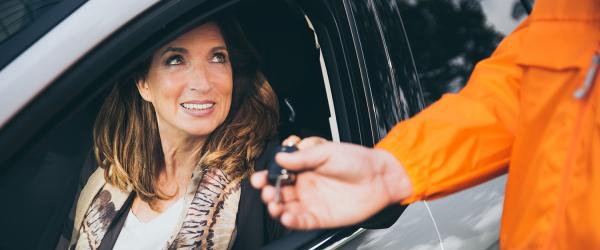 The parking valet service, or valet parking, basically consists of a driver from the parking lot parking for you. How? Simple. You will only have to drive to Seville Airport and go to the meeting point (in most cases, the airport departure area). There you will meet the driver and he will take the car to the parking lot while you go to check in. On the way back he will return it to you in the same place. It's that easy, that comfortable. When you book we will send you all the necessary information: address of the airport and meeting point, procedure to follow and telephone number of the parking lot. Of all the options this is the most suitable if you are in a hurry or if you don't want to have to go through the parking lot to park.
Long-term parking at San Pablo Seville Airport
Parkos can help you in many ways. If you are a practical person and want to save time and worries, use our comparator to find the best parking at Seville Airport. With just one click we will show you the best parking lots with the best prices. And not only that, you can also rest assured that we only include parking lots with good security measures and good customer service. Professionalism and good prices are our objectives, and that is why we personally inspect all our partner parking lots.
We are sincere when we say that we want you to have the best experience when you park in our long-term parking lots, and that is why we want to give you some extra tips that we hope will be helpful to you:
Compare the different parking options: Let's be honest, comparing with the traditional method takes a lot of effort and time. Sometimes we don't know where to look or what to look for, and other times we just don't feel like it. It's happened to all of us. That's why Parkos was born, to help people like you to compare easily, quickly and efficiently. Settling for the first thing we find is not our style. We are modern, we want the best, we want it cheap and we want it now. Try us and we assure you that you will repeat.
Choose what type of parking you want: Do you want to park yourself in the parking lot and be driven to the airport terminals free of charge? Or do you prefer a parking lot with a VIP car collection service at the departure terminal that parks your car for you? Both options are available at Seville airport, when you make your reservation you can simply choose between the valet parking service or the shuttle service.
The parking valet is the VIP service par excellence, it has everything, it is fast, it is comfortable and you will feel like a movie star. Go straight to the airport and a driver will park in the parking lot of your choice while you go straight to check-in. On the way back you call them and they return your car in the same place. The dream of parking made a reality and it is at your fingertips.
The shuttle, although not as convenient, is also a great option to park close to the airport. If you prefer to save as much as possible in the parking lot and you don't want anyone to drive your car from the airport, choose this option. Go to the parking lot and they will transfer you in their own vehicle to the departure area of Seville airport. On the way back they will also take you to the parking lot to pick up your car. The best thing is that you will not have to worry about the expenses, since these transfers are, of course, free. The price that we indicate you in Parkos will be the final price, without surprises. Give it a try and you won't regret it.
Security: Have you already chosen the parking lot that best suits you? Surely one of your concerns for your trip is that your car is as safe as in the official parking lot. At Parkos we know that this is a decisive factor, and that's why we carry out inspections at all our partner parking lots to provide you with the best services. You can check their security measures for your car on our website.
Plan your route: once you have a parking lot at Seville airport, organize your trip before going to Seville airport. The risk of encountering traffic or unforeseen events is always present, so it never hurts to go with extra time or have an alternative route. At Parkos we help you plan your trip, simply go to our link "plan your route".