Park at Nantes Atlantique airport
Nantes Atlantique Airport is accessible through Nantes Ring Road. It's a short distance from the city center, making it accessible from any side of the city. You'll find it easily as there are sufficient road signs along this direct access. Located close to highways and other crucial city infrastructure, you can never miss a flight when you plan your drive to the airport adequately. It's one of the largest airports in France, ranked at the top with other famous airports like Roissy Charles de Gaulle. This international airport is about 20 minutes away from Nantes train station. Its annual passenger numbers are in the millions as it hosts many airlines, including Air France. Some airline companies offer low-cost tickets to numerous world destinations, including Europe. Consequently, there are reliable Nantes Airport parking areas for easy access to this facility. Whether you want to park and get to the terminal immediately or spend time in one of the many restaurants at this airport first, use Parkos to search and book a parking space online.
Compare the best parking providers for Nantes Airport
You can start your search by comparing various parkings. Parkos guarantees quality service, whether making short or long-term parking reservations. Additionally, there are many alternative parking places if you're looking for more affordable deals. Choosing alternative parking options near this international airport is an excellent financial decision to save some money without compromising convenience. By doing this, you can take advantage of the lower rates compared to the offers from the official parking lots. On Parkos, each vehicle park has a dedicated page to give you all the information required to help you pick the best deals. You can check the map to find the car park and estimate its distance from the airport. Further, you can see the infrastructure that connects the car park to the airport.
Cheap parking space at Nantes Atlantique airport
If you're budget-conscious, parking near Nantes Atlantique Airport offers a compelling blend of convenience and affordability. The car parks around it are easily accessible from any side of the city, allowing you to leave your car just in time for your flight. The same convenience helps you get home fast after your flight as you can pick up your car from the car park smoothly. It's cheaper near the airport than in the official car parks. Make your reservation in advance, as you'll have ample time to compare rates and get the best deal. You only need details like your trip duration and departure and arrival times. These customize availability to show you the best deals for that period. There are additional filters on Parkos to customize your ideal Nantes Airport parking spot. For example, you can search for covered or uncovered outdoor car parks. In addition, this site has a diverse range of partners offering valet and shuttle parking, giving you a variety to cater to your needs.
Although you'll pay less to park near the airport, the quality of the service isn't compromised. Parkos ensures you get quality service regardless of your budget. It inspects these car parks to find the ones with top-class quality, safety, and prices. Further, these car parks have round-the-clock security to guard your car until your return to Nantes. Most of the providers on Parkos are open day and night from su mo tu (throughout the week). On top of that, they have additional services like car washing. Imagine how convenient it will be when you fly back after a business trip, and your car is ready for you to drive to a business meeting in Nantes.
At Parkos, we believe that affordable parking can also mean excellent service. Our partners are dedicated professionals who prioritize your satisfaction. They ensure the safety of your vehicle and provide outstanding customer service. Most of our providers are open 24/7. Whether it's a booking at Nantes airport or elsewhere, Parkos always aims to offer customers the best possible price.
To determine the most suitable car park, you can check out reviews from previous customers. They give honest opinions about various aspects of the parking service. For example, customers comment on the distance from the parking space to the airport, whether the car parks are easily accessible, and the quality of service. These reviews help us improve our service and also inspect parking providers. They also confirm the features we highlight about these providers. Once you book through Parkos, we will be pleased to hear about your experience and how we can improve or maintain our quality services.
The best-priced parking options at Nantes Atlantique Airport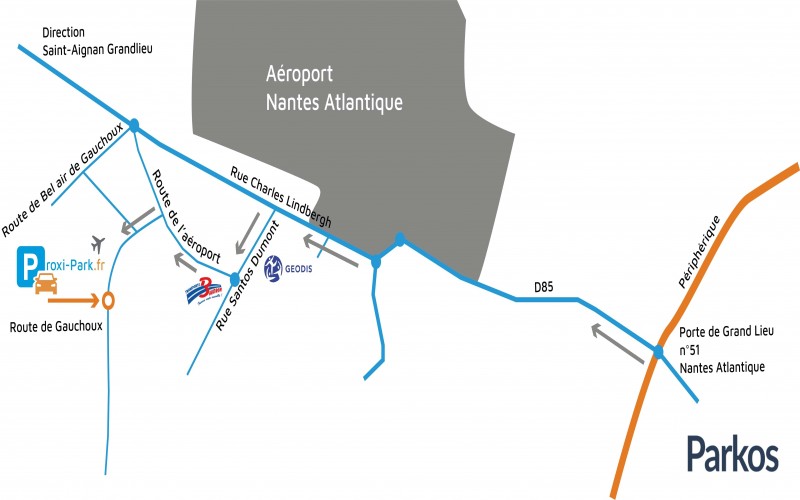 *Discover the best deals with our price table, showcasing the most affordable options from each provider. Please note that parking prices may vary based on the period of your reservation.
Shuttle and Valet
There are two ways to reach Nantes Airport from car parks. You can use a shuttle service or request for valet parking. Further, you can also ask for outdoor parking in a covered or uncovered space or indoor parking. Both shuttle and valet parking services have some perks. Below is a detailed analysis of each method to help you decide.
Shuttle Nantes airport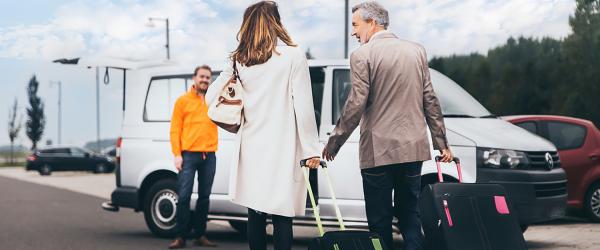 When parking at Nantes to use the shuttle service, the provider has a bus waiting to ferry you and your luggage to the terminal. It's a free shuttle bus paid for when you book a parking space. This service is economical as it eliminates the transport from the car park to the terminal. Further, you don't worry about finding the terminal or even locating the airport gates, as the driver will get you there. It's a short journey, about ten minutes long. More passengers heading to Nantes Airport prefer this shuttle service. The provider also ensures there's a bus waiting for you at the terminal when you fly back to Nantes after your trip.
Valet parking service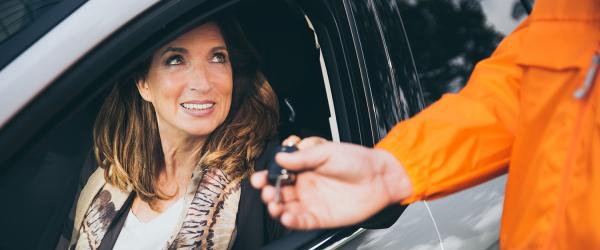 This parking service is different as the parking provider is responsible for driving your car from the terminal to the parking space. As such, you drive to the airport, where an employee from the parking area will be waiting to pick up your car. You hand over the key, and the employee drives the car out of the terminal. It's a convenient service, as you only make one trip from your house or hotel room to the airport. Hence, it saves you about an hour, unlike a shuttle bus. You also don't have to worry about luggage handling as you only take it out of your car at the terminal. When you fly back to Nantes, you don't have to wait long to get your car. Collect your luggage and call the parking area to have your car driven from the parking space to the terminal. Parkos has many valet parking service providers to give you a variety of deals. For example, Ector and Blue Valet services have secure parking spaces near the airport.
Long-term Nantes Airport parking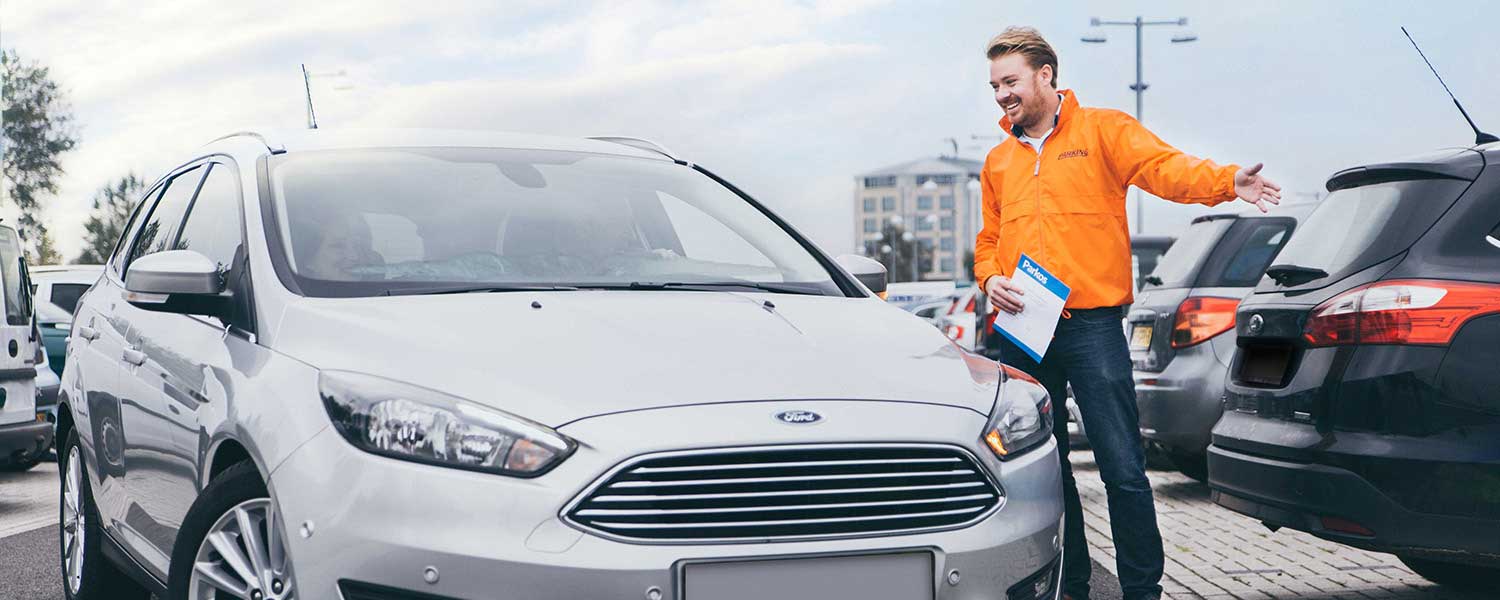 Parkos has a range of long-term parking lots. They offer weekly packages and have secure lots to keep your car safe until your return. Book a space in advance to get great deals and avoid the last-minute rush as availability changes.
Whether you're looking for a car park west or south of Nantes, Parkos has a few offers for you. Before you search for long-term deals, below are a few tips.
Compare Providers: Parkos has many providers near Nantes Airport. Hence, a price comparison, as you also analyze package features, can help you find a great deal. You can filter providers depending on where you want your car parked. For instance, there are long-term car parks with covered parking. On top of that, providers have different payment methods.
Find the best option: Select a service once you have narrowed your search to providers with the best prices. You can request for valet or shuttle parking.
Valet parking is suitable when you want to avoid loading your luggage onto a bus to get to the airport. It saves time and allows you to drive comfortably from your hotel or house to the terminal. Additionally, you don't have to worry about reading road signs and maps to find the car park when you're also worried about getting to the airport on time. An employee from the parking service will handle the pickup and drop-off process once you book a valet service.
If you're concerned about driving to the terminal, you can request a shuttle service. A shuttle bus waits for you at the parking area and transports you to the terminal. Nevertheless, it may take longer than when you book valet parking. When you arrive at Nantes after your flight, you also take a bus back to the parking area.
Security: Parkos inspects car parks to ensure they have an efficient security system. These providers have round-the-clock surveillance. Parkos also finds parking spaces a customer can drive to and from safely day or night.
Map your route: Plan your route to save time and avoid the frustration of getting to the airport late. You also need to know the location of the car park and have a simple map to countercheck if you get lost. In case of a delay, you need an alternative route. Another crucial detail that can make your drive to the airport smooth is traffic information. Parkos can help you calculate your route.
Parked from 9/14/22 til 9/16/22
The employees were courteous and helpful. The shuttle for departure was not delayed. The shuttle for arrival was a wait of more than 20 mins but it was understandable due to the strike, so no complaints. I'm not sure if my car was parked under cover as it was in the open when I collected it, although the employee explained that cars were brought from undercover to outside when the customer was expected.
...Read more
Parked from 6/23/22 til 6/28/22
Plus d'instructions nécessaires lors de la récupération des clés à la réception, j'attendais que la fille arrête de parler au téléphone, mais au bout d'un moment, quelqu'un m'a dit de récupérer les clés dont j'avais besoin pour aller dans une autre salle.
Parking providers at Nantes Airport
Our benefits
All parking lots are carefully inspected
The best deals on airport parking
Free cancellation up until 24 hours
Over 4 million customers globally