Parking Girona Airport
A public car park near Girona airport with affordable rates can be difficult. At Parkos, we provide general parking near the terminal building. You can compare car parks and choose the best option.
Our services include long-term and short-term parking at the Girona Costa Brava Airport. Also, we offer hotel and parking for long stays. You don't need to worry about booking a parking space at the last minute.
Table of content:
The Girona Costa Brava airport had 1,252,283 passengers in 2022. It is 13 km from the city centre which passengers love to visit. Also, it provides a car park for passengers. However, these paid spaces are difficult to get. If you want a secure parking space for your Barcelona trip, our providers can help. You can make payment in advance after your reservation.
Also, you can save time when you use our affordable parking near Barcelona-El Prat Airport.
Cheap parking at Girona Airport
Girona airport parking is not readily available, especially when you're in a rush. This is normal since Girona airport is busy all year round. However, our providers give you affordable payment options to get a parking space. 

Our website allows you to compare parking spaces located near the Girona Costa Brava airport. The car parks are also located in underground and open air spaces. If you want your car to be close to the terminal building, you don't have to pay larger amounts any more.

We also provide a bus to take you from your car to the terminal. If you can't find your way, we have a route planner. It is ideal for passengers parking near Barcelona Girona Airport.

We have a good deal for both long-term and short-term travellers. You can opt for valet parking to get your car delivered to the car park on your behalf. This option provides security and comfort before your departure.
Also, you can choose the parking spaces and location in advance. Before arrival, your vehicle will be delivered to you at the terminal building.
Shuttle and valet parking at Girona Airport
At Parkos, our providers offer secure spaces to park your vehicle near Girona airport. Our service is more than just a place to park your car. Below are the features you can expect when you use our site to compare parking spaces.
Shuttle parking Girona Airport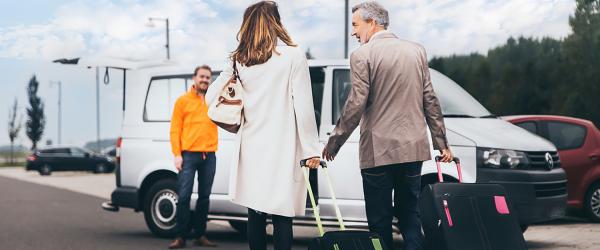 Our shuttle Girona airport parking service gives you flexibility. You can choose to park near Girona airport or in a car park within a few kilometres. Our providers list a public car park for official parking. This service is great because it allows you to drive to the car park and get a free ride to the terminal. On arrival, the operator will also provide a free shuttle bus to transport you to your vehicle. Since you'll pre book the car park, you don't need manual cashiers to make the payment. Some official parking spaces have up to two manual cashiers and cash machines. However, our website lets you pay directly for the car park.
Valet parking Girona Airport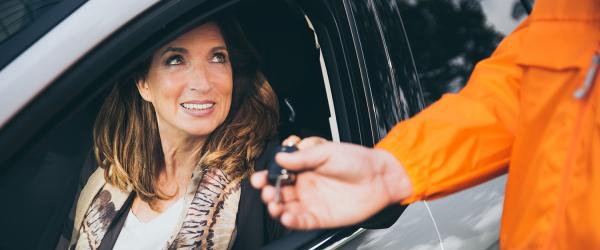 Parking at Girona Costa Brava is easier with our valet parking service. You don't need to drive to the car park before your flight. Our providers offer drivers to take the vehicle to the car park. They drop you off at the terminal entrance and take the car to your selected car park. Vehicles are safe and monitored by CCTV during the trip. No matter which car park you choose, using our valet service will save you time. The car parks don't require a manual cashier, as you can pay online. Booking is also seamless on our website.
Hotel and Parking
If you want a hotel near Girona Airport, our hotel and airport parking service is perfect for you. Our providers offer high-quality hotels with car parks and free add-on services. These hotels are located near the airport, and payment is also available in advance. You can use the free shuttle buses to go to the terminal entrance while a valet sends your car to the car park. The service ensures the smooth transfer of your car and luggage.
Long term Girona airport parking
Car parks at Girona Costa Brava may be more expensive for long-term parking. The safety of the vehicles in such parking spaces may also be concerning. Our providers offer long-term parking for flyers.

Compare the differences between the parkings: Our providers allow you to compare parking general options and lots. You can choose a spot that is safe for vehicles or protected from sun exposure. Also, you don't need to pay extra for other services, such as a car wash. While booking, there is no hidden cost. You can also cancel on the site if your schedule changes.

Compare the different options: You should always compare parking general options before choosing. Some are more affordable, while others provide more amenities. Our providers offer perks like a free shuttle to the airport and a car wash. Always call the car park provider before landing. This makes it easier to return vehicles to their owners when they arrive.

Safety: The subject of your focus should be safety. Some spaces offer more security for the car than others. For instance, some lots have fences to prevent theft or burglary. Others use CCTV cameras to monitor the cars 24/7. Despite every other feature, safety should be your priority when choosing a spot to park.

Plan your trip: It makes things easier if you have everything you need for your journey. Don't forget any documents or essential items in your car or other vehicles before leaving.
Our benefits
All parking lots are carefully inspected
The best deals on airport parking
Free cancellation up until 24 hours
Over 4 million customers globally