View the car parks on the map
Almería Airport Parking
Almeria Airport (LEI) is located 9 km east of Almería city centre in the province of Almeria in Andalusia, Spain. It's close to other tourist centres like Roquetas de Mar, Almerimar, Mojácar and El Ejido and welcomes over 1 million passengers each year. Other airports in the region include Granada Airport and Malaga Airport.
Table of content:
If you are planning a trip and need to park your car at the airport, you're in the right place. Official parking at Spanish airports is provided by Aena, and can be expensive for cars. Here at Parkos, we offer you affordable parking solutions. You can book airport parking at our independent parking lots and compare prices with the official Aena airport parking spaces. Our parking solutions are easily accessible and are situated just a few minutes from the airport terminal. We offer valet or shuttle bus parking, indoor or outdoor car parks and hotel and parking solutions. Read on to find out more information about Almeria airport parking and book your car park today.
Cheap parking at Almería Airport
Using our car park website, parking at Almeria Airport has never been easier. Apart from offering affordable parking rates at Almería, you will also find different parking spaces near the terminal. When you park your car at Almeria Airport car park, you want to be sure it's in safe hands and that's just what we offer you - a secure car parking area.
We offer short-term and long-term parking solutions with round-the-clock surveillance. Our platform also provides real-time information on the availability of parking spots for your vehicle at Almeria.
Our alternative car parking services platform takes your opinions seriously and values your feedback. Our team strives to provide top-quality services for you and your car. We look forward to reading your reviews on our review page and appreciate your feedback about parking at Almeria.

We offer an innovative approach to parking solutions at Almeria Airport. With guaranteed parking spots, you'll have a hassle-free arrival and departure experience. Our platform's easy-to-use interface, secure payment system, and 24/7 customer support make it the perfect car park solution.

All our partners offer excellent parking services for Almeria Airport. If you want to park your car at the airport terminal, remember to book your trip in advance to ensure a place. Our trusted partners offer valet parking and shuttle services at a convenient price.

To ensure you arrive at the airport parking area on time, we suggest you use our route planner. This easy-to-use tool will provide you with directions to the car parks at the airport terminal. This way you can avoid road delays and other inconveniences. Once you arrive at the airport, just leave your vehicle in the car park and wait for the shuttle to take you to the terminal.
Shuttle and valet parking at Almería Airport
We aim to offer as many parking booking options as possible. Shuttle and valet parking are the two main solutions at our airport car parks. Although valet parking is slightly more expensive, both options offer you cost-effective Almería Airport parking.
Shuttle parking Almería Airport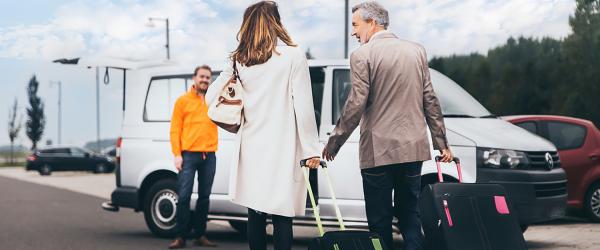 If you need parking at Almeria Airport, our shuttle car park service to Almeria Airport terminal is a cost-effective option compared to the Aena General Car Park. After booking the shuttle service, ensure you show your reservation and park the car in the correct car park. Some operators run a shuttle bus on demand, others run a timed, regular service. Check the information provided in your booking. Allow at least 15 minutes for getting to the terminal.
Valet parking Almería Airport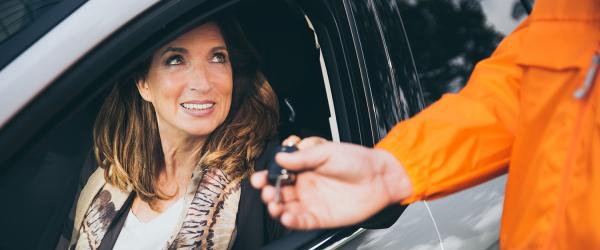 When you book your valet parking on our website, you can bypass the hassle of parking your car. With this service at Almeria Airport, a trusted driver will collect your vehicle at the terminal and park your car in an AA parking area for you, so that you can enjoy a stress-free departure. Your car will then be safely delivered to the terminal when you return. All cars will be safe and secure, as the parking area is monitored 24/7 with CCTV cameras.
Hotel and Parking
Our hotel and parking service at Almeria airport offers a convenient service if you have an early morning flight from Almeria. Booking in advance allows you to enjoy overnight stays in a hotel near Almeria Airport. Before you check-in, just park your car in one of the designated parking spaces and the following morning a shuttle bus will take you to Almeria Airport.
Long term Almería Airport parking

Compare the differences between the parkings: Long-stay parking at Almeria Airport is ideal if you plan to travel for several days. Using the car park at Almeria Airport can save you time and money, and booking in advance can save you up to 70% compared to the official Aena General Car Park. You can also cancel for free up to 24 hours before departure.

Compare the different options: Aena provides the official parking spaces in Almería Airport for both long and short stays. If you want to save compared to Aena prices, then book a car park in advance with one of our airport car park providers. You can compare official Aena prices, and find all the information about your booking, the car parks, and the services available on our website.

Safety: Whichever solution you choose for Almería Airport parking, we offer you a comprehensive choice on our website. The user-friendly interface provides information about prices, distances, and reviews of all the parking lots at Almeria. To book your parking space, just select the dates and times of your arrival, and we will find the best solution for your car at Almeria Airport. For more information, check our platform.

Plan your trip: Before parking at Almeria Airport, it's important to plan your trip to ensure a smooth experience. Start by checking the airport's official website for information on flights, airlines, and schedules. Consider booking your parking spot in advance to secure a space and potentially save on costs. Take into account the duration of your trip and choose between short-term and long-term parking options accordingly. Additionally, familiarize yourself with the airport's layout and parking procedures to navigate efficiently upon arrival. By planning ahead, you can make parking at Almeria Airport a convenient and stress-free part of your journey.
View the car parks on the map
Our benefits
All parking lots are carefully inspected
The best deals on airport parking
Free cancellation up until 24 hours
Over 4 million customers globally