Parking at Weeze Airport
If you are flying from Weeze Airport, your best bet is probably to plan your journey with your own car, as this is often the easiest option. One problem that many passengers encounter is finding a safe parking space at the airport, with high security standards, where you can park your car for a long time at Weeze Airport . It should also be a cheap car park where you can still expect good service.
This is exactly what we would like to help you with with our comparison portal. With us you can objectively compare the various providers in the immediate vicinity of the airport and their tariffs and services and make the best choice for you. You don't have to check availability first, as only available parking providers are displayed. The numerous customer ratings and experiences will help you with your decision. The booking itself takes place via a secure online connection and if you would like more information or have any questions, you can contact us at any time by email or phone. We would also like to refer you to our frequently asked questions on our website. However, you will find that a smooth process at the end of your parking experience at the Weeze Airport car park lets you say that everything went well and that it is a top service. Inexpensive parking is therefore possible at every airport, including Weeze Airport. So if you are looking for cheap and easy airport parking, you have come to the right place at Parkos.
About Weeze Niederrhein
Airport Weeze Airport was originally a military airport, but you don't see much of it these days. In 2017, around 1.8 million people flew from Weeze and is particularly attractive due to its location near the border between Germany and the Netherlands. Above all, Weeze offers many flights from low-cost airlines such as RyanAir. Weeze Airport is also popular as a transit airport to get to Rotterdam Airport, Stuttgart Airport, Brussels Airport and many more. Since flying from Weeze Airport is already very inexpensive, we of course do not want you to pay too much money for airport parking spaces.
Cheap parking at Weeze Airport
Long-term parking at this airport can be effortless if you reserve a parking space in advance and you are there at the agreed time. You can choose between valet and shuttle parking at the Weeze car park. Both services offer you affordable parking at Weeze Airport. Valet parking at Airport Parking saves you most of the time, as you simply drive to the arrival hall and hand over your car to an employee of the parking service you have chosen in advance. They will park your vehicle safely during your absence and have it ready for you at the airport when you return. A very comfortable way of parking, which runs without problems and that despite the cheap parking space. Parking at the airport doesn't have to be complicated!

Many of the providers, including Safe and Save Parking in Weeze, are thus consolidated on Kiesheckerweg. All providers are located a maximum of 15 minutes from the airport and therefore you do not have to allow much extra time for the parking process.

Many people associate "cheap" directly with "poor quality". This prejudice is not confirmed by our selected and well-controlled parking providers. Due to the great competition, the providers are forced to deliver a good service. Otherwise, customers will jump over to one of their competitors. In addition to the low prices, you can also expect a good quality of service.

Customer reviews Parking providers near Weeze Airport booked through Parkos with a 9,9/10.
Shuttle parking (Park & Drive)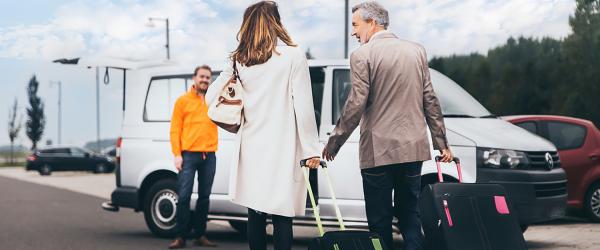 In case you opt for airport parking by shuttle, drive your car personally to the car park provider. You will receive the route description from us in advance in the confirmation email. You don't have to find a parking space first, you can either park your car there yourself or give your keys to an employee. At the beginning of the day of arrival, report to the parking provider to confirm your arrival time. A lighted parking lot awaits you, so don't worry if you arrive at night. At some parking lots you have to take a ticket when entering the parking lot, or you will receive a ticket if your license plate is read automatically. The staff are friendly and helpful and will be happy to help you with loading and unloading your luggage. You will then be taken back to the airport by shuttle bus from the parking area and, on your return to the airport, brought back to your car. The shuttle service from the parking lot to Weeze Airport and back is always included in the price you see on our website. If you have to hand in your key at the airport Weeze car park of your choice, this is always clearly marked on our website. However, your vehicle will never be moved more than necessary. The parking provider only asks for your key in order to be able to use their parking area effectively, in order to be able to re-park your car if necessary. Please allow enough time for parking and transportation to the airport. Since a check-in 2 hours before the start of the flight is generally recommended.
Valet parking (Meet & Greet)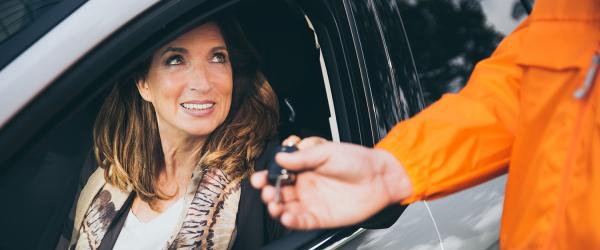 When choosing valet parking- Services, you decide for the most comfortable valet parking service at Weeze Airport. With valet parking, you drive your car directly to Weeze Airport. This means that you do not have to drive to the parking lot of the parking provider first, but drive to Airport Weeze yourself, right up to the terminal. At the airport you will be met by a qualified driver from the parking provider. Together you carry out a damage control in order to avoid later misunderstandings. Then hand over your vehicle and your keys to the driver and he will park your car for you on the secure area of ​​the parking provider, very close to the airport. Please note that keys must always be returned at the Weeze valet parking. On your return journey, your vehicle will be brought back directly to the terminal for you. As soon as you leave the airport, your car and driver will be waiting for you. You can continue your journey quickly and without problems. Valet parking Weeze does not only mean a comfortable service but is definitely also a safe parking, ie your vehicle is guaranteed to be safely parked!
Long-term parking at Weeze Airport
The parking options that Parkos offers you are much cheaper than if you parked directly at Weeze Airport. It does not matter on which or how many days of the year you want to park, our parking providers are always available and always offer you secure parking spaces and good service. The parking fees are billed per day and you can spontaneously extend them at any time. Since all listed parking providers are personally checked by us, you can be sure that your vehicle is handled in the best possible way and that it is a secure parking space with all prices including the transfer to the airport, even if you choose the cheapest offer on our website.
Here are a few tips that will make parking at the airport even easier:

Compare: It is worth making a comparison, as there are a large number of parking providers who all deliver a different quality and price. With Parkos you get an overview of the service provided, additional services such as car cleaning, the availability of the parking provider, its equipment and more. This gives you the best comparison options and enables you to make the best choice for parking at Weeze airport.

Customer ratings: The opinion of our customers counts. Customer ratings provide a realistic impression of the parking provider. The rule is that only customers who have actually booked and parked via Parkos can post reviews. Most of our customers think that everything went really well and went smoothly. Please note that new reviews are more meaningful than, for example, reviews from 2 years ago, as the parking providers are always trying to improve their service. With your rating you help the parking providers.

Security The high security standards of the parking providers should ensure that you can travel without worries. All parking providers were personally checked by us before they were listed on our platform. Of course, this does not mean that a parking lot operator is no longer subject to controls. As soon as we discover that a parking provider no longer meets our quality standards for a certain period of time, we remove them from our platform. Parkos attaches great importance to quality!

Plan your trip: In order to have a relaxed start to your trip , we advise you to plan your route to the parking provider in Weeze in advance. Please plan enough time for your arrival and check-in at Weeze Airport. Since the parking providers are often a bit away from the airport, you can avoid the busy streets around the airport. With our Travel directions you can plan the route to the parking provider. On the site you will also find useful tips with general rules of conduct on German roads. Parking at the airport in Weeze is easy with Parkos.
Parked from 4/5/22 til 4/14/22
Eigentlich ist sehr unkompliziert, ein bisschen merkwürdig am Anfang aber wenn man merkt wie es alles funktioniert ist super, zu Fuß in 5 Minuten, Preis super günstig, ich werde es auf jeden Fall wieder machen
Parked from 6/17/21 til 6/20/21
I didn't have contact with any member of the staff, which is actually a good thing. Instructions on where to park were clear. Walking distance to airport. Very nice experience.
Parking providers at Weeze Airport
Our benefits
All parking lots are carefully inspected
The best deals on airport parking
Free cancellation up until 24 hours
Over 4 million customers globally