Parking at the Hamburg Airport
Hamburg Airport, officially known as Hamburg Airport Helmut Schmidt, is one of the major international airports in Germany. Located just 9 kilometers from the city center, it's been serving the city of Hamburg and the surrounding regions for decades. It is the oldest and fifth-largest airport in Germany. In 2017 around 17.6 million passengers travelled via the Hamburg Airport, and this number is growing every year. Around 70 different airlines such as Ryanair, Eurowings, KLM, and Lufthansa offer flights to destinations all over the world. It has two terminals: Terminal 1 and Terminal 2, which are connected to the Terminal Plaza (the newest passenger terminal).
Compare the best parking providers for Hamburg airport
Once you book the flight tickets, the holiday feeling starts. To avoid a chaotic start to your flight and holiday, driving to the terminal yourself is by far the most convenient. Yet, when talking about Parking Airport Hamburg the holiday feeling disappears quickly when comparing the parking rates for parking spaces. Let Parkos help you with finding the perfect parking spaces, we are the comparison platform for attractive prices parking areas. We are happy to help you find your ideal parking space. Thanks to booking your car park space in advance you will save yourself from difficult situations. At the parking Hamburg Airport, you can mostly pay with a debit or credit card, or at a pay desk at the parking spaces.
Hamburg Airport provides a diverse range of parking options as per the traveler's needs, with both official and alternative choices available. The official parking options, such as the Multi-Storey Car Parks, Holiday Smart Car Park, and Holiday Parking area, offer convenient on-site solutions catering to both short-term and long-time parking needs. They also have wheelchair-accessible elevators for stress-free travel for all.
Offizielle Parkplätze am Flughafen Hamburg
Are you looking to park at the official airport parking facilities in Hamburg? You can do so through Parkos. Hamburg Airport offers various parking options for passengers, pick-ups, and drop-offs, as well as visitors. Book your parking space online for a relaxed travel experience. Read below for more information about these official parking areas.
Parking P1 is just 150 meters from Terminal 1 at Hamburg Airport and is divided into two accessible parking areas with license plate recognition: TERMINAL SMART, a covered parking level on the ground floor, and HOLIDAY SMART, with 5 parking levels, where Level 5 is not covered.
Parking P2 Terminal is another official parking facility. Access to the parking area is possible via the arrival and departure levels. It features 9 parking levels, with Level 8 partially covered and Level 9 not covered. It's accessible via three elevators and is only 50 meters away from Terminal 1. Additionally, it features license plate recognition.
Parking P4 Terminal is located right in front of Terminal 1, Plaza, and Terminal 2. With 3 parking levels, where Level 2 is not covered, it's accessible via 4 elevators and features license plate recognition.
Parking P5 Terminal, right next to Terminal 2, offers 8 parking levels, where Level 8 is not covered. It's accessible via 2 elevators, has a covered connection to Terminal 2 (Arrival), and utilizes license plate recognition.
P8-9 HOLIDAY Parking is particularly suitable for holiday travelers. With 7 parking levels, where Level 4 is partially covered and Level 6 is not covered, it's accessible via 4 elevators. P8-9 Holiday Parking is located approximately 1.5 kilometers from the terminals and uses license plate recognition.
Finally, there are short-term parking spaces available near the Plaza, suitable for passenger drop-offs. Additionally, parking spaces with charging stations for electric cars are also available.
Cheap Parking Space for Parking at Hamburg Airport
As air travel costs continue to decline, so do car park expenses. At Parkos, passengers can effortlessly discover the most budget-friendly parking solution for Hamburg Airport. We guarantee you the lowest rates for parking Hamburg Airport all the while ensuring a secure place for your vehicle. Hamburg Airport provides multiple parking providers with shuttle services, eliminating the need for public transport. The options range from indoor to outdoor shuttle parking spaces. Through Parkos, you can reserve indoor parking with one of our facilitators.
Our parking facilities are conveniently situated near the airport (just a short walk away), offering cost-effective options. Every provider undergoes our team's inspection to ensure terrain quality and cleanliness. With the alternative parking on our platform, you can find the cheapest parking lots that are extremely close to the terminals. Even though the alternative parking garages are cheaper, does not mean their services are of lower quality. Long-term or short-term parking garage? Everything is possible at Parkos, and we guarantee low parking fees.
The alternative car parks are also closeby, which leads to a lower property rent and a lower daily parking rate. Nevertheless, the parking garages are close to the terminals and their shuttle or valet service is included in the price. When booking with Parkos, you don't need to worry about the safety of your vehicle. Our facilitators meet high-security standards, and we check the alternative parking garage ourselves regularly.
Rest assured as all the listed parking is personally reviewed by us. See what our business customers have to say about their experiences with Parkos. Gain insights into the seamless parking products solutions, top-notch services, and hassle-free experiences enjoyed by fellow travelers. We would recommend reading the latest customer reviews to get a good impression of the specific car parks, and their advantages.
Cheap parking at the Hamburg Airport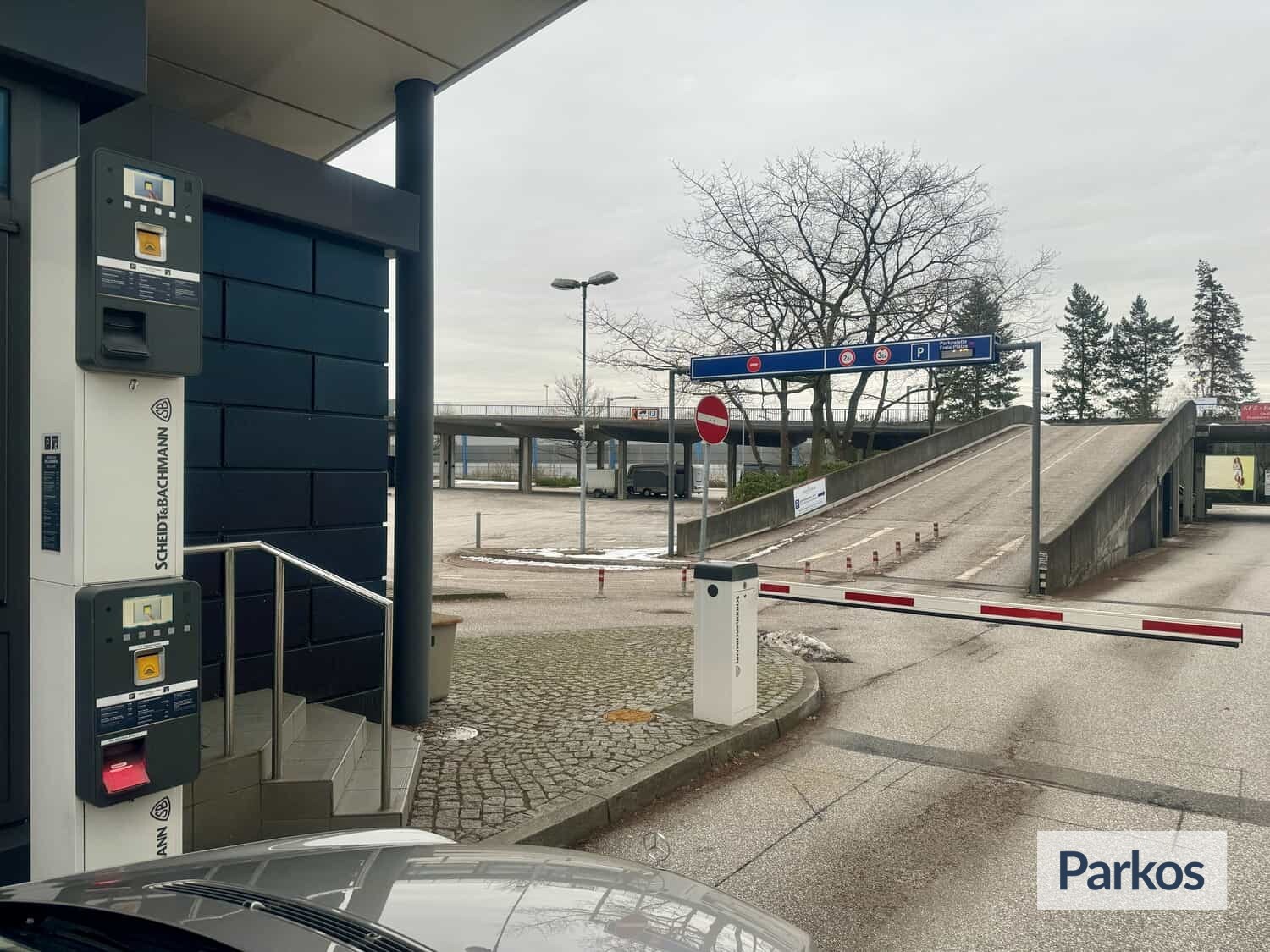 *These prices can change depending on the date and hour.
Valet and Shuttle Parking At Hamburg Airport
Exploring our website, you'll encounter two popular choices: Valet and Shuttle parking. These options come with distinct features, and we're here to shed light on what each entails at Hamburg Airport.
Shuttle Service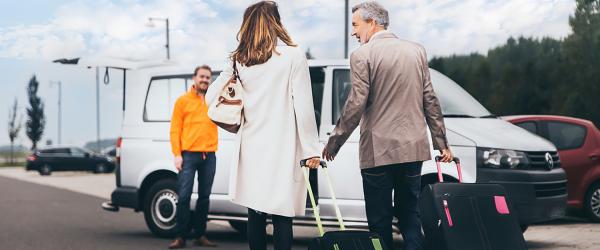 When you choose for the shuttle transfer you will drive directly to the car parking area assigned by the parking provider you booked in advance. You will park your vehicle, and a friendly employee can assist you with loading and unloading your luggage. From there, you will be driven to the terminal smart within no time with the free shuttle service. When you return to Hamburg, you have to contact the car park provider directly after claiming your luggage. The telephone number will be provided in the reservation confirmation you have received via email. A shuttle bus or a multi-storey car will pick you up directly at the terminal. We will also safely drive you back to your car in the immediate vicinity of multi-storey car parks located at short distances from departure and arrival terminal 1 and terminal 2.
Valet parking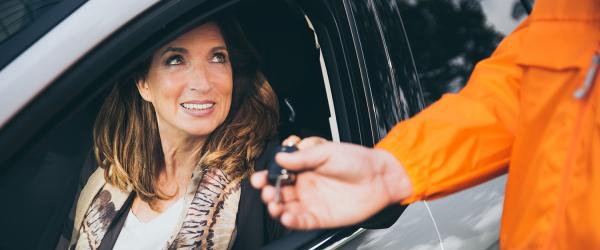 When you choose a valet car park, traveling is even more comfortable, especially for business travellers. In this case, you can drive directly to the departure level of the terminal in your car. At the terminal, the friendly and helpful employee of the booked provider will be waiting for you. After a short vehicle inspection on previously existing damages, the driver will safely drive your car to the secured car park area. At this time, you can proceed to the check-in departure counters. Upon your arrival entrance, you simply contact the parking provider as soon as all passengers have claimed their luggage again. The driver will bring your car to the terminal again, from which you can continue your drive back home. When you park your car in this way, it is not only faster but also stress-free, as you do not have to take the transfer time to the terminal into account.
Long-Term Parking at the Airport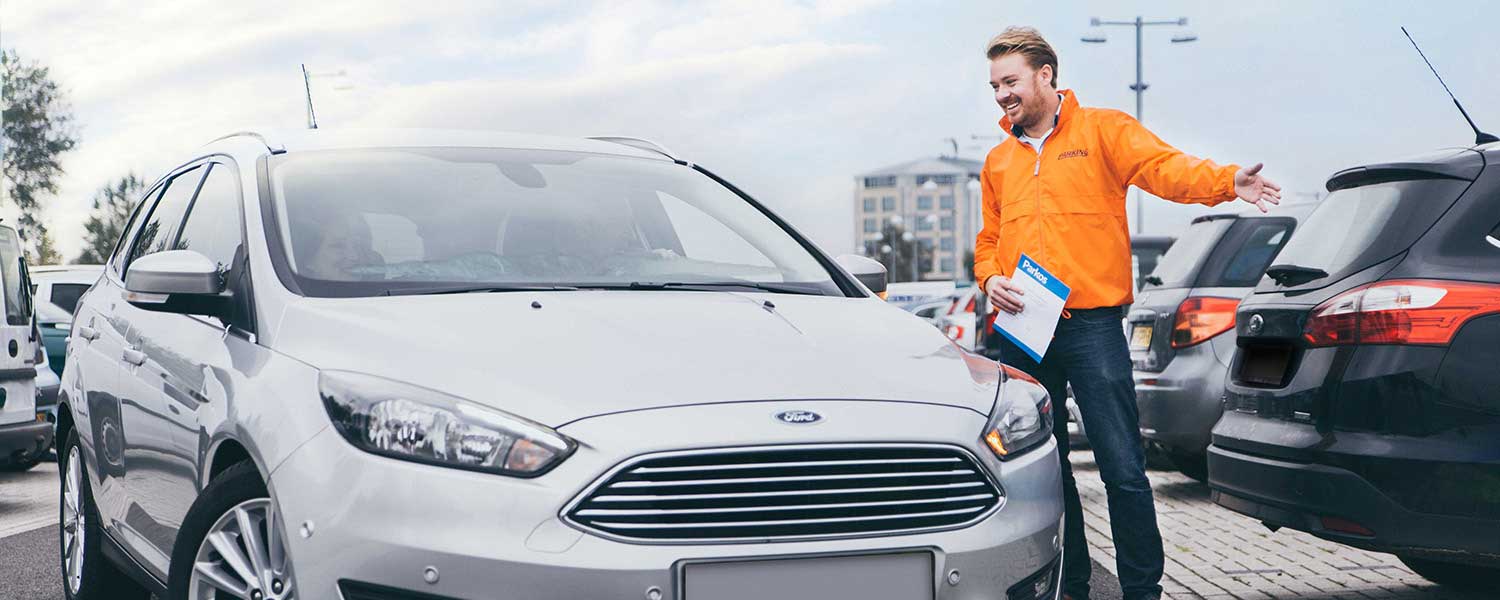 In case you would like to park your vehicle for a longer time, it is worth it to check out the alternative providers near the check-in area, to be certain of a parking space. Especially when you would like to park directly at the airport location for a longer period, the rates can be extremely high and expensive. We have put together some tips for Long-time parking at Hamburg Airport (HAM) for you:
Compare Parking Excellence with Parkos: As there are many alternative car parks offered near the airports, comparing them can provide you with many benefits. Regardless of it being just for or short day or multiple days. There can be significant differences in for example prices or the rate, area, and overall property. Furthermore, you can always cancel your reservation without additional charges.
Check customer reviews: We really value the Opinion of our customers. As we do not access everything ourselves, solely redirect the reservations, it is essential that customers give us a rate about their experiences with parking and that they let us know if they are satisfied with the advantages we offer to them. This does not only apply to the cars parked in Hamburg but also to those at for example Düsseldorf, Hannover, and Stuttgart. Similarly, this also applies to international airports, such as the airports in Amsterdam and Brussels.
Security: The fenced parking space options from the providers on our platform are often equipped with camera surveillance. Mostly the employees are even present 24/7 to guard your vehicle. Hence, your car is safe with Parkos.
Plan your trip: As some parking areas can be a little further away, it is essential to plan your trip accordingly in advance. Our Route Planner tool can help you with the whole process. By using this tool, parking at the airport in Hamburg will turn into easy airport parking. Parking is easy with Parkos.
Parkos is all about trust — we've built a solid reputation as a facilitator for parking Hamburg Airport and beyond. We offer transparent quotes, low fees, and the convenience of choosing from a bunch of options. Just take a look at our offerings and see the difference for yourself!
Parked from 11/7/23 til 11/18/23
The driver who took me to the airport, and later picked my self and family up was fantastic really friendly and had nice background music playing, and he was always contactable. Our car was outside but locked in n a very secure area. Overall I would definitely recommend using the Parkis parking service to anyone. And a big thanks to the driver, you made the experience top notch
...Read more
Parked from 4/5/23 til 4/15/23
The employee arrived very late and he was very unfriendly. We found some scratches in the car and he noted them and told us we will be contacted. That didn´t happen and we tried several times to contact them unsuccessfully. Definitely I don´t recommend using their services.
...Read more
Parking providers at Hamburg Airport
Our benefits
All parking lots are carefully inspected
The best deals on airport parking
Free cancellation up until 24 hours
Over 4 million customers globally