View the car parks on the map
Parking at Bordeaux airport
Driving to the airport is a comfortable option. It also allows you to get home faster with your trip and not have to depend on public transportation. Book your parking space easily near Bordeaux Mérignac Airport via Parkos! More than 100,000 customers have already booked with us. There is nothing like going on vacation with peace of mind.
On our site, you can compare different parking lots near the airport and make your reservation online. We will find the best prices for you, whether it's for a short or long term parking. If you have any questions, do not hesitate to consult our frequently asked questions. You will also find interesting information in our general terms and conditions and legal notice. In addition, our customer service is there to help you!

If you wish to park your car in Bordeaux Mérignac in order to take the plane at the airport, you will find low cost offers on our website, where you can compare and book a low cost parking space.
Compare the best parking providers for Bordeaux Airport
We carefully chose each of our partners. They all have a parking lot close to Bordeaux airport. You have, among others, the choice between a free shuttle service (included in the price of your reservation) or a valet service. Some parking lots also offer additional services.
At Parkos, you can easily find a parking space near Bordeaux-Mérignac airport. Our partners are checked and we always offer you a secure parking space with the best possible service. As an independent company, we offer you an unbiased view so that you can find the parking that meets your needs before making a reservation. Most of the available parking lots are less than 10 minutes from the airport and their grounds are accessible 7 days a week so you can reach the airport easily.
Find the best prices near Bordeaux airport
We always recommend that our clients make arrangements in advance in order to benefit from a parking space at the best price, whether it is in an outdoor or indoor parking lot. By reserving at Parkos, you pay and the price won't change! Moreover, cancellation is free up to 24 hours before your departure.

Our parking providers are located near Bordeaux airport. This avoids delays or unnecessary kilometers. A free shuttle bus is available to take you to the airport.

Parkos offers low cost parking without compromising quality. We offer you the best services available in order to guarantee your satisfaction. Our employees are often family-owned and friendly companies. In this way, we obtain reasonable prices that are easy to include in your budget. Our customer service is available to help you if you have any questions. Most of the parking lots we work with are open 7 days a week, 24 hours a day and are also guarded.

To help you make a choice, please feel free to consult our customer reviews. Our customers' evaluations are essential to us in order to improve our services.
Les meilleures offres à l'aéroport de Bordeaux
The different types of parking in Bordeaux
There are many possibilities to park your car in Bordeaux. We do our utmost to ensure that our customers enjoy a good plan at the best rate. You will be able to choose different services. Use the filters available on our site to find the parking lot and parking services that suit you. We always offer secure parking. Depending on your needs, you can choose between parking with shuttle service or valet parking.
Shuttle service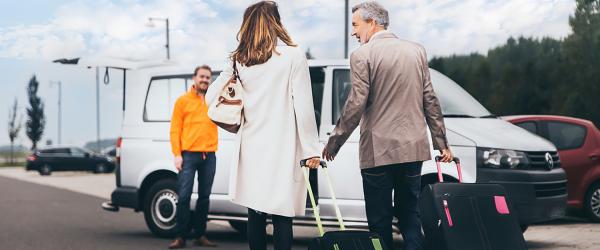 Shuttle service is the cheapest option. Indeed, the shuttle is free or takes you to your departure terminal at Bordeaux Mérignac airport. The shuttles start approximately every 20 minutes. When you return from your trip, a shuttle will of course take you back to the parking lot.
Valet parking service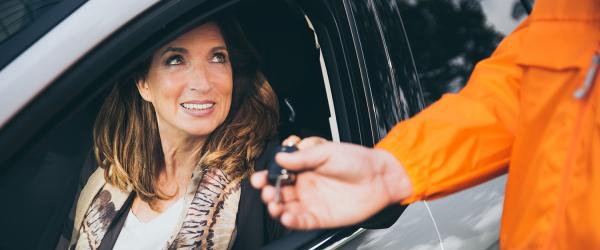 Valet service is more expensive, but also more comfortable. It is particularly convenient for people with reduced mobility or those traveling with children. You bring your car to the airport, leave it at the valet's pickup and parking, and simply check in at the airport. The valet will return your car to you on the way back and you can get back on the road. This service is also available for those who choose long term parking. Compared to the shuttle service, you save up to an hour of time!
Long-term parking in Bordeaux Mérignac
Many travelers wish to park their car for more than 2 days. The parking lots offer weekly rates so that you can enjoy your stay. Our parking providers offer long and short term rates. You will find the best prices thanks to our comparison site. Leave with peace of mind because your car will be in good hands. Here are a few more tips :

Compare the options and make your choice: compare the offers and services of the different parking lots and take advantage of the best prices. You will always make savings compared to the prices of the official airport parking lots (such as P0 comfort, P1 proxi, P2 flexi, P4 long term, etc.).

Choose the parking lot that suits you: whatever you wish (free shuttle, valet parking, etc.) you will find what you are looking for. Then simply make the reservation and follow the instructions on the day of your departure. Some parking lots offer you additional services, either with valet parking or with a free shuttle service. With an Ector valet or a Blue Valet, you will have direct access to the airport and an employee will take care of picking up and parking your vehicle. If you prefer to save money, then the shuttle is a simple and comfortable option. Your decision will be based on your needs.

Safety: One of the strong points of our service is that we do not neglect the safety of your vehicle. We only choose employees with a guarded parking lot so that you can leave with peace of mind.

Calculate your itinerary: Don't forget to plan your trip to Bordeaux airport before you leave. Make sure to be on time. Listen to the traffic info to keep you informed of possible accidents and plan an alternate route to the parking lot or terminal. Parkos helps you plan your trip. All you have to do is "calculate your route".
View the car parks on the map
Parked from 9/19/22 til 9/26/22
Although the cost was very reasonable, I was disappointed with the whole experience, There was no sign to say we had arrived in the correct parking area, we had to find someone to ask and it was very difficult as no one spoke English Parking area
...Read more
Annette Rutherford-Thompson
September 29, 2022
Parked from 9/25/22 til 10/9/22
Voordeel is dat je sleutel mag houden. Chauffeur stond op de afgesproken tijd te wachten om ons weg te brengen naar het vliegveld. Alleen de weg er naar toe was hobbelig. We werden over kleine landweggetjes gereden, met veel gaten in de weg. We werden
...Read more
Parking providers at Bordeaux Merignac Airport
Our benefits
All parking lots are carefully inspected
The best deals on airport parking
Free cancellation up until 24 hours
Over 3 million customers globally