View the car parks on the map
Parking at Groningen Eelde Airport
Groningen Airport Eelde (GRQ), is a regional airport serving the city of Groningen in the northern Netherlands. As a vital transportation hub, this airport, like the neighbouring international airports at Schiphol and Bremen, plays a crucial role in connecting people and businesses to various destinations worldwide. But with more people travelling, there is a need for more parking spaces.
Table of content:
Here at Parkos, we can help you find the perfect solution for off-site parking at an affordable price. The off-site parking lots at airport Groningen offer you an array of cheap parking solutions. You can choose shuttle services, valet parking, or stay at an airport hotel with parking. Read on to find out more about the top-quality services we offer here.
Whether you are heading off for a few days or plan to be away for a longer period, here at Parkos we aim to help you find the perfect parking solution at Groningen Eelde airport. To find the best short or long-term parking option for you, just type in your departure date and browse our extensive selection of parking solutions.
Affordable parking near Groningen Eelde airport

The official parking at Eelde Airport can be expensive, but here at Parkos, we can offer you alternative parking options that provide convenient and affordable options. All our alternative parking providers have sites located just minutes by shuttle bus from the airport. Book in advance, or check out the options here at Parkos to book a last minute Groningen airport Eelde parking solution.

By booking your airport parking at Groningen Airport through Parkos, you can rest easy knowing you're selecting a reliable parking provider. We vet all our providers and sites. Our secure parking facilities are located a few minutes from the airport and include a free Groningen Airport bus shuttle service. You can also modify or cancel your reservation up to 24 hours before your scheduled departure.

At Parkos, we take pride in offering exceptional service to our customers. We value your feedback and encourage you to share your experiences with Groningen Airport flights and parking services on our reviews page. By doing so, future customers can benefit from your insights and recommendations. Our trustworthy service ensures you are 100% satisfied with our parking solutions at Groningen Airport.
Parking options at Groningen airport Eelde
When it comes to the different parking options, we offer a range of parking solutions close to Groningen Airport. These include indoor and outdoor parking with a shuttle service, valet parking, and park-sleep-fly hotel deals. You can search for the best deal by price, type or service rating. For stress-free travel, book in advance to guarantee your parking space.
Self-park Shuttle parking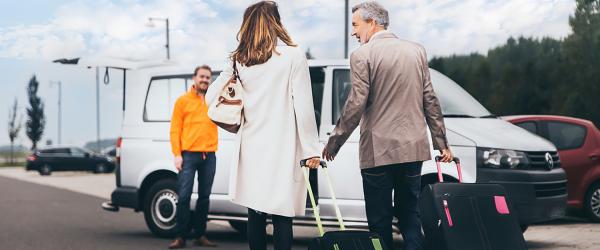 At Groningen Airport Eelde, you can book a parking space in advance at several sites run by our parking provider partners. All parking areas offer both covered and uncovered spaces for short and long-term parking. Simply drive to the parking lot, find your space and park your car. The free shuttle bus will then take you to the terminal.
Valet parking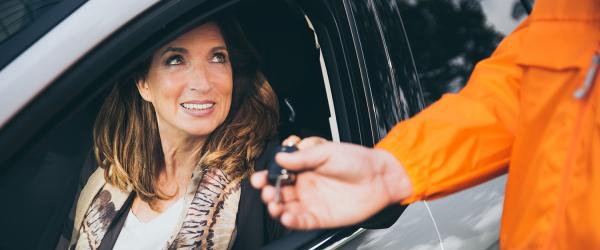 If you are travelling from Groningen Airport Eelde, we offer a premium service with convenience, security, and luggage assistance. After making a reservation, just drop off your car at the terminal entrance and one of our trusted drivers will park it for you. Upon your return, our driver will bring your car back for you to pick up outside Arrivals.
Groningen airport Eelde hotel and parking
Some flights will have an early departure, and you may prefer to stay in a nearby hotel the night before. With our park-sleep-fly deals you can stay in one of our partner hotels and park your car in the hotel car park for the duration of your trip. While you are away, your car will be in safe hands and ready for your return.
Groningen Airport Eelde long stay parking
If you are looking for long-stay parking options at Eelde Airport, we have a variety of solutions. Choose between shuttle bus or valet services, and indoor or outdoor parking. To find the best value-for-money deal, simply input your travel dates to compare the different options directly. Book today to secure the best parking space at the most competitive price through Parkos.

Apart from offering top-quality services, we also offer affordable prices. Our self-parking with shuttle service starts from €40,00 for an 8-day period. Instead, if you opt for our trusted valet service. At Parkos, we understand how important it is for you to find the right deal, and we offer you a stress-free solution for your car.

When it comes to parking your car at Groningen Airport, youwant to be sure that it's in good hands. That's why we've personally vetted all the providers listed on our website for their service options and security measures. On our providers page, you'll find a clear and comprehensive overview of the steps we've taken to ensure your peace of mind.

Here at Parkos, we offer top-quality services at affordable prices. We cater to all your needs and ensure you have a trustworthy and hassle-free service. Our services include short and long-term parking options. Choose valet parking or self-parking with a shuttle service. Our route planner strives to make your journey as smooth as possible. Book with us for quality and convenience at a great price.

Your stress-free getaway starts with your journey to Groningen Eelde Airport. The last thing you want is to encounter delays on the road, or other unforeseen issues. To avoid such inconveniences, we recommend using our Routeplanner to plan your trip. This tool is easy to use and can help to ensure you have a smooth journey.
View the car parks on the map
Our benefits
All parking lots are carefully inspected
The best deals on airport parking
Free cancellation up until 24 hours
Over 3 million customers globally