View the car parks on the map
Parking at Munich Airport
You have booked your flight tickets and cannot wait until you are finally on the plane. Of course, you don't want to destroy the excitement of flying into the air with the stressful search for a parking spot or the frustration of the sometimes unreliable public transport. Avoid unnecessary stress before you travel from Munich. With Parkos you can book your parking space in advance nearby and start your journey relaxed.
Whether you want to park for several days or just one day, the parking providers on our website offer you cheap parking spaces for every time range. From the parking areas a free shuttle bus will take you to the terminal in just a few minutes. Some providers also offer a valet service so that you can drive with your own car right to the entrance of the terminal and start your journey.
Compare the best parking providers for Munich airport
Munich Airport (MUC), also known as "Franz Josef Strauß", is one of the largest aviation hubs in Europe with around 42 million passengers a year (Wikipedia). Around 85 airlines, including Lufthansa, Ryanair and KLM, are consolidated on site. Passengers have the opportunity to reach 238 destinations in 70 countries.
The total length of the baggage sorting system from Terminal 1 and Terminal 2 is 58 kilometers. With this amount of passengers a year, economy parking spots are in high demand and the fact that this number is increasing every year gives an idea of the parking situation at MUC. Since many passengers prefer to travel with their own vehicle, parking is an important and interesting issue.
Parking spots at Munich Airport

If you fly from MUC, then of course you prefer to travel in your own car to the airport. In this way you are independent of the sometimes unreliable public transport. The best option would be a safe but budget parking space close to the terminal. Parking spaces can be very expensive. Therefore, so-called alternative car park providers offer you cheap alternatives nearby the airport, with low price guarantee. A free transfer is included in the booking price and takes you quickly and comfortably to the terminal. Since the terrains of the alternative providers are located a little outside, a free shuttle service takes you to the terminal.

There are many car parks, where you can book your parking space at a reasonable price. Many people associate a cheap price with poor quality. This is not the case when you book your parking space via Parkos. The competition is intense and therefore the standards have to be kept high at all times. The reason that the parkings that are close to the airport can offer cheaper parking spaces than those that are located directly at the airport is partly due to the fact that rental prices a bit further away are a little cheaper. Therefore, if you want to park your car several days a year, it is also possible to do so at an affordable price. With Parkos you have the possibility to compare all options with each other. We offer you an overview with all the important factors that ensure a good selection for both a long term and short term parking service.

All providers are personally checked by us. It is important to us that the parkings adhere to certain security standards and quality controls. So you can be sure that you can safely park your vehicle at valet or shuttle parkings. In addition, you have the opportunity to read reviews of customers who have previously booked through Parkos and read about their experiences. Many of our customers report that everything went smoothly and that the transfer or collection went well. We are also happy to assist you in choosing a parking space at low prices. You will find the best deal at MUC with Parkos.
Cheap and budget Munich airport parking
Since most parkings manage a terrain near Munich Airport, you can expect a free transfer to the terminal. If you book online via Parkos, you will automatically receive a detailed description of the process and all the information you need to ensure that everything runs smoothly. In the following we will explain the difference valet and shuttle car park options to make your decision easier.
Shuttle Service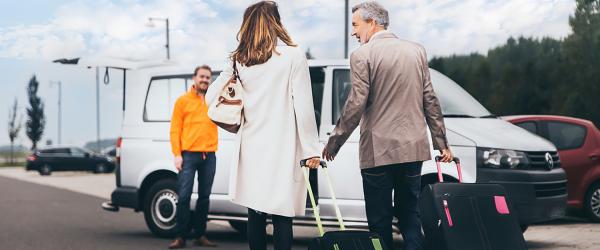 If you park at one of our parking providers near Munich Airport, the parking areas are only up to a 10 min drive. You will be driven by a free shuttle bus. As soon as you arrive at the parking area, which is only a few minutes away from the airport, the friendly staff will be waiting for you and instruct you where to park. Then the shuttle will drive you to the terminal. The individual transfer avoids possible waiting times and makes parking at the Munich airport even more enjoyable. After you have returned, simply call the parking provider again. The number is provided in the confirmation mail you received. You will be picked up at the agreed location, and brought back to your car. You may have to leave your car keys with the provider upon arrival. The reason for this is that the provider can use the terrain more efficiently and have your vehicle ready for you when you return, so that you can quickly continue your journey home. Like this the Park and Fly providers make sure that everything works smoothly and you can park for many days at a low price.
Valet Parking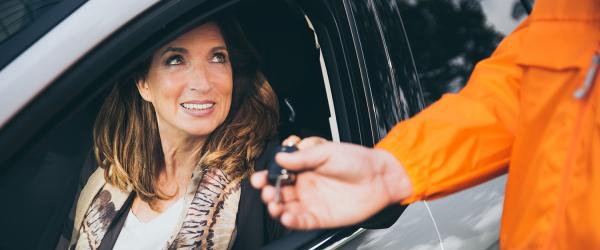 Valet parking is the most convenient method if you want to park at Munich Airport. It works as follows: you do not have to drive your car to a car park first, but can hand it over directly to the booked parking provider at the terminal. A driver from the car park will meet you there and bring your car to the terrain. The staff will then park the car for you on the parking area. Be aware that if you book this valet option, you obviously have to hand in your keys during the trip. When you return the driver will bring your car back to the terminal. After a quick car check you can continue your journey home. Especially with the valet service it is important to book online in advance so that the parking provider can plan well and an employee is ready to meet you at the terminal. Overall booking a parking spot online has many advantages for you. Some providers are even available for you 24 hours a day.
Long-term parking at Munich Airport
With Parkos you have the opportunity to find cheaper economy parking spaces than if you parked directly at a Munich Airport terminal parking. Regardless of whether you want to park just a few days or several weeks, the providers offer secure parkings and good service in every season. The owners calculate the price per day. This means even if your flight is delayed or you want to stay longer, you can pay the additional costs right to the provider. It is only important that you inform the parking provider on time. In addition, all parkings are checked by us before they are added to our platform.
We put together a few tips for you to make your booking and parking experience as pleasant as possible:

Compare: Because it's worth it, whether at Frankfurt or Cologne! There are numerous parkings with different qualities and prices. In particular, the prices can differ every day. At Parkos you will find an overview of all services provided, the accessibility, reviews and the equipment of the parking provider. So you have a direct comparison and choose the perfect parking options for you.

Reviews: The opinions of our customers are very important to us, they provide us and you with a realistic impression of the parkings near MUC. Only customers who have booked with us can leave a review, this way we make sure that our reviews are real. The parkings are constantly trying to improve their services and to support this we want to encourage you to leave a review after you have used our services. This way we want to simplify the process of deciding for the right parking garages or spots.

Security: Parkos checks all car parks before they are added to our platform. Only after this you will be able to book for the parking area. This does not mean that a parking provider can lack in quality after we check them. If we notice that a parking no longer meets our quality standards, or we receive too many complaints via customer service, they will be immediately removed from our website. Quality is our priority. So you can book a parking space without worrying about the safety of your vehicle.

Plan your journey: Munich is a big city and therefore also a very busy city. To start your vacation even more relaxed, we advise you to plan your way to the car park in advance. In this way you are well informed about road infrastructure works or heavy traffic. This saves you enough time for your arrival and check-in. With the help of our route planner you can find the terrains of the car parks easily and you can get tips on general traffic routes and rules in Germany.
View the car parks on the map
Parked from 8/15/23 til 8/20/23
First off, I never received a QR code. I reached out to Parkos the day before departure, no response. When we got the parking area–it was full and difficult to navigate, because people had desperately parked all over the place. We finally left our car in an unmarked/unlocked 'field' opposite of the marked area. It was stress full to say the least, and not the way to start a day of extensive travel. Phone was answered to receive QR code, operator friendly. Bus driver super grumpy.
...Read more
Parked from 5/13/23 til 6/2/23
We had an excellent experience! I highly recommend. The price was right! The location was easy to find. The bus driver waited for us to drop our luggage and park! That was above and beyond. When we returned 21 days later! The return shuttle was easy to catch, and our car was waiting! The only comment is that the entire car park area is gravel so not roller bag friendly!!
...Read more
Parking providers at Munich Airport
Our benefits
All parking lots are carefully inspected
The best deals on airport parking
Free cancellation up until 24 hours
Over 3 million customers globally