View the car parks on the map
Parking at Madrid Barajas airport
Going to the Adolfo Suárez Madrid Barajas airport with your own car is undoubtedly the most comfortable way, especially depending on the time of day you are traveling. Madird airport can be chaotic at peak times. In addition, we can not always adapt our schedules to those of the airlines or public transport, and taking a cab to the airport terminal can be very expensive, even more so if we consider going at rush hour. The difficulties increase if you travel in a group, with your family or with small children. The solution is clear. You know that the best way to travel is to go in your own car, but nevertheless it generates stress thinking about where you are going to park. Luckily, Parkos is here to help you. Parkos offers a lot of car parks at Madrid Bajaras airport in a comparison tool for you.
Table of content:
The Madrid airport, aeropuerto de Madrid, is the main international airport for Madrid in Spain. It is the second biggest airport in Europe and in 2019, more than 61 million passengers used Madrid Airport to take a flight. The airport has five terminal buildings: Terminal 1 (T1), Terminal 2 (T2), Terminal 3 (T3), Terminal 4 (T4) and Terminal 4S.
If you want to leave your vehicle at Madrid-Barajas Airport you should know that you have several options for airport parking: outdoor or indoor parkings, with valet parking or even with a transfer bus service. And best of all, you can book it from eu.Parkos.com. In addition, many parking providers offer extras for your booking, next to your airport parking reservation, such as exterior and interior washing, refueling, wifi, space for motorcycles or even a workshop. All these options are also available at Parkos, where you can check out the details and book them quickly and easily.
Compare the best parking options
Car park at terminals T1, T2, T3 or T4
Madrid Barajas Airport is the largest airport in Spain and has terminal T1, terminal T2, terminal T3 and terminal T4, as you already know now. Many of our customers who enter our website always want to know if a car park can offer its service in all terminals. Since we want to make the booking process as easy as possible, we would like to give you some tips on how to use the car parks when you are departing from Terminal T1 and your flight is returning to one of the terminals T2, T3 or T4.
Low cost parking at Madrid airport
Search, compare and reserve your place now, don't wait until the last moment. The sooner you do this, the more likely you are to find the best deals for a car park for your vehicle. Save money and gain peace of mind! Once you book, the parking prices will be blocked and that will be the amount you pay. Whether online or in the parking lot itself, forget about unexpected last minute extra costs. In addition, at Parkos we only work with the best short term and long term car parks so that you can enjoy the best quality at low cost parking rates. Try it out and start saving.

All the car parks we work with are just a few minutes away from the terminals T1, T2, T3 and T4 at Madrid-Barajas airport (Barajas airport or aeropuerto Barajas). This way it will be much easier for you to park your car, without the complications of going around the airport. And if you choose for VIP parking or valet (valet), you will find it even faster and more comfortable.

At Parkos we think that just because something is cheap, it doesn't have to mean that it is of poor quality. In the case of airport parking lots this is very true, and sometimes it comes as a shock to consumers who think that parking for a long time near airports is going to be too expensive for them. But how can a week at a car park at the airport be cheaper than taking a cab? The answer is simple. These car parks don't need large management or marketing teams, expensive offices or unnecessary luxuries. What they do need, however, are good, reliable professionals, and they know this from their own experience. They know that if they don't offer a good deal but at a reduced price, the customer won't come back. That's why the quality and services they offer are usually cheaper than we can imagine. Parking at a low cost at Madrid Aeropuerto Barajas for a long stay parking VIP, is not only possible, but it is a reality.

If you find this hard to believe, just look at the user experience of other customers that have parked their car at the Madrid airport, like you want to do. On our website you will find a section with comments from customers who have already used Parkos. The average score they give to the parking lots is 8.4 points out of 10. Reading these ratings will help you choose the perfect car park. If, once you have parked, you also write down your user experience, you will help future customers to make the best choice for airport parking in Madrid. At Parkos we care about your opinion because it helps us improve airport parking at Madrid airport day by day.
Shuttle Parking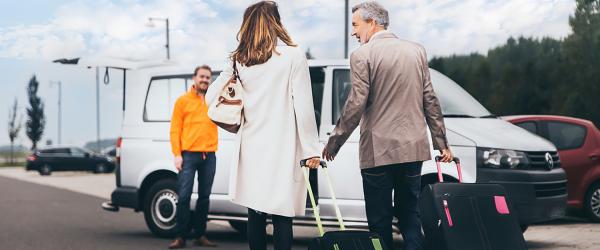 Shuttle service is usually a more economical option. You drive yourself to the car parks at the Madrid airport. Once you are there, a shuttle service will take you to the departure area of the terminal T1, T2, T3 or terminal T4. The same shuttle bus will pick you up on your return, usually in the arrivals area at the terminal, and take you to the parking lot so you can pick up your car. Of course, these buses are free of charge. The price shown on our page is the one you will pay, not one euro more. This is a good option if you want to reduce your parking costs and if you also want to avoid the stress of driving in an area you don't know. Once you have made your reservation, you will receive all the necessary information and contact numbers for the car park in your confirmation email. In addition, sometimes they also offer transport between terminal T1, terminal T2, terminal T3 and terminal T4, or make free transfers to the Atocha Renfe train station.
Valet Parking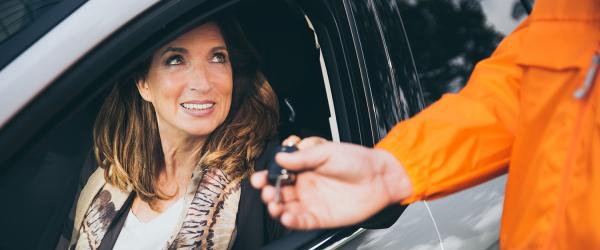 The valet parking will be useful if you want to drive directly to the departure area. This is a luxury service to add to your booking, in which a driver will be waiting for you at the departure terminal and will take care of parking your car for you. When you return, the car will be delivered to the agreed point. In your confirmation email you will receive all the information you need to know, including the driver's phone number in case you need to contact them. This is one of the most comfortable and quickest treatments for the client, especially if spending time to look for a car park at Madrid Barajas is not an option and you need a faster alternative.
Madrid Airport Long Stay Parking
Are you finally going to take that dream trip? Have you planned a weekend getaway? Are you traveling for business and need to leave your car for two or more days? At Parkos we have the solution to your parking problem. With our comparator you will be able to find the best prices, always with the peace of mind that we personally inspect all our partners' parkings. Enter the days, choose one of our suppliers and enjoy the best offer at Madrid Barajas Airport, much better than the official car park or a public car park but without losing the quality.
To get the most out of your trip, we recommend you follow these tips:

Compare the different car park options: the most basic and useful advice is to compare, and with our comparator you can do it easily. We work every day so that you have the best experience while you save money with the low parking prices. I'm sure that if you try it you will be pleasantly surprised, try it and you won't regret it!

Choose the type of parking you want: do you need valet parking or do you prefer to park your car by yourself? Would you like a covered car park space or one where you don't have to hand in your keys? An express parking or an exclusive one? Wifi? The comfort of public parking? Do you need additional airport parking services? At Parkos you can filter the parking lots according to their characteristics and be left with only those that meet your needs. Book your ideal low cost parking space for Madrid airport.
With the valet parking you gain in comfort as you can go directly to the departure terminal of the Madrid airport, without passing through the parking lot. An employee of the car park will pick up your vehicle and park it for you while you go to check in your luggage without wasting a minute. When you return, your car will be delivered to the meeting point.
The shuttle service is another cheaper option than the valet, and consists of you parking your car yourself. From there they will transfer you to the airport terminal buildings in a shuttle bus service. This transfer is, of course, free of charge. On the way back the same shuttle bus will take you from the terminal to to the car park where you will pick up your parked car.

Security: When you leave your car in a car park you want it to be safe, that's why, through our website you can check the security measures of the facilities. You will know, among other things, if it is a closed area, if they have surveillance cameras or if there are 24-hour security guards. You will see that they have nothing to send to the official Madrid airport terminal parking lots. Parkos also personally inspects all its partner Madrid Barajas car parks, so that you don't have to worry about anything. Don't give up on the safety of your car.

Plan your route: start organizing your journey before going to the Madrid airport parking lot to avoid unforeseen events and don't let a sudden traffic jam or breakdown ruin your plans. It is clear that there are situations that are beyond our control, but it is always good to have a plan B with an alternative route prepared in case it is necessary. At Parkos we offer you a route planner so that you can find the fastest routes and have an idea of the time you will need to get there. Simply go to the link "plan your route".
View the car parks on the map
Parked from 10/20/22 til 10/24/22
Perfect, handed over car and keys, staff were very polite and friendly. Extended my park for 24hr quickly and no problems. Pick car was ready and waiting. 5 star service at a very affordable rate. Thank you.
...Read more
Parked from 1/25/23 til 2/23/23
The staff are very helpful and kind. The systems are very good to organise everything. To have a hotel next to the car parking and effective shuttle is excellent.
...Read more
Parking providers at Madrid Airport
Our benefits
All parking lots are carefully inspected
The best deals on airport parking
Free cancellation up until 24 hours
Over 3 million customers globally