View the car parks on the map
Parking at Maastricht Aachen Airport
When you travel, you naturally prefer to drive your own car to Maastricht Airport. You are not dependent and do not have to use public transport with your large bags and / or suitcases. Arranging a parking space is not difficult at all. Book a parking space online easily and quickly via Parkos. With us you are assured of a place and the best price. With regard to parking Maastricht Airport , you have two options with us. They both offer shuttle parking, however it is not possible to use valet parking at Maastricht Airport. You can easily get to the airport as it is next to the A2 motorway. If you do not know how to drive to Maastricht airport, you can use our travel directions.
Table of Content:
Maastricht Aachen Airport is known as a small airport. Compared to Schiphol, this is of course small, but Maastricht is one of the larger airports in the Netherlands. Parking at Maastricht is a lot easier than parking at Schiphol. Maastricht, like Schiphol Airport, Eindhoven Airport, Rotterdam Airport and Groningen Eelde Airport, is one of the airports from which international flights depart. With around 180,000 passengers annually, Maastricht Aachen is a noteworthy airport.
Cheap parking at Maastricht Airport
Free parking is not realistic, but cheap parking at Maastricht Airport does not have to be complicated at all. When you reserve a parking space via Parkos, you book a space with one of our cheap providers, which are located a few minutes from the airport . On arrival you can drive to the parking provider and park your car. A shuttle bus will then be waiting for you to take you to the airport. On your return, the same shuttle bus will be waiting for you to take you to your car so that you can continue your journey home. It may happen that your trip unexpectedly takes one day longer, the costs for this extra day can be paid locally at the parking provider

Long-term parking at Maastricht is possible at a low price via Parkos. Nobody pays too much for a parking space with us. You can book parking spaces at Slim Parking Maastricht. Slim Parking Maastricht is located just 5 minutes north of the airport. The price you see on our site includes the free shuttle service. This shuttle bus will drop you off within walking distance of the terminal.

Cheap parking is usually linked to poor service. This is absolutely not the case with us, our providers have been personally checked by our employees and are 100% reliable. You can rely on Parkos for the best deals for parking at Maastricht. At the providers in Maastricht, in addition to camera surveillance, someone is present 24 hours a day, 7 days a week. You park your car at the parking lot in the space reserved for you, which will be assigned to you by an employee.

We are not the only one to tell you about this good service and price / quality ratio. Our customers rate our car parks in Maastricht with an average of 8.6..
Shuttle & valet parking with Parkos
Shuttle and valet parking is available at Maastricht Aachen Airport.
Shuttle parking (Park & Drive)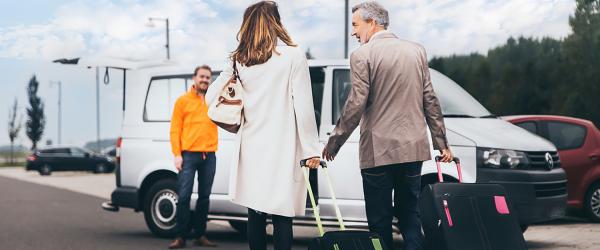 If you opt for long-term parking at Maastricht Aachen Airport, you opt for shuttle parking . Shuttle parking works as follows. You reserve a parking space with one of our providers through Parkos. When you travel, you drive your car to the parking provider, you park your car yourself at the designated spot. A member of staff will be waiting for you upon arrival at the car park. When you have parked your car, this employee will help you with your bags when necessary. You will then be taken to the airport by free shuttle bus and dropped off in front of the departure hall. You get off the shuttle bus and walk into the departure hall to check in, your journey begins.
Valet parking (Meet & Greet)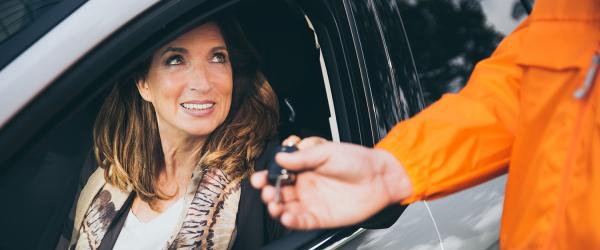 Do you want to travel even more comfortably? Then you can opt for valet parking . With this service you drive to the airport and this way you are immediately at the departure hall. Before arriving at the airport, it is useful to contact the parking provider. You will then discuss the exact location at the airport together. A driver will take your car and park the car for you. This way you don't have to take a shuttle bus to the airport. On the day of your return, an employee of the parking provider will come to the airport with your car. After a check and the handover, you can immediately continue your journey home. In short, this is a convenient and efficient way of parking at Maastricht Aachen airport.
Long-term Parking Maastricht Aachen Airport
Booking a parking space at the airport is arranged with Parkos within a few minutes. Our site makes it easy to compare the different providers and choose the best provider for you. All our providers have been personally inspected by us so that you can be sure that your car is safely parked with a reliable parking provider. Parking Maastricht Airport is safe and reliable via Parkos.
To help you on your way, we would like to give you the following tips about long-term parking at Aachen airport:

Compare : Compare directly between different providers: it may take some time, but comparing saves money. And that is evident from the prices of Parkos. If you leave for a longer period of time, the costs for parking can quickly add up. At Parkos we always guarantee the lowest price.

Choose your way of parking: there are different ways of parking. So, before choosing a parking provider, it is helpful to know these ways.
With shuttle parking you drive directly to the parking provider on the day of departure. You will be taken to the airport by shuttle bus. When you return, contact the parking provider after landing the plane. By the time you are out with your luggage, the shuttle bus will be waiting for you.
If you opt for valet parking, you opt for a more comfortable start to your journey. You drive to the airport on the day of departure. A driver will be waiting for you to take your car and park it. This way you have nothing to do with a shuttle bus and you can go straight to the check-in desk. When you return, your car will be ready at the airport. This way you can immediately continue your journey back home. In addition, you can opt for covered or open-air parking with both services.

Safety: It makes sense that you want your car to be parked safely. To be able to make this happen, Parkos personally inspects all locations of the parking providers. In addition to the facilities, the security of the parking provider is also checked. All information about the measures taken by each parking provider can be found on the pages of the parking provider. This way you can see that your car is parked safely and reliably. And so you can travel with peace of mind. All parking lots of the parking providers are guarded 7 days a week, 24 hours a day.

Plan your trip: Plan your trip to the airport well in advance. Take into account any road works on the way to the car park. Get to the parking lot on time so you don't have to rush and stress at the airport before you travel. Make sure you are well prepared for the journey to the car park, use our travel directions page.
View the car parks on the map
Parked from 10/18/22 til 10/22/22
They are really kind and friendly. We travel without any problem in both directions. Thank you!
Parked from 5/13/22 til 5/16/22
Very friendly and helpful staff. Good location near the airport too. Would definitely use again.
Our benefits
All parking lots are carefully inspected
The best deals on airport parking
Free cancellation up until 24 hours
Over 3 million customers globally