Parking at Lyon airport
Nowadays, more and more travelers travel to Lyon Saint-Exupéry by car in order to park there. This allows you to avoid taking public transportation on the day of your departure. If you are looking for a parking space at the best rate near Lyon Saint-Exupéry airport, compare and book your space with us! Parkos will help you to find the ideal parking lot. Thanks to the free shuttle or valet service we offer, no more public transportation! You benefit from secure parking spaces at the best price from Lyon Saint-Exupéry airport. Compared to the official parking, Parkos allows you to save money because the secure parking spaces we offer are up to 50% cheaper. Choose our platform and make a reservation today!
Lyons Saint-Exupéry airport is located in the commune of Colombier-Saugnieu, 25 kilometers east of Lyon. The city center is about 30 minutes away by car. The airport is ideally located one hour's drive from Grenobl and Bourg-en-Bresse, 90 minutes from Geneva airport (in Switzerland) and 3 hours from Marseille Provence. Lyon has always been an important French city and it is easy to reach the airport by car. Formerly an industrial city responsible for French petrochemical and textile production, it is the French capital of technology and international organizations such as Interpol. It is a young city with a large student population. You won't be bored there! Lyon-Saint-Exupéry offers many popular destinations and welcomes millions of passengers every year. Many airlines offer flights to this place. Lyon Saint Exupéry train station, which is a TGV station, is only a 5-minute walk from the airport.
Our website allows you to easily search and compare the parking lots of our different suppliers near Lyon Saint-Exupéry Airport. Book now! Parkos will find out about these providers so that you can benefit from a good plan: premium parking at the best price. We only offer secure parking lots with impeccable service. Our company is independent, just like our website. We therefore offer you an unbiased view of our various partners with parking facilities close to the airport. So don't hesitate to book a reliable parking space at the best price via Parkos! Most parking lots are open 24 hours a day, 7 days a week. Of course, our website offers a secure payment system for all your reservations . If you have any questions, do not hesitate to consult our frequently asked questions or contact our customer service. Our legal notices and general conditions also include useful information.
You can choose between a short term parking, a long term parking, valet parking or shuttle service. We are sure you will find an offer that suits your needs. We also offer numerous parking options in Paris, namely at Roissy CDG or Paris Charles de Gaulle airport (with direct access to terminal 1 or terminal 2), but also at Paris Orly airport. At Parkos, we strive to offer you the best deals. This way, your car is safe in a private parking lot instead of being unattended in a free parking lot. Among our partners are Blue Valet and Ector. We compare only private parking lots and many have valet parking.
Parking at Lyon terminals
Depending on which terminal you need to go to, we will find suitable parking for you. For example, the parkings closest to terminal 1b at the Lyon airport are P0 and P1. They are indoor and accessible by walk. On the other hand, if you are heading to terminal 2, we recommend parkings P0 and P2. Parking P0 is below terminal 2, however we recommend parking P2 for short term stays.
If necessary, we also propose a premium valet service. The valet will take your car at the terminal 2 drop off point of the Lyon airport. After a thorough check, we will take care of parking your car in secure parking. Upon your return, the day before or morning of, you will receive an SMS with the contact of your Premium valet.
We also propose the shuttle service which will take you directly to your desired terminal. Indeed, some parkings are further away and more difficult to access on foot. For example, we serve parking P5 quickly and easily with the help of a shuttle. It is a free shuttle service that comes every 15 minutes and is available 24/7. Of course, upon your arrival, the shuttle will take you back to your parking from your terminal of arrival.
Parking lots in Lyon at the best prices
To reserve a parking space at a competitive price, the easiest way is to reserve it in advance, whether it is for long-term parking or not. At Parkos, once the reservation is made, the price will not change. So you won't have to pay more afterwards! We are in collaboration with the best parking lots around Lyon Saint Exupéry airport. Our employees provide a top-notch service, no matter how long you park. Book your parking right now to take advantage of the best prices.

All the parking lots we work with are located around Lyon Saint-Exupéry airport. This saves you from wasting time and driving extra miles.

For us, low cost is far from being synonymous with low quality. We always want to combine low prices with quality service. To do so, we meticulously choose our partners in order to offer you a premium parking at a good price in Lyon. You will therefore benefit from an experienced and available staff as well as parking lots under permanent surveillance. Satisfied customers are customers who come back, which is why we are constantly trying to improve our services and offer the best parking lots near Lyon airport.

Do not hesitate to read the reviews left by our customers. They will help you to choose the parking lot that best suits your needs. Only customers who have made a reservation with us can leave us a comment. We only collaborate with the best parking providers around Lyon Saint-Exupéry Airport. Your satisfaction is vital to us, which is why we are constantly looking for ways to improve.
The best parking offers in Lyon
How does the parking at Lyon airport work?
Different options are available to you for parking your vehicle. Use our website to compare the available offers and make it easier for you. Refine your search thanks to the filters available and compare the additional services (car wash, valet parking) offered by the different parking lots by clicking on their page.
Valet service in Lyon Saint-Exupéry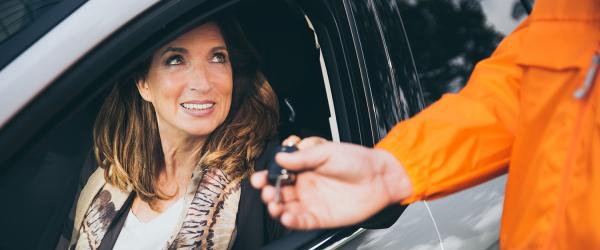 If you are looking for fast and comfortable service, valet service may be of interest to you. On the day of your departure, simply drive to the drop-off point at Lyon Saint-Exupéry Airport. On the spot, a valet will make an inventory of your vehicle before picking it up. You can then check in for your flight while the valet will park your vehicle in the company parking lot. This option is also practical for families with young children or people with reduced mobility. Here, you don't have to look for a parking space or take a shuttle, you simply go to the airport. Ector and Blue Valet are well known for their valet service.
Free shuttle service (round trip)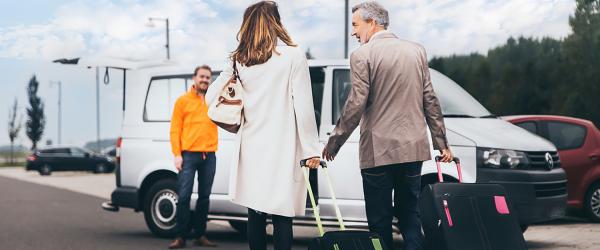 If you opt for the shuttle service, please note that the return transfer is included in the price of your reservation. It takes longer than valet service, but it is also more affordable, making it an option of choice for our clients. You park your car in a parking lot near Lyon and the shuttle bus will take you to the agreed location, such as the P0 parking lot, P2 parking lot or P5 parking lot or your departure terminal. The shuttle usually leaves every 20 minutes and transfers take less than 10 minutes.
Long-term parking at Lyon airport
Nowadays, many travellers leave for a week or more. It is therefore important that your car is parked safely. All of our partners offer weekly rates, so you can easily opt for long-term parking if you wish.
Here are our tips to make your search easier:

Compare the offers: our online comparator allows you to filter the different types of parking to display only the parking spaces corresponding to your needs. The different parking lots of our partners offer direct access to Lyon St Exupéry airport. In addition, some are open 24 hours a day to ensure your care, regardless of the time of day or night. Comparing and reserving a parking space is just a few clicks away on our website.

Choose the service that suits you: before booking, ask yourself the right questions. Would you like an outdoor or indoor parking lot? Would you prefer a Blue Valet valet or a parking lot with free shuttles? Once you've made your choice, all you have to do is reserve the desired parking space and you're ready to go! Moreover, at Parkos, we only list providers located around Lyon St Exupéry airport to ensure a fast service. Parkos therefore allows you to find the ideal parking for your trip.
With a valet service, you will save a lot of time. Go directly to Lyon airport on the day of your departure. A valet will be waiting for you at one of the terminals to pick up your vehicle. An inventory of fixtures is carried out and you can directly enter the airport. The valet will park your car in the company parking lot, saving you up to an hour of time!
As for the shuttle, it is a free service, but just as efficient! The only downside: allow an hour between your arrival at the parking lot and your check-in at the airport. The shuttle will never take more than 10 minutes and is a service included in the price of your reservation. It will pick you up at your terminal and take you back to the parking lot on the day of your return.

Safety: The safety of your vehicle is as important to us as it is to you. We understand that some people are hesitant and don't want to leave their car with just anyone, which is why all our partners have effective security systems (surveillance cameras, 24-hour on-site staff, it all depends on the supplier). If you would like to consult the security measures of one of our partners, simply visit their page on our website before making a reservation. We only select parking lots that are under constant surveillance, whether it is for an outdoor parking lot or covered parking lots. You will always find a good plan and your car will be safe while you are away!

Calculate your itinerary : it is important to choose an itinerary before the day of departure. In order to arrive on time for your flight, it is very important to watch for traffic problems, accidents and weather. Refer to the traffic info which will give you useful information in real time. We also help you organize your trip with our route planner.
Parked from 5/11/22 til 5/13/22
Really brilliant garage. Super close the airport with an on demand shuttle. Even though I speak little to no French, the team were really helpful and drop off at the airport and pick up were super speedy. Would highly recommend.
Parked from 12/11/21 til 12/18/21
The owner was extremely friendly, eve though I arrived unannounced at 6:30 in the morning he was there to open the gate and help me to my car. If I was travelling to Lyon airport again, I'll definitely use this parking facility.
Parking providers at Lyon Saint Expury
Our benefits
All parking lots are carefully inspected
The best deals on airport parking
Free cancellation up until 24 hours
Over 4 million customers globally