We help you compare parking prices at Rome Fiumicino Airport.
What makes Parkos unique?
All parking lots are carefully inspected
Free cancellation up until 24 hours before departure
How can we help you?
Our experts are here to assist you with comparing parking locations and are happy to answer any questions you may have.
Please contact us
Customers rate Parkos with an average of 8.6
Customers who have booked a parking space through us, rate these with an average of 8.6/10 based on 355 reviews.
Jeffrey Thursday 29 October 2020
Were received well and quickly taken to the airport. Nice that the staff parked our car for us.
Anonymous Thursday 29 October 2020
Straightforward website, booking was quick and easy!
Parking at Rome Fiumicino airport
Are you departing from Fiumicino and are you looking for a parking space for your car? Of course you are looking for a safe parking in Fiumicino. Parkos helps you with the comparison of personally inspected and experienced parking companies in the area. Whether you are departing from Terminal 1 or Terminal 3, with Parkos you will find the parking lot that suits you best.
The most important current information for parking at Rome Fiumicino airport
| | |
| --- | --- |
| Number of parking spaces: | 20 |
| Most voted: | Picchiarelli Parking |
| Cheaper: | Area 4 Parking (Paga online) |
| Closest to the airport: | King Parking (Paga online) |
With your online booking, you will arrive at the Fiumicino airport parking lot and a parking space will be reserved for you. By booking your Fiumicino parking lot in advance, you will be sure to find a lower price. You will know that a parking space is reserved for you at the parking lot, so you will not have the worry of looking for parking on the day of your departure. Not only do you save money but also time.

Compare the best suppliers
When booking with Parkos, a travel itinerary to the parking lot is included. We at Parkos know that safety is important when you leave your car at the parking lot and for this reason we choose only the safest parking lots. We inspect them in person to guarantee our customers the best standards. So book your parking space here well in advance and save money.
Looking for a parking space, do you come across many options, covered or uncovered? Shuttle bus or car valet? Parkos puts these options in comparison, simplifying the choice for you. Read the reviews left by customers that rate their experience in airport parking with Parkos.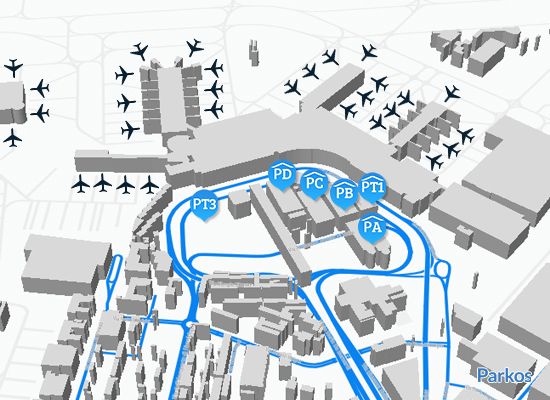 Safe and convenient parking lots in Fiumicino
If you are looking for a low cost parking option for Rome Fiumicino airport you are in the right place. Parkos compares for you the best convenient parking for a long stay and allows you to book a safe parking space. Compare parking lots near Fiumicino RM and make your reservation online.

There are many airport parking lots, but how to decide which one is right for you? You can see their location on the map and their distance from the airport. Parkos only uses the best parking providers. They are all located at a maximum of 10 minutes by car from Fiumicino airport, have numerous parking spaces and offer various long-stay parking options, such as the shuttle service to Fiumicino airport and the car valet with pick-up directly at the terminal, as well as exclusive additional services, such as take your keys service, indoor and outdoor car wash and refueling.

For our customers we want to offer only the best parking services at Fiumicino airport. For this reason we inspect the Fiumicino parking companies in person and, if they are not up to our standards, they will not be on our site. A pleasant journey starts with safe parking. We work non-stop to offer you the best low cost prices, because we believe that when planning a trip, parking should not be too expensive. The price is locked when booking online. All our prices are always updated.

Looking for a parking provider on Parkos, you can also check all the reviews left by other users before you on Fiumicino airport parking lots. Only our customers who have used the service can leave a review. This way, you will only see authentic reviews. You have already received advice. If you have other questions, please see our Frequently Asked Questions.
Our tips for parking in Fiumicino
Departing from Fiumicino airport? Parking at the airport is definitely a more expensive solution. Whether it's a leisure or business trip, a week or a month, with Parkos you can find the best solution for long parking for your car at an affordable price. In addition to a wide range of parking options, covered or uncovered, shuttle service or car valet, you can compare the updated and low cost prices of Fiumicino car parks.
For a pleasant and safe long stop at Fiumicino airport, we invite you to follow our advice.

Compare our parking lots to find the ideal parking lot for you. Once you have made your online reservation for your low cost airport parking, you will receive a confirmation email and an itinerary to reach the chosen Fiumicino airport parking. The parking lot is already marked on the map, just enter your starting point. This way we will save you an additional effort. Departing from Fiumicino and returning to Ciampino? Filter the option "Return to another airport" from the menu of our search engine.

For your long parking in Fiumicino, there are two possibilities. You can choose between the car valet service and the shuttle bus parking.
If you choose the parking with free shuttle service to Fiumicino airport, just reach the chosen parking lot following the itinerary provided by Parkos and park your car in the parking space, indoor or outdoor. Then take the bus that will take you directly to Fiumicino airport. Don't worry, this service is included in the price you booked with Parkos. Upon your return to Fiumicino airport, the shuttle bus will take you back to your car and you can continue on your way home.
If you choose the car valet at Rome-Fiumicino Airport, instead, drive yourself to your airport terminal. A driver will be waiting for you to collect your car. Upon your arrival at the airport, thanks to your reservation, he will recognize your car and pick it up. Leaving it in the hands of a parking professional is safe. Give him the keys to your car and while you are checking in, your car will be parked. On your return, you will find your car directly at the airport and you can leave immediately to return home. The car valet service is really convenient, as you will not have to drive to the Fiumicino parking lot, but you will have to drive directly to the airport.

Safety: to offer only safe park and fly services for short and long stay, Parkos carries out regular inspections at its parking providers. All our airport parking lots are under video surveillance. You can check all the security measures of the parking lots in the Security section of each supplier.

Plan your trip: to get the best start to your trip, download your itinerary to the long-stay parking lot you booked from your voucher. Alternatively you can organize your trip from your reserved Parkos area.
Parking providers at Rome Fiumicino Airport