Genoa Airport Parking
Genoa Airport, also known as Genoa Cristoforo Colombo Airport, is the main international gateway to the Italian city of Genoa and the surrounding region of Liguria. Convenient parking options are available at the airport to cater to the needs of travelers. Whether you're going on a short business trip or embarking on a long-awaited vacation, Genoa Airport provides a range of parking choices to ensure a hassle-free experience.
Table of content:
The airport features a single terminal building that handles both domestic and international flights. This modern and efficient terminal offers a variety of facilities and services, including duty-free shops, restaurants, and lounges, making it a pleasant and convenient place for passengers.
Cheap parking at Genoa Airport
When you're traveling abroad, finding affordable and secure parking for your vehicle is essential. Parkos, a trusted parking platform, can help you discover various parking options and compare them for your convenience. The parkings recommended by Parkos are located in safe and reliable areas, and they often offer lower rates compared to parking directly at the airport.

To reach Genoa Airport, you can utilize several transportation options. Public buses, taxis, and private shuttles are available, ensuring easy access from the city center and surrounding areas. Planning your journey in advance and considering factors such as traffic and the time required for check-in and security procedures will help you arrive at the airport on time.

Genoa Airport offers different types of parking facilities to suit your preferences. Whether you opt for shuttle parking or valet parking, you can find a solution that best fits your needs. These parking services provide convenient and efficient options to ensure a smooth transition between your vehicle and the airport.

At Parkos, customer reviews and experiences play a significant role in assessing the quality of car parks at Genoa Airport. This feedback-based approach ensures that the providers are evaluated based on real customer experiences, enabling you to make an informed choice when selecting your parking service.
Shuttle and valet parking at Genoa Airport
When it comes to parking at Genoa Airport, both shuttle parking and valet parking are available to enhance your parking experience.
Shuttle parking Genoa Airport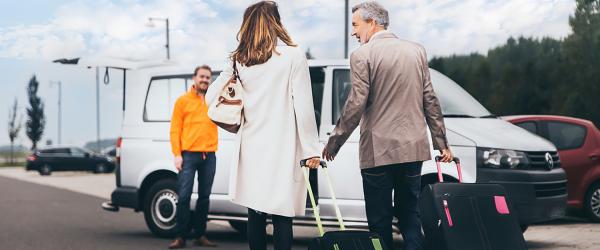 Shuttle parking at Genoa Airport offers a convenient solution for travelers. Upon arrival at the parking facility, you can park your vehicle securely and board a shuttle bus that will transfer you directly to the airport terminal. The shuttle service operates at regular intervals, ensuring prompt transportation to and from the airport. When you return, the shuttle will be ready to pick you up and take you back to your parked vehicle.
Valet parking Genoa Airport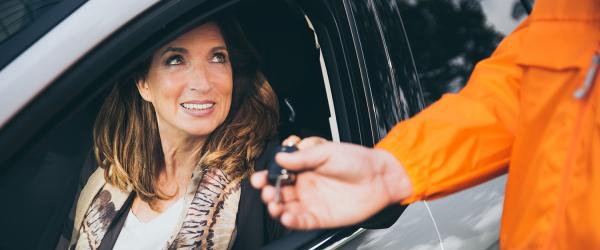 Valet parking provides a premium and hassle-free parking option at Genoa Airport. With valet parking, you can simply drive your vehicle to the airport terminal, where a professional valet driver will meet you. They will park your car in a secure parking area, allowing you to proceed directly to the check-in area without the need for additional transfers. Upon your return, your vehicle will be brought to the terminal for your convenience.
Hotel and Parking
For travelers seeking the utmost convenience, Genoa Airport also offers hotel and parking options. Many hotels in the vicinity of the airport provide parking facilities, either outside their premises or in underground parking facilities. This combined hotel and parking solution is particularly suitable for long-haul travelers who prioritize secure and convenient parking.
Long term Genoa airport parking
When it comes to long-term parking at Genoa Airport, Parkos is your go-to platform for finding the best daily offers from reliable providers. We ensure that all operators listed on our platform have been personally inspected by our colleagues, guaranteeing their quality and reliability.

Compare the differences between the parkings: At Parkos, you'll have access to a comprehensive list of parking operators offering long-term options. Our team personally inspects each provider, ensuring that you receive the best offers per day. This meticulous inspection process allows us to maintain high standards and provide you with trusted parking options.

Compare the different options: Comparing the differences between parking options offers several advantages. By evaluating factors such as price, convenience, and customer reviews, you can make an informed decision and select the parking service that best suits your needs. Parkos provides a user-friendly comparison tool that allows you to assess and analyze various parking services, including shuttle and valet options, enabling you to choose the one that aligns perfectly with your preferences.

Safety: Safety is of utmost importance at the private parking providers recommended by Parkos. These facilities implement stringent security measures, such as CCTV surveillance, secure fencing, and well-lit parking areas, ensuring the safety of your vehicle throughout your extended absence. You can have peace of mind knowing that your car is in safe hands while you travel.

Plan your trip: Planning your trip to the airport is crucial for a stress-free experience. Take into account factors like traffic conditions, the distance from your location to the airport, and the time required for check-in and security procedures. By organizing your trip effectively and allowing ample time, you can minimize any potential delays and start your journey smoothly. Parkos is here to assist you in finding the perfect long-term parking solution for a hassle-free experience from start to finish.
Our benefits
All parking lots are carefully inspected
The best deals on airport parking
Free cancellation up until 24 hours
Over 4 million customers globally