We help you compare parking prices at Cologne Bonn Airport.
What makes Parkos unique?
All parking lots are carefully inspected
Free cancellation up until 24 hours before departure
How can we help you?
Our experts are here to assist you with comparing parking locations and are happy to answer any questions you may have.
Please contact us
Customers rate our car parking providers with an average of 4.4
Customers who have booked a parking space through us, rate these with an average of 4.4/5 based on 531 reviews.
Jeffrey Sunday 24 October 2021
Were received well and quickly taken to the airport. Nice that the staff parked our car for us.
Anonymous Sunday 24 October 2021
Straightforward website, booking was quick and easy!
Parking at Cologne Bonn airport
During your holiday or business related travel you want your car to be parked safe and reliable. At Parkos you can compare the different parkings at different airports and book your parking space easily. You can find the best long term or short term parking zone near the airport for the lowest prices on our website. These parkings are located north-west of Cologne Bonn Airport, to a 5-10 minutes drive. The car park providers at this airport are located near the highway and are easily accessible. Through Parkos you can compare different providers easy and fast for the lowest price guarantee, without extra costs. You can bring your keys with you or you can leave them safely at the parkings. Valet or shuttle bus parking, inside or outside parkings, there are so many possibilities for parking lots at Cologne Bonn Airport.
Passengers
| Year | Number |
| --- | --- |
| 2013 | 9.077.000 |
| 2014 | 9.450.500 |
| 2015 | 10.338.300 |
| 2016 | 11.910.000 |
| 2017 | 12.384.000 |
The modern Cologne Bonn Airport transports million of passengers every year to 130 different locations. In terms of passengers, it has the seventh position of airports in Germany. It is located about 12 kilometers from the city center. In the year 1913 the first airplane flew from the airport, in 2017 it transports 12,5 million passengers a year from two terminals: Terminal 1 and Terminal 2. It has an underground train station, has a large number (12.000) of parking spaces and is a base of the German air force. At this airport there is located different barracks with soldiers and civilian staff, these are engaged in the transport and safety of state visits and relief goods.
Book a parking spot online through Parkos!
Parkings are, just like flights, getting cheaper every year. Still, park directly at the Cologne Bonn International Airport is expensive. There are some alternative providers with less expensive spaces, just near the airport. These providers do not cooperate with the official airport, but nevertheless have an excellent service. You can immediately make a choice from one of our inexpensive car park operators, which will save you a lot of money. There is plenty of choice for Cologne but be sure that you book a spot at a car park in time!
Parking reservations - The most current information for Cologne Airport
| | |
| --- | --- |
| Number of car parks: | 1 car parks |
| Best rated: | Park-Safe |
| Cheapest: | Park-Safe |
| Closest to airport: | Park-Safe |
Cheap parking spaces at Cologne Bonn Airport
When you are on your holiday abroad, your vehicle should of course also have a nice parking spot. Parkos will show you some different parkings and will compare them for you. The locations of the parkings are really safe and reliable. Next to safe and reliable we offer you a lower parking rate than the prices of the parkings directly at the airport, such as Cologne Bonn Airport P2. The reviews and experiences of customers are very good. Because the distance between the terminal and the parkings is too far to walk, all the parkings will bring you to the terminal by their free shuttle bus transfer.

You never have to use the public transport because of the shuttle bus. The duration of the transfer from the car park to the terminal is different per provider. There are two different parkings and options. There is a possibility for shuttle or valet parking. Both short term parking and long term parking are also possible. Free airport parking spots are unfortunately but ofcourse not possible. Make sure you have a parking space and book a spot via Parkos now.

The fact that the alternative providers offer you a cheaper service does not mean that the service is not of the same level as the parkings that are owned by the official airport. The alternative car parks are always near the airport and you can park your vehicle without any worries. Valet parking is the same as using a car park of Cologne airport, the only difference is that employees of the parkings will park your vehicle for you. The employees will help you with your luggage and you are able to use additional services like a child seat or maybe a full car wash programme while you are away. In this way you will return home with a clean vehicle. Airport parking at one of the alternative providers is not per definition lower in quality or worse in level of service. All the providers are opened 24 hours a day 7 days a week.

The reviews at Parkos about the car parks at Köln Bonn are based on customer experiences. Our customers are invited to judge the providers on their own experiences. Parkings at Cologne Airport are assessed with an 8,7 average.
Shuttle parking and valet parking
Shuttle parking and valet parking, these are the two different options we offer you for the parkings at the Cologne airport. How it works? You can read here!
Shuttle parking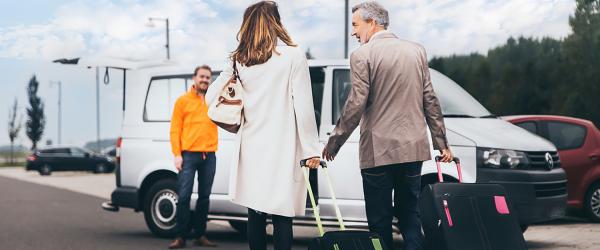 The two different forms of parking that are being handled at the offered providers are shuttle and valet parking. Shuttle parking means that you drive your car to the car park by yourself. An employee of the parking lot will bring you to the terminal with a free shuttle transfer. On your flight back you will call the provider again, when your airplane landed in Cologne and you will be picked up from the arrivals terminal and taken back to your parked vehicle. The shuttle bus will always be free, the price you see in our comparison tool is the only price you will have to pay. This will make parking at this airport cheap for everyone. There are fifteen different providers which you can choose from. If you pick one of the providers we offer, you will not have to use the public transport and you do not suffer from the crowds at the airport. When you choose the shuttle transfer, there is a difference between indoor and outdoor car parks. For more questions about parking at Cologne Bonn you can take a look at our Frequently Asked Questions or you can contact our Customer Service.
Valet parking Cologne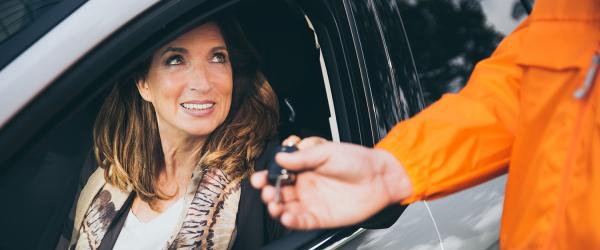 Valet parking will save you time and money. You drive in your own car to the departures terminal and there will be an employee of the park operator to pick up your vehicle. You drive to the meeting point which will be mentioned in your confirmation mail, which you will receive when you make your reservation. Your vehicle will be transported by an employee of the provider to the parking you have booked somewhere near the airport. In the reservation form you choose if you want your car to be parked indoor or outdoor. You will have to call the provider before you arrive at the departures terminal and when you landed back on the airport. It is necessary that the provider knows at what time you will arrive so there will be an employee at the terminal to pick up your car. Valet parking is the most comfortable way of parking at the airport. For more questions about airport parking at the Cologne airport you can take a look at our Frequently Asked Questions or you can contact our Customer Service.
Long term car park for Cologne Bonn Airport
Long term parking is no problem with Parkos. Because at Parkos you will find the best offers from providers per day. All operators will be listed for you, they are all personally inspected by one of our colleagues. You can park safely at all our partners.
We got a few tips for you for long term parking Airport Cologne Bonn:

Compare the differences between the parkings: Compare the parkings with each other so you will find that one parking lot that fits you the best. Every customer has its own preferences and every provider has its own unique selling points. Booking a parking lot via Parkos is cheap and it will save you a lot of time and money during your trip.

Compare the different options: Make a choice between two different options. If you prefer to drive to the terminal and let your vehicle be taken by a driver, you choose for the valet service. If you prefer to park your vehicle yourself and let a shuttle bus drive you to the terminal you pick the shuttle. The difference between those two parking possibilities is good to know before you make your online reservation via Parkos.
The shuttle transfer includes that you drive to the parkings yourself to park your vehicle. After this you will be taken to the terminal by a free shuttle service. On your way back home this service will bring you back to your parked vehicle so you can pursue your way home. The cheapest and easiest way when you want to park at the airport of Cologne is when you choose the shuttle bus transfer.
Valet parking means that you drive yourself to the terminal. At the terminal there will be an employee of the park operator waiting for you to pick your vehicle and park it at their parking area or parking garage around the airport. After you handed over your vehicle you can walk into the terminal. Your car will be waiting for you when you land at the airport. This means that you can pursue your way home directly from the airport in your own car. You can book your valet parking service through Parkos.

Safety: Did you compare the different parkings we offer via our webiste? That means that you want to park your car on a safe way. The parkings at the Cologne airport are all fenced and are equipped with cameras in a security area. All the parkings are personally inspected by one of our colleagues. On our website you will find all the information you want of the specific parkings.

Plan your trip: You have to prepare your journey before you are leaving and before you are going to one of the park operators you booked via Parkos. Parkos recommends to plan your journey to avoid unpleasant surprises, such as traffic chaos or road works. You can use the route planner from Parkos to map the fastest route to the airport or the booked car park.
Parking providers at Cologne Bonn Airport