Basel Airport Parking
Like most travelers, you probably prefer to drive to Basel Mulhouse airport for your departure on vacation. This allows you to be independent of public transport and you save time, on the way there and back. To find a parking space at Basel Mulhouse airport, do not hesitate to compare the offers offered by our different suppliers. They are all located near the airport for a simple and efficient service. Booking in advance avoids wasting time finding a parking space on the day of your departure, which can be very stressful. You also save money with our great offers. Our site also allows you to plan your route to the car park of your choice.
Table of content:
Basel Mulhouse Freiburg International Airport or EuroAirport is a Franco-Swiss international airport located in the French Alsatian municipalities of Saint-Louis and Blotzheim, between Mulhouse, Basel, and Friborg-en-Brisgau. It is therefore on the borders of France, Switzerland and Germany. Its status as a "binational" airport implies the presence of a Swiss part and a French part. It is the only airport in the world to have this status. With more than 8 million passengers in 2018, it is the most important airport in the Grand Est, seventh French airport behind, in particular, Roissy Charles de Gaulle and Marseille Provence. It is also the third largest airport in Switzerland after Geneva and Zurich. It is the main base of the airlines Easyjet, ASL Airlines and TUIfly. It serves in particular regular destinations in Europe and the Mediterranean basin. This French airport is located about 35 minutes from Mulhouse TGV station.
Plane tickets are getting cheaper and cheaper, so there is no question in breaking the bank by reserving an overpriced parking space. Several private car parks near the airport offer their services for more than affordable prices. These companies work independently from the airport while offering you a shuttle and / or valet service in Mulhouse. Most of the time, you will save compared to official airport parking lots. Some service providers offer outdoor spaces, while others have covered parking. Compare and book now, parkos always allows you to make good deals!
Parking space reservation - The latest information for Basel Mulhouse Airport
| | |
| --- | --- |
| 🚙 Parking options: | 4 |
| 🏆 Best rated: | Hotel & Spa La Villa K |
| 💶 Cheapest: | Alyse Parc Auto Bâle-Mulhouse |
| 🛫 Closest to airport: | Hotel & Spa La Villa K |
Cheap Mulhouse Airport parking
Nobody wants to spend an astronomical sum, whether it is to park at Mulhouse airport or elsewhere. Private car parks understand this and offer travelers an affordable alternative to official airport parking. The official car parks at this airport are in particular the F6 car park and the Express car park. Our service providers are located outside the airport, which allows them to offer you attractive prices. Indeed, their rents are cheaper and they therefore offer you a cheap service without skimping on the quality of services.

Some suppliers, including Airport Parkservice and Relaxpark in Basel Mulhouse, are thus firmly established on Kiesheckerweg. All providers are located a maximum of 15 minutes drive from the airport, so you don't have to plan a lot of extra time to park. Alyse Parc Auto is also a well-known service provider present at this French airport.

Maybe you too are one of those people who think that "cheap" is necessarily synonymous with "poor quality". At Parkos, we want to prove the reverse to you. We carefully choose our parking providers so that you always benefit from quality service. Due to the strong competition near airports, our providers are forced to offer low prices and impeccable service to keep customers coming back.

To ensure that all of our customers are happy, we regularly check the satisfaction of our customers. These help us to improve our business, but also to give feedback to our providers. Our customer reviews are very important to us, and we work every day to improve our services and cooperation with our providers. To give you a realistic and honest idea of our service, we publish reviews of customers who have already booked with Parkos.
Shuttle and valet
There are two types of parking near Basel Mulhouse airport for long-term parking: shuttle and valet. You will find more information on these different services below.
Shuttle parking (Park & Drive)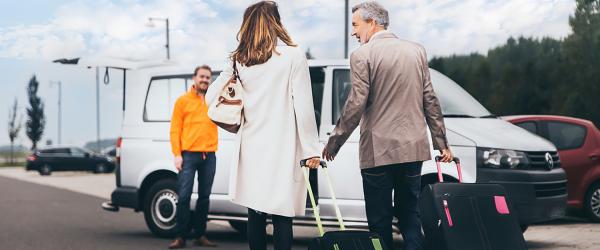 However, if you go for the shuttle service, you choose the cheapest option. This is valid for all airports, and not only Basel Mulhouse Freiburg. This service offers the best prices. All our partners are located near the airport so that your journey does not take more than a quarter of an hour. Your booking confirmation will tell you the address of the car park of your choice and you can then go there on the day of your departure. You then park your car and take the shuttle that will take you to the airport. Free shuttles run regularly and transfers are included in the price of parking. The price to pay on our site is therefore the final price. When you come back, Call the shuttle when you have collected your luggage and it will pick you up quickly. She will drop you off at the parking lot so that you can pick up your car.
Valet parking (Meet & Greet)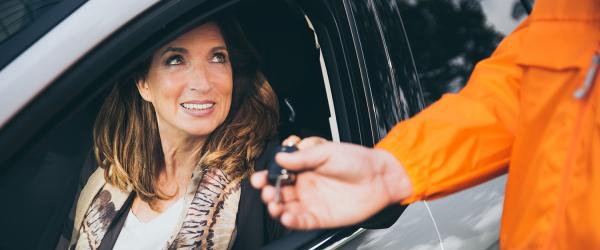 Valet parking is without doubt the most comfortable. You just have to go to the airport in your vehicle and an employee of the chosen supplier will take care of everything. He will be waiting for you at your departure terminal and will take care of parking your car at the company's property. After making a reservation, you will receive an email confirmation with all the necessary instructions for the day of your departure and return. You will also find the valet parking number there, which you must dial before arriving on site. When you opt for valet parking, you don't go through the provider's parking lot. The valet will take care of the parking of your car, in the parking lot you have chosen. On the way back, it will bring your vehicle back to the desired terminal and you can then easily get back on the road. In short, this service, although sometimes expensive, is perfect if you want a convenient and fast solution. This option is particularly popular with families with young children and people with reduced mobility, but also if you are traveling with bulky items (oversized luggage).
Park at Basel Mulhouse airport

Compare the differences between the parkings: Parkos allows you to have a clear view of the different offers from our suppliers. Prices in official airport car parks are generally more expensive than those in nearby private car parks. If you park your car for a long time, you may have a nasty surprise when it comes time to checkout. We therefore encourage you to search and compare the place that will suit you best. In particular, you have the choice between an outdoor car park and a covered car park. Compare and book the ideal car park on our site! Note that our site lists customer reviews to help you make a choice. These are posted by our previous customers, so you can be sure of their authenticity.

Choose the service that suits you: Some prefer to see the car park where they leave their vehicle and take advantage of the lowest prices, while others opt for the comfort offered by a valet. It's up to you to see which service between shuttle and valet parking best suits your needs and your budget
With the shuttle service, you go to the supplier's field on the day of departure. A shuttle will then take you to the airport. Once back, a shuttle will pick you up from the terminal and bring you back to the parking lot so that you can collect your vehicle.
Valet parking, on the other hand, saves you a lot of time. You go directly to the airport and the valet picks up your car there. You can therefore go to the check-in counters quickly while the parking attendant will take care of parking your car for you. On your return, a valet will bring your vehicle back to you so that you are back on the road as soon as you exit the airport. With this option, you save up to an hour of time, which is not negligible. This service is also preferred by people with reduced mobility.

Safety: Your car is safe with our suppliers, but that does not mean that they all have the same safety measures. We only work with reliable car parks and are in contact with our partners regularly in order to offer you the best offers. On the page of each car park, you can consult the various security measures in force as well as other important information about each provider.

Plan your trip: before you go to your chosen parking lot at Basel Mulhouse airport, you should plan your trip well. Indeed, Parkos recommends that you plan your trip in advance. Avoid roads with frequent traffic jams and pay attention to possible works on the way. It is wise to follow the traffic information to avoid unpleasant surprises. You can use our route planner to plan your route in advance.
Parked from 7/27/22 til 8/3/22
Thank you. Everything was well organized. Perfect communication. Staff was nice and cooperative. Will definitely consider this hotel during my next travel from Basel-Mulhouse-Freiburg Airport.
Parked from 12/29/22 til 1/2/23
Good parking place. Nice service. However, the location is abit far from the airport. We have to take a taxi on the return back to the Hotel parking.
Parking providers at Basel Airport (EuroAirport)
Our benefits
All parking lots are carefully inspected
The best deals on airport parking
Free cancellation up until 24 hours
Over 4 million customers globally