View the car parks on the map
https://eu.parkos.com/alicante-airport-parking/ https://eu.parkos.com/alicante-airport-parking/
Parking Alicante Airport
Imagine going to Alicante airport in your car. Not having to depend on a taxi, public transport, family, or friends to take you to the airport. Sounds good, doesn't it? But maybe you are stressed about finding airport parking? You're in luck: Parkos is the answer. Using our website you can reserve Alicante airport parking spaces. Compare prices, and choose the car park you like best, and make a reservation. Choose between indoor (covered parking) or outdoor parking, shuttle or valet service, and other options. For Alicante airport terminal, you can filter our parking partners to find the cheapest parking. Or maybe you are looking for the closest to the Alicante airport or with the best rating? No matter what, Parkos gives you plenty of options. No surprises, no stress, low price guarantee, and ultimate comfort.
Alicante-Elche Airport is also known as Aena El Altet Airport (ALC). The airport terminal is located 9 kilometers southwest of Alicante. In the municipality of Elche. Almost 80% of its traffic is international transfers. Most traffic is from the UK, Germany, or the Netherlands. This shows the importance of tourism in the area. Alicante-Elche is Spain's 5th largest airport with over 12.3 million passengers (2016). The Alicante airport opened in 1967 is one of Europe's 50 busiest airports. Already in 1971, the maximum passenger capacity was exceeded. Terminal 2 became operational in 2007. New accesses to the Alicante airport were built in 2009 and 2010. In 2011, a new Alicante airport terminal building opened with a capacity of 20 million passengers per year.
You have several options to book car parking at Alicante airport (short-term and long-term parking). Choose between covered or outdoor car parks or booking shuttle (free) or valet service. The choice of long-term parking space is all yours. Compare prices make your reservation from our website Parkos.es or English eu.Parkos.com. You will see that some first-class car park options offer extra parking facilities or services. This includes car wash options, interior cleaning, or refueling advance services.
Parking reservations - The most current information for Alicante-Elche Airport
| | |
| --- | --- |
| ? Parking options: | 6 |
| ? Best rated: | Monster Parking |
| ? Cheapest: | Monster Parking |
| ? Closest to airport: | The Clock Parking |
Low cost parking at Alicante Airport
Search, compare and book your parking spot at the low-cost Alicante airport parking. Don't leave it for the last moment. The earlier you look, the more parking offers you will be able to choose from. That way you will save more money than you thought with your booking form via Parkos. Once you fill out the book form, the price will be set and you won't have to worry about last-minute price increases. At Parkos, we work with the best short-term parking and long-term parking providers. We assure access to the best parking quality at your fingertips at the best price guarantee. See for yourself, park your car close to the Valencia airport. Choose between one of the parking slots and start saving in parking Alicante Airport.

At Parkos, you will find first-class parking slots near the passenger terminal de salidas. At Alicante-Elche Airport, parking is quick, easy, and convenient. If shuttle service (free) is too long for you, book a valet parking facility. A car park employee will collect your car and park it for you.

Associating "cheap" with "bad quality" is a mistake that can cost us a lot of unnecessary money. With Alicante airport car parking this often happens. We have in mind that parking is already expensive enough, so when we see the real parking fees it is hard to believe. We choose expensive first-class parking because we think the quality will be superior. We must ask ourselves how local parking can offer such prices? The answer is simple. They do not use expensive offices, large management teams, or unnecessary luxuries. What they do need is good customer service. They are aware that if they offer bad service, customers will not come back. All this makes it possible to be closer to the airport and offer higher quality at a lower price.

If you don't want to believe us, believe our customers. Please go to our review section and read their comments. The average score clients give partners is 8.4 points out of 10. These ratings will help you choose the best parking options. When you leave a review you will also help future customers. Your opinion helps us to detect weaknesses and improve the parking rates day by day.
Long-term Alicante airport parking
If you have a trip to Alicante in mind and need car parking for 2 or more days, book with us. At Parkos, you can find the best parking Alicante airport vehicle parking area providers. We offer both short-term parking and long stay car parks. With our comparator, you will have access to the best car parking services and facilities. Compare our most competitive prices. Be sure that we personally inspect all car parks. Your car will be in good hands.
To make the most of your stay, we invite you to follow the following advice:

Compare the different parking options. If you compare, you save money that you can spend on your flight or flights ticket. Visit our website, compare the different options and choose your perfect fit. Keep in mind your needs, at the best price. Our comparator will help you compare prices easily. You can also apply filters to the results according to your personal preferences.

Choose the type of car park you want. Park in an indoor, meaning covered parking space, or outdoor parking space, meaning open-air parking, area. Or if you need a fist class car park valet service, at Parkos, you will find what you are looking for. Other than that, choose other options/extras. Whether you want to hand over your car keys or not, or if you want extra Advance services and facilities such as a car wash. There are also multiple paying options such as debit, credit card, PayPal, or cash pay.
With parking Alicante airport shuttle parking, you have a cheaper option (free transfers). and in this case, you will be the one who drives to the car park areas and who parks the car. From arrival, you will have a short waiting time and be transferred to the airport by a shuttle bus for free. On the way back the same bus will return you from the airport terminal to the car park to pick up your car. Asking the parking partner employee to help you with your luggage is always a good option.
With the Valet parking at Alicante airport, you can drive straight to the entrance of the airport. There, a car park employee who will pick up your car and park it in the car park while you go directly to the airport. Although this option is a little more expensive, you lose less time and gain in comfort. Upon your return, you will be given the car at the agreed meeting point.

Safety: Making sure your vehicles stay safe in your absence is a top priority for us. That is why you can consult the security measures for each airport car park through our website. You will be able to see if they use a security staff or video surveillance cameras, or if the car park is closed. In addition, at Parkos, we inspect the Alicante airport car park areas in person. That way we can check that everything is working correctly.

Plan your trip: Plan your trip. With our route planner, you will be able to find the fastest way to get to Alicante airport (Spain) car parking places. It is never too early to plan your trip, arrival, and return. See what the location is. There are factors we cannot control. Whether it is bad weather, an accident blocking the road, or too much traffic to get out of town. That's why having an alternative route in mind and knowing the GPS coordinates is always a good idea, go to the link "plan your route". "plan your route".
https://eu.parkos.com/baden-baden-airport-parking/ https://eu.parkos.com/baden-baden-airport-parking/
Parking at the airport Karlsruhe / Baden Baden
The easiest way to get to the airport is still by car. So you don't have to rely on the train, nor do friends or relatives have to travel for you. You are also much more flexible with your own vehicle. However, the thought of the stressful search for a parking space or the expensive parking ticket already creates wrinkles on the forehead. But now we have the solution! Parkos offers you a selection of different parking spaces for parking at Karlsruhe Airport , so you can save yourself the search for a parking space on the day of travel and even have to pay less money.
The Airport Karlsruhe / BadenBaden FKB is the second largest airport in the state of Baden-Württemberg and is close to the French border. The former Canadian military airfield is now a base for the Irish airline RyanAir.
Since flying is becoming more and more popular and cheaper, it would be a shame to spend the money saved on the overpriced parking ticket after the trip. Better deals for parking are therefore being offered by companies who provide a parking space a little outside of Baden Baden FKB Airport for parking.
Parking space reservation - The latest information for Karlsruhe / Baden Baden Airport
| | |
| --- | --- |
| ? Parking options: | 2 |
| ? Best rated: | Last Minute Parking |
| ? Cheapest: | Parkservice am Baden Airpark |
| ? Closest to airport: | Parkservice am Baden Airpark |
Cheap parking at Karlsruhe Airport
Like the major German airports, such as Düsseldorf Airport or Frankfurt Airport, Karlsruhe Airport also offers its own parking spaces directly in front of the airport building. But these are usually very expensive. Other parking providers have also seen this and are now offering you cheaper alternatives.

Many of these providers are located just outside the airport. But the way from these parking areas to the terminal can usually be compared with the time you would otherwise spend looking for a parking space. The fact that you can then even save money increases the anticipation of the holiday even more.

However, "cheap" does not have to be associated with "poor quality". The parking providers attach great importance to excellent service and the customer is always king. In addition, all parking providers were visited and checked by Parkos themselves. This means that you can use Parkos to find the best parking spaces at Karlsruhe Baden Baden Airport.

Our customers always have the opportunity to report on their experiences at Parkos. So you can read these reviews with us and compare them so that you can find the perfect parking for yourself.
Shuttle and valet parking at Karlsruhe / Baden Baden Airport
As already mentioned, the parking areas of the alternative airport parking providers are usually a bit outside the airport itself. But that is not a problem either, as the owners offer a free airport transfer. You can choose between two different service variants: On the one hand, there is the shuttle service in which you drive to the parking area in your own vehicle and from there are brought to and picked up again by a shuttle bus to Karlsruhe Airport. On the other hand, there is the valet service, where you drive directly to the airport terminal and are met there by an employee of the parking lot provider. They will then park the vehicle safely and bring it back to the airport on the day you return. Since there are frequently asked questions about these transfer methods, these are explained in more detail below.
Shuttle parking (Park & Drive)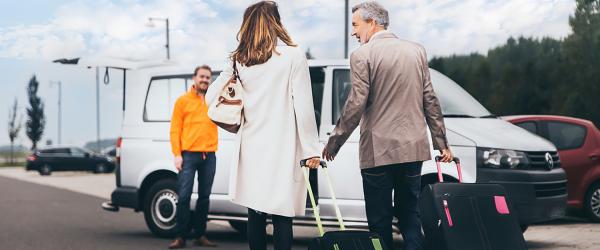 If you opt for the shuttle service at Karlsruhe Airport, you choose the usually somewhat cheaper transfer method. On the day of your trip, you drive directly to the parking lot of the provider you have booked. Once there, all you have to do is check in and park your vehicle. Then the free shuttle bus takes you to the terminal quickly and safely in just a few minutes. This is usually provided individually for you by the parking lot owners so that you don't lose any time. When you come back from your trip, you usually have to give the booked parking provider a quick call so that they know that you have arrived. The shuttle bus will then be ready for you again and drive you back to the park area. Once there, you can get back in your car and continue your journey home.
Valet parking (Meet & Greet)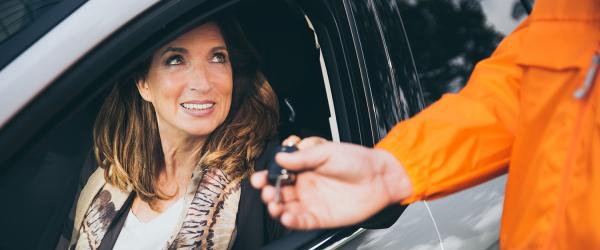 The valet service offers you an even more relaxed way of traveling. On the day of your departure, you drive directly to the airport building at Airport Karlsruhe FKB. Once there, an employee of the parking space reserved by you will be waiting for you and meet you. They will then recognize you by your car model and registration number, which you specified when you made your reservation. After a short check of the reservation confirmation and the vehicle, you can start the check-in straight away. In the meantime, the employee will drive your vehicle safely to the parking area. On the day of your return, he will bring the vehicle back to the airport and you can easily get in and continue your journey home. A shuttle transfer is therefore not necessary with this variant, because the handover takes place directly at the terminal. Parking at a cheap price at Karlsruhe Baden Baden Airport couldn't be easier or more convenient.
Long-term parking at Karlsruhe / Baden Baden Airport
Whether you only want to park for a few days or for several months, with Parkos you will always find the best deal for your parking duration, because we make parking from € 40 near Badenbaden Airport possible. The following applies: It pays to compare. Because, especially in the long term, the price of parking spaces can differ significantly and you want to make sure that you book the cheapest parking space, right? Consider the other information to make your trip as relaxed as possible:

Compare: Since we offer different parking spaces in Karlsruhe on our website, it is worthwhile to compare them with each other. So that you can find the perfect parking space for you, you can read about the security, price, facility or location of each parking space individually on Parkos and then make a decision. Book within 24 hours and you can also cancel free of charge up to 24 hours in advance. When you book online through us, your advantages are in the foreground and you reserve at the best conditions.

Choosing the parking method: You usually have the choice between shuttle or valet parking. This means that inexpensive parking in the immediate vicinity of the Baden Airpark is very easy. The shuttle service takes you to the airport and drops you off at your terminal. If you choose valet parking, you can simply drive straight to the airport and your vehicle will be picked up and parked for you.

Safety: When you park your car at Baden Airpark, safety is often an important issue so that you can sleep peacefully on your trip. You can therefore read up on the security measures for each parking space individually. So you can get detailed information about the security. In addition, all parking spaces are visited and checked by Parkos so that you can park without having to be unsafe.

Planning a route: planning is everything. Above all, this means that you plan enough time for both the journey to Baden Baden FKB airport or the parking area, as well as for the check-in and security control. You can use our route planner to show your route on the map so that you do not lose time for detours. On this page you will also find important information about the current traffic situation in Germany, so that hopefully everything goes well. Parking Karlsruhe Airport is easy with Parkos.
https://eu.parkos.com/basel-airport-parking/ https://eu.parkos.com/basel-airport-parking/
Basel Mulhouse Airport Parking
Like most travelers, you probably prefer to drive to Basel Mulhouse airport for your departure on vacation. This allows you to be independent of public transport and you save time, on the way there and back. To find a parking space at Basel Mulhouse airport, do not hesitate to compare the offers offered by our different suppliers. They are all located near the airport for a simple and efficient service. Booking in advance avoids wasting time finding a parking space on the day of your departure, which can be very stressful. You also save money with our great offers. Our site also allows you to plan your route to the car park of your choice.
Basel Mulhouse Freiburg International Airport or EuroAirport is a Franco-Swiss international airport located in the French Alsatian municipalities of Saint-Louis and Blotzheim, between Mulhouse, Basel, and Friborg-en-Brisgau. It is therefore on the borders of France, Switzerland and Germany. Its status as a "binational" airport implies the presence of a Swiss part and a French part. It is the only airport in the world to have this status. With more than 8 million passengers in 2018, it is the most important airport in the Grand Est, seventh French airport behind, in particular, Roissy Charles de Gaulle and Marseille Provence. It is also the third largest airport in Switzerland after Geneva and Zurich. It is the main base of the airlines Easyjet, ASL Airlines and TUIfly. It serves in particular regular destinations in Europe and the Mediterranean basin. This French airport is located about 35 minutes from Mulhouse TGV station.
Plane tickets are getting cheaper and cheaper, so there is no question in breaking the bank by reserving an overpriced parking space. Several private car parks near the airport offer their services for more than affordable prices. These companies work independently from the airport while offering you a shuttle and / or valet service in Mulhouse. Most of the time, you will save compared to official airport parking lots. Some service providers offer outdoor spaces, while others have covered parking. Compare and book now, parkos always allows you to make good deals!
Parking space reservation - The latest information for Basel Mulhouse Airport
| | |
| --- | --- |
| ? Parking options: | 3 |
| ? Best rated: | Hotel & Spa La Villa K |
| ? Cheapest: | Alyse Parc Auto Bâle-Mulhouse |
| ? Closest to airport: | Hotel & Spa La Villa K |
Cheap Mulhouse Airport parking
Nobody wants to spend an astronomical sum, whether it is to park at Mulhouse airport or elsewhere. Private car parks understand this and offer travelers an affordable alternative to official airport parking. The official car parks at this airport are in particular the F6 car park and the Express car park. Our service providers are located outside the airport, which allows them to offer you attractive prices. Indeed, their rents are cheaper and they therefore offer you a cheap service without skimping on the quality of services.

Some suppliers, including Airport Parkservice and Relaxpark in Basel Mulhouse, are thus firmly established on Kiesheckerweg. All providers are located a maximum of 15 minutes drive from the airport, so you don't have to plan a lot of extra time to park. Alyse Parc Auto is also a well-known service provider present at this French airport.

Maybe you too are one of those people who think that "cheap" is necessarily synonymous with "poor quality". At Parkos, we want to prove the reverse to you. We carefully choose our parking providers so that you always benefit from quality service. Due to the strong competition near airports, our providers are forced to offer low prices and impeccable service to keep customers coming back.

To ensure that all of our customers are happy, we regularly check the satisfaction of our customers. These help us to improve our business, but also to give feedback to our providers. Our customer reviews are very important to us, and we work every day to improve our services and cooperation with our providers. To give you a realistic and honest idea of our service, we publish reviews of customers who have already booked with Parkos.
Shuttle and valet
There are two types of parking near Basel Mulhouse airport for long-term parking: shuttle and valet. You will find more information on these different services below.
Valet parking (Meet & Greet)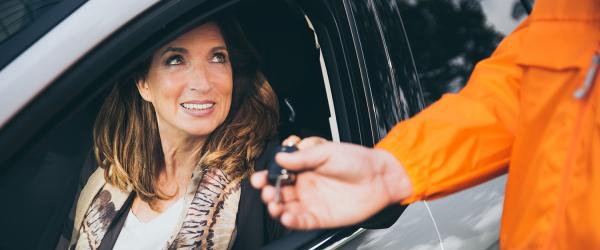 Valet parking is without doubt the most comfortable. You just have to go to the airport in your vehicle and an employee of the chosen supplier will take care of everything. He will be waiting for you at your departure terminal and will take care of parking your car at the company's property. After making a reservation, you will receive an email confirmation with all the necessary instructions for the day of your departure and return. You will also find the valet parking number there, which you must dial before arriving on site. When you opt for valet parking, you don't go through the provider's parking lot. The valet will take care of the parking of your car, in the parking lot you have chosen. On the way back, it will bring your vehicle back to the desired terminal and you can then easily get back on the road. In short, this service, although sometimes expensive, is perfect if you want a convenient and fast solution. This option is particularly popular with families with young children and people with reduced mobility, but also if you are traveling with bulky items (oversized luggage).
Shuttle parking (Park & Drive)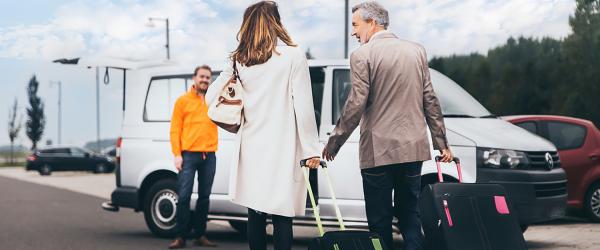 However, if you go for the shuttle service, you choose the cheapest option. This is valid for all airports, and not only Basel Mulhouse Freiburg. This service offers the best prices. All our partners are located near the airport so that your journey does not take more than a quarter of an hour. Your booking confirmation will tell you the address of the car park of your choice and you can then go there on the day of your departure. You then park your car and take the shuttle that will take you to the airport. Free shuttles run regularly and transfers are included in the price of parking. The price to pay on our site is therefore the final price. When you come back, Call the shuttle when you have collected your luggage and it will pick you up quickly. She will drop you off at the parking lot so that you can pick up your car.
Park at Basel Mulhouse airport
With Parkos, you can park your car near Basel Mulhouse airport for a long time, but at a low price. Whether you are traveling for only two days, or, on the contrary, one month, you will find an offer corresponding to your needs with one of our providers. You can easily compare prices on our website in order to find the cheapest deal. We select our suppliers with care in order to offer you the best possible service. In this way, you can park your car safely without any unnecessary expense. We have also written some tips to help you choose a parking space on our site:

Compare: Parkos allows you to have a clear view of the different offers from our suppliers. Prices in official airport car parks are generally more expensive than those in nearby private car parks. If you park your car for a long time, you may have a nasty surprise when it comes time to checkout. We therefore encourage you to search and compare the place that will suit you best. In particular, you have the choice between an outdoor car park and a covered car park. Compare and book the ideal car park on our site! Note that our site lists customer reviews to help you make a choice. These are posted by our previous customers, so you can be sure of their authenticity.

Choose the service that suits you: some prefer to see the car park where they leave their vehicle and take advantage of the lowest prices, while others opt for the comfort offered by a valet. It's up to you to see which service between shuttle and valet parking best suits your needs and your budget.
With the shuttle service, you go to the supplier's field on the day of departure. A shuttle will then take you to the airport. Once back, a shuttle will pick you up from the terminal and bring you back to the parking lot so that you can collect your vehicle.
Valet parking, on the other hand, saves you a lot of time. You go directly to the airport and the valet picks up your car there. You can therefore go to the check-in counters quickly while the parking attendant will take care of parking your car for you. On your return, a valet will bring your vehicle back to you so that you are back on the road as soon as you exit the airport. With this option, you save up to an hour of time, which is not negligible. This service is also preferred by people with reduced mobility.

Safety: your car is safe with our suppliers, but that does not mean that they all have the same safety measures. We only work with reliable car parks and are in contact with our partners regularly in order to offer you the best offers. On the page of each car park, you can consult the various security measures in force as well as other important information about each provider.

Plan your trip: before you go to your chosen parking lot at Basel Mulhouse airport, you should plan your trip well. Indeed, Parkos recommends that you plan your trip in advance. Avoid roads with frequent traffic jams and pay attention to possible works on the way. It is wise to follow the traffic information to avoid unpleasant surprises. You can use our route planner to plan your route in advance.
https://eu.parkos.com/bergamo-orio-al-serio-parking/ https://eu.parkos.com/bergamo-orio-al-serio-parking/
Parking at Orio al Serio Airport
More than 10 million passengers travelled via Bergamo Orio al Serio Airport (BGY) during the last year, making Orio al Serio one of the biggest airports in Italy. Located in the region Lombardia, not far away from Milan, Orio al Serio Airport is the biggest airport in Italy where low cost airlines operate, among which the biggest are Ryanair, Meridiana and Wizz Air.
Safe and convenient parkings at Bergamo Orio al Serio
Don't wait till the last minute for booking your safe and convenient parking spot. The prices on our website are real time updated and may change according to the availability of the parking company. We recommend to book your parking in advance if you want to find the cheapest price. Thanks to your reservation a parking spot will be reserved for you. So you can start the journey stress free.

Looking for long term parking near Orio al Serio? With Parkos it's very easy to find the cheapest option near the airport and reserve a spot today. We offer both indoor and outdoor parkings. Are you flying with Ryanair? You may want to save money on your flying ticket and parking ticket. Start comparing the parking options now and choose the the best parking for your next holidays.

You can booked safely via our website even a few years in advance. All our parkings are safe. How do we know that? Because we inspect them personally. Only parkings which match our standards belong to our network. We want to offer only the best service to our customers. That's why you can choose among more options: indoor and outdoor parking, shuttle and valet parking.

We suggest you visiting our reviews page to read what other users experienced at our parkings. For us reviews are extremely valuable because they help us rating our parkings and improving our services. They are autentic, and we suggest to take into account especially the most recent ones.
How to park at Orio al Serio airport
Long term parking has never been so pleasant. No matter how long you stay, we have a solution for everyone. You can trust our partners because we have tried them ourselves first.
Here are our tips to book and park with Parkos:

Compare the parkings to find the one for your needs. If you don't mind to take the shuttle you can save a lot of money on your travel.

View the car parks on the map
Customers rate our parking providers with an average of 8.7
Parked from 12/26/22 til 1/6/23
Parked from 12/17/22 til 12/24/22
Parking providers at Hannover Airport
The benefits of Parkos
All parking lots are carefully inspected
The best deals on airport parking
Free cancellation up until 24 hours
Over 2 million customers globally