Information
Parking providers
5
Top rated
Park & Fly Hannover
Cheapest
drive&park Hannover
Closest to the airport
Park & Fly Hannover
Table of content:
Parking at Hannover Airport
Compare the best parking providers for Hannover airport

Driving to Hannover Airport by car is definitely the most convenient option. In this way, you are also independent of public transport and can quickly continue on your way home after landing. Since official parking at Hannover Airport is usually very expensive, Parkos offers you the opportunity to compare different parking providers in the north and find the best parking space for you and reserve it online. Avoid unnecessary stress before your trip and compare our cheapest offers, because with Parkos you can start your holiday completely relaxed.
Hannover-Langenhagen Airport is approx. 10 km from the center and is the most important international hub in the state of Lower Saxony. In the list of airports in Germany with the highest number of passengers, this Lower Saxony airport is in 9th place. The airport is home to the TUIfly airline and is Germany's largest night airmail location. Since almost 6 million passengers fly from Langenhagen every year, a lot of parking spaces are required at the airport and that is exactly what makes Hannover Parking so expensive.
Parking space reservation - The latest information for Hanover Airport
| | |
| --- | --- |
| 🚙 Parking options: | 3 |
| 🏆 Best rated: | Park & Fly Hannover |
| 💶 Cheapest: | drive&park Hannover |
| 🛫 Closest to airport: | Park & Fly Hannover |
Parking spots at the Hanover airport
For your trip you need a cheap parking space and of course you prefer to drive to the airport with your own car. Of course, it is then important to know where to park your car safely and near the airport. Driving to Hannover Airport without a parking space is not the best idea, as the official providers are not only significantly more expensive, but can also be booked out quickly, especially in the high season. With Parkos you can book a cheap parking space online with one of our partners in the immediate vicinity of the airport.

You have the opportunity to compare different parking providers and their services on our website at the best prices. A low price is often associated with poor quality or poor service. This is not the case with Parkos, because our parking providers can offer you these spaces for less, as the rental prices outside are cheaper.

Before a parking provider is listed on our website, it is subjected to strict quality controls. But quality is also very important to the alternative parking providers at Hanover Airport itself. Because of the high level of competition, it is important that the service remains consistently good, otherwise customers will not return.

Our customers think that everything went smoothly with our parking providers. Therefore they rate it with a 4.62/5. To help you decide which of these providers to book a parking space with, please feel free to read the latest customer reviews and experiences before you reserve online.
Cheap parking at Hannover Airport
Shuttle and Valet parking
Only you decide which service suits you best. On our comparison website we offer you the choice between shuttle parking and valet parking. Find the cheapest offers and start your search for a parking space with Parkos. Below we give you an impression of the different shuttle parking and valet parking services.
Shuttle Parking (Park & Drive)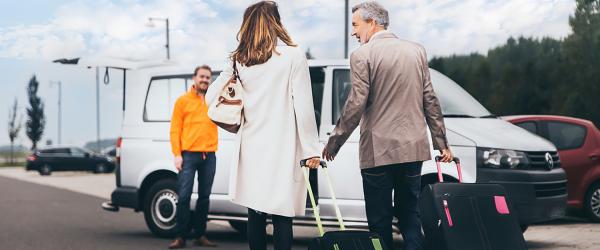 If you want the shuttle service to the airport HAJdecide, then drive your own car directly to the car park of the provider you have booked in advance on the day of your trip. You can park your car there and, if necessary, a helpful driver is available to load and unload your luggage. From the parking area, an employee will take you to the airport within a few minutes. A free shuttle bus will take you directly to the departure hall. The shuttle service to the airport usually only takes a few minutes, a maximum of half an hour, and of course the transfer to the airport is included in the price. On your return journey, call the parking provider you have booked directly after you have received your luggage and they will pick you up at the agreed meeting point to bring you directly to your vehicle.
Valet Parking (Meet & Greet)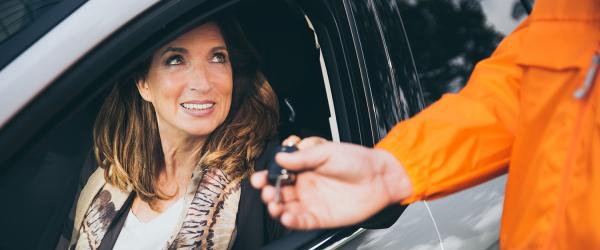 Valet parking is the most comfortable and relaxed service that our parking providers have on offer. In this case, you do not have to drive to the provider's parking lot first; you can drive your own car directly to the departure hall of the airport. There, an employee of the parking lot where you booked a parking space will be waiting for you and after a brief damage check will take your vehicle. The driver will then bring your vehicle to the secure area of ​​the parking provider and you can go straight to the check-in. On your return journey, simply call the parking provider as soon as you have your luggage back. Of course, the driving service is included in the price shown. This will take your car straight away to the terminal at HAJ Airport, so that you can continue your journey home quickly and without the potentially long waiting times. This method of parking is not only more convenient, but also faster, as you don't have to factor in long waiting times for the shuttle bus. Your vehicle will be brought directly to the airport for you.
Long-term parking at Hannover Airport
Regardless of whether you want to park your vehicle for one or more days at Hannover Airport HAJ, it is worth taking a look at the alternative parking providers around Hanover Airport. It is worth comparing, as parking for a long time at Hannover Airport can be very expensive. A guaranteed parking space is available to you after booking.
Here we have put together some tips for parking at Hannover Airport for a longer period of time:

Compare: Since the selection of alternative parking spaces at Hanover Airport is very large, it is definitely worth comparing them. Here you can also check availability and book your parking space online. All of our parking providers are checked for you and summarized in an overview.

Customer reviews: We value the opinion of our customers when they book through us. Since we do not have a parking area ourselves, but forward the reservations, it is important that we hear from you about your experiences with the parking provider and whether everything went smoothly. In this way, we can intervene more quickly and take appropriate action in the event of problems.

Security: Die eingezäunten Gelände unserer Parkanbieter im Norden sind gut überwacht. Die Parkgelände sind dabei teils von Personal und teil von Kameras überwacht. An manchen Geländen finden Sie sogar Personal das rund um die Uhr anwesend ist. Ihr Auto ist also in guten Händen. Dies gilt natürlich auch für unsere anderen Flughäfen, wie zum Beispiel Flughafen Bremen, Flughafen Frankfurt, Berlin Tegel oder sogar Flughafen Amsterdam.

Plan your route:As the parking facilities at Hanover Airport are usually a little out of the way, it is important that you plan your trip well in advance. Our Travel directions will help you here . Hannover Airport parking is easy with Parkos.
Information
Parking providers
5
Top rated
Park & Fly Hannover
Cheapest
drive&park Hannover
Closest to the airport
Park & Fly Hannover
Customers rate our parking providers with an average of 8.4
Good service. Payment is only cash.
Anonymous
Shuttle outdoor
August 28, 2022
Very bad. My flight was cancelled and I've returned home. I've made a new booking three days after and I have payed the total amount again. Very disappointed.
Carlos ventura ferreira de carvalho
Shuttle outdoor
August 1, 2022
Parking providers at Hannover Airport
The benefits of Parkos
All parking lots are carefully inspected
The best deals on airport parking
Free cancellation up until 24 hours
Over 2 million customers globally