Parking at Hannover Airport
Table of content:
Driving to Hannover Airport by car is certainly the most convenient option. In addition, this way you are independent of public transport and can quickly continue your way home after landing. As official parking at Hannover Airport is usually very expensive, Parkos offers you the possibility to compare different parking providers in the north and find the best parking space for you and reserve it online. Avoid unnecessary stress before your trip and compare our cheapest offers, because with Parkos you can start your holiday relaxed.
Compare the best parking providers for Hannover airport
Hannover Airport is located about 10 km from the city centre and is the most important international hub in Lower Saxony, Germany. In the list of airports in Germany with the highest passenger volume, Hannover airport is ranked 9th. The airport is home to the airline TUIfly. With almost 6 million passengers flying from Hannover airport every year, a lot of parking spaces are needed at the airport and that's what makes Hannover parking so expensive. Our off-side parking partners offer the best quality airport parking for the best parking rates.
Parkings at Hannover Airport

At Hannover Airport, we believe in providing you with complete control over your parking choices. Comparing with Parkos allows you to apply various filters, ensuring you find the perfect parking spot tailored to your needs. Whether you prefer parking in multi-level parking garages or spacious outside parkings, the choice is yours. Planning a short trip or an extended stay? No worries, we've got you covered with flexible options for both long-term and short-term parking.

Experience the benefits of alternative parkings at Hannover Airport! Our carefully selected alternative parkings are strategically located near the airport, allowing us to pass on the benefits to you. Enjoy the advantage of lower property rent, which translates to a reduced daily parking rate without compromising on proximity to the terminals. Convenience is key, and that's why our parkings offer complimentary shuttle or valet services included in the price. When you choose Parkos, rest assured that your vehicle's safety is our top priority. We maintain strict adherence to high-security standards, ensuring your peace of mind throughout your parking duration. Our commitment to your safety goes beyond words - our team personally conducts regular checks of the alternative parkings to ensure they meet our stringent standards.

We understand that your peace of mind is essential, and that's why we encourage you to read the latest customer reviews. These genuine feedback from our valued customers will give you a real and insightful impression of each specific car park and the services they offer. Learn from the experiences of fellow travelers and make an informed decision when selecting the perfect parking spot for your journey.
Cheap parking at Hannover Airport
Valet and Shuttle parking
Only you decide which service suits you best. On our comparison website, we offer you the choice between shuttle parking and valet parking. Find the cheapest offers now and start your parking search with Parkos. Below we give you an impression of the different services shuttle parking and valet parking.
Shuttle service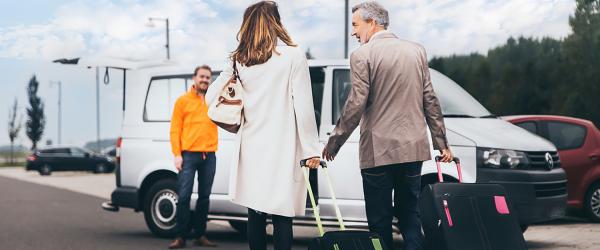 If you opt for the shuttle service to Hannover Airport, then on the day of your journey you will drive directly in your own car to the car park of the provider booked in advance. You can park your car there and, if necessary, a helpful driver will be on hand to help you load and unload your luggage. From the parking area, a member of staff will then take you to the airport within a few minutes. A free shuttle bus will take you directly to the departure hall. The shuttle service to the airport usually takes only a few minutes, a maximum of half an hour, and of course the transfer to the airport is included in the price. On your return journey, you call the parking provider you booked directly after you have received your luggage and they will pick you up at the agreed meeting point to take you directly to your vehicle. You will always find the number of the parking provider in your reservation confirmation.
Valet parking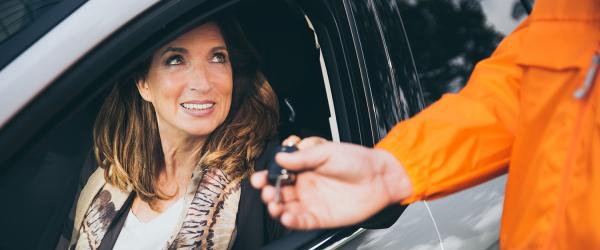 Valet parking is the most comfortable and relaxed service that our parking providers offer. In this case, you do not have to drive to the provider's parking area first, but drive your own car directly to the departure hall of Hannover airport. There, a member of staff from the pre-booked car park will be waiting for you and, after a brief damage check, will take your vehicle. The driver will then take your vehicle to the secure area of the parking provider and you can proceed directly to check-in. On your return journey, simply call the parking provider as soon as you have your luggage back. Of course, the driver's service is included in the price shown. This will then take your car straight to the terminal at Hannover Airport so that you can continue your journey home quickly and without the possible long waiting times. This method of parking is not only more comfortable, but also faster, as you do not have to allow for long waiting times for the shuttle bus. Your vehicle will be brought directly to the airport for you.
Long-term parking at Hannover airport
Whether you want to park your vehicle for one or more days at Hannover Airport, it is worth taking a look at the alternative parking providers around Hannover Airport. It is worth comparing, as parking for a longer period at Hannover Airport can be very expensive. Once you have booked, you will have a guaranteed parking space.
Here we have put together some tips on parking for a longer period at Hannover Airport:

Compare: as the selection of alternative parking spaces at Hannover Airport is very large, it is definitely worth comparing them with each other. Here you can also check availability directly and book your parking space online. All our parking providers are checked for you and summarised in an overview.

Customer reviews: we attach a lot of importance to the opinion of our customers when they book through us. Since we do not have a parking site ourselves, but pass on the reservations, it is important that we hear from you about your experience with the parking provider and whether everything went smoothly. This way, we can intervene more quickly in case of problems and take appropriate action.

Security: The fenced-in areas of our park providers in the north are well monitored. The park grounds are monitored partly by staff and partly by cameras. At some sites you will even find staff present around the clock. So your car is in good hands. Of course, this also applies to our other airports, such as Bremen Airport, Frankfurt Airport, Berlin Tegel or even Amsterdam Airport.

Plan your trip: As the grounds of the parking providers at Hannover Airport are usually a little out of the way, it is important that you plan your journey well in advance. Our route planner will help you here. Hanover Airport parking is easy with Parkos.
Parked from 10/27/23 til 10/31/23
I had to wait for 40 minutes for the shuttle to come and 15 minutes to startalmost one hour in totalbecause other customers came when we were leaving. I had informed that I will arrive 17:00 and I arrived 5 minutes before, but no one was in the parking, because the driver already left to pick up other customers from the airport and didn't wait for me. When I complained the driver informed me that I can take a taxion my charge of course.
...Read more
Parked from 8/11/22 til 8/29/22
When they picked us up from the airport they didn't know where my car was so it took them along time to find it. Then once they dropped us off at the spot I had to wait 10 minutes for them to bring my car.
Parking providers at Hannover Airport
Our benefits
All parking lots are carefully inspected
The best deals on airport parking
Free cancellation up until 24 hours
Over 4 million customers globally