Tenerife South Airport Parking
These days, getting to the airport by car is still one of the quickest and easiest options, until you have to park. And this is where the problems arise. Finding a cheap car park that offers easy access to the terminal building is not always as easy as it seems. Luckily, we're here to take off that stress. Parkos has a wide range of different parking spaces at the airport. This means that you can avoid looking for a car park at the airport when you arrive but instead, book a parking space at the Tenerife South airport in advance.
Table of content:
Tenerife South Airport is in the province of Santa Cruz de Tenerife. It's the larger of the two international airports and is number two when it comes to the entirety of the Canary Islands. This airport has over 11 million passengers a year, which is why car parks are in high demand. An other airport nearby is Tenerife North.
Flying is becoming more popular, and easier to do, so you don't want to be spending too much leaving your car in the car park. So, we're here to help you find the top deals for Aena Tenerife South Airport parking. We look at companies and providers that offer car parks.
Cheap parking at Tenerife South Airport
Tenerife South airport has its own Aena car park near the main terminal. This general car park is good for short term parking specifically. However, if you want to enjoy long term parking at the Santa Cruz de Tenerife South airport parking, then you would do well to book the car park in advance. The car park is fully ensured and open 24/7 alongside offering secure parking facilities. However, while this is a very convenient option when it comes to getting to the airport, it can still be quite pricey. And this is why there are now car rental companies and car park operators with their own long term parking options not far from the terminal.

Many providers are found just outside the airport. But, even further away you'll still be able to get to the drop off zone in plenty of time for your flight. And, you are going to save money if you book your parking early, with one of these providers.

Each of the providers listed here and recommended as an airport car park, have been vetted by Parkos to ensure it's up to scratch. You can use our search engine to whittle down all the options to select the best parking space at the airport. Additionally, you can use our route planner to ensure you don't get delayed or lost when looking for the drop off zone or your parking space.

Customers can also report back to us regarding their experience with Parkos. Read these reviews or add your own.
Shuttle and valet parking at Tenerife South Airport
We have two different variants of parking when it comes to parking your car at the Santa Cruz de Tenerife based airport. While the parking is further out, you can still enjoy either shuttle or valet parking. Take a look below to see what each of these entails.
Shuttle parking Tenerife South Airport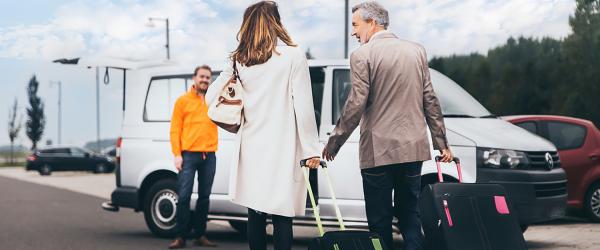 If you want to use a shuttle car park, this simply means that you will have to drive your car to your parking space. You then leave your car there and jump on the shuttle bus put up as part of the services provided by the operator. You will be dropped off at the airport in time for your flight. When you return, simply make your way back to the parking lot via the shuttle. Pick up your car from the pick up point and head home.
Valet parking Tenerife South Airport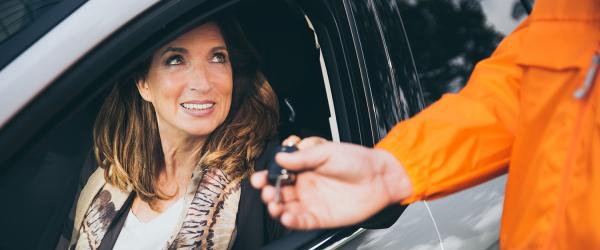 Alternatively, you can avoid going to the car park entirely. Simply arrive at the terminal and agree on where to meet the operator's agent. Provide your number plate and they will take your car and drive it to the car park so you simply have to focus on checking in and getting on the plane. Make sure that when you land back in Santa Cruz de Tenerife, you inform the operator so that they can get your car from the car park and bring it to the terminal on time for your arrival and pick up.
Hotel and Parking
You can also book hotels in Tenerife Sur and these have car parks too. In fact, though further away, these package deals can actually be cheaper than simply getting an Aena parking space at the airport.
Long term Tenerife South Airport parking
No matter if you want to park for a short time or a long stay, Parkos will find the best deal to book your car parking. Remember, it is very easy for Aena car parking to increase the closer to your travel date, and time of year can impact costs too. You will be able to get low-cost parking and services if you make sure that you compare TFS car parks on our site.

Compare the differences between the parkings: By using our site, you will be able to compare hire car and car hire companies. And, you can also compare where to park. You can take a look at all the airport information, whether there are payment machines when you stay there, taxi and even reviews for that specific TFS car park. Book with us and only reserve the best.

Compare the different options: You can also select between valet or shuttle parking. It is a good idea to consider which TFS car parks are better for you at Tenerife Sur.

Safety: Staying safe in Tenerife Sur is also important. You can check out the security measures employed at all TFS car parks including whether the number plate is recorded.

Plan your trip: Finally, it is possible to plan your route so that you have enough time to reach Tenerife South airport and don't get caught out when on the road.
Our benefits
All parking lots are carefully inspected
The best deals on airport parking
Free cancellation up until 24 hours
Over 4 million customers globally