Parking at Katowice-Pyrzowice airport
For passengers using the T1 terminal car park, Katowice Airport offers two car parks. The first is short-term parking, which is suitable for those who leave their car for a few hours. Parking Katowice airport also has long-term parking, which is suitable for those who leave their car for a longer period of time. At the car park, the prices depend on the length of parking at the airport.
Travelling from terminal T2, Katowice Airport offers short-term parking, which is available outside the airport terminal building. If you need to leave your car for a longer period of time, the best solution is to use the nearby car long term park. It is also worth noting, as we mentioned earlier, that long-term parking is only available at terminal T1. At this car park, prices also depend on the duration of parking.
Katowice International Airport has three primary parking areas: P1, and P3. P1 is the closest parking lot, directly linked to the terminals, while Parking P2 Katowice Airport is situated to the east of P1. P3, on the other hand, is adjacent to P2 and is a secure parking facility.
Cheap parking at Katowice Pyrzowice Airport
Katowice airport parking and its prices can vary depending on the length of parking and the type of car park you choose. That's why, before making a booking, we recommend first and foremost that you read the prices and services carefully. This way, the option chosen will be the best option for you as a traveller and your wallet. This will allow you to avoid additional and unnecessary costs.

Cheap airport parking can be a challenge for travellers who want to save some money before heading out. Parkos is a comparison platform and we help you compare parking prices and offer competitive prices for parking at Katowice Pyrzowice Airport. At the same time, it provides high quality and convenience when using the services of our parking partners. If you want to get more information about affordable prices, you shoul use keywords such as: Katowice airport parking.

We compare prices and offers of airport car parks in Poland and abroad. On our website you can quickly and easily compare the prices of all Katowice airport car parks. This will help you avoid the stress of searching for a parking space before your flight and save you time and money. Booking a parking space at the airport has never been easier or more convenient!

When planning a flight from Katowice Pyrzowice Airport, it is worth using the our website to find the best parking deals. On the website, you will compare the prices of Katowice airport car parks and choose the best option for your needs and budget. Booking a parking space with Parkos is a guarantee of savings, as you will avoid high airport parking prices. Book Katowice airport parking prices today and enjoy a smooth flight!
Shuttle parking and valet parking at Katowice Airport
Three different types of parking are available at airports in Poland: shuttle, valet and hotel parking (or park-sleep-fly). Each of these options has its own characteristics, available at different prices. This ensures that customers have as much choice and customisation as possible.
Shuttle parking Katowice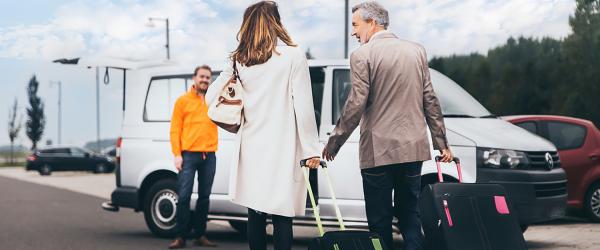 Katowice Pyrzowice Airport car park also has a shuttle parking service. This is an ideal option for those looking for a convenient way to park before their flight. With this parking option, you can leave your car in a designated car park. You can then transfer to the airport by special shuttle service. Book a parking space with the airport shuttle parking service and enjoy a peaceful and comfortable start to your journey to Katowice airport!
Valet parking Katowice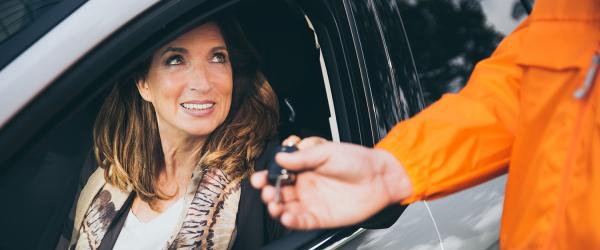 The valet service at Katowice airport is a convenient solution for you. Upon arrival at the Katowice airport terminal, the price paid by the driver after handing over the car to the staff reflects the safe and comfortable storage of the vehicle. On returning from your trip, the car will be ready for collection at the Katowice airport terminal. This saves time and reduces the stress of parking.
Hotel parking
To avoid the stress of parking, travellers planning to fly out of the airport should take advantage of the parking service available through hotels nearby. By doing so, you save money by leaving the car in a designated car park and taking transport to the airport. You should book a parking space before leaving the airport, ensuring a smooth start to your journey at an affordable price.
Long term parking Katowice airport
The prices for Katowice airport parking can be expensive, so it is worth using alternative options. For example, you can book a parking space at one of the private car parks in front of the airport, which offer affordable prices and additional services such as airport transfers or car security. Another option is Hotel & Parking, which means staying in a hotel near the airport and parking for one price.

Check out the shuttle parking services, which allow you to be easily transported from the car park to the airport and back. Also, don't forget to book your parking space in advance, as this not only ensures that you will find a free space, but also saves you money. On our platform, you can compare prices of different car parks at Katowice Pyrzowice Airport and book a parking space in advance.

It is worth noting that the price of parking at Katowice Pyrzowice Airport may seem quite high compared to other airports in Europe. For example, the price of a week's parking at Katowice Pyrzowice Airport is around €50, while in some other countries, such as Spain or Portugal, the price for the same period is around €30.

However, by booking a parking space at an off site car park in advance, you can save a great deal. For example, a week's stay at one of the off site car parks near Katowice Pyrzowice Airport costs around €25. Another option is Hotel & Parking, where for the price of one night's accommodation in a hotel near the airport, you can also get a parking space for the duration of your stay for free or for a nominal fee.

Prices for such a package start at around €40 per night. It is worth noting that Hotel & Parking prices can vary depending on the standard of the hotel and its distance from the airport. The choice of parking option depends on your budget and preferences, but it is worth considering alternatives such as private car parks or Hotel & Parking to avoid high costs.
Our benefits
All parking lots are carefully inspected
The best deals on airport parking
Free cancellation up until 24 hours
Over 4 million customers globally