Park Gold Venezia (Paga online)
Venice Airport
9.9
|
112 reviews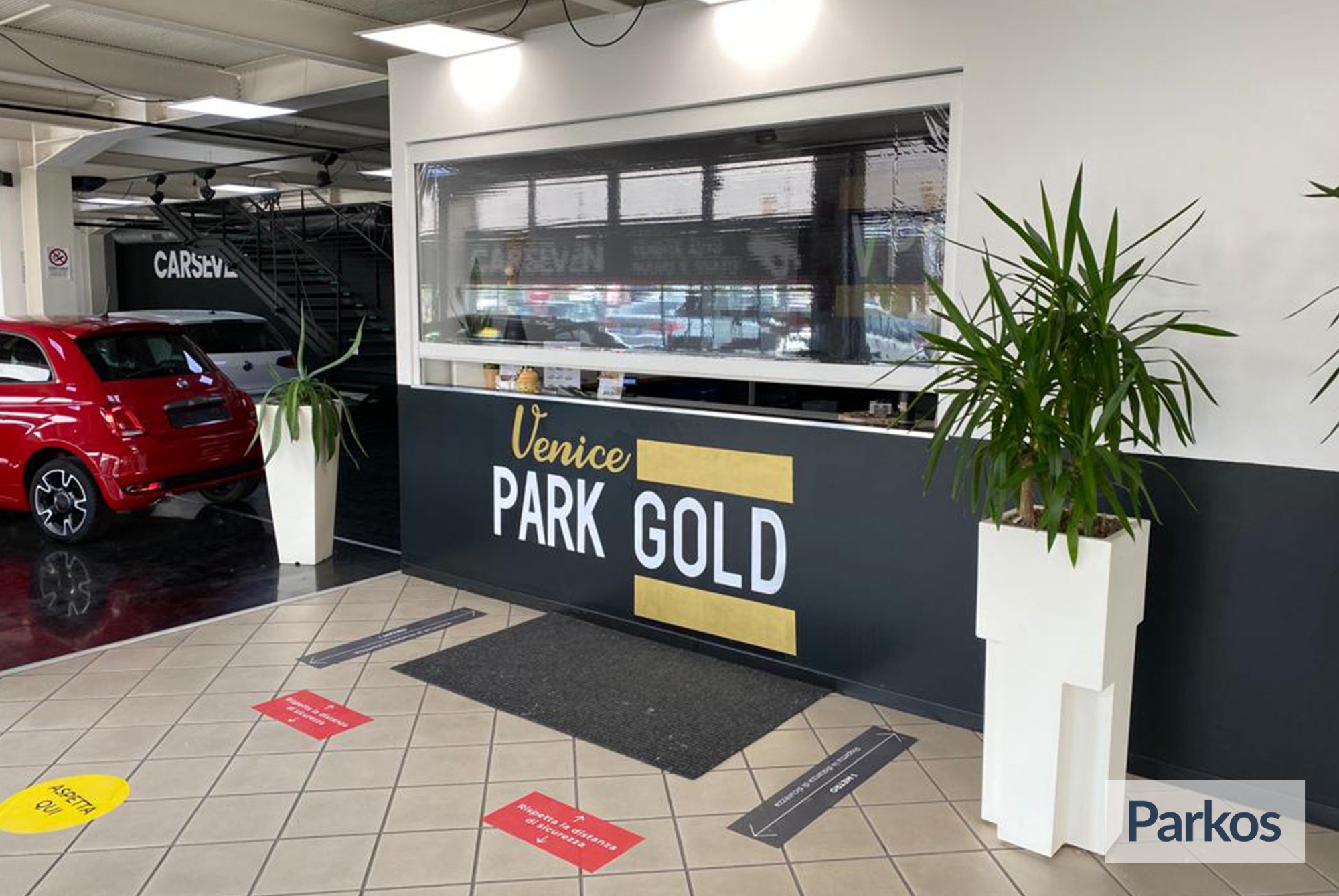 Park Gold is located only 1 km away from Venice Marco Polo Airport. It offers parking space to many cars both indoor and outdoor. it is possible that, in high season periods, the cars are moved to other parking terrains, located max 500 meters far from the main parking area. The parking is open 24/7. The shuttle service is free, and available for every single customer. You can also book valet parking, for a little extra cost, it consists in bringing and picking up the car at the airport. Please note you can book valet parking only between 8.00 and 20.00.
Important remark: the prices are intended for cars. It's possible to book a parking for minivans 7-8-9 + people, with an extra cost of 2 euros per day, to pay on spot only available outdoor.
The shuttle bus cannot be provided with child seats. Families traveling with children are advised to drive to the airport first and leave the passengers and the suitcases there. We suggest only the driver to go park the car at the parking and take the shuttle bus to the airport.
Does your return flight arrive at Venice Treviso Airport? No problem, you can book the "Return to another airport" transfer service at an additional cost and an operator will bring your car back to your return terminal.
General information

At Park Gold you can park outdoor or, to be sure your car will not be damaged by bad weathering, you can park indoor. Choose between shuttle parking and valet parking. Valet parking is only possible between 8.00 and 20.00.

Shuttle parking


Booking the shuttle parking, drive to Park Gold. A shuttle bus will bring you to the terminal and will come to pick you up upon return.

Valet parking


The luxurious valet service consists in simply driving to the airport, where you will meet the driver in charge of your car. He will come to deliver you your car at the airport upon return.

Safety

Park Gold has CCTV and is guarded 24/7.

Facilities

At the waiting room of Park Gold you will find vending machines and toilettes.

You can book in advance the service car wash.

Accessibility

Shuttle parking

Arrival
Following the instructions, drive to Park Gold. Park your car and check in with your reservation. You can fill in the document proving the conditions of your car in order to avoid misunderstandings upon return. A shuttle will shortly bring you to the airport.

Return
Call the parking once you have collected your baggages. They will pick you up on the same meeting point as your arrival.

Valet parking

Arrival
5 minutes prior your arrival at the airport, call the parking. the driver will tell you where to meet him at the terminal.

Return
After picking up your baggages, please call the parking. They will tell you where they are going to bring your car at the terminal. So you will drive straight home.

Location
My parking space
About Park Gold Venezia (Paga online)
Indoor parking

Paved parking

Close to the terminal

CCTV
Customers rate our parking providers with an average of 9.9
MIRAN BALON
10
Parked from 3/15/23 til 3/22/23
MIRAN BALON
Parked from 3/15/23 til 3/22/23
10
Matej
10
Parked from 2/24/23 til 3/9/23
Matej
Parked from 2/24/23 til 3/9/23
10
Boštjan Sebastijan Gams
10
Parked from 2/9/23 til 2/16/23
Boštjan Sebastijan Gams
Parked from 2/9/23 til 2/16/23
10
April 7, 2023 to April 14, 2023
Change dates
Park Gold Venezia (Paga online) rating
Every parking provider on Parkos has been personally inspected and assessed by one of our staff.
The Parkos score gives you a good idea of what to expect of the parking provider.