We help you compare parking prices at Hamburg Airport.
What makes Parkos unique?
All parking lots are carefully inspected
Free cancellation up until 24 hours before departure
How can we help you?
Our experts are here to assist you with comparing parking locations and are happy to answer any questions you may have.
Please contact us
Customers rate our car parking providers with an average of 9.0
Customers who have booked a parking space through us, rate these with an average of 4.4/5 based on 531 reviews.
Jeffrey Saturday 02 July 2022
Were received well and quickly taken to the airport. Nice that the staff parked our car for us.
Anonymous Saturday 02 July 2022
Straightforward website, booking was quick and easy!
Table of content:
Parking at the Hamburg Airport
Compare the best parking providers for Hamburg airport
The flight tickets are booked, and already the holiday feeling starts. To avoid a chaotic start of your flight and holiday, driving to the terminal yourself is by far the most convenient. Yet, when talking about Parking Airport Hamburg the holiday feeling disappears quickly when comparing the parking rates for parkings. Parkos helps you with finding the perfect parking spaces, as Parkos is the comparison platform for cheap spots at parkings, and is happy to help you find your ideal parking space. Thanks to booking your car park space in advance you will save yourself from the difficult such and make Airport Hamburg into an easy one where everything plays out very smoothly. At the parkings, you can mostly pay with debit or credit card, or at a pay desk at the parking locations.
This airport is the oldest and fifth largest in Germany. It is located 9 kilometers from the city center. In 2017 around 17.6 million passengers travelled via Hamburg, and this number is growing every year. Around 70 different airlines such as Ryanair, Eurowings, KLM and Lufthansa offer flights to destinations all over the world. It has two terminals: Terminal 1 and Terminal 2, which are connected to the Terminal Plaza, which is the newest passenger terminal.
Reservation - The latest information for parking at Hamburg airport
| | |
| --- | --- |
| 🚙 Parking options: | 9 |
| 🏆 Best rated: | Classic Parking |
| 💶 Cheapest: | Park4Fly-Hamburg |
| 🛫 Closest to airport: | SaS Parking - Smart & Safe |
Parkings at the Hamburg Airport

Comparing with Parkos is worth it! With the alternative parkings on our platform you have the possibility to find the cheapest parkings that are extremely close to the terminals. Even though the alternative parkings are cheaper, does not mean their services are of lower quality. You can also apply other filters to compare, such as whether you would like to park: in parking garages with more parking levels or on the outside parkings. Long term or short term parking? Everything is possible at Parkos, and low price guarantee.

The alternative parkings are nearby the airports, which leads to a lower property rent and a lower daily parking rate. Nevertheless, the parkings are close to the terminals and their shuttle or valet service is included in the price. When booking with Parkos, you don't need to worry about the safety of your vehicle, as they need to meet both high security standards, and the alternative parkings are checked by us personally on a regular base.

As aforementioned, all the listed parkings are personally reviewed by us. We would recommend to read the latest customer reviews to get a good impression of the specific car parks, and their services.
Cheap parking at the Hamburg Airport
Valet and Shuttle parking
Since the parkings of the alternative providers are mostly a little further from the terminal 1 or terminal 2, the transfer directly to the terminals is always included in the price. As both valet and shuttle parking are part of the frequently asked questions, we would like to elaborate on these terms a little more.
Shuttle service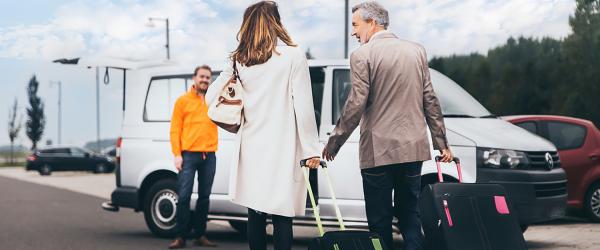 When you choose for the shuttle transfer you will drive directly to the car park of the parking provider you booked in advance. You will park your own vehicle, and a friendly employee of the parking can assist you with loading and unloading your luggage. From the parkings, you will be driven to the terminal smart within no time with the free shuttle service. When you return to Hamburg, you have to contact the car park provider directly after claiming your luggage. The telephone number will be provided in the reservation confirmation you have receives via email. You will be picked up with the shuttle bus directly at the terminal and safely driven back to your car at the car park. Most of the times you do not even need to hand over your car key to the provider. However, if you do need to hand over your car key, this will be mentioned on our website.
Valet parking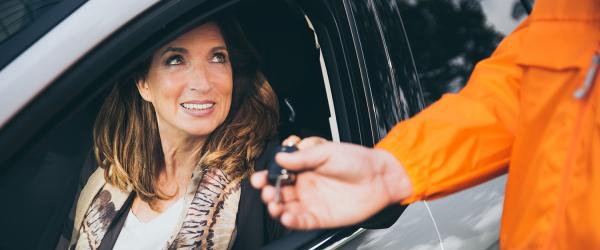 When you choose for the valet service , traveling is even more comfortable. In this case you can drive directly to the departure level of the terminal with your own car. At the terminal the friendly and helpful employee of the booked provider will be waiting for you. After a short vehicle inspection on previously existing damages, the driver will safely drive your car to the secured area and park your car there. In this time, you can proceed to the check-in counters already. Upon your return you simply contact the parking provider as soon as you have claimed your luggage again. The driver will bring your car to the terminal again, from which you can continue your drive back home. When you park your car in this way, it is not only more comfortable, but also faster, as you do not have to take the transfer time to the terminal into account.
Long-term parking at the airport
In case you would like to park your vehicle for a longer time, it is definitely worth it to check out the alternative providers nearby the airport, to be certain of a parking space. Especially when you would like to park directly at the airport location for a longer period, the parking rates can be extremely high and expensive.
We have put together some tips for Long-term parking at Hamburg (HAM) for you:

Compare: as there are many alternative car parks offered near the airport, comparing them can provide you many benefits, it does not matter if it is just for or short day or for multiple days. There can be significant differences in for example prices or the rate, area and the overall property. Furthermore, you can always cancel your reservation without additional charges.

Customer reviews: We really value the Opinion of our customers. As we do not manage the parkings ourselves, solely redirect the reservations, it is important that customers give us a rate about their experiences with a parking and that they let us know if they are satisfied with the services we offer to them. This does not only apply to the parkings in Hamburg, but also to those at for example Düsseldorf, Hannover and Stuttgart. Similarly this also applies to international airports, such as the airports in Amsterdam and Brussels.

Security: The fenced parkings from the providers on our platform are often equipped with camera surveillance. Mostly the employees are even present 24/7 to guard your vehicle. Hence, your car is safe when parking with Parkos.

Plan your trip: As the parking areas are mostly a little further away, it is important to plan your trip accordingly in advance. Our Routeplanner tool can help you with this. By using this tool, parking at the airport in Hamburg will turn into easy airport parking. Parking is easy with Parkos.
Parking providers at Hamburg Airport