We help you compare parking prices at Geneva Airport.
What makes Parkos unique?
All parking lots are carefully inspected
Free cancellation up until 24 hours before departure
How can we help you?
Our experts are here to assist you with comparing parking locations and are happy to answer any questions you may have.
Please contact us
Customers rate Parkos with an average of 4.4
Customers who have booked a parking space through us, rate these with an average of 4.4/5 based on 531 reviews.
Jeffrey Saturday 02 July 2022
Were received well and quickly taken to the airport. Nice that the staff parked our car for us.
Anonymous Saturday 02 July 2022
Straightforward website, booking was quick and easy!
Table of content:
Parking at Geneva Airport
Would you like to drive to Geneva airport and get home as soon as possible on your way back? Compare and book your parking space at Parkos now! This way you can start planning your trip and you will not have to rely on public transport. Besides, we all know that parking at the airport is often too expensive. Compare now the parking providers at Geneva Airport and book your parking space online. At Parkos you will find the best prices and many services you can use. Find parking providers near the airport and choose the one that suits you best, so book directly online without wasting any extra time. The different services we offer allow you to tailor your booking to your needs and you don't have to do much research online. We offer you a broad overview of the best value for money parking spaces near Geneva airport. You can be sure that you will find the cheapest price and that a parking space will be reserved for you for the desired dates, without having to worry about finding a parking space a few hours before departure. Book your parking space now and save money with Parkos!
Geneva airport is located about 13 minutes from the city center. It is the second largest airport in the country (after Zurich) and has carried more than 17 million passengers in 2018. Geneva welcomes travelers from all over the world to discover the beautiful Swiss countryside and local gastronomy. The airport is located on the border with France and is very close to the main roads, making it easily accessible by car. Moreover, the choice to drive to the airport yourself is also more convenient, especially if you arrive from afar. Geneva airport is 1 hour and 40 minutes by car from Lyon or Grenoble.
Geneva Airport Parking: Look for cheap parking spaces for Geneva Airport on Parkos
We have a parking lot in Geneva for everyone! At Parkos you have the possibility to search for a cheap parking place near the airport and compare all available services according to your itinerary. We work with suppliers near Geneva airport, both on the Swiss and French side. Our parking partners are safe because they are personally checked to ensure that you book a quality parking space. Even before you make your reservation, you will find detailed information about each parking provider on our website, so that you can get a better idea of the services offered by the parking lot you want to book with us. Parking places are not all the same, we at Parkos know that and we want the search for a safe and comfortable parking place to be no problem and not take too much time. Parkos is an independent company, we offer you an impartial and fair picture. So you can be sure that you can book your own reliable parking space at an unbeatable price for your trip.
The most important current information for Geneva Airport
| | |
| --- | --- |
| 🚙 Parking options: | 6 |
| 🏆 Best rated: | Parking Agir |
| 💶 Cheapest: | Ector Genève |
| 🛫 Closest to airport: | Parking Cheap Genéve Aéroport |
Parking spaces at Geneva airport
As it is better to plan your trip in advance, we at Parkos recommend that you book your parking space in advance as well, as you will find more availability for your desired dates. You will be able to find the best offers and options to suit your needs. The price you see when you make your reservation will not change when you arrive at the parking lot, even if you have chosen payment on site as your payment method.
Parking can be up to 10 minutes away from Geneva airport, so it won't take you long to get there and you can quickly continue your journey on the way back. With Parkos, you can find the best rates, start your search and compare prices for parking near Geneva Airport itself. Do you need help in booking your parking space? Don't worry, our customer service team is at your disposal to help you with your online booking. No unpleasant surprises on arrival: the prices and services booked on the website are the same, including shuttle.
We often tend to combine low costs with poor service quality. At Parkos we work every day to provide safe and affordable parking. Not only that: we offer you the possibility to choose between different types of parking, such as covered and uncovered parking, the payment method online or directly at the parking lot. This is what our company is known for. Our partners are there for you 24 hours a day, 7 days a week! Besides guarded parking lots they offer additional services like shuttle service, valet service, car wash service and much more. So book online now. Long or short term bookings are no problem!
You can view the opinions of travelers who have used the parking lot before making a reservation. This way you can get an idea of the service you need. It will also help you to find the most suitable parking space for your needs. On average, users rate our parking operators with 8.4 out of 10 points. The opinion of our customers is our priority. That is why we are constantly striving to improve our service and customer service. Do you need help? Take a look at our FAQs!
The best Geneva airport parking rates
How does parking at Geneva Airport work?
There are many ways to park your car at Geneva Airport, for example, you can choose between covered or free parking. Simply choose the parking space that best suits you and your needs. You can decide whether you arrive at the airport with the free shuttle bus service or the valet service will pick your car up directly from the airport. You can also choose between the two payment methods (online or directly at the parking lot) and use the option "Take your keys with you" to take your car keys with you on your travels. Once you have made your choice and booked, your place is guaranteed!
Valet-Service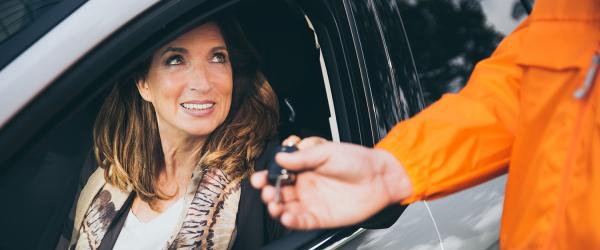 Valet parking is the fastest and most convenient way to park your car at Geneva Airport. You do not need to go to the parking lot before your flight, as you only have to drive to the airport. There, a parking attendant will wait for you to take your car into custody and park it while you are already checking in. Upon your return, your car will be returned to you at the airport and you can continue your journey home immediately. On the day of your departure, you will receive information on the time and meeting point by phone.
Shuttle-Service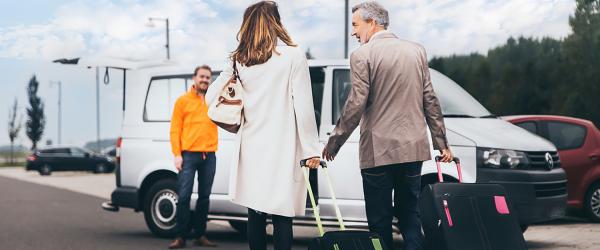 Using the free shuttle service is undoubtedly the most economical solution. It is in fact a service provided to you through the parking lot. Drive to the parking area and from there you will be taken to the airport in about 10 minutes by the convenient parking shuttle. The same service allows you to be returned to the parking lot on the day of your return, at the time you specify when you book. You can then pick your car up and return from your trip in a relaxed way.
Long-term parking at Geneva airport
If you are travelling for more than 2 days and have to park for a long time at Geneva airport, don't panic! Most of our parking providers offer weekly or even monthly rates. We are at your disposal to offer you only the most competitive prices without compromising the quality of the parking services. In addition, our parking lots are always personally inspected to ensure the highest level of security. We know how important it is to make your trip calm and carefree. Most of our partner parking providers are usually open 24 hours a day, 7 days a week. We report this kind of information and much more on every parking card.
To help you get the most out of the parking services, we invite you to follow the instructions below. Our tips:
Compare different parking options: If you compare the parking facilities at Geneva Airport, don't settle for the first option. We recommend that you review the details of each parking facility so that you can choose the one that suits you best from the Geneva Airport Parking page. We offer competitive prices, and although they may vary, you will see at the time of booking that you will be asked to pay regardless of the payment method you choose. Remember that the shuttle is included in the price, but you can always opt for the valet service. For more information, please feel free to contact us by checking our frequently asked questions or by contacting our customer service.
Choose the type of parking that suits you: First ask yourself the right questions: Do you prefer a free or covered parking space? Do you want to use the valet or shuttle service? These are just some of the many options you can consider before making your reservation. On Parkos, even before you make your reservation, you can see where the parking space is located on our parking maps, which you can access by clicking on further information.
The valet service is very convenient as it allows you to go directly to the airport without wasting time and without having to go to the parking lot first. A parking attendant will wait for you at the Geneva Airport departure terminal and park your car for you. There is no need to drive to the parking lot, which saves you a good half hour. Even when you return, your car will be brought directly to the airport at the agreed meeting point and you can continue your journey immediately.
The shuttle service is free and included in the price of the reservation. It is a very efficient service that takes you to the airport in about 10 minutes. You can also see where your car is parked. When you return, the same free private shuttle will take you to the parking lot for your pick up. On the day of your departure, drive to the parking lot and the parking shuttle will take you to the terminal from where you need to leave. Discover the advantages of the shuttle service
Security: Our parking lots are guarded 24 hours a day, 7 days a week. The choice between uncovered or covered parking makes no difference! Start your search on our Geneva Airport Parking page by entering the departure date and arrival date of your itinerary. We work every day to ensure the highest quality, so that you can leave quietly and enjoy your trip without having to worry about your car.
Planning a trip: The following is certainly known, but we would rather repeat it: Check the road network and traffic before you go to the airport. Think of an alternative route in case of unforeseen events. Regional radio stations will help you. However, at Parkos you will find useful information to help you plan your trip, just click on the link below. "Calculate the route".
Parking providers at Geneva Airport