We help you compare parking prices at Faro Airport.
What makes Parkos unique?
All parking lots are carefully inspected
Free cancellation up until 24 hours before departure
How can we help you?
Our experts are here to assist you with comparing parking locations and are happy to answer any questions you may have.
Please contact us
Customers rate our car parking providers with an average of 9.6
Customers who have booked a parking space through us, rate these with an average of 4.4/5 based on 531 reviews.
Fernando ALVES Tuesday 17 May 2022
A mobile contact NR should also be given.
John MacBain Thursday 28 April 2022
Exceeded all expectations. Very well done.
Table of content:
Faro Airport Parking
We all know that the most comfortable way to travel to Faro Airport is with your own car. So you will not have to worry about the hassle that public transport schedules bring you. You also don't have to call all of your friends and family to ask if they can take you into difficult times. And most importantly, you will avoid expensive taxi costs.
Important information about parking at Faro Airport
| | |
| --- | --- |
| 🚙 Parking options: | 1 |
| 🏆 Best rated: | Vehicle Storage Faro |
| 💶 Cheapest: | Vehicle Storage Faro |
| 🛫 Closest to airport: | Vehicle Storage Faro |
The only downside when you go in your own car is where to leave it. That is why at Parkos we help you compare and reserve your parking space online with one of the parking providers near Faro International Airport. In Parkos you can compare different parking options such as covered and uncovered spaces, parking with valet or transfer service.
Compare the best car parks
You will find everything at a low cost price that you could not even imagine. In addition, many times you can opt for additional services such as a car wash, ITV inspection, tire change, and much more! Reserve your long-stay parking space at Faro Airport now.
Low cost parking at Faro Airport
Compare and reserve your parking space with a Faro Airport car park and enjoy unbeatable prices. If you don't wait until the last minute, it is more likely that you will find your parking space at the best price. When completing a reservation, the price will remain that way until the day of your arrival at the car park. You will also have the possibility to cancel your reservation up to 24 hours before your arrival for free!

At Parkos we only collaborate with car parks that specialize in parking services for travelers at Faro Airport. Almost all the car parks are just minutes from the Faro Airport terminal. So the car parks can serve you quickly and effectively.
Shuttle and Valet Service
When using our comparator you will find the words parking with shuttle service and parking with valet service. Below we want to give you a short explanation of these services so you don't get lost.
Shuttle Parking (park & drive)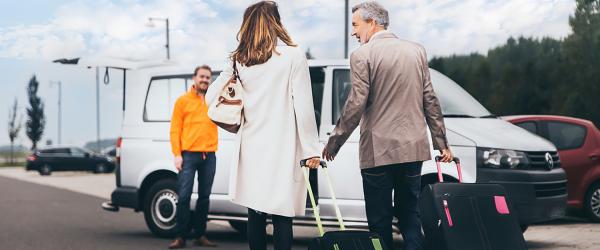 The shuttle service, also known as the free shuttle service, is usually the lowest cost option for travelers to Faro Airport. If you book with the shuttle service you will drive directly to the parking lot to park your car yourself. Then one of the employees will transfer you to the departure terminal in the courtesy minibus. This always works great as the car parks are just minutes from Faro Airport. In addition, almost all transfers are made continuously at every hour of the day. It is also the perfect option for long-term parking.
Valet Parking (Meet & Greet))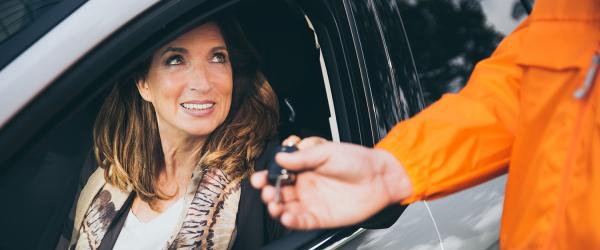 Valet parking is, compared to shuttle service, the more luxurious of the two. If you book with the valet service you can drive directly to Faro International Airport. About 20 minutes before arriving, you call your own driver's number to notify them of your arrival. When you arrive, your driver will be waiting for you to pick up your car. While you continue the trip, the driver will be in charge of parking your vehicle. When you return from the trip, the car will be returned to you in the same place where you left it. No moment will you have to go through the parking lot! Both for long stay and short stay.
Faro International Airport Parking - Long Stay

Compare the different parking options: one of the best tips we can give you is to use Parkos to compare the different parking options. We have covered and uncovered places, different types of services, and much more. Use the filters on the results page to filter the parking options we have. Reserve your place with one of the car parks near the airport. Read reviews of customers who have parked with Parkos at Faro airport before you.

Choose the type of parking you want:If you prefer a low cost parking we advise you to choose a parking with the shuttle service because they have free transfer to Faro Airport. But if you prefer a more efficient and fast service, it would be good for you to opt for the valet service (valet). With the valet service they will pick you up and return the car directly at Faro International Airport.

Security: A great concern of travelers who go in their own car is their safety when they leave it in a parking lot, especially when you reserve a low cost parking space. That is why we only collaborate with the best car parks that have security 24 hours a day. You will find a summary of the security measures on the information page of each car park. Book your parking through Parkos and travel peacefully knowing that your car is safe in a parking lot near the Airport.

Plan your route: Finally, we advise you to plan your route to the parking lot or airport to avoid any surprises. Although the car parks are always a few minutes from the airport terminal, it is always useful to know how to get there from different routes. You can plan your route using our "route planner" that you will receive in the confirmation email when booking online.