We help you compare parking prices at Lisbon Airport.
What makes Parkos unique?
All parking lots are carefully inspected
Free cancellation up until 24 hours before departure
How can we help you?
Our experts are here to assist you with comparing parking locations and are happy to answer any questions you may have.
Please contact us
Customers rate our car parking providers with an average of 9.6
Customers who have booked a parking space through us, rate these with an average of 4.4/5 based on 531 reviews.
Nicole Volpers Tuesday 17 May 2022
Very good service
Anonymous Sunday 24 April 2022
Really impressed. Punctual & convenient, handing over my car & keys right in front of the terminal. Many thanks.......
Table of content:
Park at the Lisbon - Humberto Delgado airport. Lisbon Airport Parking.
There is nothing in the world that can beat the feeling and comfort of going to the airport with your own car. Well, maybe if you go by helicopter, but by car it's not bad at all! So you do not have to worry about who can pick you up and take you, in case public transport, such as the train or metro, leaves at the indicated time from the station, or if there is a strike by the taxi drivers. The only concern you will have is where to park it. With the Parkos comparator, you will be able to find, compare and reserve a low cost parking space at the Humberto Delgado Airport in Lisbon. With your own car you stay in control!
Lisbon Airport, also called Portela Airport or Humberto Delgado Airport, is one of the largest airports in southern Europe and the largest airport in Portugal. In 2018 the airport had 29 million travelers, 9% more than in 2017! Thanks to its location, the airport began to become a strategic airport from the European side for all transatlantic flights. It is located 12 kilometers northeast of the city center. The beginnings of this airport date back to 1942, and since then it has not stopped expanding and increasing traffic. Apart from transatlantic and European connections, the airport is especially relevant for its connections with the former Portuguese colonies of Africa: Guinea Bissau, Angola, São Tomé and Príncipe, Mozambique, Cape Verde - and with Brazil.
There are different affordable options to park your car at Lisbon airport, and thanks to Parkos, you can reserve the one that best suits your needs at the best prices. You can choose between indoor or outdoor parking, valet parking (valet) or shuttle (shuttle), as well as the possibility of hiring extra services such as washing your car. You can consult and contract all these options and services in Parkos.
Información de estacionamento en el aeropuerto de Lisboa.
| | |
| --- | --- |
| 🚙 Parking options: | 2 |
| 🏆 Best rated: | Blue Valet Lisboa (Paga online) |
| 💶 Cheapest: | Redpark (Paga online) |
| 🛫 Closest to airport: | Blue Valet Lisboa (Paga online) |
Parking at a good price at Lisbon Airport - Humberto Delgado
Why wait until the last minute to reserve parking, if by doing so in advance you can enjoy the best offer, discounts and promotions? In Parkos you will find all the parking options you need and always at the best price. Book now and the price will be locked, so you do not pay a penny more on the day of your trip. Parking in Lisbon has never been so easy!
All of our partner Lisbon car parks are next to Lisbon Airport. This guarantees you a fast track service and fast and efficient transfers, apart from the fact that it will be very easy for you to find parking on the way to the airport, without great hassles or the need to travel unnecessary kilometers. The best indoor or outdoor parking at your fingertips.
Oftentimes people associate a low cost price with poor quality service. With the car parks close to Lisbon Humberto Delgado Airport, they couldn't be more wrong. The car parks in Lisbon Airport do not have large management teams like airlines. All these reasons make that its main objective is to offer high quality at a low cost price, because that is the only way to attract and retain its customers. Our partner suppliers in Lisbon Humberto Delgado know, if customers are not satisfied, they will not return. So, in addition to a low price, expect excellent service for your needs! Parking providers are usually open 24 hours a day, 7 days a week.
On the feedback page on our websiteyou will find ratings from other people who also chose Parkos to find the perfect parking space near Lisbon airport. Thanks to their opinions, it will be a little easier for you to choose the car park that best suits what you are looking for. Our partner car parks are scored with an average of 8.4 out of 10. At Parkos we think that each assessment is important, and that is why we read and take into account each and every one of our customers' comments, in order to improve day by day.
Shuttle Parking (Park & Drive)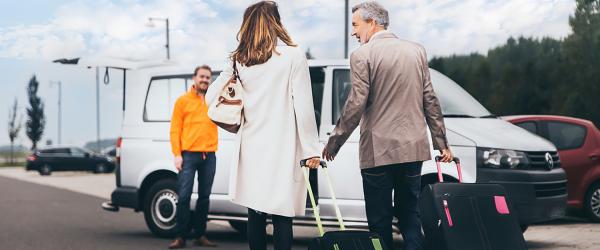 One option to park is with the shuttle parking service, or transfer between the parking lot and the airport, it also offers its own advantages. This type of service is cheaper than valet parking, but in this case you will have to drive to the parking lot and park your vehicle in one of the parking spaces and then be transferred on a courtesy bus to the airport. When you return, call the car park at the phone number that we will send you in the reservation confirmation email and they will come to pick you up at the airport to take you to the car park. All these transfers have no additional cost, the price you pay at Parkos is the final price, no surprises. If you want to achieve maximum savings, you are interested in taking this type of car park into account.
Valet Parking (Meet & Greet)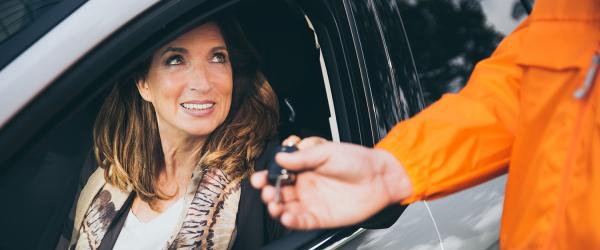 Valet parking services, also known as valet parking, is the fastest track option. If your priorities are speed and comfort, take a look at the car parks that offer this service. With them you will not have to go through the car park, you just have to go to the airport and there a driver employed by the car park will pick up your vehicle and take it to be parked. Upon return, the delivery of your vehicle will be at the same terminal. Once you make the reservation you will receive a confirmation email with all the parking details, the description to park your vehicle and your phone number. This way you will not have any problem to contact them and give them the notice of your arrival, or to contact them if you are going to suffer a delay.
Long stay in Lisbon - Humberto Delgado
If, for example, you have a flight to the United States or any other country and you want to park at the Lisboa Airports, you don't have to worry: Parkos collaborates with the best long-stay providers. Our comparator will always show the most competitive prices. In addition, we inspect the car parks, so you will have the peace of mind of leaving your car in the hands of professionals in Ponta Delgada.
Before you book parking, we want to give you some tips that may be useful to you:
Compare car parks: we advise you to compare at least three parking companies to get the best service and the best deals at Lisbon Airport. At Parkos we help you to make this as easy as possible. You will not have to worry.
Choose your preferences: Do you want to save time? Well, book the chauffeur service. Do you want to get the best price and rate? Then choose one of the car parks with the shuttle service. In Parkos you will find your ideal parking at Lisbon Ponta Delgada airport.
The valet parking or ValetXpress is a very convenient and fast option for our users because they can go to the departure terminal of the airport directly and deliver your car to an employee of the parking to park it for you. On the way back they will be waiting for you at the agreed point to return your vehicle, that fast, that easy.
The car parks with shuttle services are cheaper, but their quality, and above all, their security, are equally good. You just have to go to the parking lot, park, and the parking employees will immediately transfer you to the airport departure terminal. For these services they do not charge any additional amount. On the way back, the collection will be at the same point to take you to the parking lot again so you can pick up your car.
Security:Did you know that almost all associated car parks are staffed 24 hours a day? Once you know where you want to park, of course, you hope that your car is in a safe place. You can find all the security measures for each car park on the content page.
Plan your route: before leaving for the airport, do not forget to and prepare for travel and navigation. Even if we know it, something can always happen that delays us, and in that case it is always useful to know an alternative route. On our website and in the confirmation email you will find a route planner to help you with this. Visit our link "travel directions" and don't waste a second.