View the car parks on the map
Park at Nantes Atlantique airport
The Nantes ring road, Porte de Grand-Lieu, offers direct access to Nantes airport, which is just a few minutes from the city center. Numerous signs will show you the way to follow. Nantes Atlantique airport is close to several highways, so it is easy to reach the airport by car. Parkos compares the different offers available among its suppliers so that you can book your parking as easily as possible.
Parkos allows you to easily book a parking space online. We always try to offer you the best prices while guaranteeing quality service. Whether you park your car for a long or short time, we will always offer you a favorable rate near Nantes airport. Also note that it is only a 20 minute drive from Nantes train station.
Each car park has a page where you will find all the information necessary for your reservation, including the possibility of creating an access plan. Obviously, the land on which you park your car will always be completely secure. For more information, do not hesitate to consult our general conditions and our legal notices. Our frequently asked questions also have many useful links.
Compare the best parking providers for Nantes airport
The Nantes region is well known for its landscapes, marshes and historical heritage. Located near Brittany, Pays de la Loire and Bordeaux, you can take the opportunity to do some sightseeing in these places rich in cultural heritage. Nantes Atlantique is the ninth largest French airport, behind, among others, Roissy Charles de Gaulle, Orly and Marseille Provence. This international airport sees its number of passengers increase every year.
Many airlines offer low cost tickets to many destinations around the world. Inside the airport, you can enjoy bars and restaurants as well as free wifi. Our comparison site makes it easy for you to find different suppliers near Nantes Atlantique Airport. Our partners are all located close to the airport so you don't have to waste time. You will therefore always park your car in a car park near the airport. However, we always offer you a lower parking rate than that offered by the airport parking lot.
Find the best prices near Nantes airport
At Parkos, we always recommend that our customers book in advance, especially if they are looking for a good deal. As soon as you know the duration of your trip, namely your departure and arrival times, compare and book on our site to take advantage of the best offers. We generally recommend reserving a parking space as soon as you have your plane tickets. We always offer low cost parking near the airport. All the parking lots offered are secure and private. Also, once you have booked, the price will not change. Our suppliers offer quality services and are all located near Nantes Atlantique airport. Different types of parking are available, such as covered or uncovered outdoor parking.

We always make sure that our partners have land close to the airport so you don't waste time making unnecessary trips. You can choose between a free shuttle (private shuttle) or a valet parking service. The services offered depend on the car park. It's up to you to see what suits you best to reach Nantes airport.

Let's be honest, many of us think that cheap prices are anything but a guarantee of quality. However, Parkos makes it a point of honor to offer you a quality service that is adapted to all budgets. Our watchwords are quality, safety and affordable prices. Your car is always parked in a fully guarded private car park. We choose our suppliers so that these criteria are met. Most of our partners offer car parks open 24 hours a day, 7 days a week. Some also offer additional services such as car washing, preparation for technical control or the free shuttle.

In order to help you in your choice, do not hesitate to consult the opinions of our customers. These evaluations are essential to us because they allow us to constantly improve our services and meet the needs of our customers. Plus, these reviews will help you determine what kind of service is right for you.
The best-priced parking options at Nantes Atlantique
What services are available at Nantes airport?
If you wish to park your car at Nantes Atlantique airport, two types of parking are available to you. Indeed, you have the choice between the shuttle service and the valet parking service. Both have their advantages. Therefore, do not hesitate to compare them to determine what suits you best. You will also have the choice between outdoor parking (whether covered or not) or indoor. For more information between valet parking and private shuttle, everything is explained below.
Shuttle parking (Drive & Park)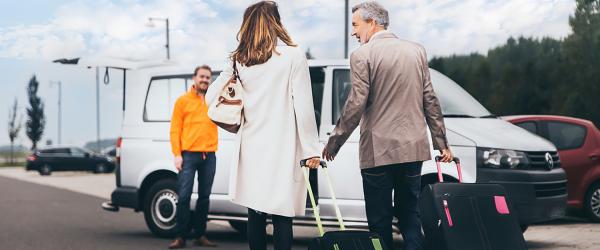 The shuttle service is the most popular option for travelers. It is indeed an economical solution to reach the airport. The free shuttle is included in the price of parking. This option allows you to save a maximum amount, especially if you compare it to the price of parking at the airport. On the day of your departure, you go to the car park and the shuttle will transfer you to the airport once the final administrative details have been settled. The journey rarely takes more than ten minutes. On your return, the shuttle will take you back to the parking lot so that you can collect your vehicle.
Valet parking (Meet & Greet)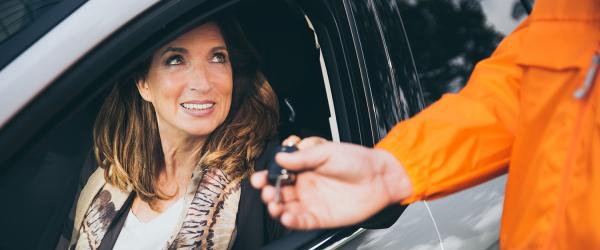 You can also opt for the valet service , where the staff will take care of everything. Just bring your car to the airport on the day of departure and a valet will be waiting for you. You then give him your keys and he takes care of your vehicle. Indeed, it drives your car to the parking lot and parks the vehicle there. Upon return, the valet will bring your car back to the airport. All you have to do is call them as soon as you have collected your luggage. Example: Ector and Blue Valet valet services. Also note that with this option, you save up to an hour compared to the shuttle.
Long-term parking at Nantes Atlantique airport
Whether your trip is long or short, you definitely need a secure car park where you can park your car. All our suppliers offer weekly packages. We recommend that you book as soon as possible in order to take advantage of a good deal. So you won't have to worry about the availability of parking lots.
The satisfaction of our customers is our priority! For this reason, we have a list of tips for you:

Compare offers:
Use the filters at your disposal to find the ideal car park for you. We always try to provide the best prices for you. There are many options to choose from (covered parking, valet parking, payment methods, etc.).

Make your choice:
Once you've determined which type of parking is right for your needs, choose the service that's right for you - shuttle or valet. Here's a quick recap of the differences between these two services:
Valet parking is comfortable and saves you a lot of time. It is also ideal for people with reduced mobility. You just have to go to the airport and the car park will take care of everything. Your car will be picked up by the valet at the airport drop-off. Your car will be returned to you in the same way on the day of your return.
The shuttle service is more economical and offers you an efficient service. You bring your car to the parking lot and go to reception. Depending on the parking lot, an employee may park your vehicle or you may do the parking yourself. You will need to allow a bit more time to make up for any delays. The shuttle makes your transfer between the car park and the airport, on the way there and on the way back.

Security:
All car parks listed on our website have an effective security system. We believe that each of our customers should benefit from a secure parking space in order to travel with peace of mind.

Calculate your route:
Before leaving, don't forget to plan your route and possibly a map of access to the car park with which you have reserved. Follow the traffic information and make sure you have an alternative route in case of an accident on the way. Make sure you are on time . To help you, Parkos provides you with a tool allowing you to "calculate your route".
View the car parks on the map
Parked from 9/14/22 til 9/16/22
The employees were courteous and helpful. The shuttle for departure was not delayed. The shuttle for arrival was a wait of more than 20 mins but it was understandable due to the strike, so no complaints. I'm not sure if my car was parked under
...Read more
Parked from 6/23/22 til 6/28/22
Plus d'instructions nécessaires lors de la récupération des clés à la réception, j'attendais que la fille arrête de parler au téléphone, mais au bout d'un moment, quelqu'un m'a dit de récupérer les clés dont j'avais besoin pour aller dans une autre salle.
...Read more
Parking providers at Nantes Airport
Our benefits
All parking lots are carefully inspected
The best deals on airport parking
Free cancellation up until 24 hours
Over 3 million customers globally